If you are conversant with sketch comedies, you must have heard of Luh and Uncle. While there are lots of entertaining features in the videos, there are some Luh and Uncle videos that have won the hearts of many entertainment lovers. Because of the humour and lessons that they teach, people have watched them over and over again without getting bored, and as such, they have become evergreen.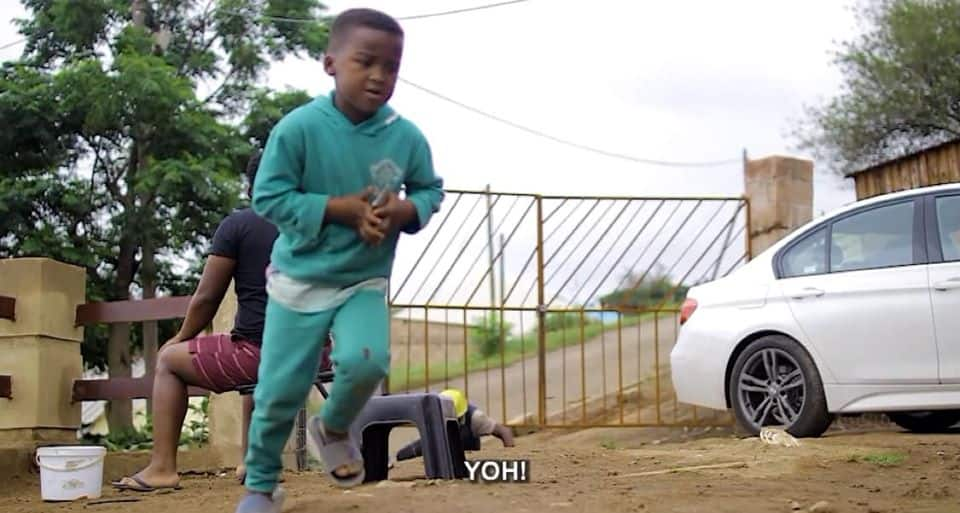 The passion behind the funny actions of Luh and his father's brother has captured a lot of attention and also made them look forward to making new episodes. Interestingly, Luh and Uncle comedy videos are available on YouTube and can be accessed at any time.
Top Luh and Uncle episodes
1. Episode 8 - Learning New Words
Since this episode was uploaded to YouTube on the 1st of September, 2019, it has been viewed more than 1.5 million times. In the episode, the little boy learns new words from his father's brother to insult Madisa. Then, while the man gets furious as he finds out, he was pacified as he was made to know that the kid insulted him for being unemployed. Mandisa's mum comes back for a fight, but the boy finds a way out of the situation.
READ ALSO: Famous South African artists and their greatest pieces of work
2. Episode 4 - Sweet Revenge
With more than 1.4 million views since the upload to the YouTube channel, the episode discusses how the uncle engages in a discussion with a friend about the situation of things in South Africa. The boy comes back from an errand and gets a tip from the visitor while the uncle stands against it. Eventually, the little boy sets him up against the visitor and goes on to lie to the girlfriend of his father's brother that he is in multiple relationships. Luh had his sweet revenge.
3. Episode 14 - Money Maker
In this episode, the little boy plays the CEO of a bike renting company while his friend stood as the secretary. He asks his father's brother to stay out of his business as he comes to interfere. His uncle gets his pound of flesh when the little boy needs him to fix his broken bike but soon changes his mind as the little boy offers him R20. Since the episode was uploaded to the YouTube channel, it has amassed 1.3 million views.
4. Episode 11 - Luh's Report Card
The little boy comes home from school, and his grandmother wishes to see his report card. He informs her that everyone in the class failed and goes on to recant the smart and intelligent kids that failed. His father's brother interferes and gets himself in big trouble as well as insults from the little boy and the grandmother. So far, the video has had more than 1.3 million views.
READ ALSO: All your favourite Nigerian actors including those who died in 2018
5. Episode 7 - Granny's Favourite
Luh disturbs his uncle with the sound of the television while he is asleep. He calls the boy to switch off the TV and emphasises that he is wasting electricity. This gets the boy furious, and he sets out for revenge. He involves the granny who reminds his father's brother of his joblessness, and that makes the boy really glad at last. The video has more than 1.2 million views so far.
6. Episode 6 - Dumb Uncle
Luh's uncle meets him and his friend in the sitting room and asks about their day in school. The little boy tells him it was fun, but he did not go. Eventually, the next questions and counter questions leave the uncle wishing he never came out to meet the kids. Interestingly also, the video has had more than 1.2 million views.
7. Episode 15 - Uncle Cannot Rest
This is another video that has got over 1.1 million views since it was uploaded on the 19th of October, 2019. In it, Luh's father calls his uncle and asks him to hit the little boy whenever he makes anything wrong, which he starts to do based on what he had done in the past and what he would do in the future. However, it turns out to be a dream, and the disappointment was written all over him. The boy comes in between his father's brother and a young lady he was about to go after and the girl leaves him in shame.
8. Extra Sketch - Luh is a Graduate
With more than one million views, the episode narrates how Luh wakes up feeling excited about his graduation and goes to put on a graduation gown before his uncle reminds him that graduation has already passed. The video ends with Luh making his uncle feel bad. According to him, that was the first time his uncle sounded smart.
9. Episode 16 - Luh's First Loss?
Luh insults his uncle in front of his visitor for his unemployed status. As his uncle goes to prepare food for the visitor, Luh expresses anger at the manner his uncle's visitors came to finish their food. Then, he deceives his uncle to sharpen a knife for their neighbour and tells the visitor that his uncle was sharpening a knife to kill him. The visitor runs away, leaving his meat that Luh started eating. Unfortunately, the meat was poisoned, and Luh loses this time. So far, the episode has also been viewed more than a million views.
10. Episode 19 - Luh is Smart
Since its upload to the YouTube channel on the 10th of November, 2019, this video has received another one million views. In the video, Luh wants to play a game on his uncle's phone who turns him down because of a low battery. Then, he comes up with a challenge which will grant him access to the phone if the uncle fails. The uncle fails the task but refuses to release the phone and tries to send him away. Eventually, Luh smartly sets him up against a young man who threatens to beat him up and then gets the phone which leaves his uncle in the risk of a severe beating.
From all that has been discussed so far, you can see that Luh and Uncle videos are worth watching. In fact, they are capable of keeping you entertained all day without any moment of boredom. Interestingly also, you can join their over 206,000 subscribers on their official YouTube channel. All you have to do is search for MDM Sketch Comedy and click on the subscribe button.
READ ALSO: 10 of the best South African ads of all time