Are you a fan of Conor McGregor and want to learn more about the superstar athlete? If so, we have the right article for you right here. Here is all about his age, family, career, measurements, and the big Conor McGregor net worth. Keep reading this article to also find out about his biggest fight.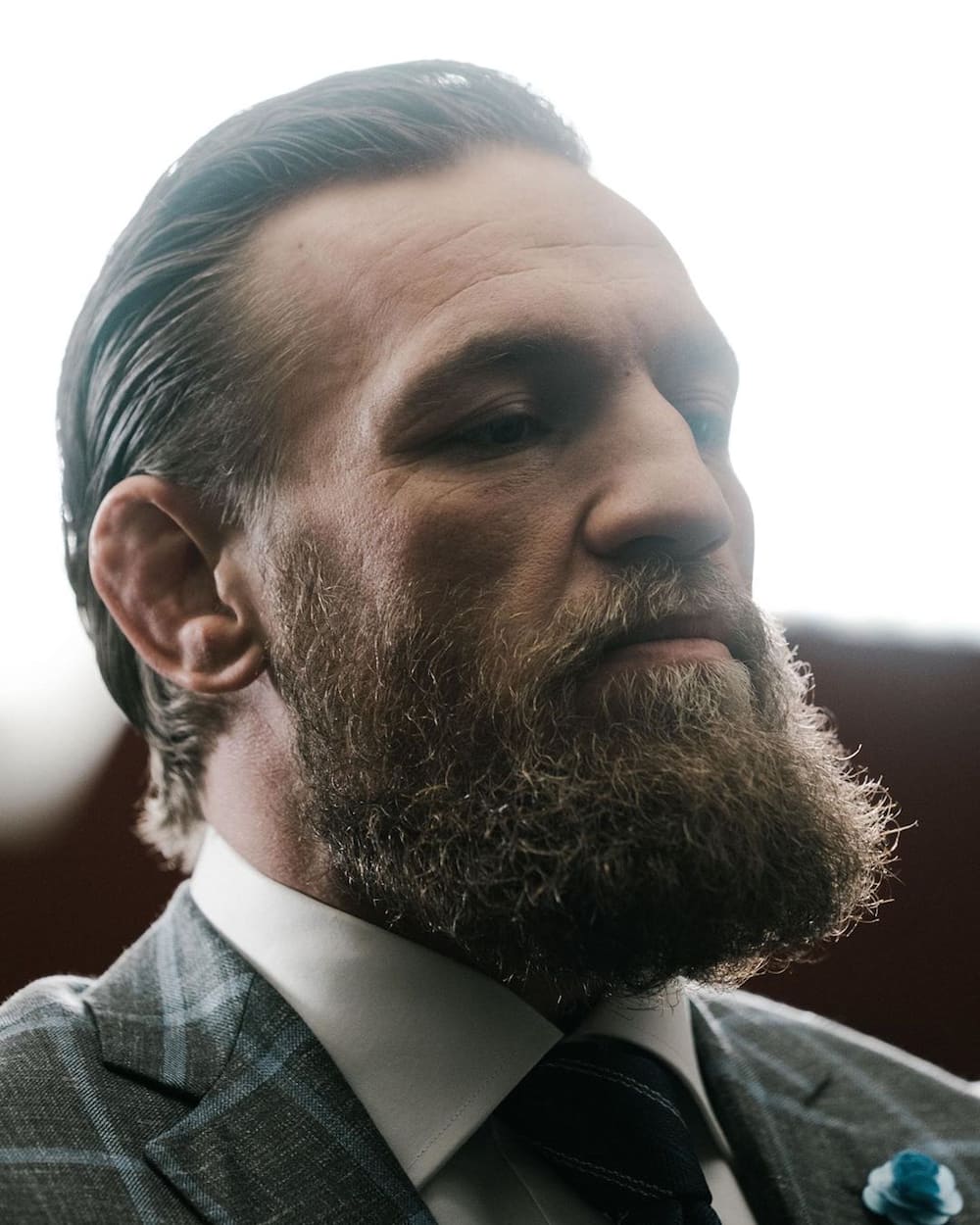 Conor McGregor is a world-famous professional mixed martial artist that has built a considerable name for himself over the years. For everything we know on him, read on below.
Conor McGregor biography
Early life
He was born in the Crumlin area of Dublin on 14th July 1988. This makes Conor McGregor age 31 years. His parents' names are Tony and Margaret. For his education, he went to Gaelscoil and Gaelcholáiste at both the primary and secondary level in Coláiste de hÍde in Tallaght, where he also developed his passion for sports and for football. He played for Lourdes Celtic Football Club.
At the age of 12, he got into boxing at the Crumlin Boxing Club. In 2006, he and his family moved to Lucan in Dublin where he met the UFC fighter Tom Egan. They started training together, and this was the start of his MMA career.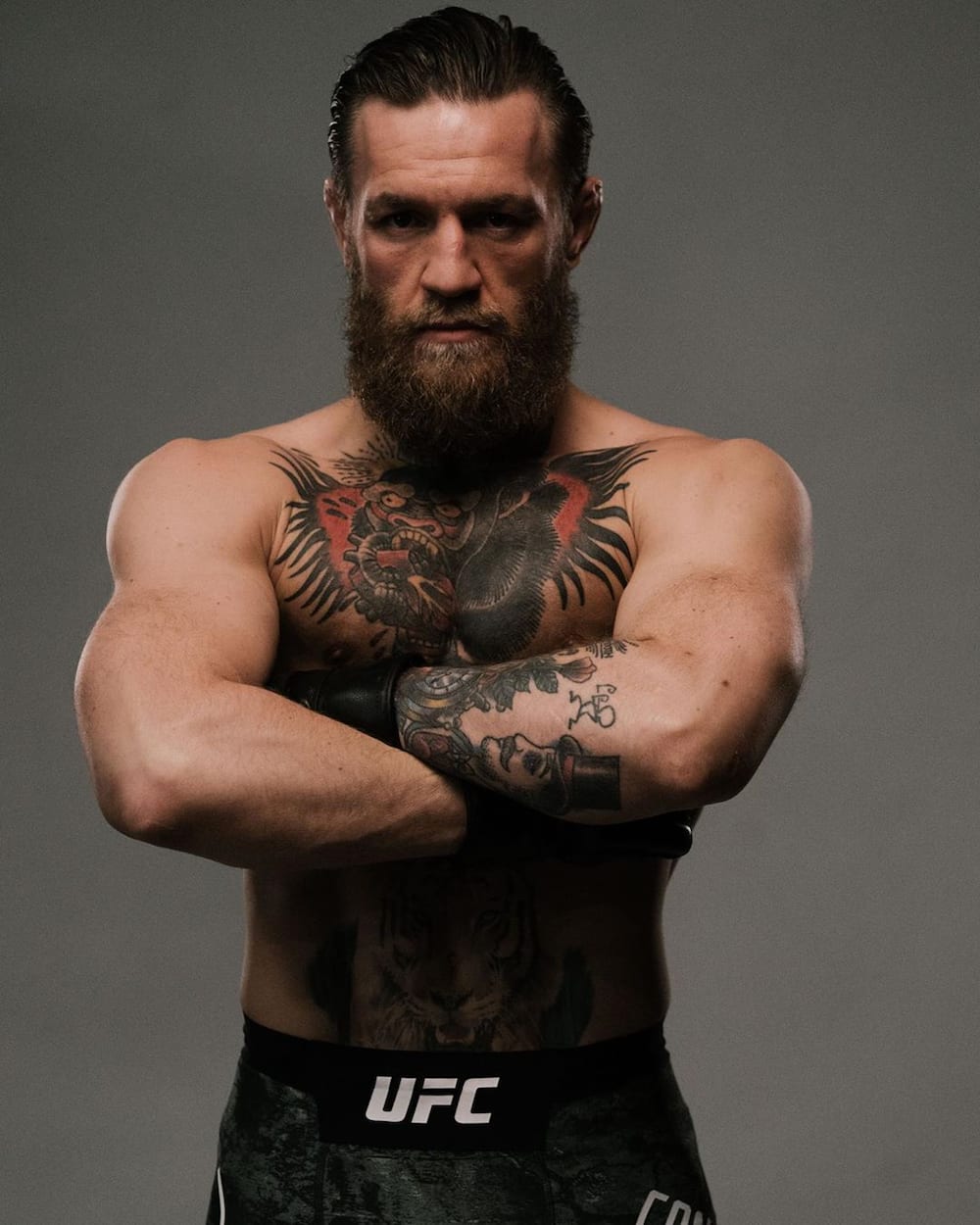 Career
His debut would come in the year 2007 when he was 18 years old in an amateur fight against Kieran Campbell for the Irish Ring of Truth promotion in Dublin. He won in the very first round through a TKO (technical knockout), which got him signed as a professional by the Irish Cage of Truth promotion company. After this, he began training under John Kavanagh.
His professional debut came in 2008 against Gary Morris, whom he defeated in a second-round TKO. He won his second and third fight (the latter of which was his lightweight debut) at which point he began thinking about choosing a different career path, but his mother, through John Kavanagh, convinced him otherwise.
UFC Conor McGregor
He continued winning heavily in his career until he made his UFC debut in 2013. He was the second-ever person from Ireland signed to the company for a multi-fight contract, after Tom Egan.
On 6th April 2013, he had his first UFC match against Marcus Brimage, which he won in the very first round, and it earned him his first-ever "Knockout of the Night" award. In his second match, his intended opponent pulled out, but McGregor easily defeated the replacement fighter.
The next year, he earned his "Performance of the Night" award in a fight against Diego Brandão. His hot streak would continue like this, earning him awards and more formidable opponents that he would easily defeat.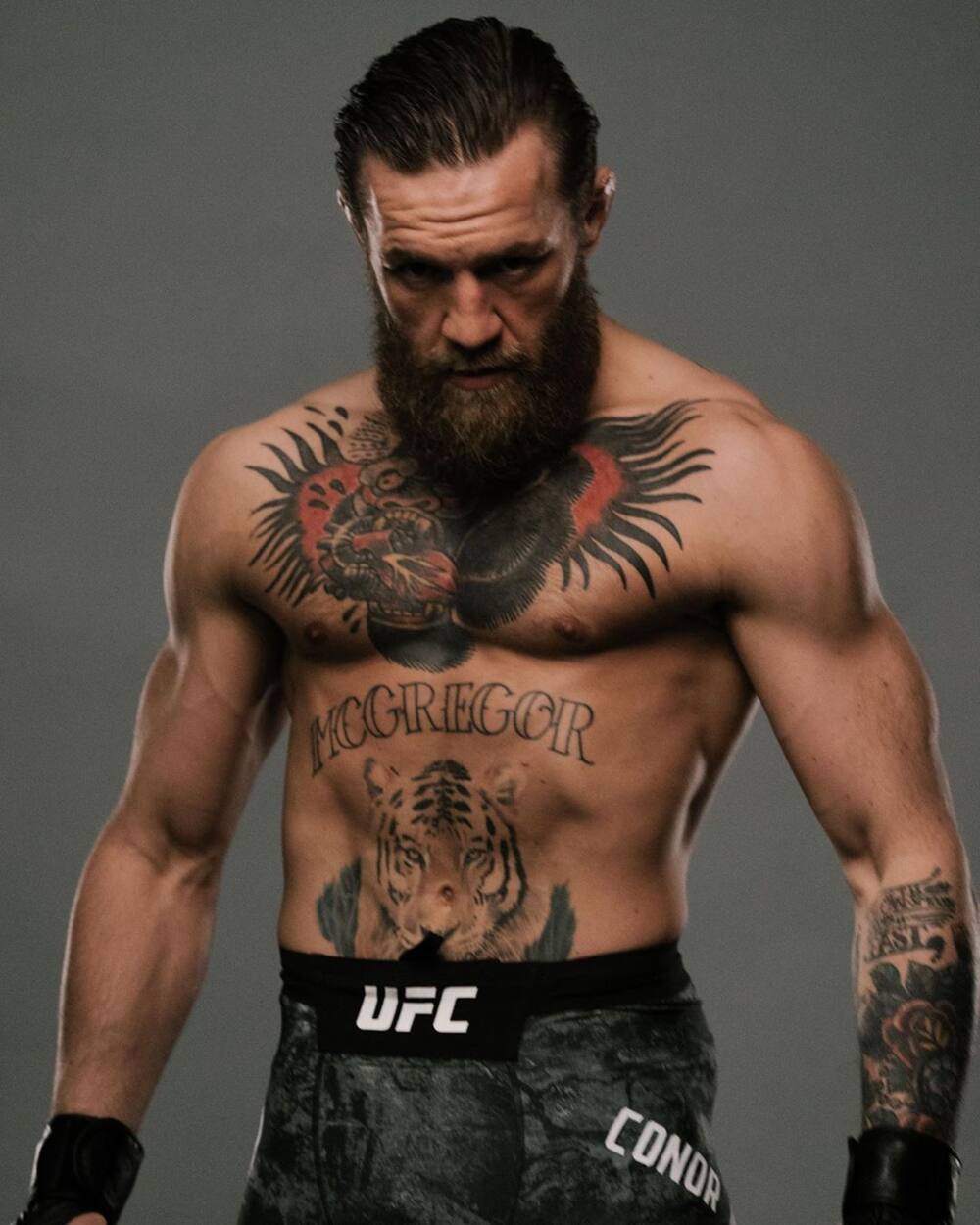 However, it would end when he experienced his first UFC loss at the hands of Nate Diaz during UFC 196. Although both fighters were awarded "Fight of the Night" bonuses, it was a stain on McGregor's record. However, that particular Conor fight resulted in him getting the highest disclosed purse of any fighter in the history of the UFC, at 1 million US dollars. This match broke the previous Conor McGregor record for Pay-Per-View buys at 1,317,000 compared to the previous 1,200,000.
The two would later have a rematch, where McGregor defeated his opponent.
He has had many fights over the years but his most publicized ever was against Floyd Mayweather, who is an American boxer. Although he lost, it was understood because he is not a boxer himself. The question was mainly on Mayweather vs McGregor money. The disclosed amounts were $100,000,000 for Mayweather and $30,000,000 for McGregor. However, they were estimated to have earned about $275,000,000 and $85,000,000 respectively.
His latest fight was in January 2020 against Donald Cerrone, which he won easily within the first 40 seconds of the fight despite having been on hiatus beforehand.
Now, Conor wishes to fight Khabib Nurmagomedov to satisfy his revenge after he lost to him in October 2018.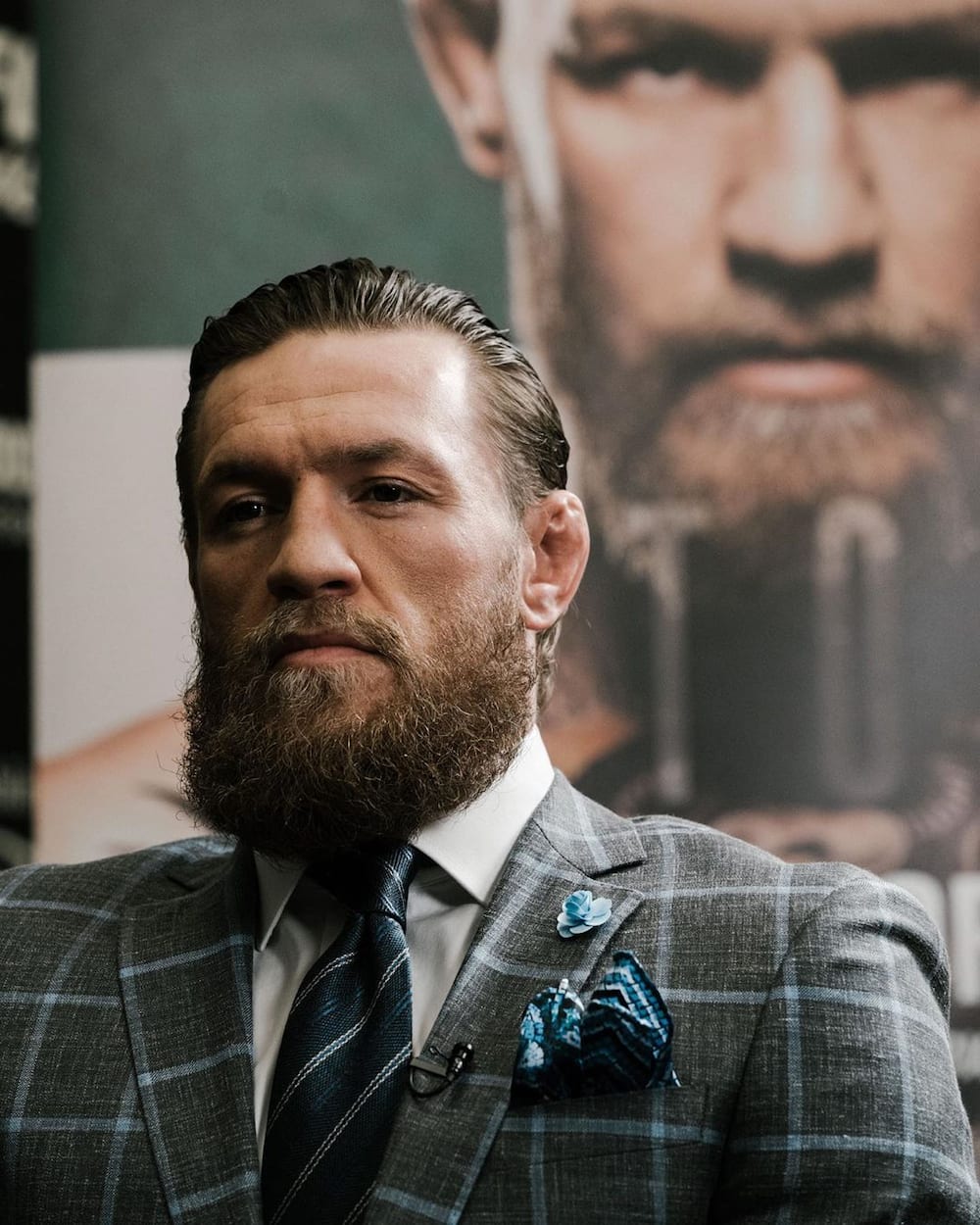 Measurements
Conor McGregor height is 5 feet, 9 inches or 175 centimeters. Conor McGregor weight is 170 pounds or 77 kilograms.
Statistics
Mixed martial arts record
Total - 26
Wins - 22
By knockout - 19
By submission - 1
By decision - 2
Losses - 4
By submission - 4
Professional boxing record
Total - 1
Wins - 0
Losses - 1
By knockout – 1
Amateur record
Total - 1
Wins - 1
By knockout - 1
Losses – 0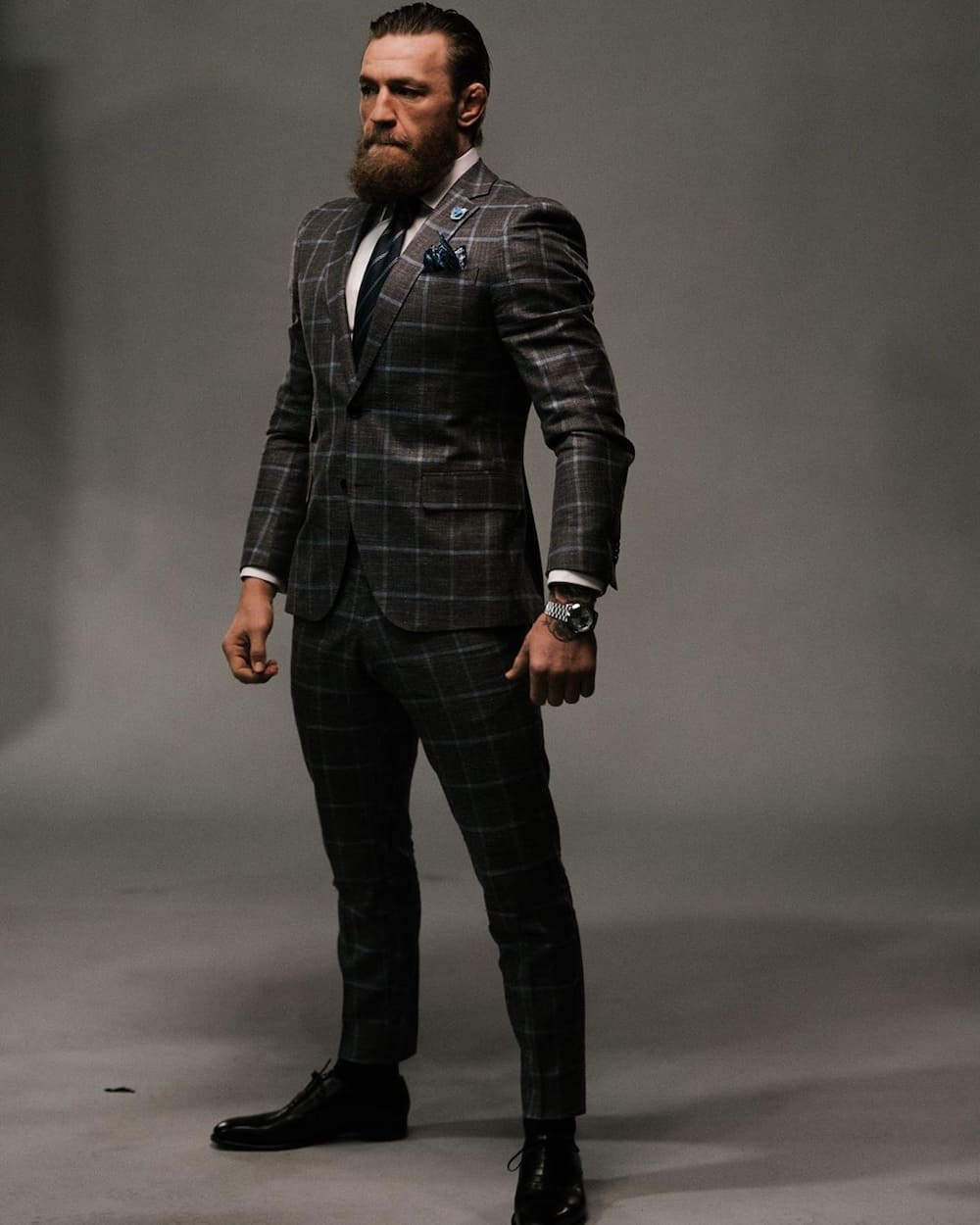 Conor McGregor crimes
He has also had his fair share of controversies, including the following:
2017 – exceeding the speed limit
2017 – jumped into the octagon before a fight he was not participating in was over
2018 – speeding
2018 – attempted to attack a fellow fighter Khabib Nurmagomedov and was sentenced to five days of community service
2019– arrested and charged with strong-armed robbery and criminal mischief after an altercation in Miami, Florida. The charges were dropped later.
2019 – charged with assault in a Dublin pub and fined 1,000 pounds.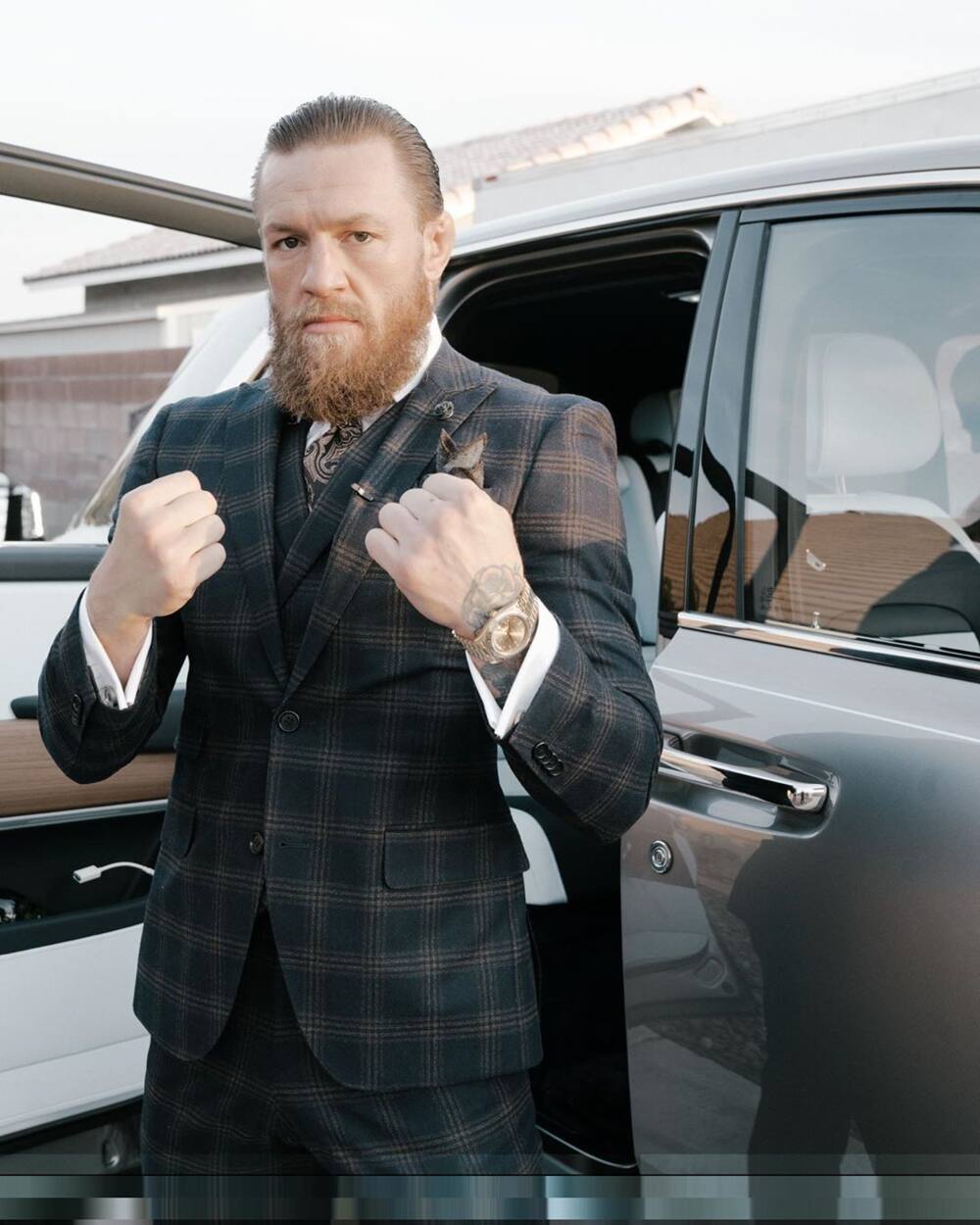 Family
Apart from his parents, his family includes two sisters (Erin and Aoife). He has been in a long-time relationship with his girlfriend Dee Devlin since 2008. If all goes well, maybe she will become Conor McGregor wife. They have two children named Conor Jack McGregor (born in 2017) Jr and Croia McGregor (born in 2019).
Conor McGregor net worth
His net worth is reported to be about $99,000,000 (£75,600,000). This comes not only from his salary but also from endorsements and deals with companies such as Beats by Dre, Burger King, Monster Energy, Reebok, and Bud Light.
The official Conor McGregor Instagram has approximately 34,700,000 followers. You can view it by clicking here. Conor McGregor Twitter has approximately 7,910,000 followers. It is where you can catch the news on Conor McGregor next fight. Access it by clicking here.
That concludes our article on Conor McGregor net worth. Did you find it informative? Let us know in the comments section below!
READ ALSO:
Xoli Mngambi biography
Biography detailing the life of slain Senzo Meyiwa published
Dr Tumi biography: kids, wife, family and songs