Are you a fan of the UFC? Then most probably you have seen or heard of the great Tony Ferguson. He is an American mixed martial artist currently competing for the lightweight division of the Ultimate Fighting Championship, earning the nickname El Cucuy. Aside from that, Tony is also a father and a husband.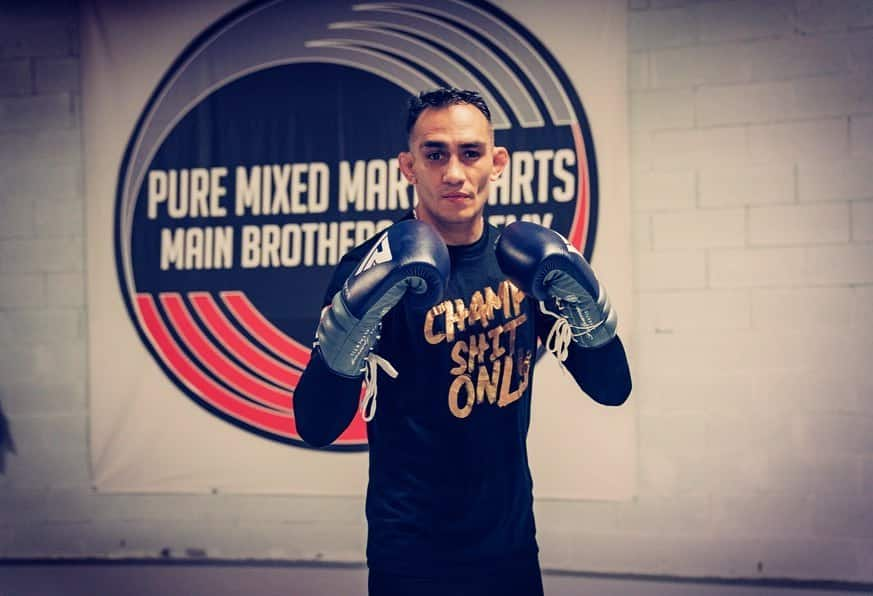 Early life
Antony Armand Ferguson Padilla was born on February 12, 1984, in Oxnard, California, but he mainly grew up in Muskegon, Michigan. The champion is currently 36 years, his zodiac sign being Aquarius. His surname Ferguson comes from his Anglo-American stepfather. He is of Mexican heritage.
Education
The star attended Catholic Central High School in Muskegon, where he played football, basket, and wrestled. He played the starting defensive back for the State Football Champions, and at the same time, he was a three-time all-state selection in wrestling. After high school, Ferguson joined the Central Michigan University before transferring to Grand Valley State University. He also schooled at the Muskegon Community College. He, however, did not complete his degree but was a successful collegiate wrestler, for he won the 2006 National Collegiate Wrestling Association national wrestling championship in the 16 lb division.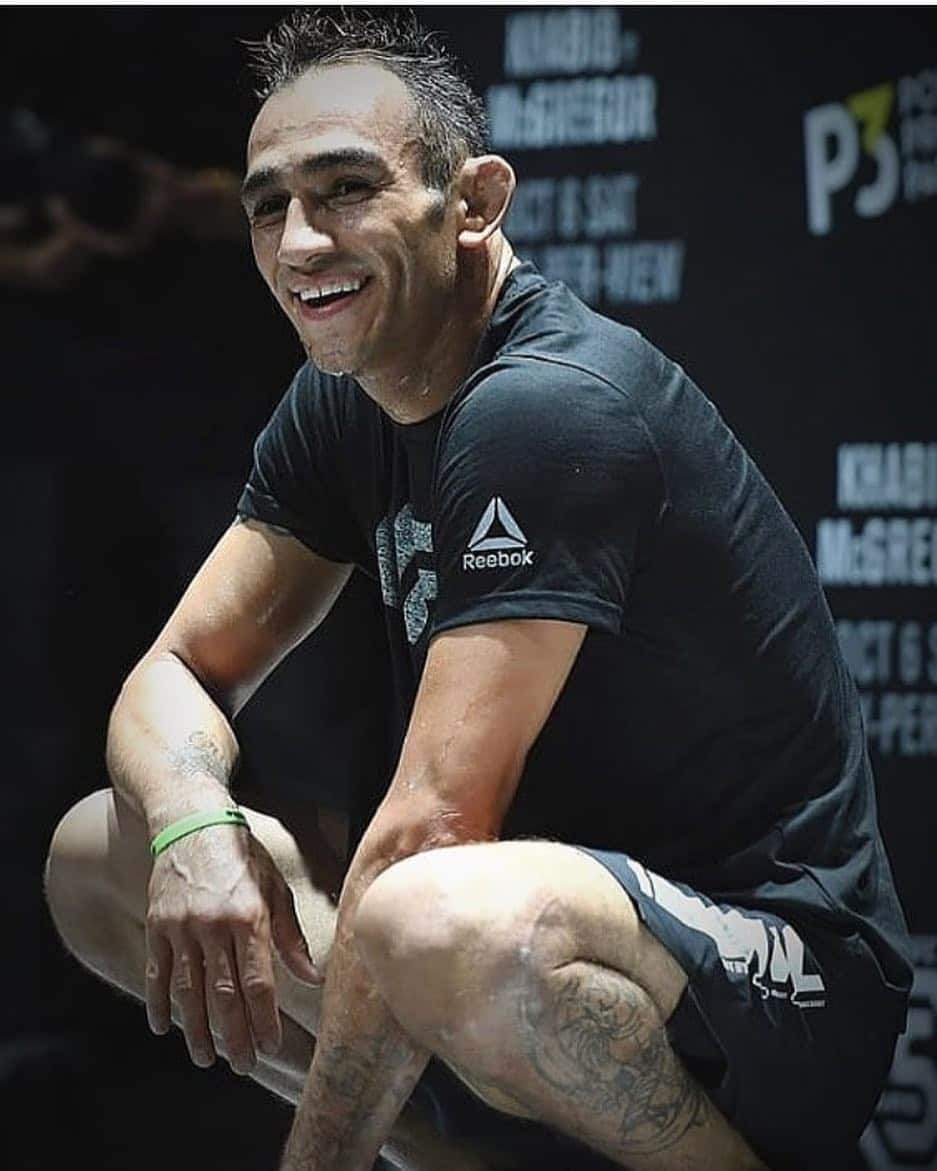 Personal life
After college, Ferguson went back to be closer to his family working marketing and sales during the day, and in the night, he did bartending shifts. Tony Ferguson wife is named Christina. The couple got engaged in 2011 and tied the knot in June 2012. They have been blessed with a son, Armand Anthony, born on April 28, 2016.
READ ALSO: Nambitha Mpumlwana biography: age, son, husband, profile,Instagram, house and net worth
Career
El Cucuy began his professional MMA career in small organizations around California in 2007. He beat Joe Schilling in kickboxing championship.
Ultimate Fighting Championship
The star made his UFC debut at the Ultimate Fighter 13 Finale, fighting against Ramsey Nijem, and Tony defeated Ramsey by a knockout in the first round, becoming the winner of The Ultimate Fighter 13. He also won a UFC contract and got the knockout of the night bonus.
On September 24, 2011, Ferguson faced Aaron Riley in a lightweight match at UFC 35. The fight came to a halt after Riley claimed that he had a broken jaw, and the game declared a TKO win for El Cucuy. Furgeson next faced Yves Edwards, an MMA veteran, at The Ultimate Fighter 14 and won via unanimous decision.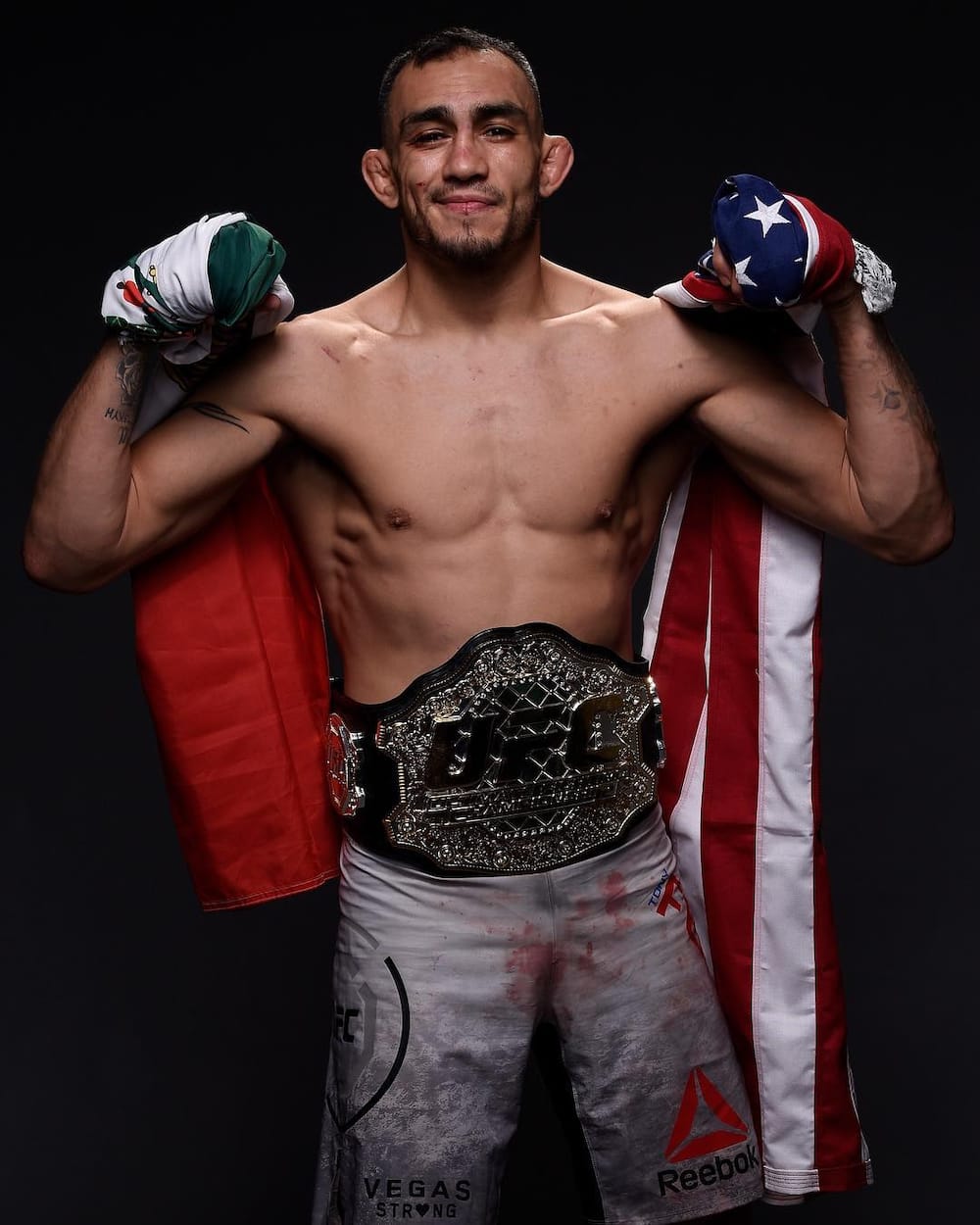 Anthony was supposed to fight against Dennis Hallman on May 5, 2012. However, Hallman was forced out of the match by an injury and was replaced by Thiago Tavares. Tavares did not also make it to the match due to injuries but was replaced by Michael Johnson. This was one of Tony Ferguson losses, and it was by unanimous decision.
It took Tony a year to nurse his injuries from his previous fights before going back on October 19, 2013, at UFC 166 to face Mike Rio, a match he won in the first round by submission. The win earned him the Submission of the Night Award. At the UFC 172 on May 24, 2014, Anthony faced and won by knock out in a match against Katsunori Kikuno.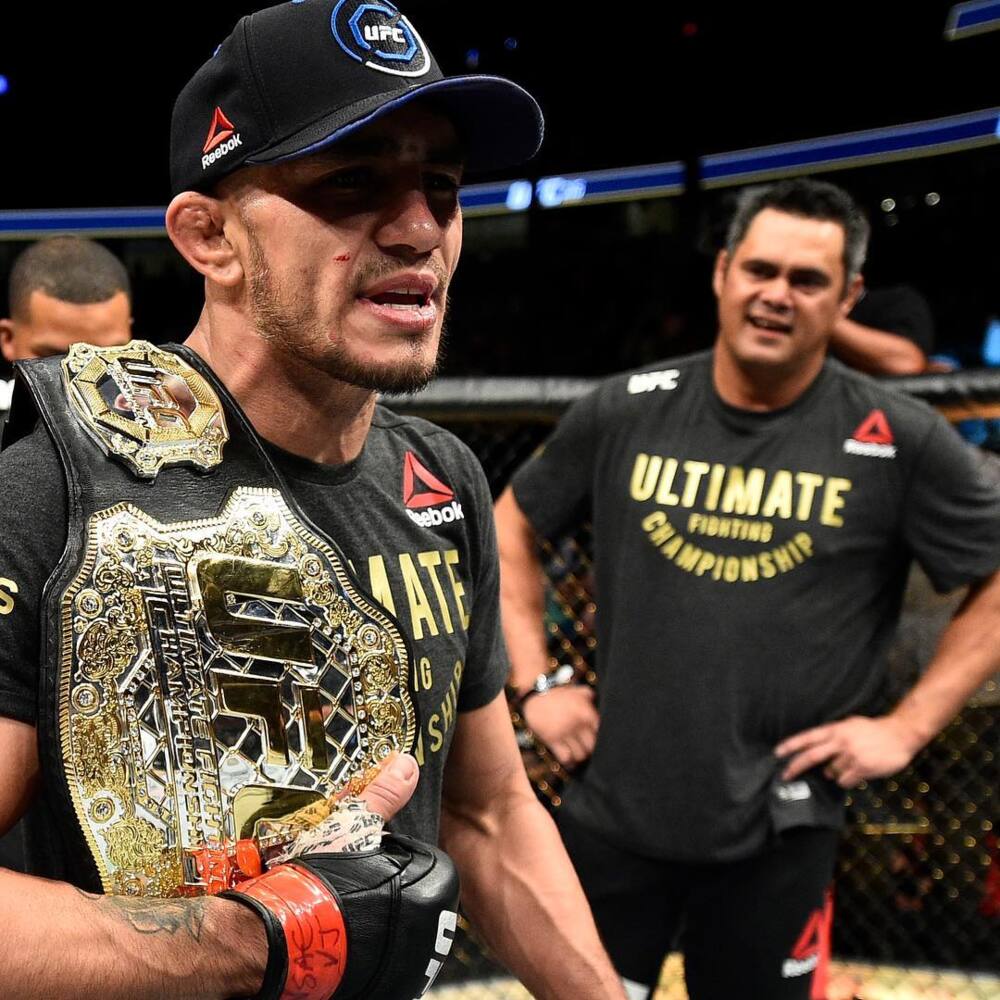 El Cucuy was supposed to face Danny Castillo on August 2, 2014, at the UFC 176, but the event was cancelled, and the face-off rescheduled to the end of the month. Ferguson won the fight via split decision.
On December 6, 2014, Tony faced Abel Trujilo and won the bout in the second round by submission. Ferguson then faced Gleison Tibau on February 28, 2015, after Yancy Medeiros pulled out of the bout. The superstar won in the first round by submission earning him performance of the night bonus. Tony then faced Edison Barboza on December 11, 2015, and El Cucuy won the bout by D'Arce submission
In the following years, Tony faced Lando Vanata, Rafael Dos Anjos, Kevin Lee, Anthony Pettis, and Donald Cerrone. He won all the matches.
Tony Ferguson vs Khabib Nurmagomedov
Has Tony Ferguson fought Khabib? No, all their scheduled matches were cancelled due to one reason or another. However, Tony Ferguson next fight will be held on April 18, 2020, where he will face Khabib Nurmagomedov. Why was Khabib vs Tony cancelled? Their bout was to happen on December 11, 2015, but Khabib pulled out citing injuries and was replaced by Edson.
What is Tony Ferguson MMA record? According to Tony Ferguson Sherdog forum, the star has fought in a total of 28 matches, 25 of which he has won and has lost three bouts.
Achievements
In the UFC, the most significant Tony Ferguson record is when he became the UFC Lightweight Champion. Here are other Tony Ferguson highlights:
He was the Ultimate fighter 13.
He won Fight of the Night award three times.
He also won the Knockout of the Night award.
He brought home the Performance of the Time award three times.
He won one-time Submission of the Night.
Is Tony Ferguson good? Yes, he has the highest win percentage in UFC history of 92.31%.
Tony Ferguson diet
Ferguson has a 12-week weight loss program that is designed to achieve healthy weight loss. The program includes weekly meal plans, recipes, promotion offers, and exercise tips. The program is developed and approved by an accredited and practising dietician and a personal trainer. Tony also has a variety of products, including classic shakes, a very low-calorie diet, ready-to-drink shakes, soups, and snacks.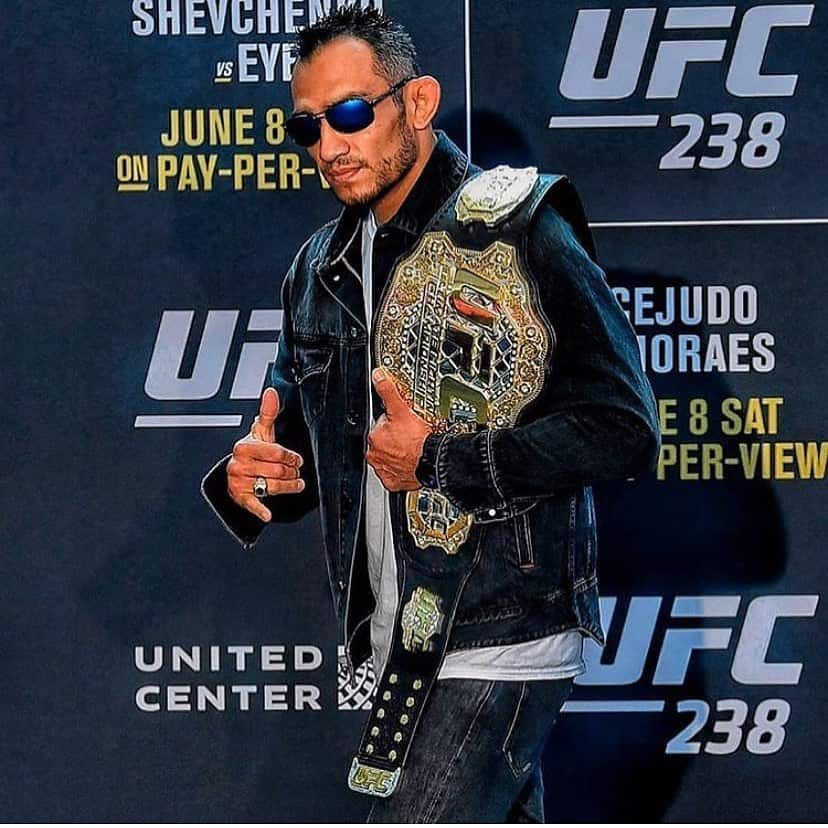 Measurements
El Cucuy is in tip-top shape, for he is a professional mixed martial artist, so he spends a lot of time in the gym. Tony Ferguson height is 5 feet 11 inches (1.80m), his reach being 194 cm. 70 kg (155lb) is Tony Ferguson weight.
Net worth
The superstar has come a long way to be one of the best fighters in the UFC, and a hefty salary comes with the title. It is estimated that he earns $250,000 per fight, and Tony Ferguson net worth lands at about $1.7 million.
Social media
The UFC talent is, like most celebrities, on social media, where he promotes his career and various products. Tony Ferguson Instagram account, for instance, currently has over 1.9 million followers. Tony Ferguson Twitter has 401.4k followers.
Tony Ferguson is an inspiration to all the young and upcoming fighters in the world. He is a mentor to many and is indeed one of the best mixed martial artists of his time. His hard work and grind have earned him a lot of respect from his colleagues and from his fans who love seeing him on the ring.
READ MORE: