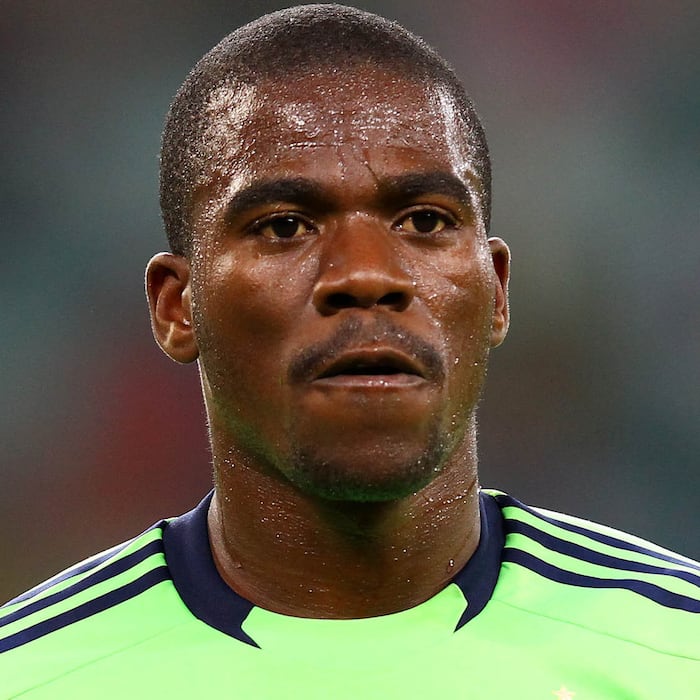 Senzo Meyiwa
Birth name: Senzo Robert Meyiwa
Born: 24 January 1984
Died: 26 October 2014
Place of birth: Durban, South Africa
Nationality: South African
Main activity: Soccer player
Teams: Orlando Pirates, South Africa national team - Bafana Bafana
Senzo Meyiwa was a soccer star who served as goalkeeper and captain for Orlando Pirates in the domestic league and the South African national team. He was one of the top goalkeepers in South Africa and had a reputation for stopping penalties. He led his club to several trophies and his country to the 2015 Africa Cup of Nations qualification. He was shot and killed in a home invasion on 26 October 2014, sparking a nationwide outcry and a long-running investigation.
Career
Orlando Pirates
Meyiwa joined Orlando Pirates in 2005 as a backup goalkeeper to Francis Chansa. He made his debut in 2006 against AmaZulu in a league match. He became the main goalkeeper in 2012 after Moeneeb Josephs left the club. He helped the Orlando Pirates reach the final of the CAF Champions League in 2013, where they lost to Al Ahly. He also won three league titles, one Nedbank Cup, one MTN 8 Cup, and three Telkom Knockout Cups with Pirates. He made 109 league appearances for the club before his death.
South Africa national team
Meyiwa made his international debut for South Africa in 2013 against Swaziland in a friendly match. He was part of the squad that participated in the 2013 Africa Cup of Nations, where he did not play in any matches. He became the captain of the national team in 2014 under coach Shakes Mashaba. He led his team to four consecutive wins in the 2015 Africa Cup of Nations qualification, keeping four clean sheets. He earned seven caps for his country and did not concede any goals.
Awards
Meyiwa received several awards and honours for his performances on the field:
PSL Goalkeeper of the Season, Orlando Pirates (2013-14)
PSL Player of the Season, Orlando Pirates (2013-14)
PSL Players' Player of the Season, Orlando Pirates (2013-14)
CAF Champions League Team of the Year, Orlando Pirates (2013)
CAF Africa-based Player of the Year nominee, South Africa (2014)
Family
Meyiwa was married to Mandisa Mkhize, whom he met in Johannesburg in 2005. Their daughter Nana was born in 2008. They separated in 2013 after Meyiwa started dating singer Kelly Khumalo, with whom he had a daughter named Thingo, who was born in 2014. Meyiwa also had two other children from previous relationships: a son named Senzo Junior and a daughter named Namhla.
Dating timeline
Here is a brief timeline of his dating history:
2005–2013: Meyiwa dated Mandisa Mkhize, whom he also married.
2011–2012: Meyiwa had an affair with an unnamed woman, who gave birth to his son Senzo Junior.
2013–2014: Meyiwa dated Kelly Khumalo, who gave birth to his daughter, Thingo.
2014: Meyiwa allegedly had an affair with Zandie Khumalo, Kelly's sister.
Goal
Meyiwa scored one goal in his goalkeeping career. It was a penalty kick against Golden Arrows in a league match on 27 April 2013, which Pirates won 4–1.