Learn the best chilli sauce recipes from South Africa: easy and delicious
Many who cherish spicy meals are great fans of chilli sauce. The sauce adds a sweet burning sensation to food that sends thrills throughout the body and makes the tongue feel like it is on fire. Chilli sauce is addictive when one gets used to it. This article shares the best homemade chilli sauce recipe from South Africa to guide you through the process. Instagram creator and Chef Xolisile shared with us her favourite chilli sauce pairings and dishes.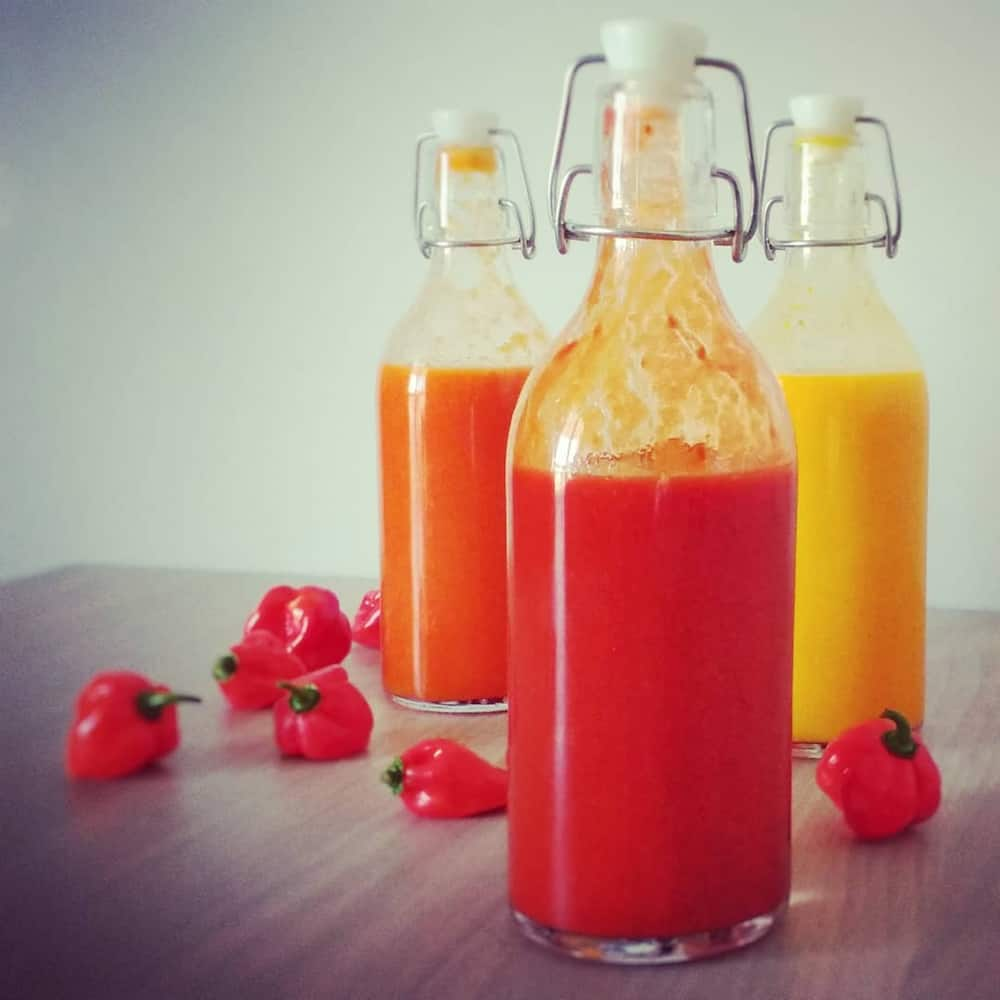 Hot sauce and chilli sauce are different products but require similar ingredients and production processes. Hot sauces have a thin texture (they are pretty liquid), while chilli sauces have a thicker texture (more of a paste) and have a richer taste. You can learn how to make different types of chilli and hot sauces below:
Easy chilli sauce recipe from South Africa
There are thousands of chilli peppers worldwide because they cross-pollinate easily. The most popular ones include jalapeno, cayenne, habanero, cayenne, peri-peri (African bird's eye chillies), scotch bonnets, Thai peppers, and bhut jolokia. These peppers have different flavors, from smoky, sweet to a sharp taste.
Tips from a professional chef
Instagram creator Chef Xolisile shared with Briefly.co.za her favourite chilli sauce pairings and dishes:
My favourite pairings or dishes that benefit from the addition of South African chilli sauce would definitely have to be mogodu (cow tripe), skopo (boiled cow head), amancina (pork trotters), chicken feets served with pap or steamed bread.
Her ultimate favourite pairing is slap chips served with a russian and atchar - pour the South African chilli sauce on top of the chips and you can take that meal down with a glass of Coca-Cola.
Peri-peri sauce recipe from South Africa
Piri-piri or peri-peri are the most famous types of chillies in Africa. You make it by blending spicy African bird's eye chillies (or any small red peppers) with onion, garlic, onion, and other herbs from the continent. Below is an easy peri-peri sauce recipe from South Africa:
Ingredients
12 dry fresh African bird's eye chillies
3 medium-sized tomatoes (chopped)
8 medium-sized garlic cloves (chopped)
1 cup coriander leaves (chopped)
1 tablespoon of red chili flakes
½ tablespoon of salt
¼ cup olive oil (or vegetable oil)
1 medium-sized lemon (or ½ tablespoon vinegar juice)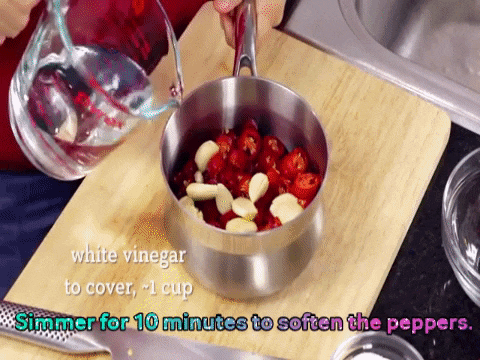 Directions
Cut the chillies into halves and remove the seeds using a small spoon.
Rinse the chilies and soak them in hot water for 10 to 15 minutes.
Blend the soaked chillies, tomatoes, coriander, and garlic in a food processor.
Transfer the smooth puree to a bowl.
Pour in your cooking oil and add the red chili flakes.
Squeeze lemon juice or add vinegar juice and mix them well.
Pour your peri-peri sauce in a container and refrigerate for a week or two.
Serve it with pork belly, roast beef, chicken breast, and any other meal.
Note below:
You can tie the stalks of African bird's eye chillies using a string and hangs them in the kitchen for a week or two to let them dry.
You can rub the chillies between your hands, cut the top off, and shake them over a bowl so the seeds drop off.
Be careful when handling peppers because they can give you teary eyes, a slight choking sensation, or both when their sharp smell enters your lungs.
If you experience teary eyes or a choking sensation when handling chilli, drink a glass of milk or yogurt, and the irritation will go away within minutes.
You can also rub lemon juice on your palms after touching peppers to eliminate the hotness.
How to make chili sauce at home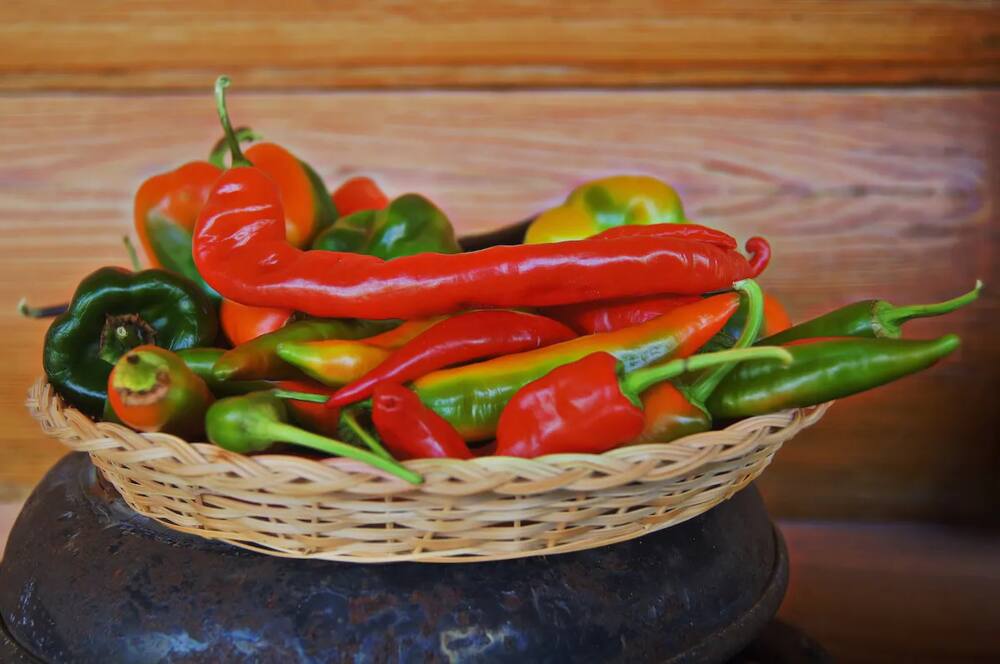 The chillies you use determine whether your sauce will have a sweet, mild, or hot taste. Scotch bonnets (Bonney or Caribbean red peppers) are the hottest and best for a homemade hot sauce. If you want to know how to make two cups of hot sauce using scotch bonnets in 15 minutes, read the following non-fermented hot sauce recipe:
Ingredients
20 scotch bonnet pepper (Bonney or Caribbean red peppers)
1 cup white vinegar or apple cider vinegar
3 tablespoons of minced fresh garlic
½ tablespoon of salt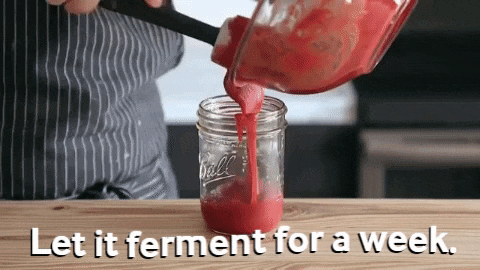 Directions
Wash your scotch bonnet pepper to remove the pesticides before you use them.
Cut off the tops of the peppers and slice them into halves, but do not remove the seeds.
Pour the vinegar into a saucepan and add the salt, scotch bonnet pepper, and garlic.
Boil them for about 10 minutes until the peppers are soft.
Pour everything into your blender and blend it until the mix is liquid.
The chilli sauce is ready for storage, but strain it using a mesh strainer to get the hot sauce.
Pour it in a container and refrigerate it.
Serve the sauce with braai snoek, chorizo, sosatie, homemade koeksieters, bitlong, and more.
Note below:
Use gloves and prepare the sauce in a well-ventilated kitchen because cayenne hurts when it gets into the nose or eyes. Use glass pint jars for storing the sauce.
In step 3, add ¾ thinly sliced onions and 1½ tablespoonfuls of garlic if you want. The sauce should be used within a week if you add garlic or onions.
A blender makes the smoothest and creamiest hot sauce. Ensure that the mixer can accommodate hot liquids or allow the sauce to cool before you use the appliance.
Homemade fermented chilli sauce recipe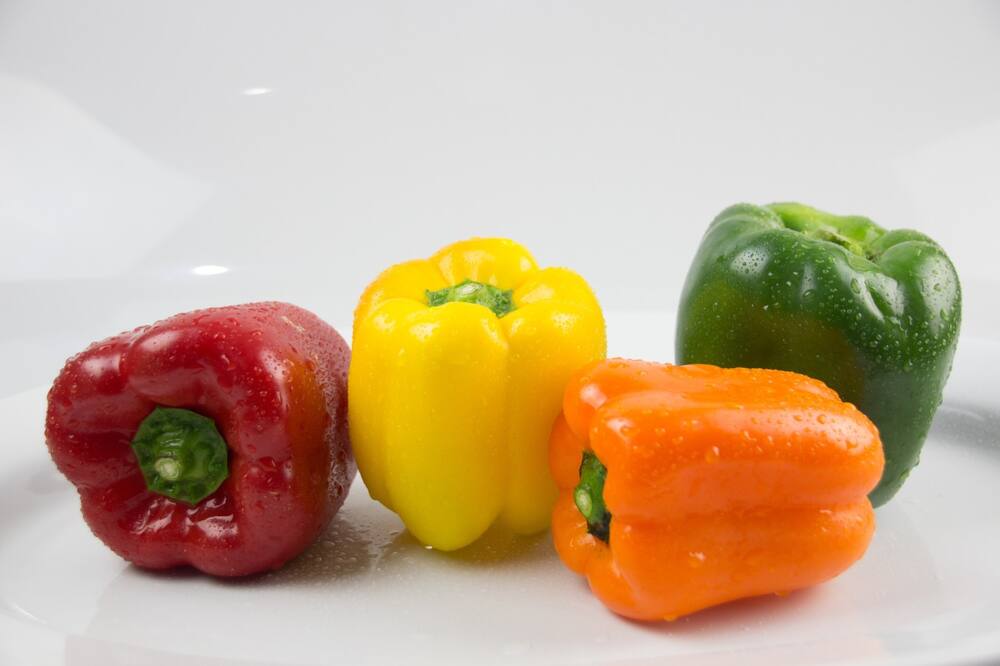 The hotness of a chilli pepper increases as you move towards the top (the area the pepper fruit attaches itself to the plant). Therefore, you should only use the half-bottom part of the pepper if you like sweet chilli sauce. If you want to make fermented chilli sauce without using heat, below is an easy sweet chilli sauce recipe from South Africa:
Ingredients
20 fresh peppers with tops removed
6 garlic cloves
2 tablespoons of oil
½ tablespoon of salt
1 cup water
1 cup apple cider vinegar
Directions
Cut off the tops from the jalapenos and slice them in half. Put them in a glass container with the seeds.
Mix the water and salt. Pour the salty water into the container with the jalapenos until submerged.
Cover the container with a cloth and let it ferment for a week.
After a week, cook the garlic cloves in oil until they are brown and allow them to cool.
Strain the peppers and put them in the blender. Add the oil in which you cooked the garlic. You can also add vinegar (optional).
Blend or process until the mixture is smooth.
You have your chilli sauce, but strain the sauce to get a smooth juice (hot sauce).
Pour the juice into a glass container and cover and store it in a fridge.
Serve with samp and beans, beef stew, chicken mayo, and other dishes.
Ensure you shake the sauce well before use.
Note below:
Some recipes recommend adding brown sugar, peaches, tomatoes, or mangoes to reduce the hotness of the jalapenos.
It can be frozen for about three months if you prefer to make a sauce that should last that long. The longer it is refrigerated, the spicier it gets because it gets to ferment more.
Use zip-sealed freezer bags instead of containers and place them flat in the refrigerator to maximize space usage.
Green chilli sauce recipe from South Africa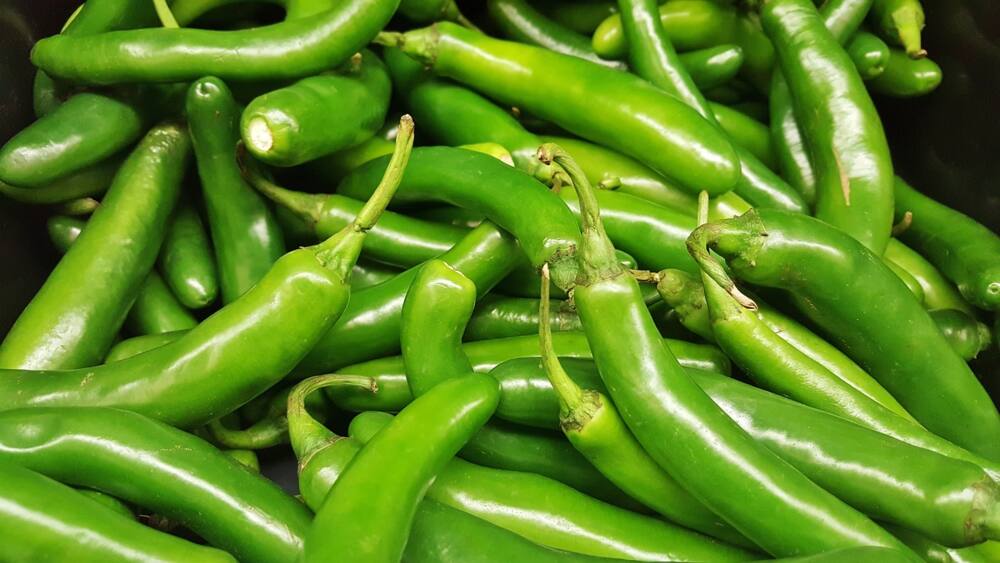 Green chili sauce can marinate meat, vegetables, potatoes, and mushrooms. It is also a delicious dipping sauce for snacks like French fries. The best way to make a spicy and hot green chili sauce recipe is to use a recipe whose ingredients you can quickly access and afford.
Ingredients
20 green chilli peppers (chopped)
4 cloves of garlic (chopped)
2 tablespoons of oil
1 ginger (chopped)
1 tsp sugar
1 cup vinegar
½ tablespoon of salt
½ tablespoon of coriander powder
½ cup water
¼ tablespoon of cumin powder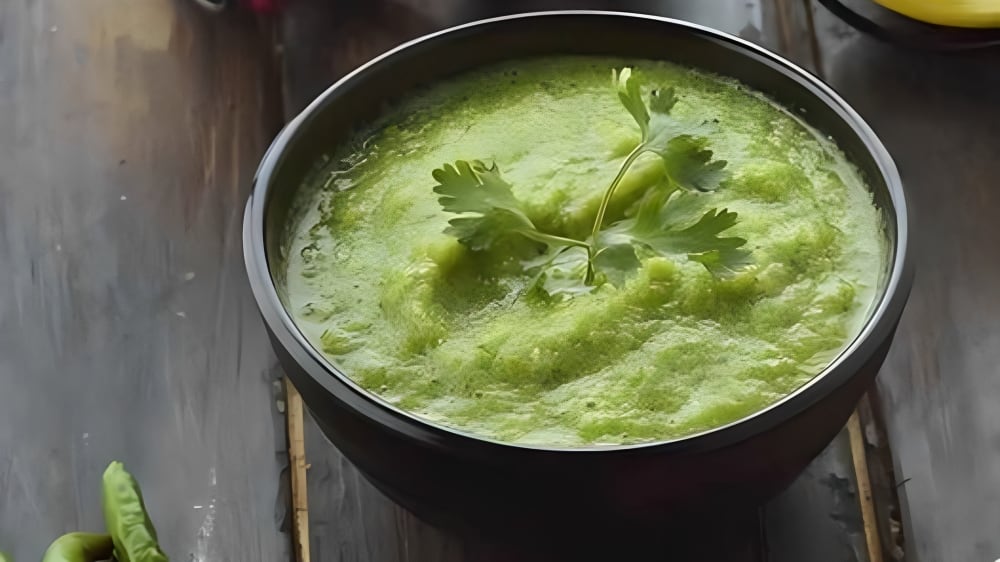 Directions
Heat the oil and sauté the garlic and ginger until the garlic turns golden brown.
Add chilli and salt and sauté for five minutes.
Add water, mix well, and cook until the chilli softens (10 minutes).
Cool the mixture and transfer it to a blender.
Add vinegar to improve the sauce's preservative life.
Blend the mixture into a smooth paste.
Transfer the paste to a bowl.
Add cumin powder, coriander powder, and sugar and mix well with a spoon.
Cool the chilli sauce and refrigerate.
Serve with traditional meals like boerewors rolls, roast chicken, gammon and ham, etc.
You can use it for 3 months when refrigerated.
What is chilli sauce made of?
Chilli sauce includes cooking chopped chilli peppers, sugar, vinegar, and salt in one cooking pan/pot until the mixture thickens. You can add water, garlic, corn syrup, and other spices and seasonings to your sauce.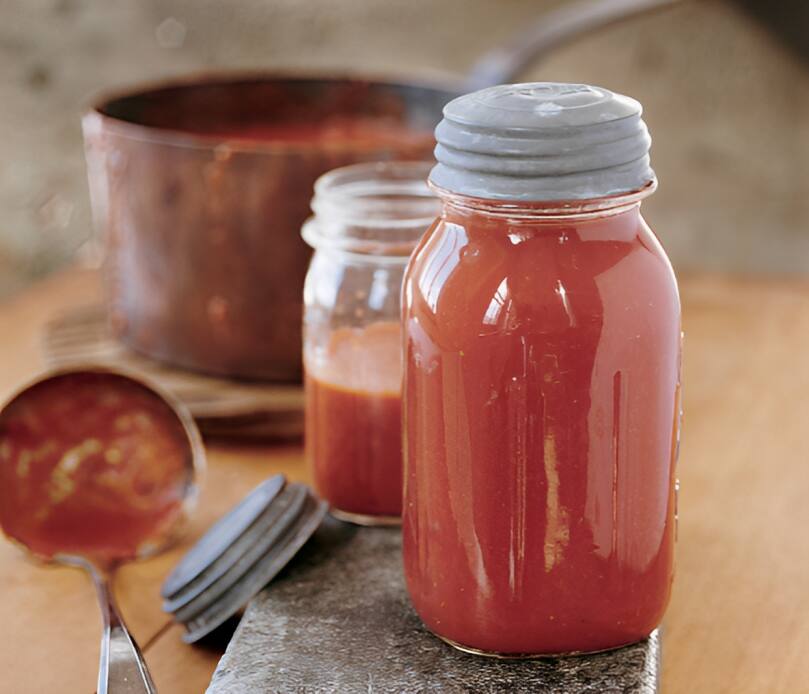 How does Gordon Ramsay make chilli sauce?
Chef Gordon Ramsay's "Guide To Chili" YouTube video explains how he makes chilli sauce. He rubs each African bird's eye chilli between his hands, taps it on the kitchen counter, cuts the top, and shakes it over a bowl for the seeds to drop off. The chef cuts them into small pieces and puts them in a mortar. He then adds chopped garlic and blends them with a pestle to make a puree. Lastly, Gordon mixes salt, palm sugar, fish sauce, and lemon juice into the puree to make a sweet-sour chilli sauce.
What to do with lots of red chillies?
After learning how to make the hot sauce at home, here are more things you can do with them:
Cut them into halves or mince them before you freeze the chilli or freeze them as whole pods. They will retain their flavor even when frozen.
Preserve them. It is easy. Dry the pods in an oven or take a thread and a needle, pull the yarn through the pods, and swing the pods in a dry and aerated place. They will maintain the flavor for a long time.
Make a cream to relieve pain by mixing a tablespoon of homemade chilli powder into five tablespoons of coconut oil to form cayenne. Chilli eliminates the pain in the joints.
Make chilli powder for your pasta, stews, or whichever meal tastes more delicious with red peppers. Remove the stem from the dry peppers, cut them into halves, and remove the seeds. Please put them in an oven and toast them at 170°C. Use a blender or spice grinder to grind the toasted peppers into powder. Store the chilli powder in a dry, cool place for future use.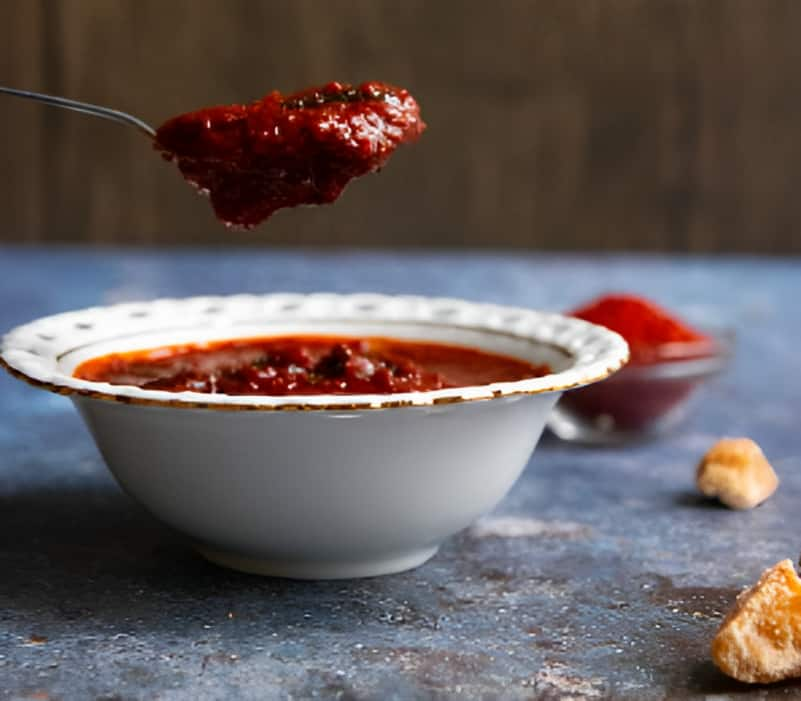 What ingredients are in hot sauce?
The essential ingredients for making a hot sauce are peppers, garlic cloves, cooking oil, onions, salt, sugar, tomato paste vinegar, and water. You may only use some or need more, depending on your chosen recipe.
What is the best way to preserve chilli sauce?
Keep your homemade chilli sauce in the fridge to prevent temperature changes so that it lasts longer. You should also do the same for Veri Peri sauces and other chilli sauce brands from supermarkets or shopping stores.
Many stop buying chilli and hot sauces from the stores after learning to make them at home. You will be shocked to know how simple it is to make these sauces from scratch using a chilli sauce recipe from South Africa. The process only requires a lot of mixing, blending, and refrigerating the ingredients.
Briefly.co.za shared three easy Eisbein recipes popular in South Africa. Eisbein is a native German meal prepared using pig-led bones.
You can make smoked and unsmoked Eisbein in less than two hours. The food goes well with rice, plantain, fufu, ugali, and other African delicacies.
Source: Briefly News