Biggest stadiums in South Africa and their capacity vs other African countries
South Africa is among the African countries with the largest stadiums. At the moment, the nation has more than fifteen magnificent arenas with considerable capacities. Often, they are used for sports events and social gatherings. Well, how many stadiums in South Africa do you know?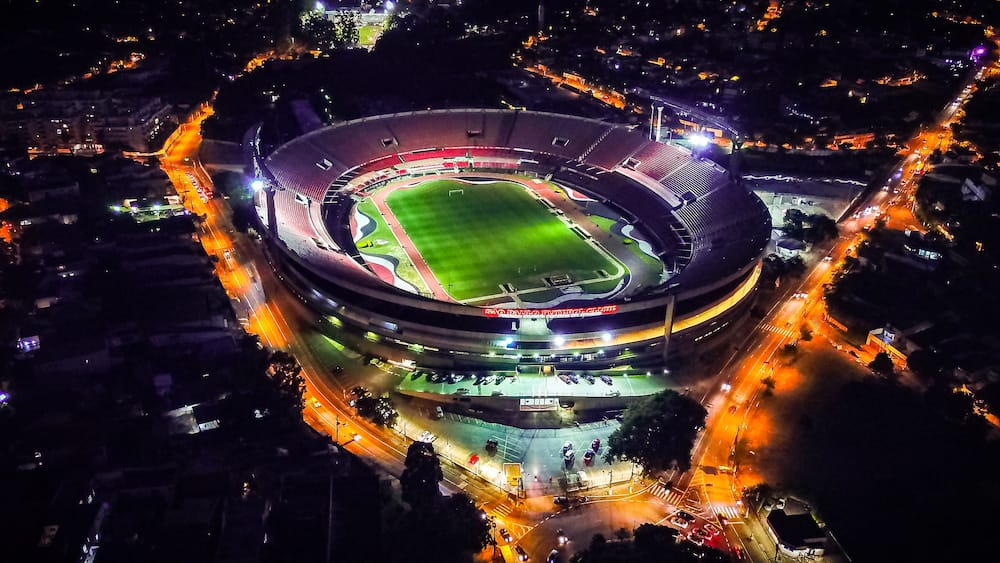 South Africa has invested heavily in developing its sports facilities. The capacities of some of these stadiums are commendable.
Most of them are strategically built in major towns for easy accessibility. Perhaps, this explains why FIFA settled for South Africa in 2010 to be the host of the World Cup. That aside, which are the largest stadiums in SA, and how can you compare them to others in the continent?
Biggest stadiums in South Africa by capacity
Below are their ranks based on capacities:
15. Johannesburg Stadium – 37,500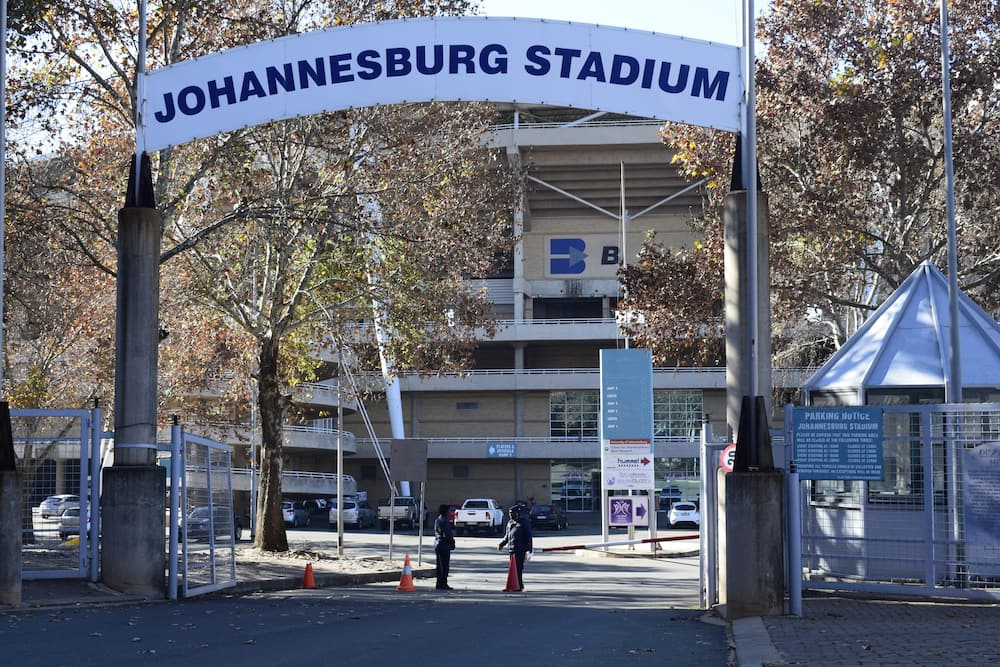 The arena was purposely built for athletics events. However, it can host other sports activities such as rugby and football. It is located in Doornfontein, Johannesburg. It is both a training ground for the Golden Lions and Lions rugby union teams.
14. Orlando Stadium – 40,000

The Orlando Stadium capacity makes it a perfect destination for soccer games. The sports ground is home of the Orlando Pirates F.C. It is located in Soweto, Gauteng province.
13. Free State Stadium – 40,911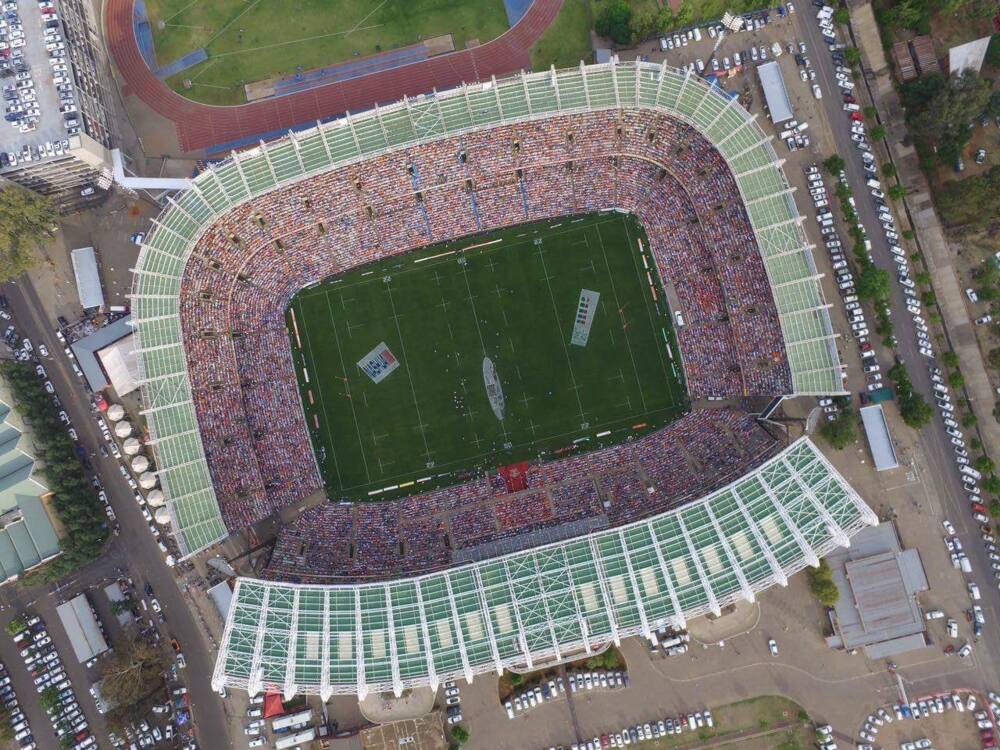 This is another sophisticated arena in the country. It hosted the 1995 Rugby World Cup. Similarly, it was among the sports grounds selected in 2010 for the FIFA World Cup. It is located in Bloemfontein and mainly put into use by teams such as the Cheetahs, Free State Cheetahs, and Bloemfontein Celtic F.C.
12. Mbombela Stadium – 40,929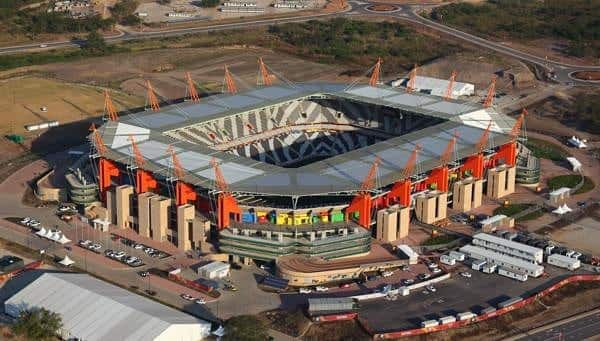 It is located on 1 Bafana Road, Mpumalanga province, Nelspruit. The ground is under the ownership of Mbombela Local Municipality. Also, the sports ground is operated by Platinum Sport. Since 2010, the arena has been the home ground for the Pumas.
READ ALSO: Top universities in South Africa 2019 - 2020
11. Peter Mokaba Stadium – 41,733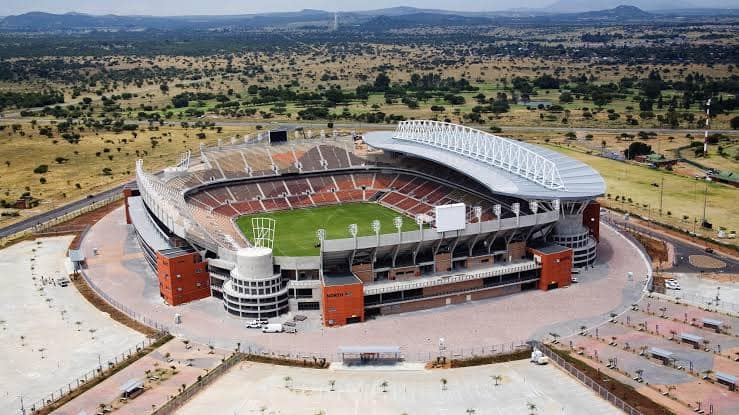 This one is located in Polokwane, Limpopo. It is mainly used for soccer and rugby sports. Its capacity was reduced from 45,500 to 41, 733 in 2010 to meet FIFA's standards. Its present tenants are Limpopo Blue Bulls, Baroka F.C, and Polokwane City F.C.
10. Royal Bafokeng Stadium – 42,000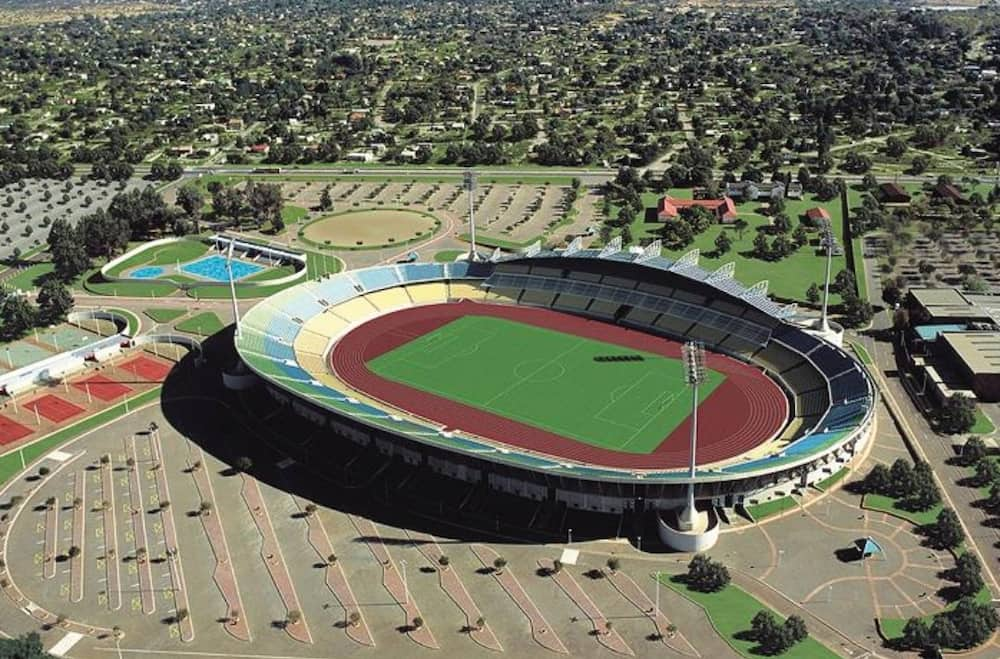 It is among the best sports grounds in South Africa located in R55 Sun City Road, Phokeng. In 2013, it hosted the 2013 AFCONs. Often, it is used as a home ground of the Platinum Stars. Like the Giyani Stadium, this arena can be used to host different events.
9. Nelson Mandela Bay Stadium – 48,459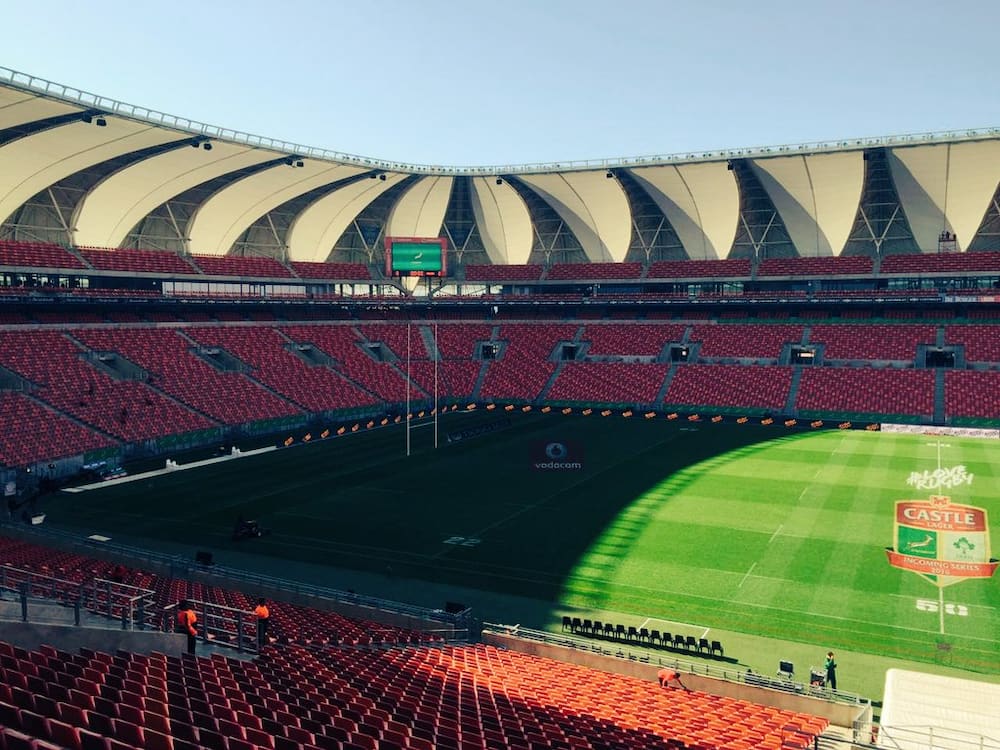 This world-class arena is based in Port Elizabeth, Eastern Cape. The arena is owned and operated by Nelson Mandela Metropolitan Municipality and Access Facility and Leisure Management Limited respectively. Its current tenants include the Chipa United, Southern Kings, and Eastern Province Elephants.
8. Newlands Stadium – 51,100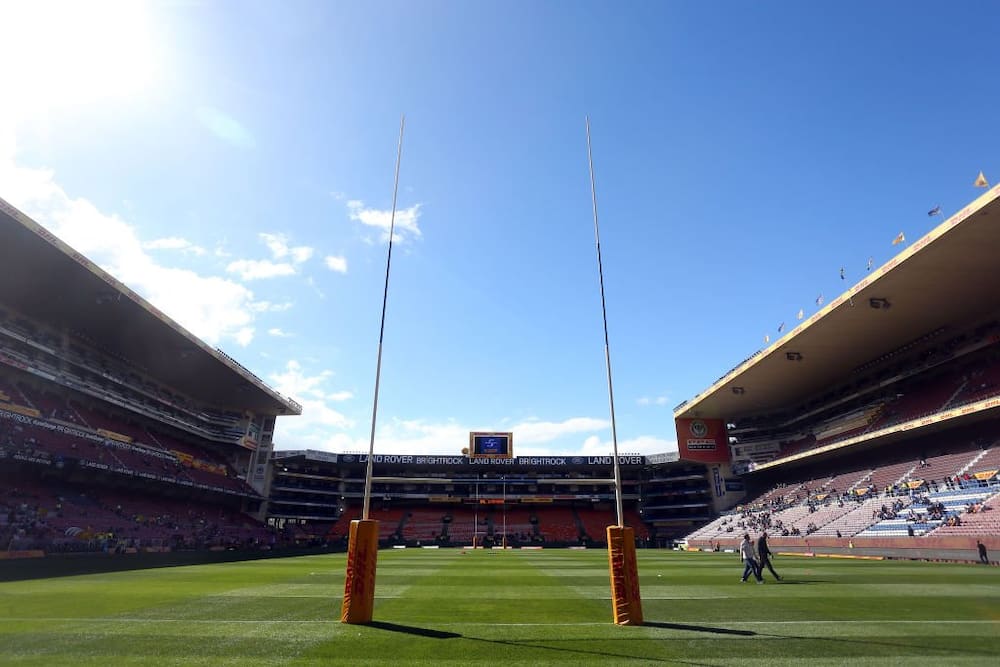 DHL Newlands is another iconic sports arena with a commendable capacity. It is located in Cape Town. The arena is managed by Western Province Rugby Union. The arena is popularly known as the home of the Stormers.
7. Loftus Versfeld Stadium – 51,762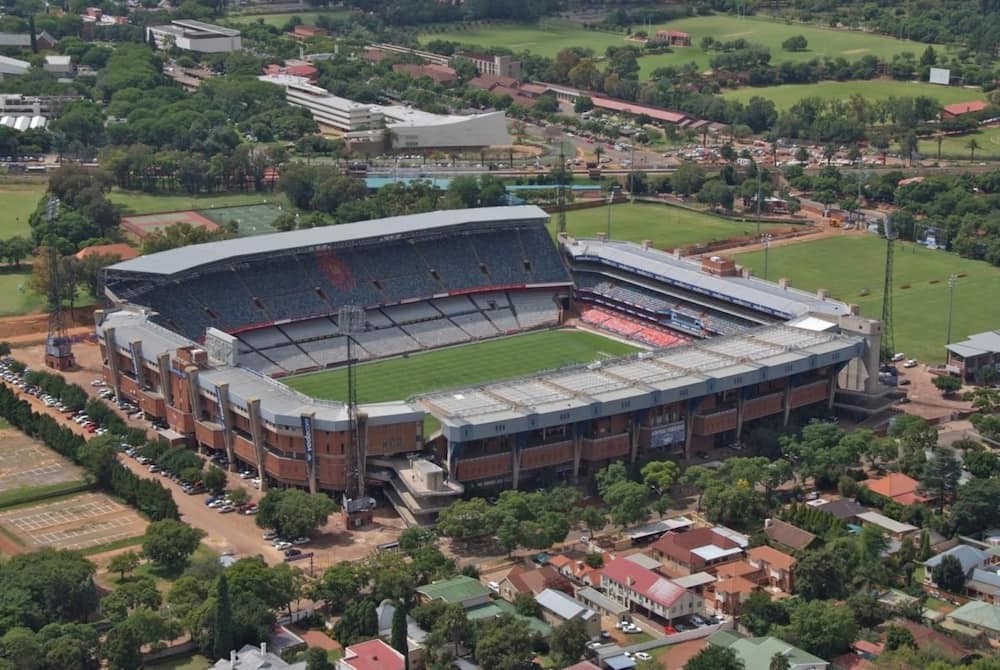 It was previously known as Minolta Loftus then later Securicor Loftus. It is under the management of the Blue Bulls Rugby Union. Also, it is located at 440 Kirkness Street, Pretoria, Gauteng.
6. King Park Stadium – 52,000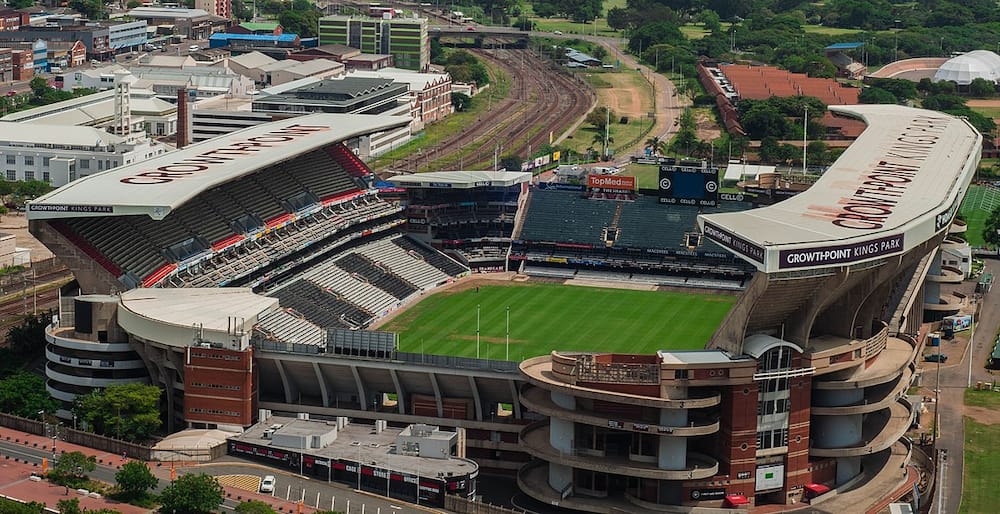 This one is amongst the oldest but yet classic. It is based in Durban. The sports ground has been the home of Cell C Sharks. It is majorly used for Rugby games.
5. Cape Town Stadium – 55,000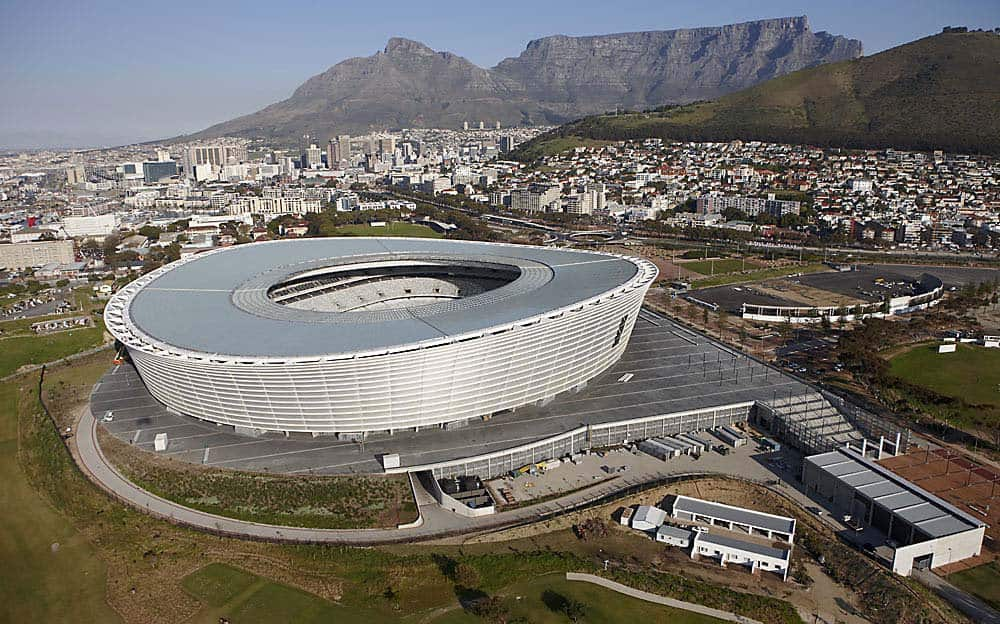 The arena is used for both football and rugby games. It was purposely built for the 2010 FIFA World Cup. Initially, the sports ground was supposed to be named Green Point arena. Cape Town Stadium capacity saw it host several World Cup matches. It is located in Cape Town.
4. Moses Mabhida Stadium – 56,000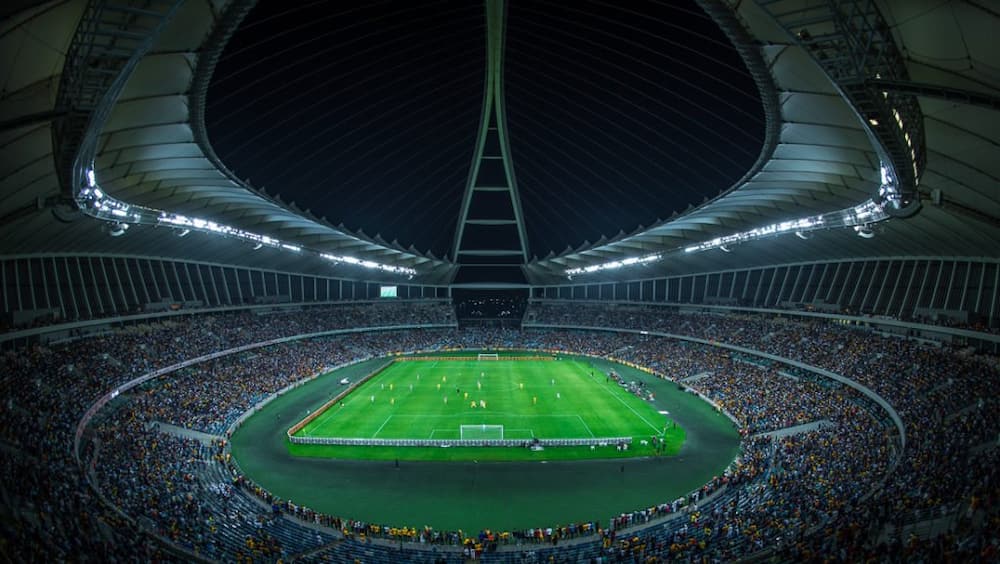 It is located in KwaZulu-Natal province in Durban. The sports ground is home to the Amazulu team. Currently, Moses Mabhida capacity is 56,000. The arena hosted seven FIFA World Cup matches, including the semi-finals. Moses Mabhida Stadium capacity can be upscaled to 85,000 to facilitate the Olympic Games.
3. Mmbatho Stadium – 60,000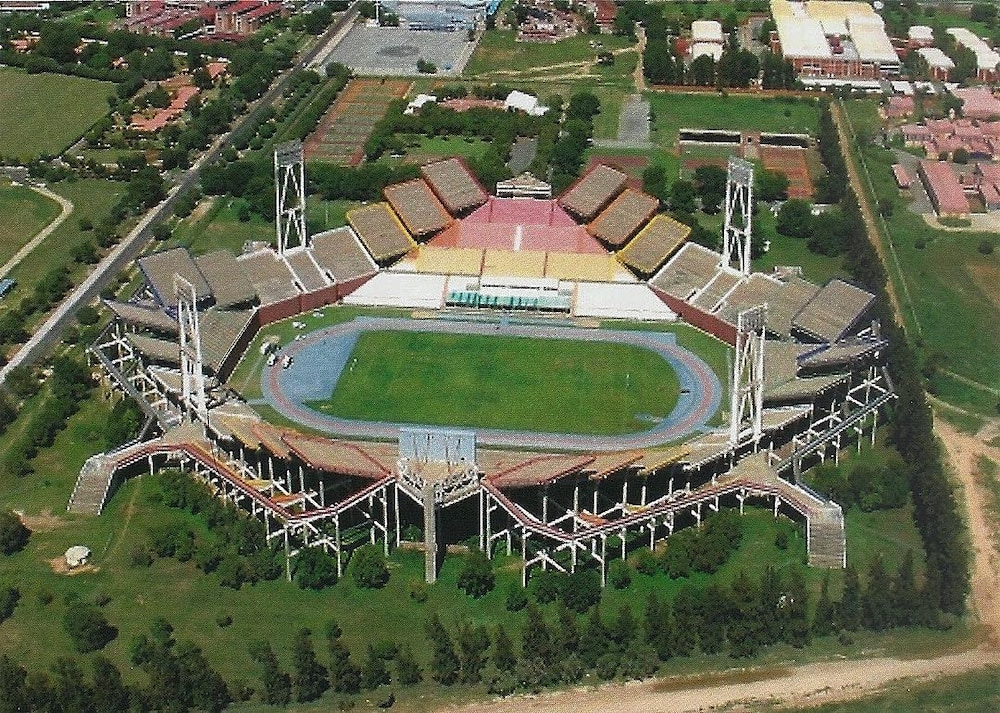 The arena has the same capacity as Phakisa Freeway and Odi Stadiums. It is located in North West province, Mahikeng. Its location makes it a perfect destination for training, especially by North-West University students.
2. Ellis Park Stadium – 62,567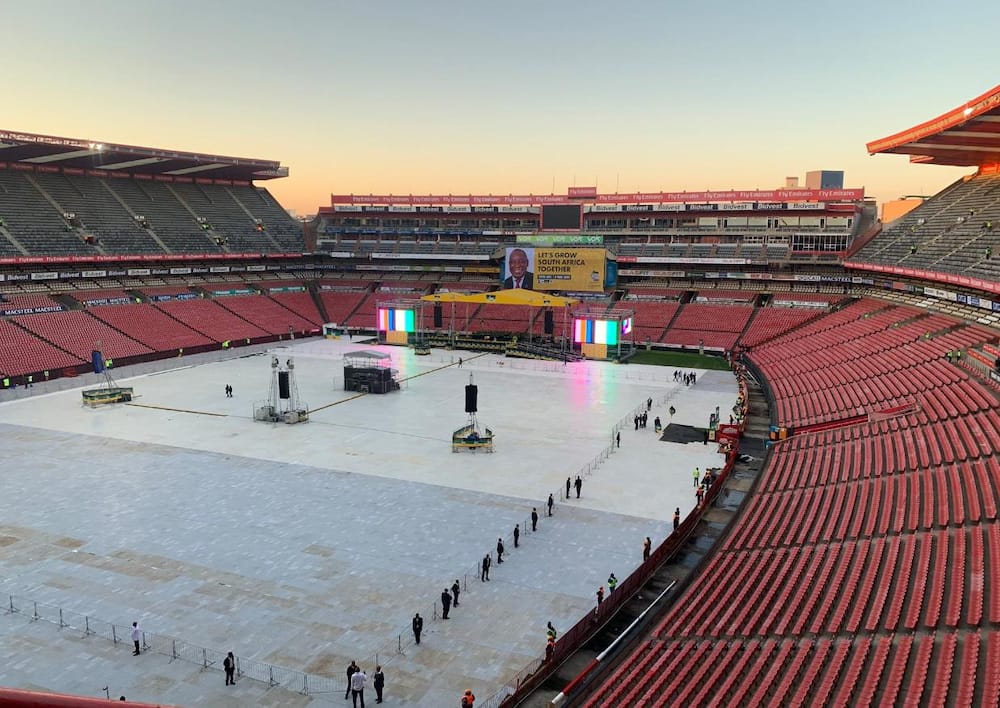 It is the second biggest arena after Soccer City. It is located in the country's capital city, Johannesburg. The arena is home to the Lions and Golden Lions rugby union teams.
READ ALSO: 10 biggest malls in South Africa 2020
1. First National Bank Stadium/ Soccer City – 94,736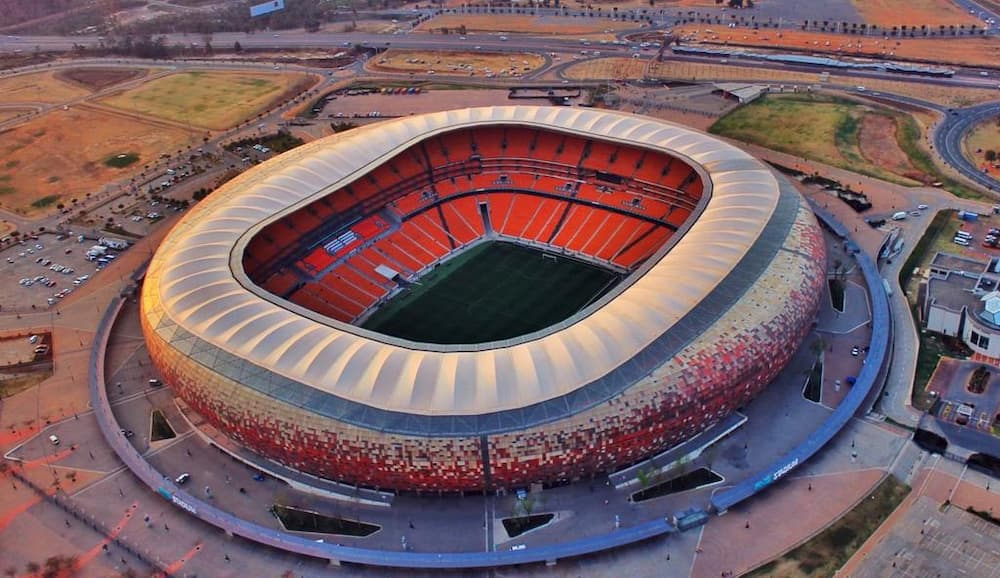 FNB Stadium is the biggest sports ground in the country and African continent. It is located in Johannesburg. The arena is under the management of Stadium Management South Africa (SMSA). For a long time, the venue has been considered to be the home of the Kaizer Chiefs F.C and SA national team, Bafana Bafana.
Top 20 largest stadiums in Africa ranked
The summary below highlights the Africa's largest arenas by capacity:
Soccer City – 94,736 (South Africa)
Borg El Arab Stadium – 86,000 (Egypt)
Stade des Martyrs – 80,000 (DR Congo)
Stade 5 Juillet 1962 – 80,000 (Algeria)
Cairo International Stadium – 74,100 (Egypt)
Stade Mohamed V – 67,000 (Morocco)
Stade Moulay Abdellah – 65,000 (Morocco)
June 11 Stadium – 65,000 (Libya)
Ellis Park Stadium – 62,567 (South Africa)
Bahir Dar Stadium – 60,500 (Ethiopia)
Abuja Stadium – 60,491 (Nigeria)
Stade Olympic de Rades – 60,000 (Tunisia)
Tanzania National Main Stadium – 60, 000 (Tanzania)
Stade Leopold Senghor – 60,000 (Senegal)
Moi Internal Sports Centre – 60,000 (Kenya)
Heroes National Stadium – 60,000 (Zambia)
National Sports Stadium – 60,000 (Zimbabwe)
Odi Stadium – 60,000 (South Africa)
Stade 19 Mai 1956 – 56,000 (Algeria)
Cape Town Stadium – 55,000 (South Africa)
Which is the biggest stadium in South Africa?
At the moment, Soccer City is the biggest not only in South Africa but also in Africa. It has a seating capacity of 94, 736. In addition to its size, it is equipped with state-of-the-art facilities.
How many stadiums are in South Africa?
Arguably, South Africa has many arenas as compared to any other country in the continent of Africa. So far, SA boasts of more than 70 stadiums. The biggest has a seating capacity of 94,736 while the smallest has a capacity of 10,000.
Indeed, South Africa understands the significance of promoting sports. It has been heavily investing in constructing its facilities, especially stadiums across the country. Currently, most stadiums in South Africa qualify to host different world-class tournaments.
READ ALSO:
Eskom Power Stations: Complete list of power stations in South Africa, locations served by each one and their capacities
Kaizer Chiefs coach admits that they deserved empty stadiums
Richest football Clubs in Africa in 2019 - which teams rate highest in the money stakes
Source: Briefly News