How well do you know Asavela Mngqithi? She is a South African actress who is recognized for her Ntwenhle role on Mzansi's favourite telenovela, Isibaya. Her career in the film industry is growing fast because of her great talent.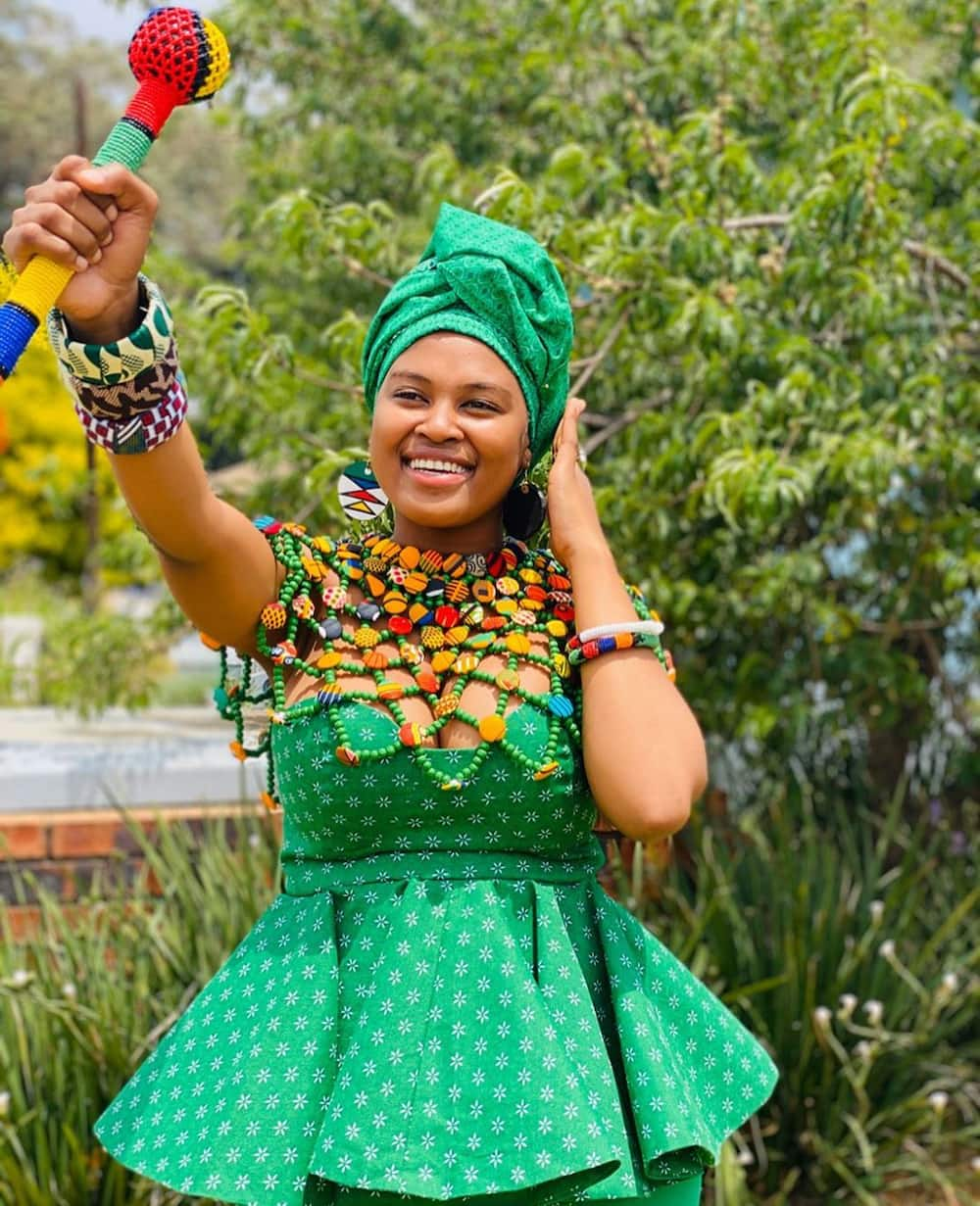 Having been blessed with beauty and talent, the curvy actress continues to take the South African acting industry by storm. Do you want to know more about her? The following Asavela Mngqithi biography takes you through her life journey.
Profile summary
Full name: Asavela Mngqithi
Year of birth: 1996
Asavela Mngqithi age: 24 years
Career: Actress
Nationality: South African
Asavela Mngqithi Instagram: @asavela_m
Early life and education
The gorgeous actress was born in 1996 in Umzimkhulu, KwaZulu-Natal. She was brought up by her mother and grandmother in Lamontville, south of Durban, where she learned fluent Zulu and Xhosa. Asavela went to live in Johannesburg after passing the Isibaya auditions and had to start filming. Her father, Manqoba Mngqithi, is a great South African football coach. He was a former school teacher. Not much is said about Asavela Mngqithi and Manqoba Mngqithi, which makes it hard to tell where their relationship stands.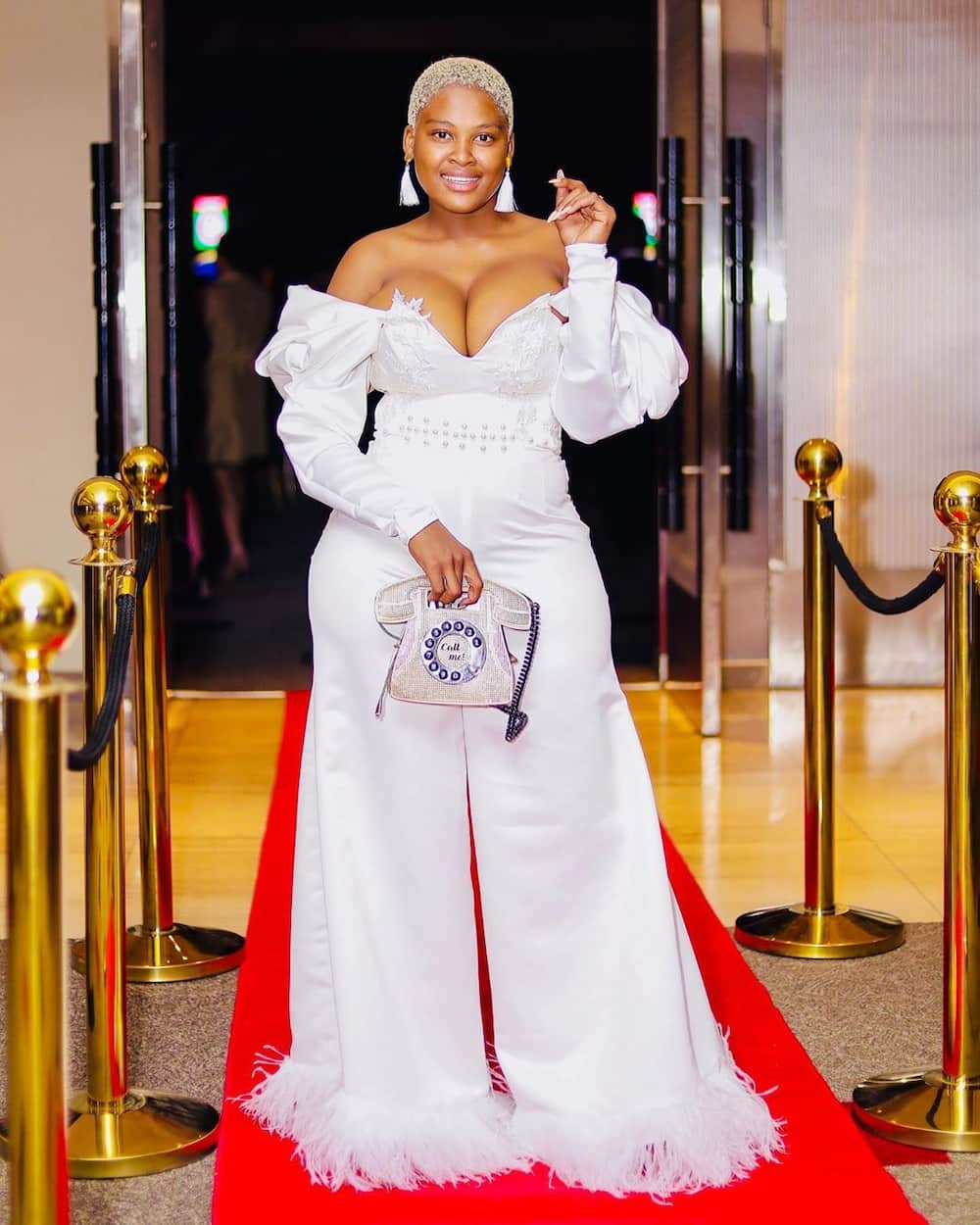 She attended the AFDA College, which is located in Durban for her higher education studies. Her specialization was camera and editing, but she had to drop out of college in her third year because of personal reasons. She hopes to go back and finish. In an interview she did earlier, she admitted that acting was not what she wanted but had to try her luck in the field since she did not have a degree.
Is Asavela Mngqithi married?
Despite the fact that she is a public figure, the actress has managed to keep her private life away from the limelight. Asavela Mngqithi's husband is, therefore, not known since there is no information to prove that she is married. It is also hard to tell who is Asavela Mngqithi boyfriend at the moment because her dating life is also hidden.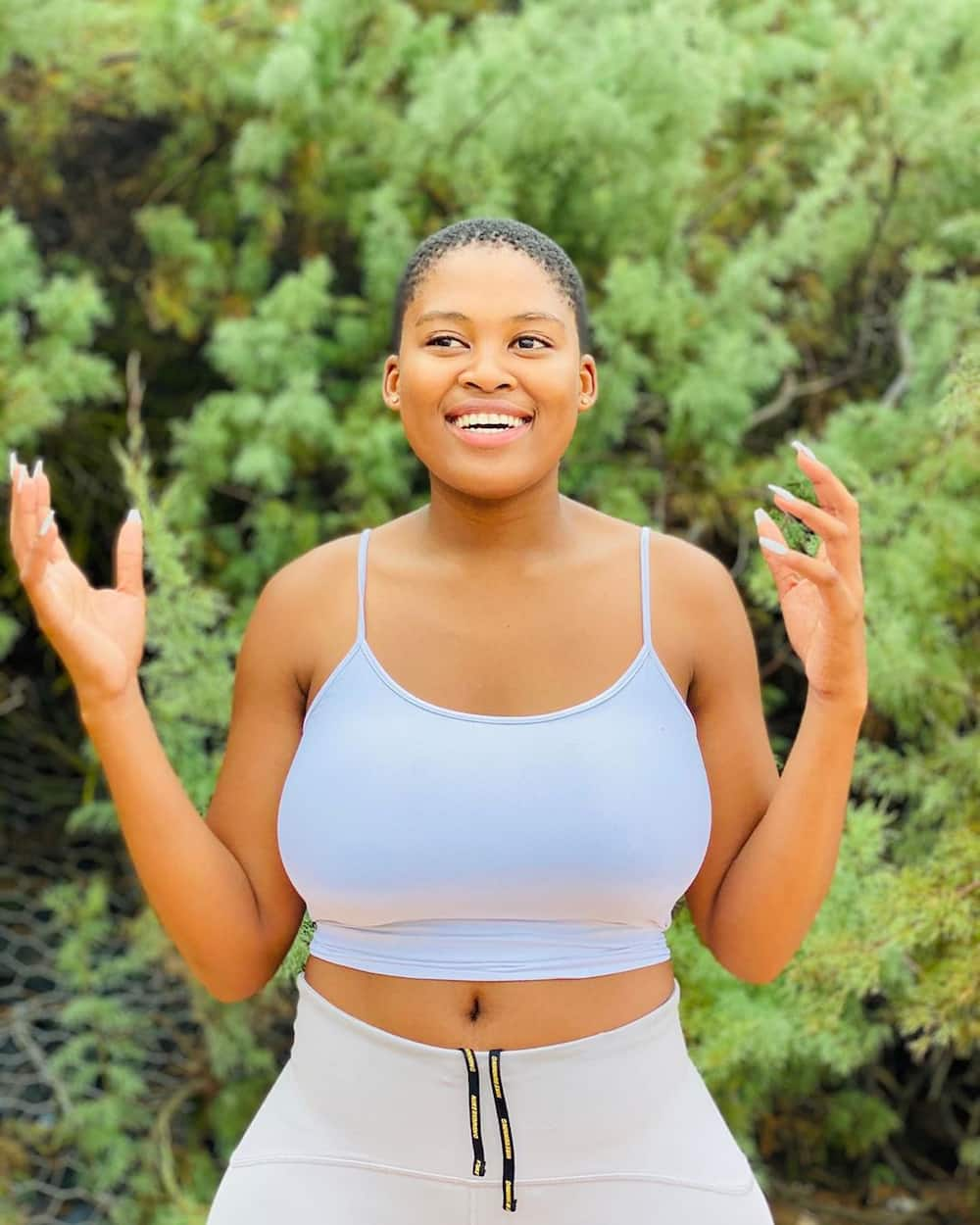 Career
The beauty is best known for her role, Ntwenhle, on Isibaya soapie. The lovers of this soapie seem to be falling in love with her character after Thandeka was killed. Nomazamo Mbatha, who was playing Thandeka, left the South African soap opera in early 2020. Jessica Nkosi, known as Qondi from Isibaya, also announced in March 2020 that she is leaving the Isibaya show. Could this be the opportunity for Asavela to let her acting star shine brighter?
Ntwenhle from Isibaya is a role that depicts a young rebel lady. In an interview she did earlier, she says that people love her character in the telenovela because it liberates women. The curvy actress joined Isibaya soapie after passing the auditions back in 2017.
The talented actress is also blessed with vocals for singing. In 2018, she released a song called Isgubhusama Zulu with Melusi Mbhele. Her fans are hoping that she will release more songs in the future.
Asavela Mngqithi car
The actress is often seen on vacation in posh places across the globe, including the Bahamas and Paris, France. She is believed to have bought herself a Mercedes Benz because she posts it a lot on her Instagram.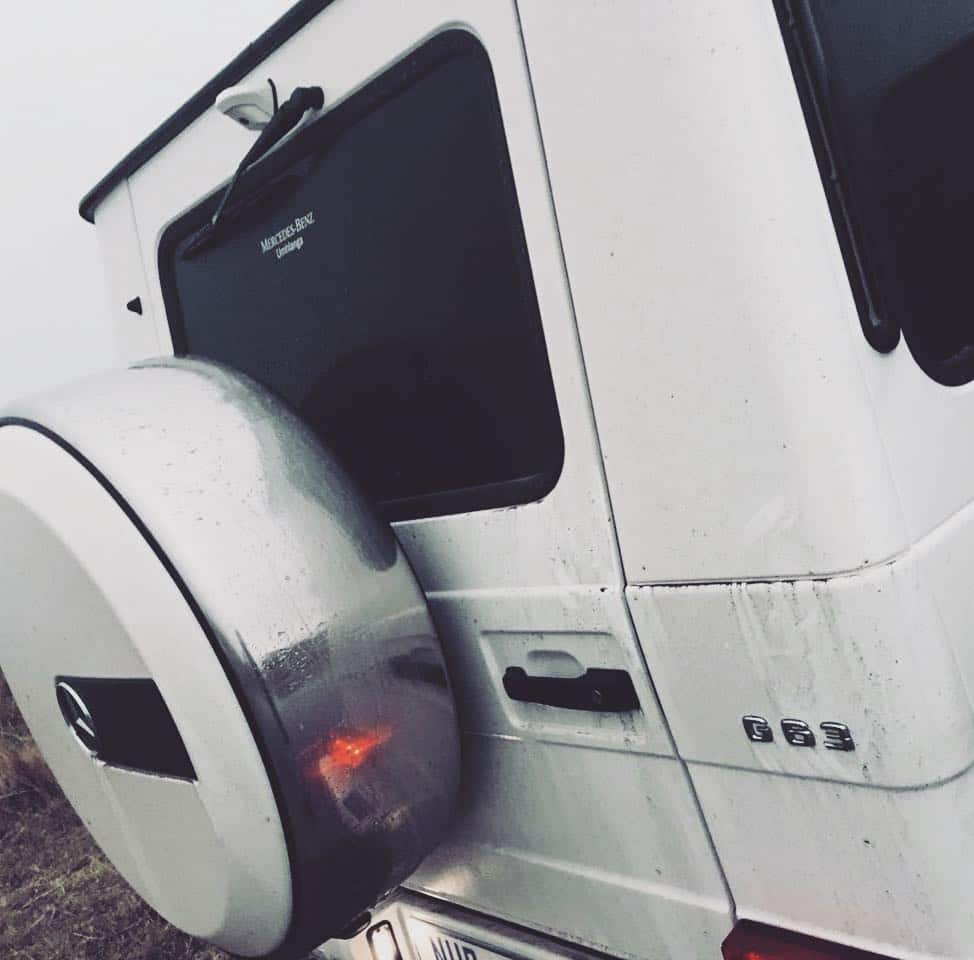 She has also been spotted taking pictures near other car models.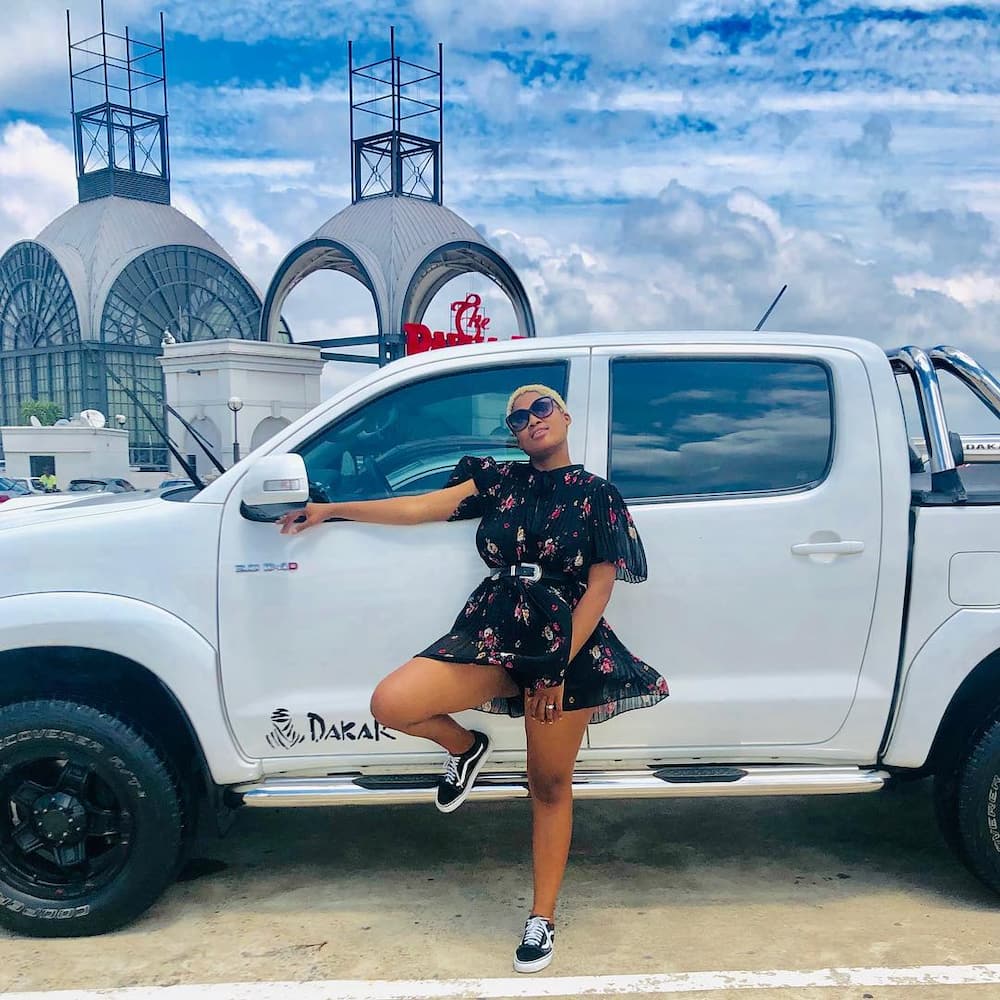 Asavela Mngqithi pictures
The Isibaya actress has the perfect body for pictures. All the photographs she takes are breath-taking. She has a bright smile as well. She is a free soul that does whatever makes her happy. The following are some of her best photos.
This is a picture of her wearing the traditional Zulu attire after taking part in the Ingoma dance. Asavela Mngqithi dancing shows how she still embraces her Zulu traditions. The dance is done by girls and boys accompanied by a chant but with no drums.
READ ALSO: Who is Caster Semenya wife, Violet Raseboya?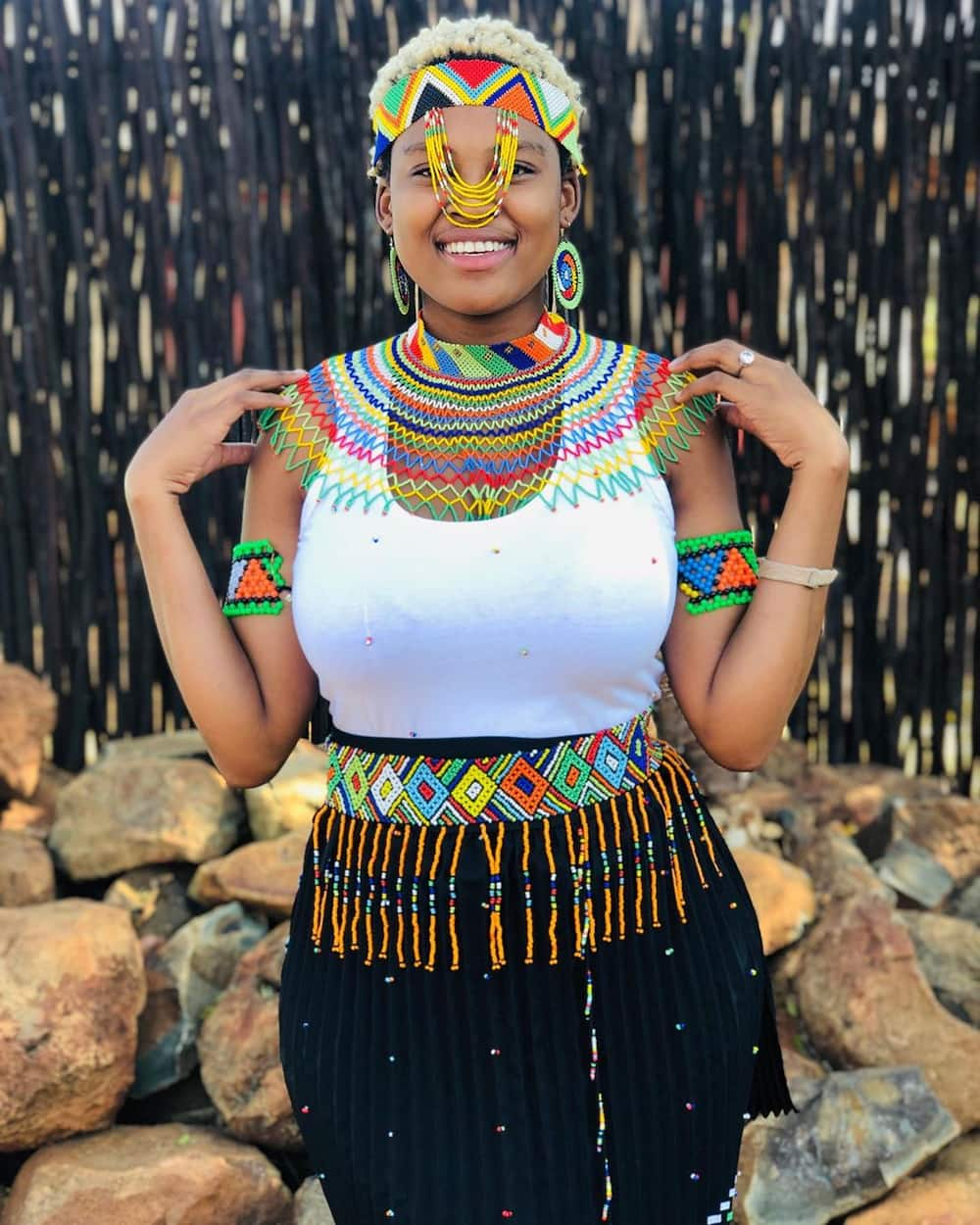 This is her in shorts. She is good looking and has the body to show off.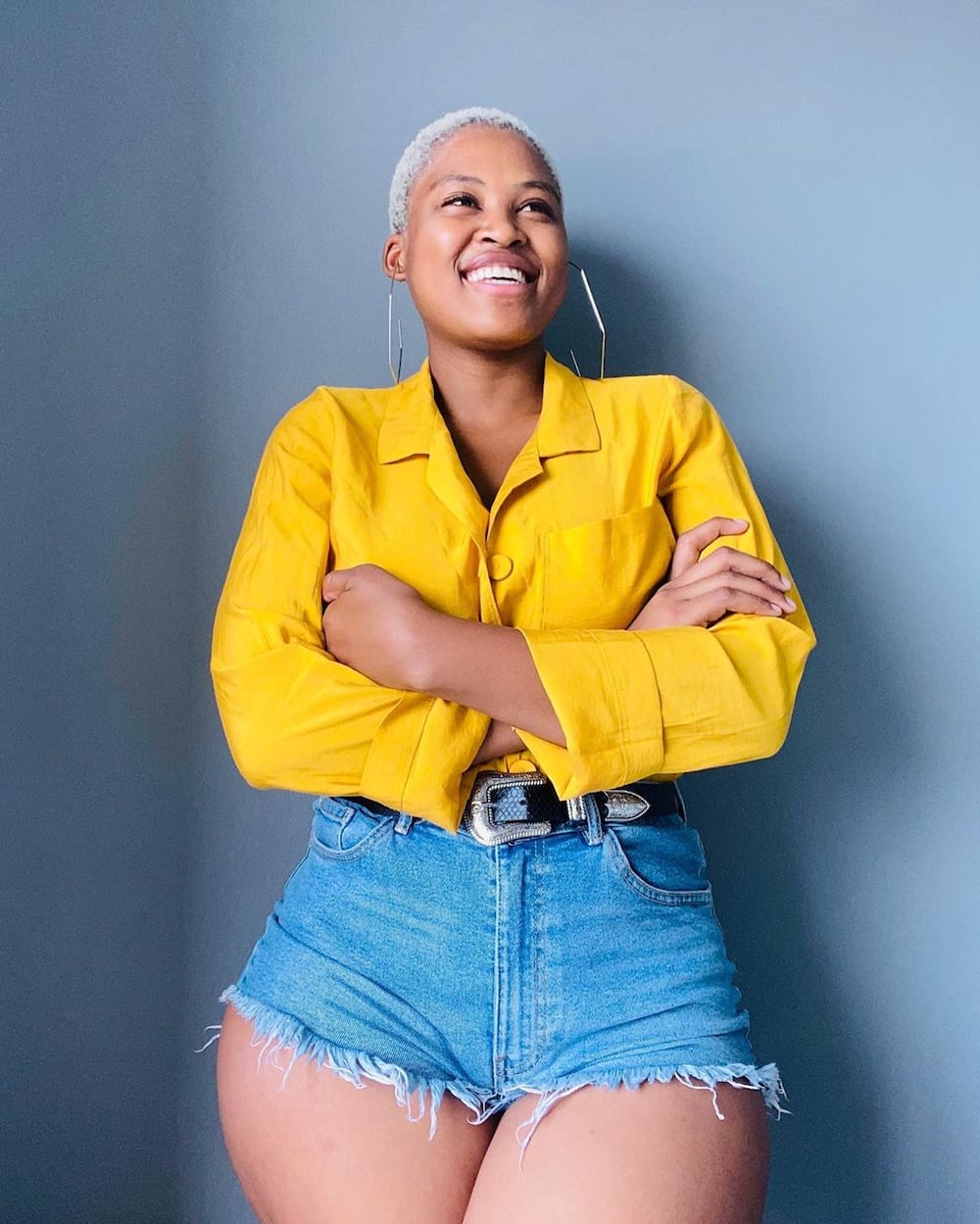 She often posts pictures of her in bikinis and shorts. The gorgeous actress looks great in dresses as well.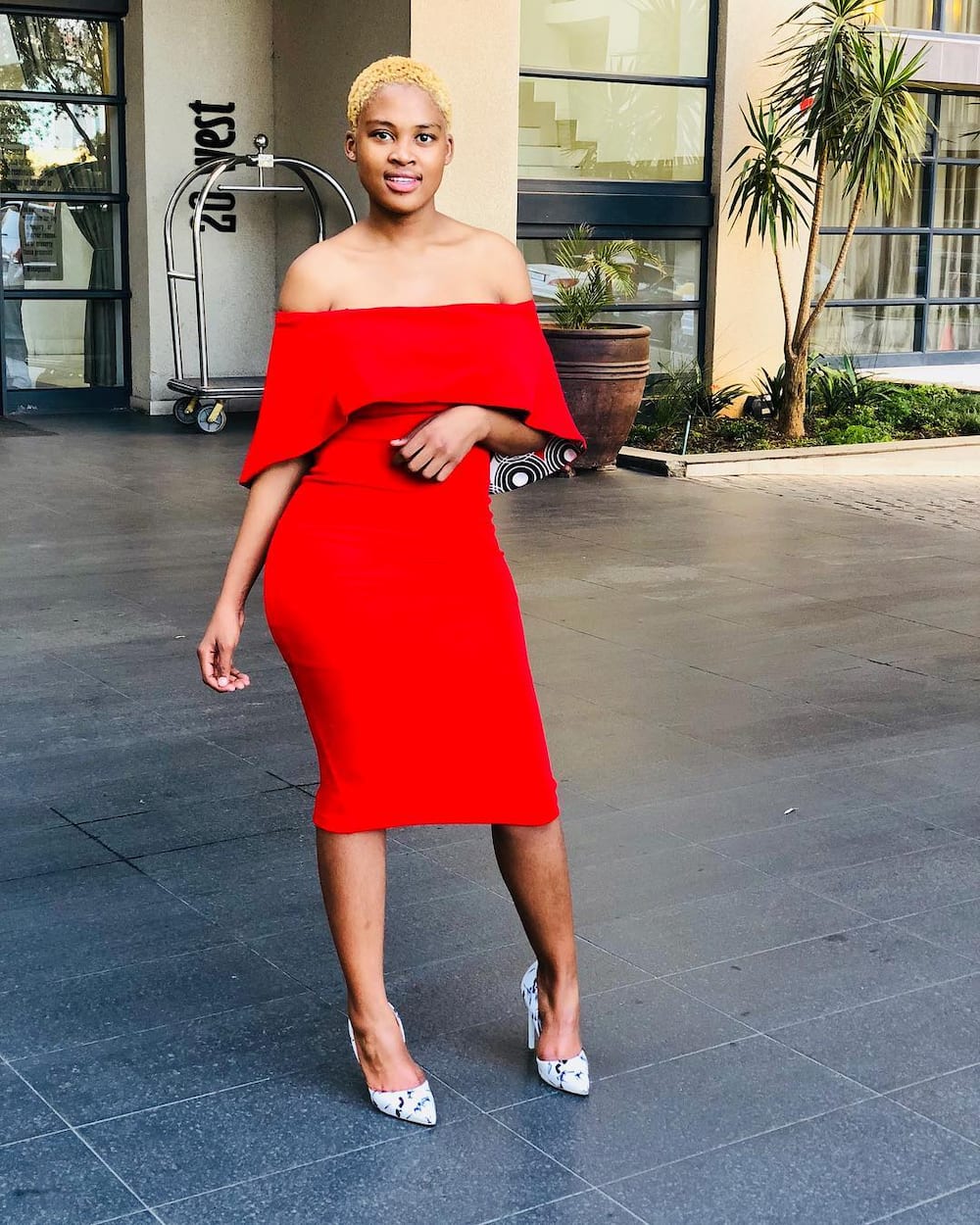 Casual clothes do not take away her beauty.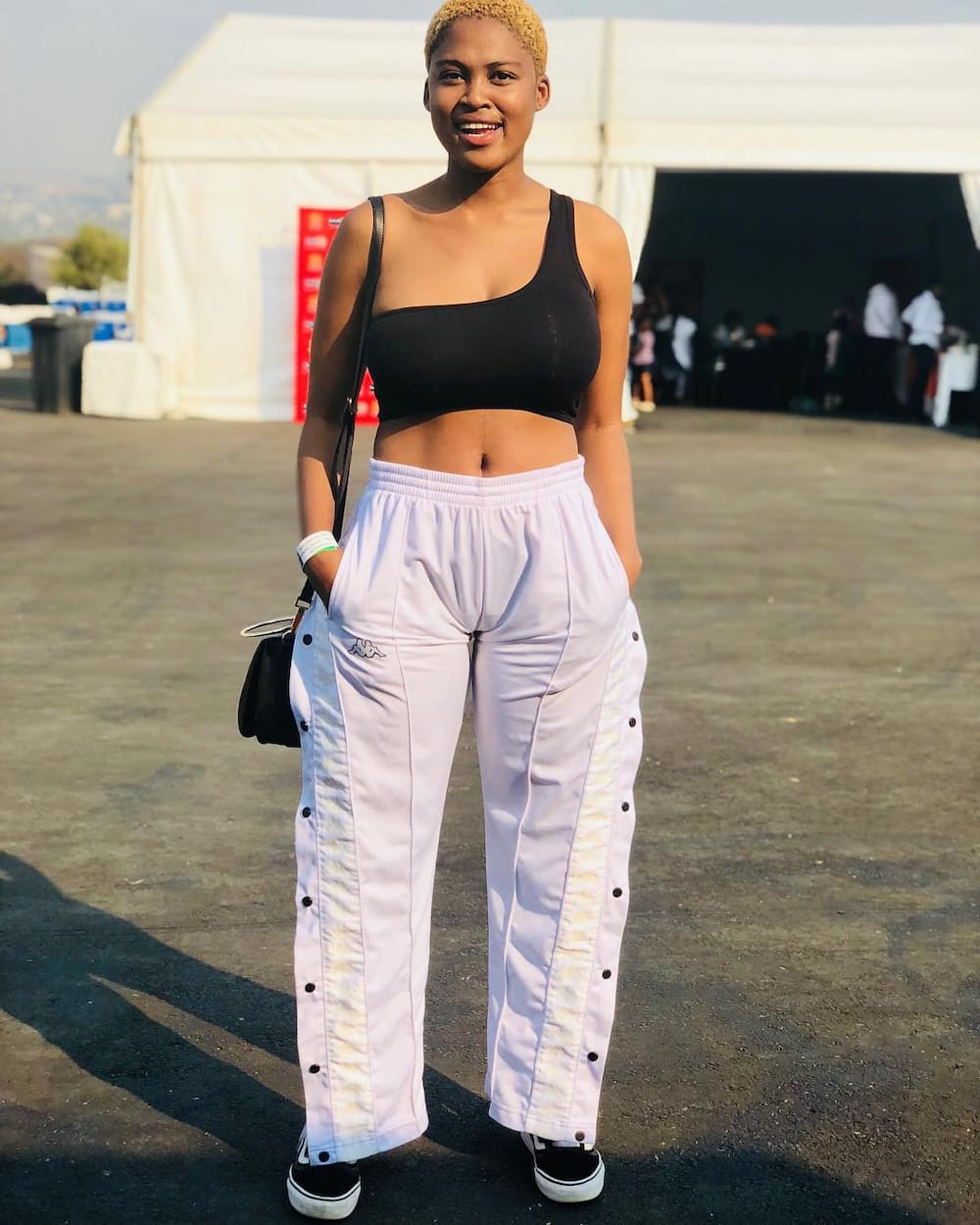 Asavela Mngqithi body makes her appealing in any outfit. This black trouser and white top reveal her curvy features, which is a dream for many young ladies.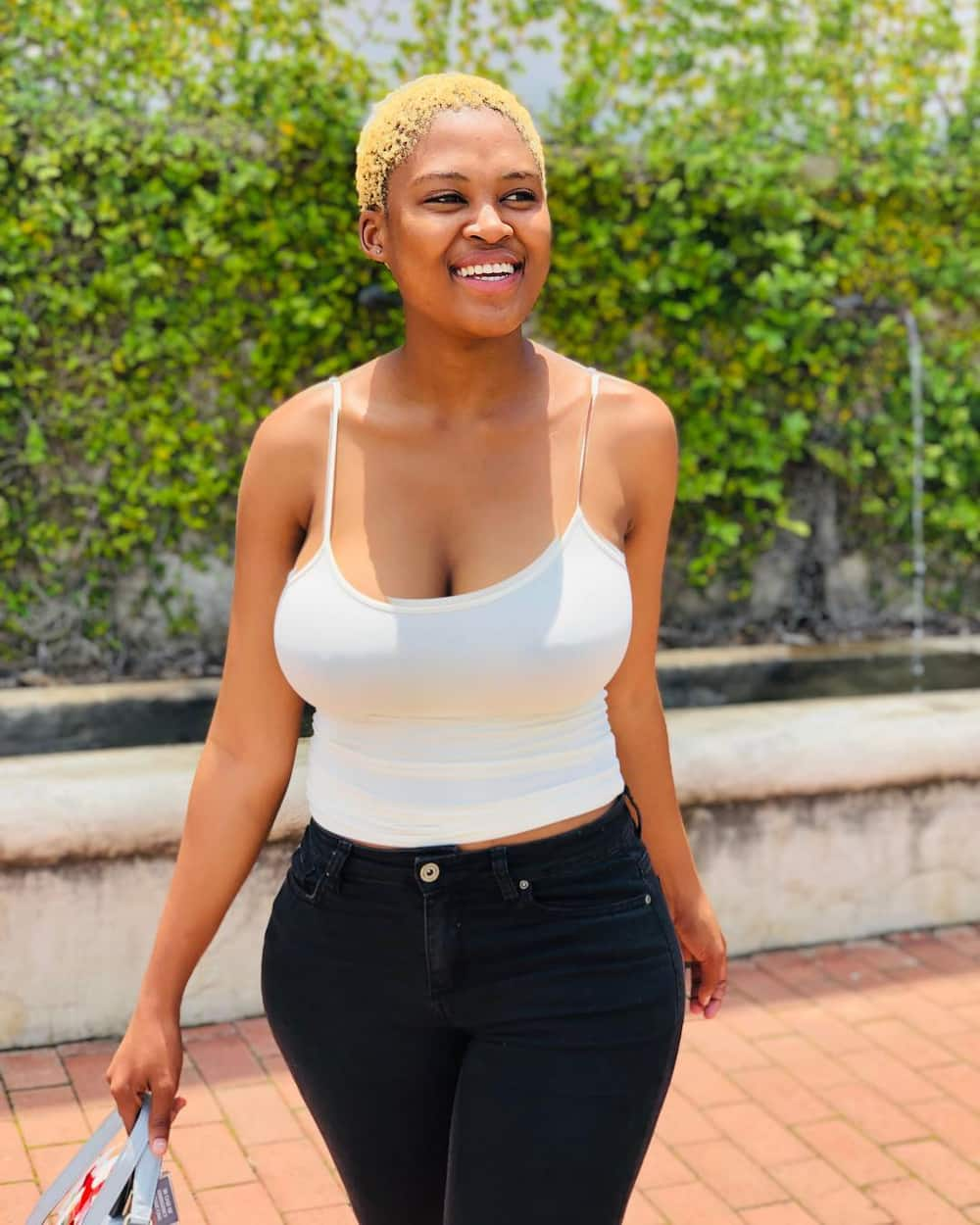 READ ALSO: Meet first Ghana lady to become Gates Cambridge Scholar PhD candidate
Frequently asked questions (FAQs)
The following are the questions every South African asks after Asavela's quick rise to stardom.
Who is the father of Asavela Mngqithi?
Her father is Manqoba Mngqithi, the current assistant coach of Mamelodi Sundowns football club.
What is Ntwenhle real name from Isibaya?
Ntwenhle's real name is Asavela Mngqithi.
Is Asavela Mngqithi Xhosa?
She is Xhosa and can fluently speak the language after being brought up in Lamontville, KwaZulu-Natal.
Asavela Mngqithi's success in the acting field is drawn from hard work and exceptional talent. She has already achieved a lot in her early 20's. Her story is an inspiration to many young girls in South Africa who hope to make a better life for themselves in the future.
READ ALSO: