Pepsi Pokane bio: age, daughter, wife, Uzalo, businesses, profile, net worth
Pepsi Pokane is a renowned South African media personality. Although he studied international business at Howard University in Washington, destiny surprised him by pushing him into another career that has enabled him to achieve great things in his life. He became famous in 2005 when he worked for SABC2 as a host of its late-night music show named Afro Café.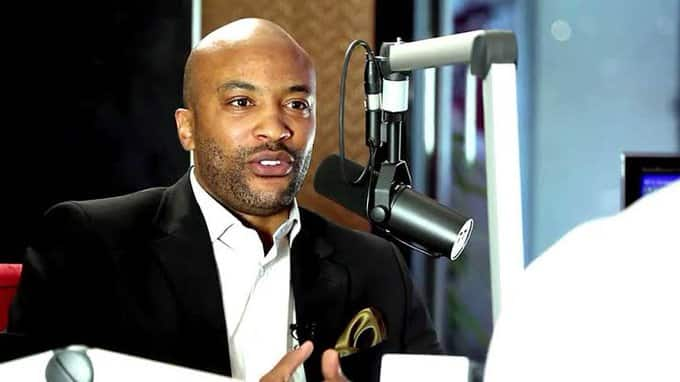 Pepsi Pokane net worth is concealed, but his career life tells us how wealthy he is. He has interacted and done business with influential people in South Africa. His production, Uzalo, has millions of viewers. Although he is not on the list of top ten wealthiest people in South Africa, he has achieved more than most South Africans dream of achieving.
Pepsi Pokane profile summary
Full name: Pepsi Pokane
Date of birth: 16th November
Age: Unknown
Marital status: Married
Career: Television presenter, content creator, strategist, actor, director and businessman
Nationality: South African
Pepsi Pokane biography
Pepsi Pokane Uzalo producer was born in Johannesburg, but he grew up in Lesotho. He dropped out of Howard University in 2002 and landed a job in SABC as a continuity presenter. He launched the 24-hour gospel channel entitled Top Gospel, which is aired on Top TV. It is ranked the second-best Christian channel in South Africa.
He has directed many shows, including The Toasty Show, CineMagic, Mamepe, Standard Bank Joy of Jazz, and Gaz'lam. He also acted as Vic in Gaz'lam from 2003 to 2005, and he played a critical role as a member of the cast and production teams of Shaka Zulu, Uzalo, and Ehostela.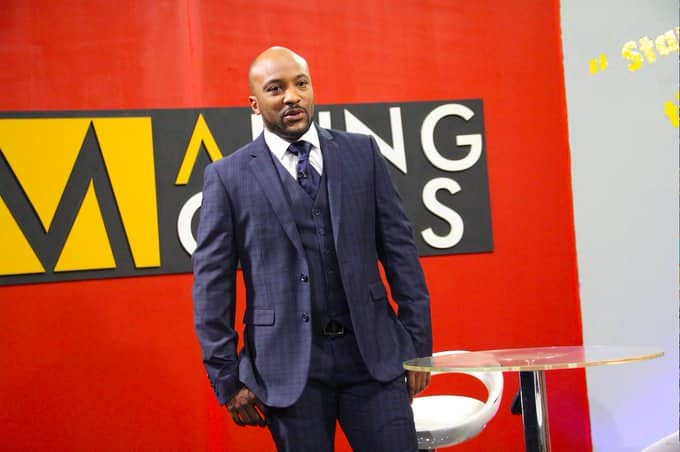 In 2006, he replaced Bob Mabena, the presenter of SABC 2's reality show called You're Hired 2. In the same year, he won the title of Cosmopolitan's Sexiest South African Man, and he was also mentioned among the 5 Seventeen Magazine Hotties.
Beauty pageants, music concerts, and corporate shows hire him to modulate their events as the emcee. He is a brand ambassador of Cellfood, an organization that advocates for a healthy diet and lifestyle.
Pepsi Pokane marriage
He is a loving father and husband. The family lives in Johannesburg, one of the richest cities in Africa.
Who is Pepsi Pokane wife?
His spouse, Machere Pooe, is South Africa's best fashion designer and owner of the Machere Fashion house. The eldest Pepsi Pokane daughter will be 16 years old by the end of 2020. Born in 2004, their baby girl is growing into a beautiful young woman. She is the spitting image of her mother.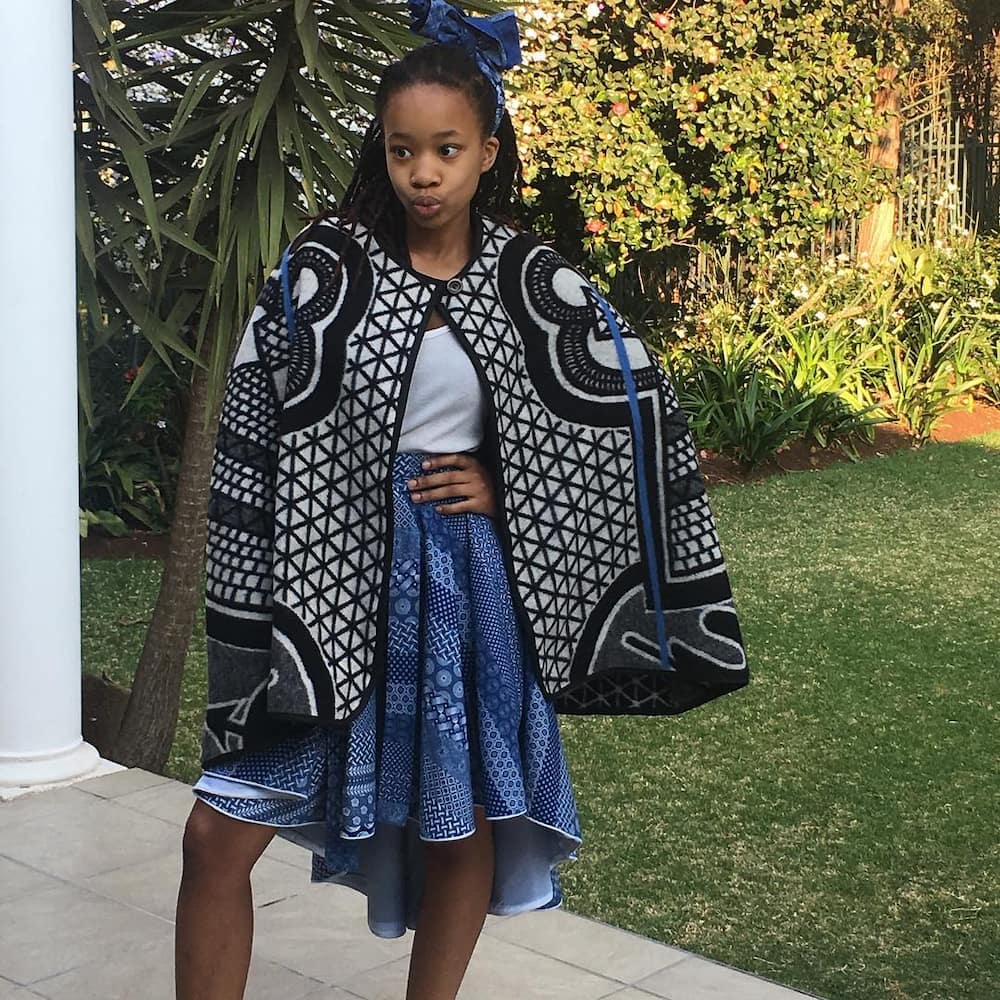 READ ALSO: Stunning mom and daughter: Zandi Nhlapo and Ntando Zikalala wow Mzansi
The couple has two more daughters. Pepsi Pokane Instagram account does not exist, but you can find beautiful pictures of his family on his wife's Instagram account named @macherefromjozi.
What gift did Pepsi Pokane receive from his children on his birthday?
Pepsi Pokane age is not known. According to his 2016 post on Twitter, Pepsi Pokane date of birth is 16th November. His children surprised him with a creative and hilarious birthday gift. The word "Farter" instead of "Father" was intentional because of the other side of the customized coffee mug.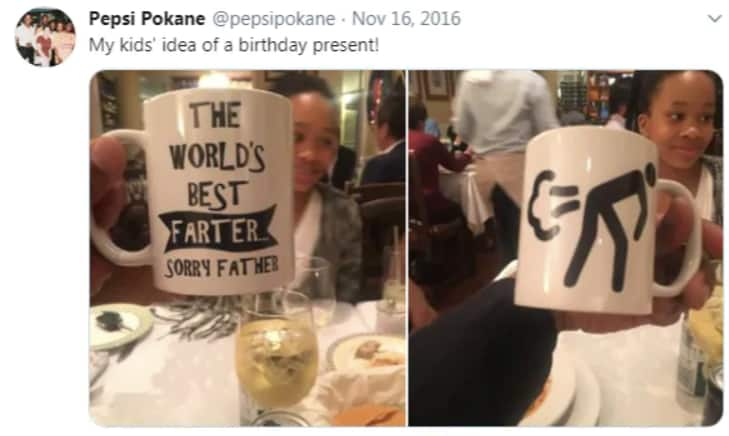 READ ALSO: Cici shares snap of her adorable baby, gushes about being a mom
This gift shows the strong bond he has with his children because they are not afraid to make fun of him, and he happily gives them the freedom to joke around.
Do you know Pepsi Pokane businesses?
Among the many businesses that he engages in, he is the managing director of his multimedia company. It produces a wide range of television content. The company has worked on shows like Zooming in on Men for SABC3, Urban Massive for DStv, and Zwahashu for SABC2. Pokane does not work or own Pepsi South Africa.
He co-owns Stained Glass Productions with Gugu Zuma-Ncube. Gugu Zuma-Ncube is the daughter of the former president of South Africa, Jacob Zuma. The two requested Durban's economic development and planning committee to allocate R11.5 million to the production of Uzalo, but they received R5 million.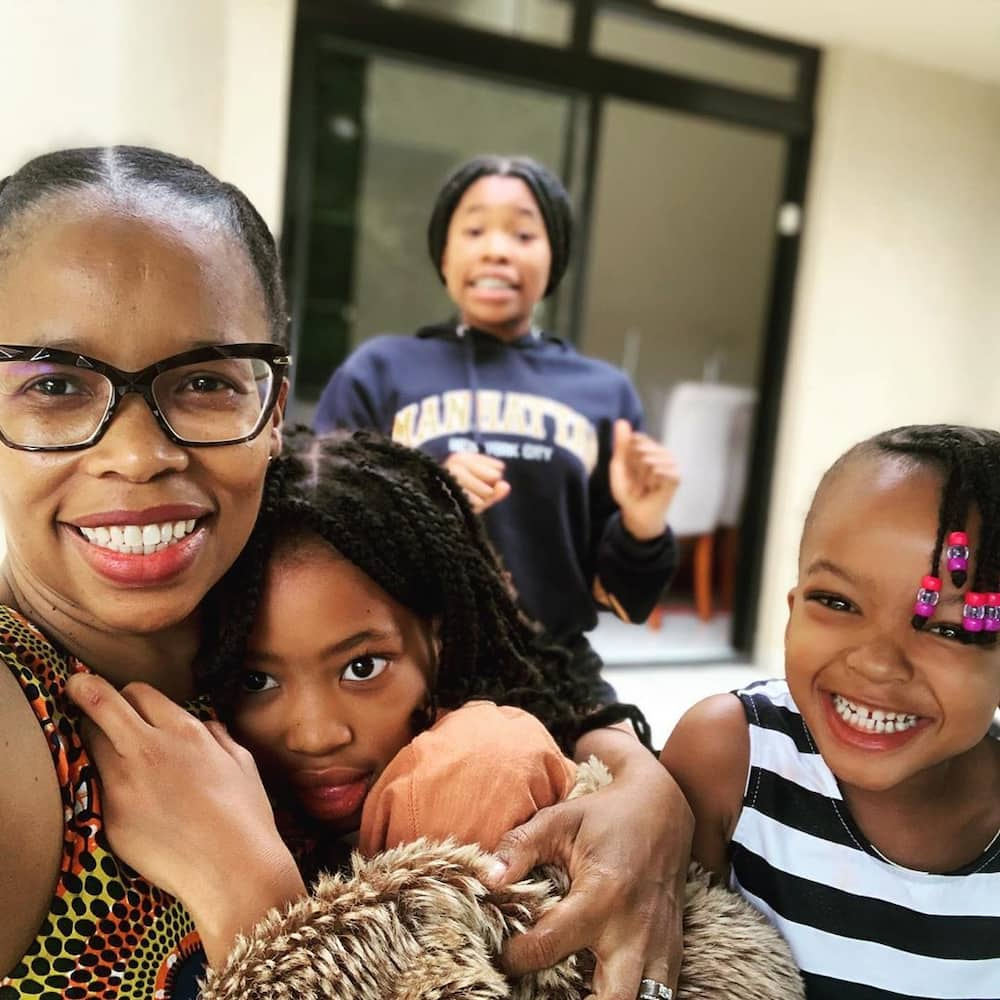 READ ALSO: Mzansi mourns with mom: Tragic The oven - The bun challenge post
Uzalo was aired for the first time in 2015 on SABC1 from Mondays to Fridays. Its playwright-producer is Duma Ndlovu. The motive behind its production was to create an opportunity for talented actors from Cape Town and Johannesburg and to prove that Durban was capable of producing a high-quality daily drama series.
The show took a two-month production break. Upon its return, some of its cast members, Nkanyiso Makhanya (aka Njeza), Nelisa Mchunu (aka Fikile), Wiseman Ncube (aka Sbonelo) and Noxolo Mathula (aka Lilly), took to social media their dancing celebrations.
Pepsi Pokane may be famous and wealthy, but he leads a private life. Although he does not restrict his family from coming to the spotlight, they are careful not to overexpose themselves to social media.
READ ALSO:
Saudi claims to be best Mzansi rapper alive: "I'm not some rapper"
ProVerb announces doccie to honor ProKid: "This is beautiful"
Belle Delphine bio: age, net worth, birthplace, YouTube, song, profile
Source: Briefly News