Lusanda Mbane bio: age, married, family, weight loss, foundation, dancing, net worth
Lusanda Mbane is an actress who has discreetly mastered the art of wearing many hats. Considering the several engagements she has, one wonders how under heaven that is even possible. When she is not shooting for Scandal, an eTV soapie, the actress is a radio host, business lady, and philanthropist. Earlier on, she has played roles on other leading soapies like Muvhango, Generations, and other productions, including Tempy Pushas and Soul City. Currently, Lusanda is the Managing Director of her recruitment company, and what's more, she produces and hosts a show on Tru FM.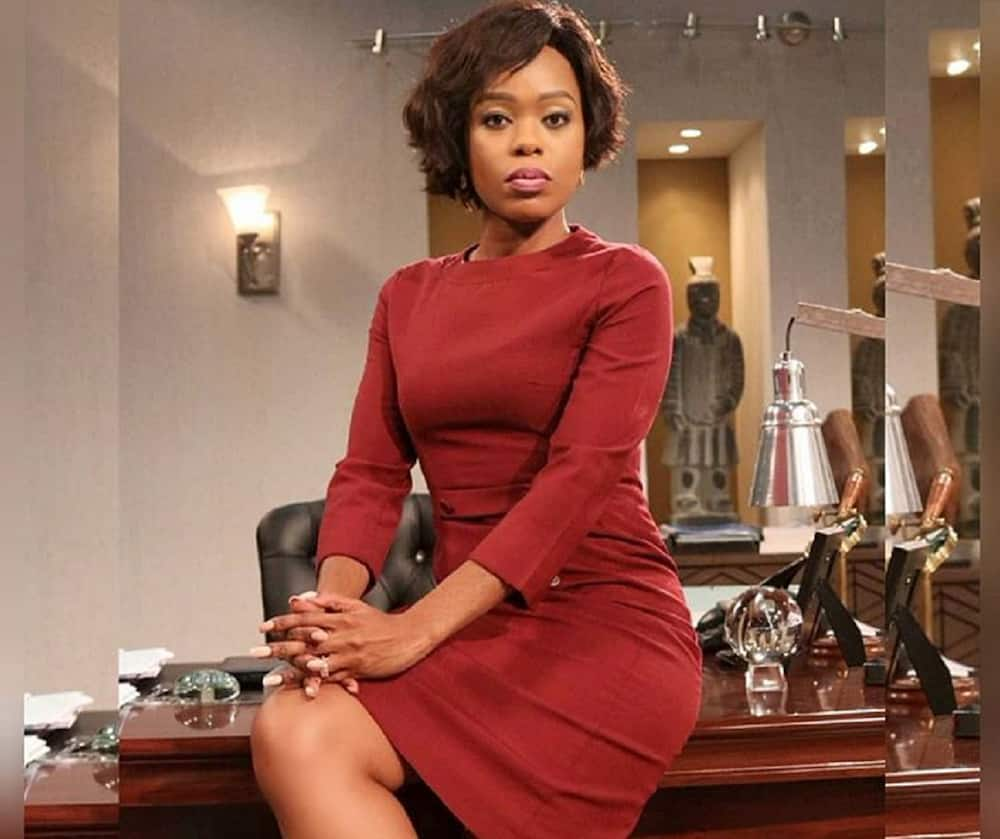 Lusanda Mbane hails from Butterworth, Eastern Cape. She shot to fame during the 2010–2011 period through her role as Naomi Malotana on Generations, an SABC 1 soapie.
Lusanda Mbane profile
Birth name: Lusanda C. Sangoni
Languages: Xhosa; Zulu English
Nationality: South African
Talents: Acting, Dancing, Presenting, Dancing, MC
Height: 1.64 m
Hair: Black
Shoe: 7
Eye: Brown
Lusanda Mbane age
She was born on May 16th, 1979. Therefore, she is 41 years old
Education
For her high school education, Lusanda attended East London's Clarendon Girls' High School. From Clarendon, she joined the Technikon Witwatersrand, where she started studies in Marketing. After a two-year stint (1998-2000) at the Technikon, she moved on to UNISA, where she graduated with a B.Com in Marketing.
READ ALSO: Ifani bio: age, family, career, education, car, songs, AKA, albums, movies, profile
Marriage and family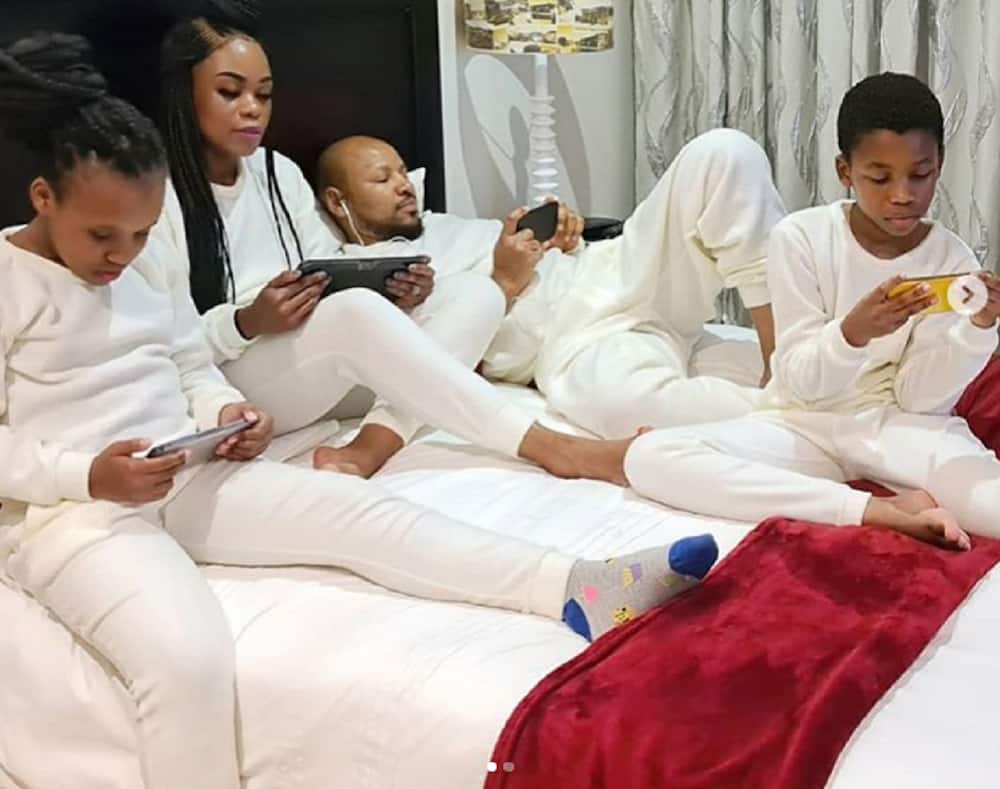 Is the actress married, and who is Lusanda Mbane's husband? Yes! Lusanda Mbane got married Luzuko 15 years ago, and they are blessed with two kids: Liqhawe (13 years) and Lihlome (12 years). Therefore, the Lusanda Mbane family has four members.
As you would guess, Lusanda enjoys being in the limelight. However, she strives to shield her family from such exposure
"I've embraced it, and for me, it's a reinforcement that I am on the right track. I had to understand that my husband didn't sign up for it, so I stopped wanting to drag him to things like events unless they are really necessary."
The truth behind Lusanda Solani weight loss
About a year ago, Lusanda shared photos that got her fans worried because of her unexplained weight loss. By answering questions during a Q & A session on Facebook, she told her fans not to worry too much about her weight cut because it was a well-planned health program. During the session, one ardent fan jokingly asked,
Is it Mthunzi's fault that Boniswa lost weight?
In response, the actress said,
Yoh, guys, you have no idea what it's like to have a son-in-law like this!
She then marvelled at the coincidence between the beginning of her weight loss program and a certain aspect of the Mthunzi storyline.
The Lusanda Mbane foundation
On September 21st, 2017, Lusanda registered the Lasanda Mbane Foundation. This is a non-profit organization that seeks to assist the struggling communities throughout South Africa. The foundation mainly focuses on
Women empowerment
Education
Youth mentorship
Following the outbreak of COVID 19, the organization extended its focus to offering humanitarian supplies to poverty-stricken families and especially to those who are headed by the elderly.
Ever watched Lusanda Mbane dancing?
The actress loves dancing, and whenever she takes on the floor, her moves are so flawless that you may think she does it for a living. Most people who watch her dancing end up wondering, " what is Lusanda Mbane real age?". She is flexible, fit, and looks much younger than her official age. Interestingly, several doubting Thomases have even gone out of their way to dig with the hope of getting documents that could reveal Lusanda Mbane date of birth.
In one Facebook comment about her love for the jig, Lusanda wrote,
My son reckons I'll one day be one of those 80-year-old gogo's who still love to dance; so now and then he gives me lessons, to make sure mom is fit.
What is Lusanda Mbane Net worth?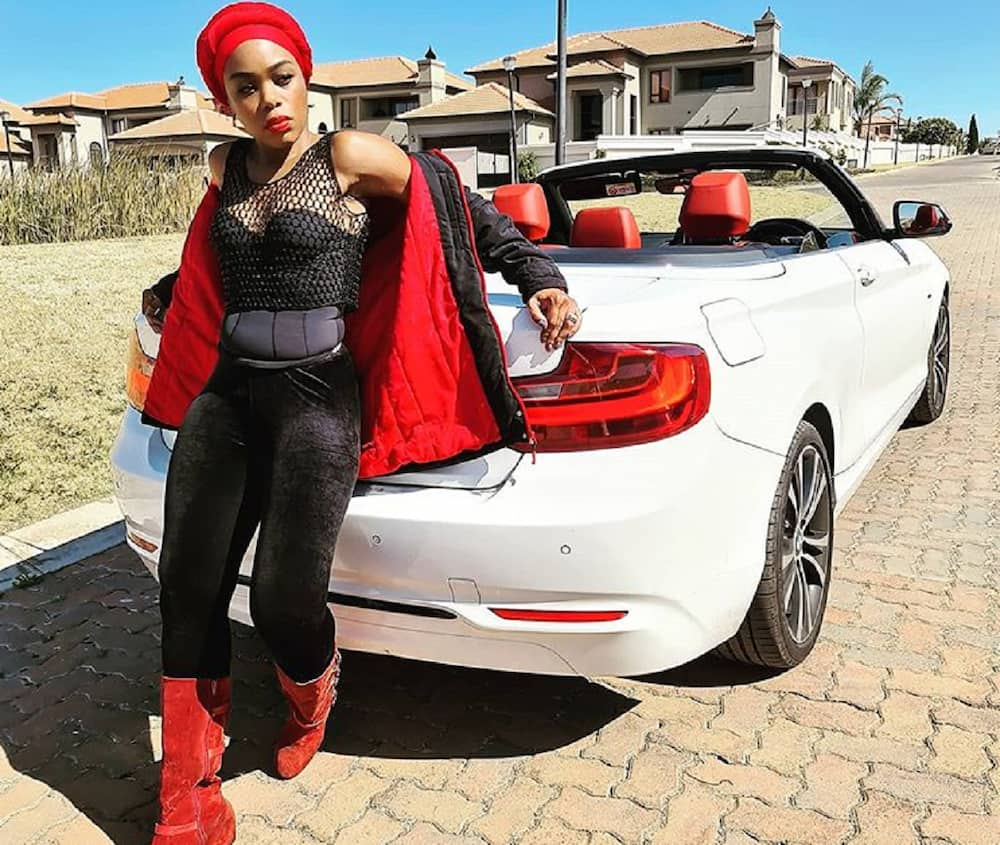 The lady's net worth is still nowhere in the public domain, but looking at her diverse projects and Lusanda Mbane car, you can tell that she is doing fine.
READ ALSO: L-Tido bio: age, full name, AKA, songs, albums, profile, net worth
Television Productions
1. In 2009, she played the role of Advocate Macheke in Muvhango.
2. In 2010, she was Naomi on Generations.
3. In 2011, she was Zodwa on Abo Mzala.
4. In 2011, she acted as Joyce in Soul city.
5. In 2011, she played the role of Naomi on Generations.
6. In 2012, she was a presenter on SAA Inflight.
7. In 2012, acted as Aliah on Tempy Pushas.
8. In 2013, she was Mrs. Khumalos on The Khumalos.
She has played key roles in several advertising campaigns for major companies, including Dettol & McCain, Brand Power (Ponds), Knorrox, Kellogg's (Chocos), and Rama. Also, Lusanda has rendered her excellent voice over services for companies like Google, Sanlam, SALGA, KFC, ECSA, Blue Ribbon, South African Bank, DStv, Edgars UIF, and many more.
Social media presence
Like all other celebrities, the actress has a very noticeable social presence. The Lusanda Mbane Instagram account is perhaps her most active social media outlets. She has over 218k followers, and she follows over 1300 people. Aside from the numerous pretty photos of her, she has also shared amazing pictures featuring personal assets like the Lusanda Mbane house.
At 41 years of age, Lusanda Mbane is still beautiful, physically fit, and intelligent. What is more, she is kind-hearted, youthful, and seemingly determined to age gracefully. What more should we expect from the ace actress this time around? Well, keep reading our celebrity updates and we will for sure keep you posted.
READ ALSO:
Briefly.co.za, on Monday, July 27, 2020, highlighted Cassper and Prince Kaybee's beef on a somewhat promising note. If Kaybee's response to a recent tweep is anything to go by, then the two will soon be talking.
In the tweep, a concerned fan sought to find out why the two celebrities are not friends, yet they are both loaded and famous.
Jokingly, Kaybee said he looks forward to being great buddies with Cassper and, if possible, get a chance to drive his pricey Bentley.
Source: Briefly News