Freedom Front Plus accuse the NPA of bias in Senekal terror case
- The Freedom Front Plus has accused the NPA of having double standards in the Senekal case
- A white farmer has been charged with terrorism after a peaceful protest turned violent in the town of Senekal this week
- Pieter Groenewald, the leader of the FF+, has asked why the EFF has not faced similar charges for their protests
PAY ATTENTION: Click "See First" under the "Following" tab to see Briefly.co.za News on your News Feed!
The Freedom Front Plus has accused the National Prosecuting Authority (NPA) of bias in the case against the white farmer who was arrested and charged with contravening the Terrorism Act and attempted murder.
The Freedom Front has asked what the Economic Freedom Fighters (EFF) were not charged with terrorism during their recent protests against Clicks.
The FF+ has said that the fact that charges of terrorism, attempted murder, incitement to violence and public violence were laid against the farmer is evidence that the NPA has double standards.
Pieter Groenewald released a statement in which he blasts the NPA:
"The prosecuting authority is supposed to always remain objective, equitable and fair toward all accused individuals. Clearly this is not the case here and the charges are being blown out of proportion," the statement reads.
Groenewald maintains that no one's life was endangered and there was no evidence of terrorism.
"These kinds of charges will only stir up emotions and could lead to even more conflict in South Africa. It comes down to further incitement by the prosecuting authority itself."
He has vowed to take the matter forward with the relevant ministers and police.
"It is totally unacceptable and as leader of the FF Plus, I will personally take up this matter with the relevant ministers and the police."
The arrested farmer, a court order has been issued barring anyone from revealing his identity, was seen addressing crowds, in what was initially a peaceful protest before things turned violent.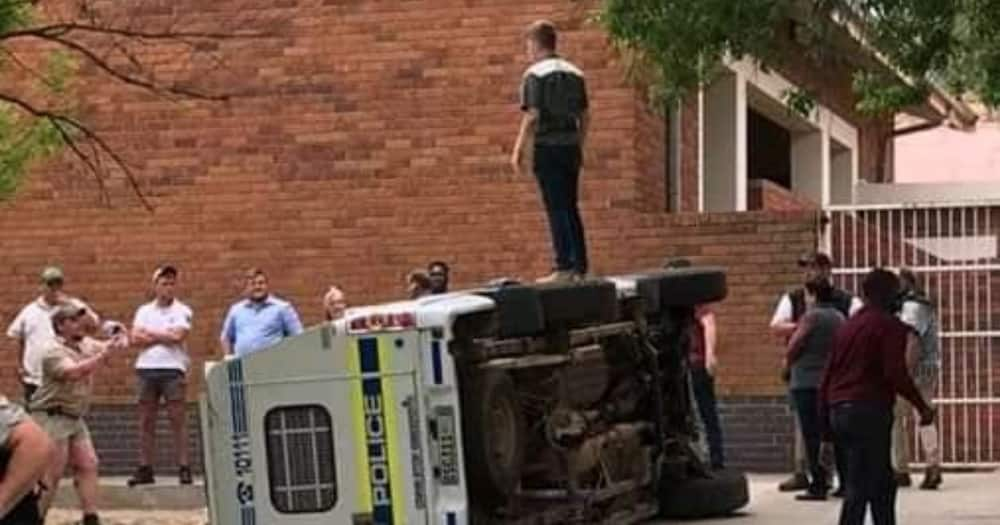 Earlier, Briefly.co.za reported that a white farmer who allegedly was in charge of a group of protestors who stormed a courthouse has been charged with terrorism along with other charges.
The 51-year-old was arrested when a group of mostly white farmers stormed a courthouse where proceedings were being carried outa against two suspects who were accused of murdering 22-year-old farm manager according to Jacaranda FM.
"Yes, one of the charges is terrorism," National Prosecuting Authority (NPA) provincial spokesman Pheladi Shuping confirmed to AFP in a text message.
In other news, Julius Malema is no stranger to promoting debate on social media with his often provocative comments.
Now, his call for 'ground forces' to mobilise in order to attend the Senekal trial hearing on October 16 in order to 'defend state property and democracy has raised a few eyebrows. Malema had taken to social media to rally support for the endeavour, commenting that:
"Since the government of Cyril Ramaphosa is extremely scared to respond decisively, we are on our own. Next appearance, all ground forces and peace-loving South Africans will be in attendance, in defence of our democracy and property. Magwala a chechele morago! Fighters attack!"
Enjoyed reading our story? Download BRIEFLY's news app on Google Play now and stay up-to-date with major South African news!
Source: Briefly.co.za