Year in review - The Zumas: Child support, arrest warrants and Duduzane's return
Jacob Zuma and his family are constantly finding themselves in the news whether they want to feature or not. 2020 has seen Jacob Zuma in and out of court for various reasons such as child support and an arrest warrant.
Pay Attention: Join Briefly News' Telegram channel! Never miss important updates!
His family have also made headlines, with Duduzane's return to South Africa, Duduzane and his dad's video recording went viral and Tobeka Zuma, Jacob's wife, turned 48 and celebrated her birthday in lockdown.
Briefly.co.za put these 5 stories together in a collection reflecting on Jacob Zuma and his family making the news in South Africa in 2020.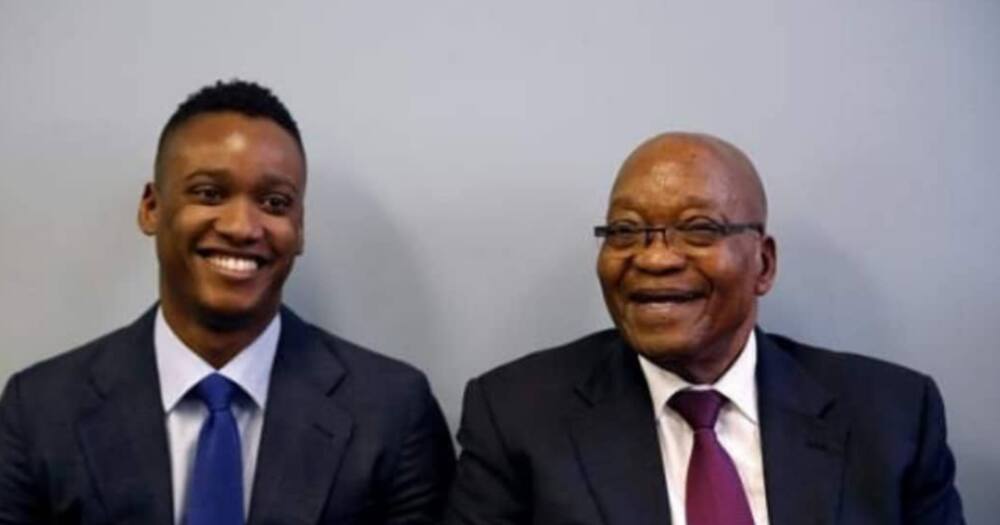 1. Tobeka Madiba Zuma drags Jacob Zuma to court over child support
Jacob Zuma just can't seem to stay out of a courtroom. However, this time he is being sued by one of his wives.
Tobeka Madiba Zuma is reportedly dragging Msholozi to court for child support. uBaba is expected to appear before the Durban Magistrate's Court on Tuesday, 18 August.
The former first lady is allegedly demanding R14 000 child support for their daughter, Ngobile. It has not been revealed if she wants to amount to be paid each month.
According to a source close to the family, Tobeka has not been at Nkandla in months and was sent back to her maternal home for counselling following fights with Zuma.
2. Judge who issued Zuma's arrest warrant could get ConCourt job
After issuing former president Jacob Zuma with a warrant of arrest, Judge Dhaya Pillay was moved into the spotlight. Now, the High Court official has been shortlisted for a spot in the Constitutional Court.
High Court Judge Dhaya Pillay has been shortlisted as a possible candidate for a vacancy in the Constitutional Court.
Briefly.co.za reported that Pillay had issued a warrant of arrest against former president Jacob Zuma, to mixed reviews.
This had come after the politician had failed to appear for his corruption trial, submitting a questionable sick note which Pillay had dismissed as insufficient evidence.
3. Duduzane Zuma's arrival at ANC rally has supporters forgetting prayers
Duduzane Zuma is a guaranteed crowd-puller, dazzling crowds at a recent ANC rally held in Port Shepstone.
The supporters had been listening to prayers being said on the stage when former president Jacob Zuma's son made his way to the front of the crowd.
When he was spotted, the crowd went wild and his troop of bodyguards was hard at work while Duduzane mingled with citizens, reports IOL.
The politician's son was applauded for his undeniable charm and good looks when he arrived at the main birthday celebrations held in Kimberly earlier this month.
4. Zoom in on Zumas: Duduzane Zuma and uBaba get candid in interview
Jacob Zuma and his son, Duduzane, gave South Africans a glimpse into their conversations on Wednesday.
Duduzane got candid about difficult moments he had to go through, including seeing his mother's lifeless body.
He said he had no idea how the press got hold of the letter his mom wrote before her final moments and added he had not seen it since the day they found her on her bed.
5. Zuma's wifey turns 48: Inside Tobeka's lockdown birthday celebrations
Tobeka Madiba Zuma turned 48 recently and she's rocking it. The stunning former first lady took Instagram to pen a message on her birthday.
She gushed about celebrating another year of life and the people who she can call her family and friends.
Her post read:
"Let me express my profound and unbridled gratitude to family and friends, for making my day super special. Words alone fail me. If the number 48 was a person."
Enjoyed reading our story? Download BRIEFLY's news app on Google Play now and stay up-to-date with major South African news!
Source: Briefly.co.za