Determination to Build His Mom a Home Helped a Local Entrepreneur Soar
- In an exclusive interview with Briefly.co.za, a young man shared how he was able to turn his life around
- In the interview, the young man describes his early life, what he studied and how he became successful in the paint business
- He also shares some advice for graduates who are looking to make it big in a world that makes it difficult to succeed
PAY ATTENTION: Join Briefly News' Telegram channel! Never miss important updates!
Bonga Masoka is a nearly 30-year-old man who grew up in a village called Madinyane, outside Brits, a small town 24 km from Hartbeesport Dam, in North West who shared with Briefly.co.za how he came to be the successful owner of a paint business.
"I was born to a single mother, who lived and earned her income through selling old clothes and food on roadsides in Johannesburg. I lived or was partly raised by my grandmother until she passed on when I was 7 years old. I don't remember much, in terms of how her passing away affected me emotionally, considering how close I was with her.
"Moving to Johannesburg was exciting and equally so, an overwhelming culture shock. I studied at Blair Atholl Primary school, in Lanseria – a beautiful farm school built by Gary Player (one of the most successful South African golfers) for his employees."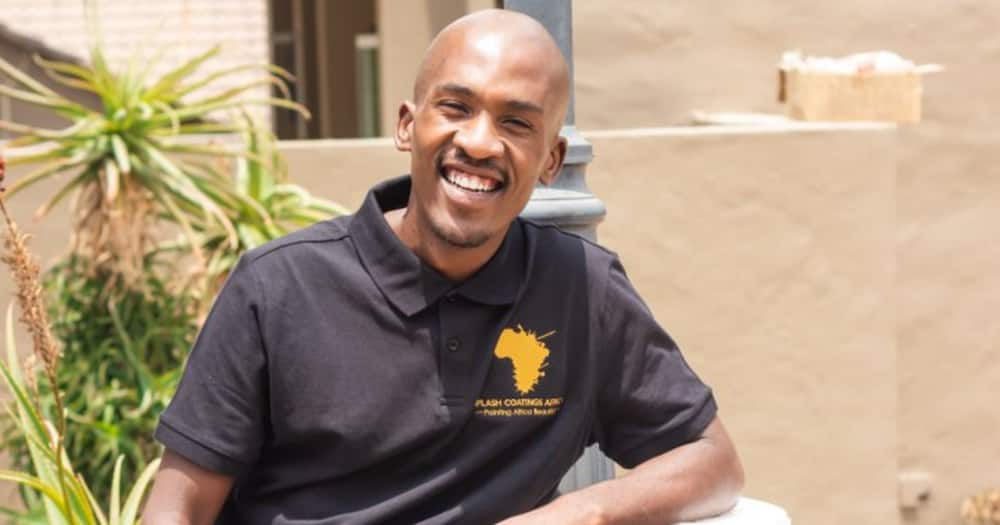 He then also goes on to share how moving to that area had broadened his mindset and views on life and also introduced him to a number of new feelings and emotions he had never experienced before.
"Blair Atholl grew to become one of the most beautiful experiences I've ever lived. I was introduced to golf, cricket, poetry and orchestra. It introduced me to the world of unlimited possibilities"
After dropping out of high school, Bonga then headed to a Johannesburg college where he was looking to pursue a career in art, painting, sculpture, and graphic design. Unfortunately, peer pressure and other distractions saw him dropping out but life gave him another chance.
"I went back to school, a private school in Johannesburg, while still living in Vosloorus. In the middle of the year, I was forced to leave the school, because my mom could not afford to pay. I moved back to North West, to live with my other aunt.
"Fortunately, I was accepted at Ikatisong Secondary School, in Letlhabile, a rural township before my home village, Madinyane. Ikatisong was also another beautiful experience. I was elected head boy in my matric year, 2010.
"And towards the end of the year, I applied to the University of Cape Town, for a bachelor's degree in social sciences, majoring in politics and public policy and administration. I was accepted and started with my undergrad in 2011. I remember when I left, and in most of our conversations, including our conversation, in 2012, when I told her immediately after graduation, I'm building her a home. This was my dream and reason for going to university," says Bonga.
Not long thereafter he was approached with an opportunity to get involved in the paint business and of course, he grabbed it with both hands.
"Since I couldn't live up to the promise, of building her (my mom) a home, when I was presented with the opportunity to own an IP (Intellectual Property), in a form of paint formulations, that were, and are still further researched and developed to find a perfect balance between excellent quality (durability, environmentally friendliness, sheen finishes, etc.) and affordability, I grabbed it with both hands."
And ever since then he has been growing his paint company and also providing people who can't necessarily afford expensive paints, quality paint that is affordable and durable. He also shares this advice for other youngsters:
"Work, is first and foremost a service, before a degree we acquired. There are many ways to serve, and get rewarded and compensated for it. This is probably why, sometimes, it's better to love what you do than do what you love. Loving what you do is about your service to others. Where else, doing what you love is about self. Do more for others and you'll never struggle to find a job. People are always in need and in-want of something."
In other inspiring Briefly.co.za news, a proud South African businessman, Lekau Sehoana, recently headed online to have a heartwarming celebration about how far his shoe business has come over the last few years.
In his post, @LekauSehoana marvels over the fact that he now employs over 60 young people at his sneakers stores, which have also branched out and are now open and trading in a whole eight different locations.
"To think I was all alone when I started to now being surrounded by over 60 young people. Today we confirmed our 8th physical store opening on the 13th of March. A scary dream and a blessing to have created this brand. Let's drip," he wrote happily."
Enjoyed reading our story? Download BRIEFLY's news app on Google Play now and stay up-to-date with major South African news!
Source: Briefly News