Leaked Audio: Cyril Ramaphosa Says He Was Against Jacob Zuma's Removal
- President Cyril Ramaphosa did not support the premature removal of former president Jacob Zuma
- In a leaked audio, Ramaphosa said that he views Zuma as his leader and his elder in the ANC
- Ramaphosa goes on to express that he he regrets that Zuma sees him as a deceitful person
PAY ATTENTION: Click "See First" under the "Following" tab to see Briefly.co.za News on your News Feed!
A leaked audio reportedly reveals that President Cyril Ramaphosa was against former President Jacob Zuma's premature removal from office.
In the leaked recording, Ramaphosa addresses Zuma's feelings towards him, claiming he views Zuma as his leader and his elder in the ruling party.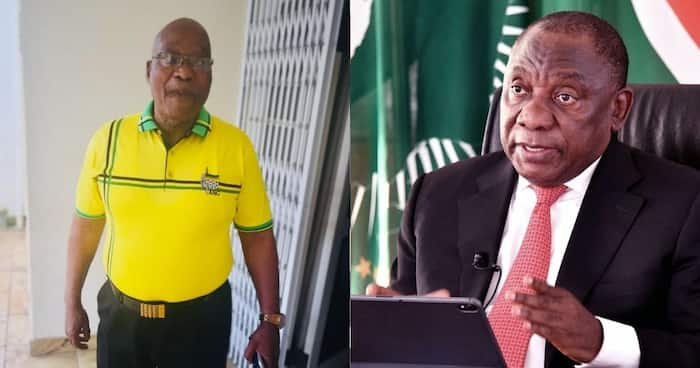 Ramaphosa goes on to say that he knows the ousted president thinks he wants him to go to jail for corruption. The current president further says that he regrets that Zuma sees him as a deceitful person.
TimesLIVE reports that the one minute clip emerged on Friday morning. Ramaphosa expressed that he doesn't expect Zuma to believe what he said.
Social media users have share their thoughts on Ramaphosa's leaked audio. Check out some of their comments below:
Patrick Vianello commented:
"Well, that tells it all then. As suspected he supports corruption and therefore this party is irreparable. They must go for ALL our sakes asseblief. And especially for the poor cause they hurt the hardest by the looting."
Hilda Maria wrote:
"Well, then we have all just lost what little respect we had for him. Who in their right mind would want to keep something as vile as JZ around to keep pilfering and stealing from an innocent and gullible nation?"
Luis Guerreiro said:
"Zuma made plenty bad decisions he must accept his mistakes and pay for them. He himself is deceitful but it does not seem to bother him to much. At the end of the day everyone makes their own bed."
Elias Mphahlele wrote:
"Supporting or not supporting is not an issue here. The issue is whether public resources were stolen or not. If they're stolen, who enabled it. The fact is they were stolen due to bad decisions."
Lungile Howard Mphiriwe commented:
"Same way others didn't support the removal of Thabo Mbeki so there's nothing new here moss... What you did to the others shall be done to you in five fold...don't be apologetic Ramaphosa it was only karma for him."
Judge Mdluli added:
"Zuma didn't support it as well when Mbeki was removed. I heard the audio from Ramaphosa. The problem is the media, this white media which wants you to believe in one thing. If they want you to hate somebody they do it everyday."
In other news, Briefly News reported that President Cyril Ramaphosa has called on his comrades to unite in order to save the ANC from failing.
Fighting corruption is one of the key focus points for Cyril Ramaphosa in his presidency. However, the head of state has been battling to unite his party in his quest to rid it from corruption.
On Wednesday, while speaking at the 150th birthday celebrations for Charlotte Mannya Maxeke in the Eastern Cape, Ramaphosa warned ANC members that being divided could be the party's downfall.
IOL reported the ruling party dedicated this year to the late struggle stalwart by declaring it 'The Year of Unity, Renewal and Reconstruction in the Year of Charlotte Maxeke'.
Enjoyed reading our story? Download BRIEFLY's news app on Google Play now and stay up-to-date with major South African news!
Source: Briefly.co.za