Brad Binder age, nationality, MotoGP, salary, team, parents, profile
Unlike most African countries, South Africa has set the bar by being home to some of the most coveted athletes. Apart from excelling in soccer and rugby, the country is honoured to be associated with Brad Binder, a world MotoGP championship winner. How much do you know about him? Would you mind reading on for more details about who he is and why he is a big deal in the country?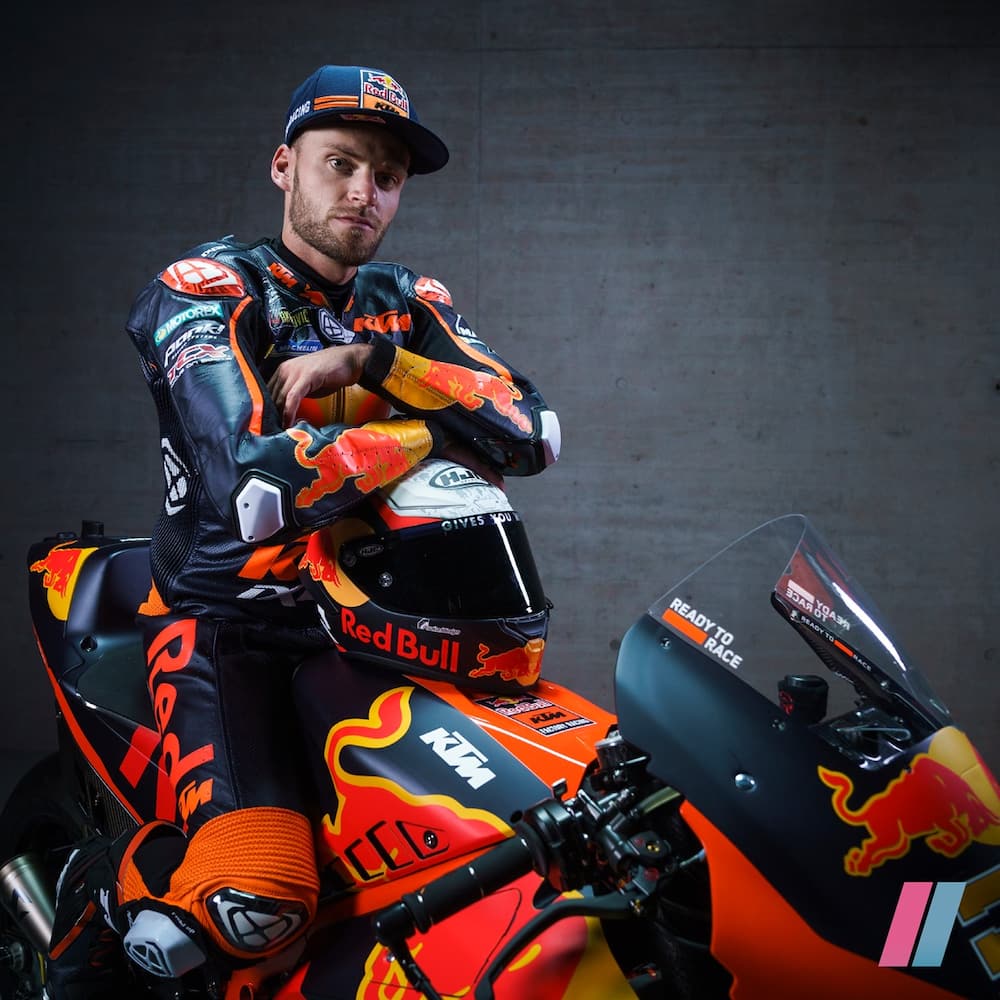 Brad Binder brought glory to South Africa because of his expertise in MotoGP. He chose to surf unchartered waters and set a record as a world championship winner. What started as a passion transitioned into a career that would later put his name on the map. His collection of trophies is a testament to someone who put his heart to it and chose not to give up. Making it to the top was not a one-day affair; he failed so many times, crashed severally, but never gave up.
Brad Binder profiles
Full name: Brad Binder
Nickname: Bradical
Date of birth: 11th August 1995
Zodiac sign: Leo
Place of birth: Potchefstroom, South Africa
Nationality: South African
Profession: Professional Motorcycle Racer
Website: Brad Binder 41
Current team: Red Bull KTM Factory Racing
Bike number: 33
Brad Binder Instagram: bradbinder
Brad Binder biography
Binder has always caught everyone's attention because of his unmatched ability to memorise turns, tracks, apexes, and lines. On most occasions, commentators have likened him to Ben Spies, the American MotoGP Champion. But was this meant to be a premonition of how he would inherit the title in a more significant way?
Brad Binder age
He was born on 11th August 1995, the year South Africa won the Rugby World Cup. He hails from Potchefstroom, South Africa. Therefore, as of April 2021, he is twenty-five years old.
Brad Binder nationality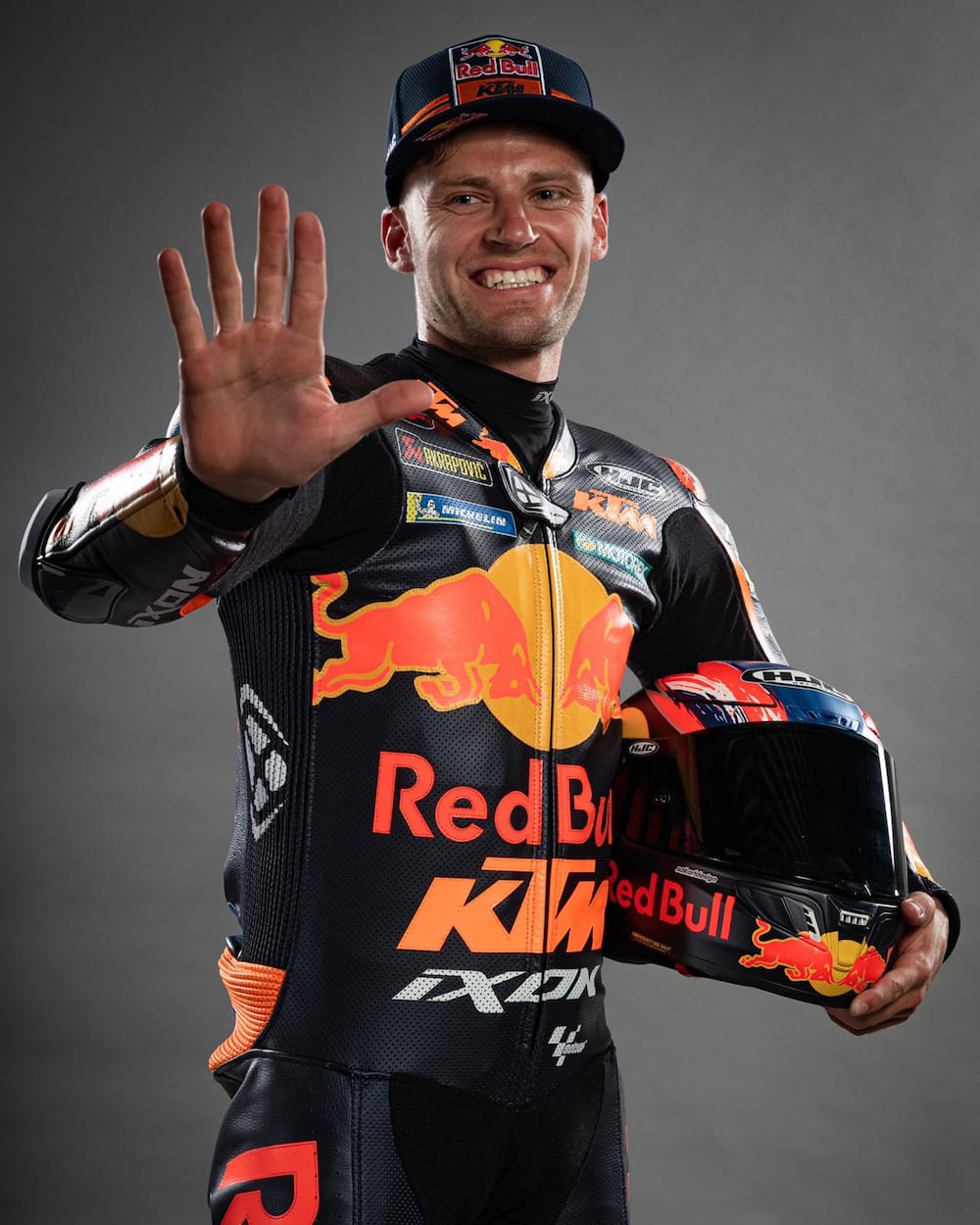 Brad Binder hometown is in Potchefstroom, South Africa. Therefore, he is South African by birth.
Brad Binder parents
Binder is the eldest son of Sharon Binder and Trevor Binder, and his parents have been supportive of his career. He has a younger brother, Darryn Binder, who is also into MotoGP. Brad Binder brother scooped the eighth position during the 2020 championship.
Brad Binder MotoGP
Brad got interested in motorsports at a young age, and his parents facilitated his dream to come to fruition. He started his career in go-karting at the age of eight. In 2005, he upgraded to two wheels and participated in competitions where he won in the 50cc, 125cc, and 150cc categories. He participated in his first international competition in 2008 during the Aprilia Superteens Series, where he finished in second place.
In 2009, he took part in the Red Bull MotoGP Rookies Cup and finished 14th. In 2010, he finished 5th, and in 2011, he finished in the 7th position.
125cc/Moto3 World Championship
Binder made his debut in the Grand Prix career in the 125cc in 2011. During the RW Racing GP, he was riding an Aprilia, and his best position in the season was the 17th.
In 2012, he switched to the Kalex KTM during the Portuguese motorcycle Grand Prix although he crashed seven times. During the competition, he scored four times, and his best was the fourth position.
In 2013, he switched to a Suter Honda and later transitioned to a Mahindra. 2013 was his first most consistent year, and out of the eighteen competitions, he scored in fourteen of them. His best result was fourth place, and overall, he finished in 13th place. In 2014, he got better and moved to the 11th position.
Brad Binder team
In 2015, he switched teams to the KTM Ajo Motorsport, and interestingly, his first year on the new machine was impressive. He finished sixth at the end of the competition. In 2016, he registered seven wins and secured a chance at the world championship.
Moto2 World Championship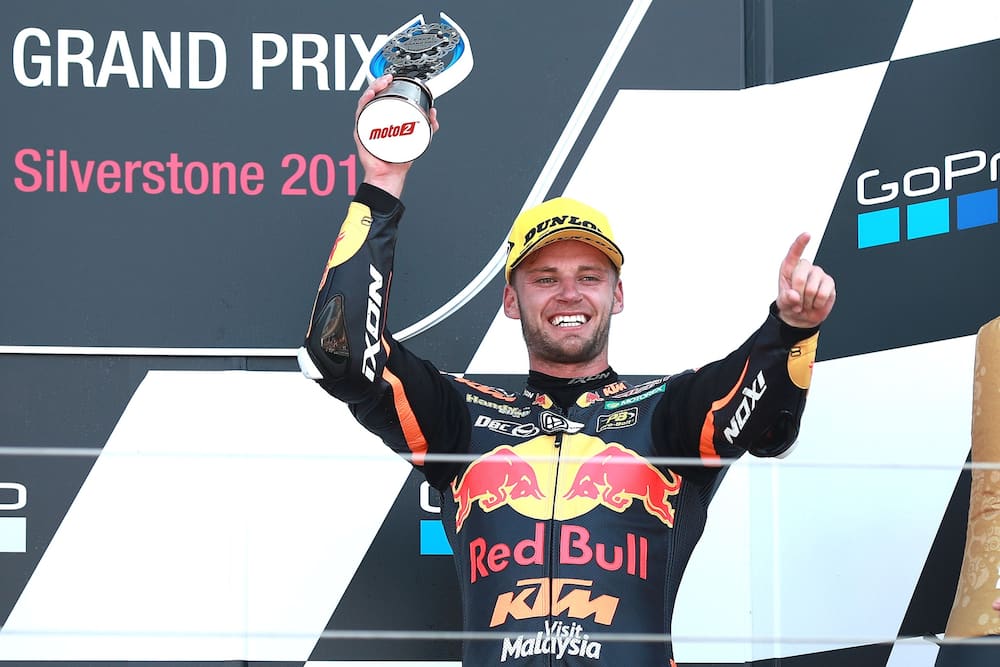 In 2017, Brad graduated to the Moto2 class, still on his Red Bull KTM Ajo machine. In the first season, he was 8th despite sustaining an injury and missing out on some of the rounds. However, in 2018, he got better, and with three wins, he finished in third place.
In 2019, Brad secured the second position and was only three points off Alex Marquez, the champion.
MotoGP World Championship
In 2020, he joined the Red Bull KTM Factory team, which is the Brad Binder current team. He set the record by winning his first-ever MotoGP race during the third round. Brad Binder MotoGP win was also the first race win for the Red Bull KTM Factory Racing Team in the premier class.
Who is Brad Binder teammate?
Who is Brad Binder teammate? In August 2020, twenty-five-year-old Miguel Oliveira, Brad's teammate, finished third in the Styrian Grand Prix.
Brad Binder salary
MotoGP is one of the most expensive racing events; hence, motorists make a dime out of the sport. All the motorists earn a monthly salary from the companies they race for, who make money from the event's sponsors. What does Brad Binder earn? At the age of twenty-five, he is one of the highest-paid MotoGP motorists, and his salary is $1 million.
Brad Binder school
Juggling through a career that requires you to travel overseas for months must have gotten you to asking whether Binder ever gained an education. Brad attended a Home School centre. When he was in grade nine, Business Studies was his favourite subject.
Brad Binder got obsessed with motorsport at a tender age, and having a supporting family played a crucial role in helping him realise his dream. He is currently living his dream because he always wished to be a professional racer. He still thrives to own a team.
READ ALSO: Ricky Craven bio: wife, TV shows, net worth, where is he today?
Briefly.co.za recently published details about Ricky Craven. Where is he today?
Ricky Craven is the legendary motorsport analyst and NASCAR driver. Ricky won his first Rookie of the Year Award at the age of fifteen, and after scooping a series of trophies, he transitioned into being a NASCAR analyst when he retired.
Source: Briefly.co.za