Mandoza's Wife Mpho Tshabalala Continues To Celebrate the Life of the Kwaito Star
Mandoza's wife, Mpho Tshabalala, continues to celebrate her late husband's legacy
The late Kwaito star was recently awarded the SAMA29 Lifetime Achievement award, which Mpho received
Mpho Tshabalala also shared with Briefly News how life has been without Mandoza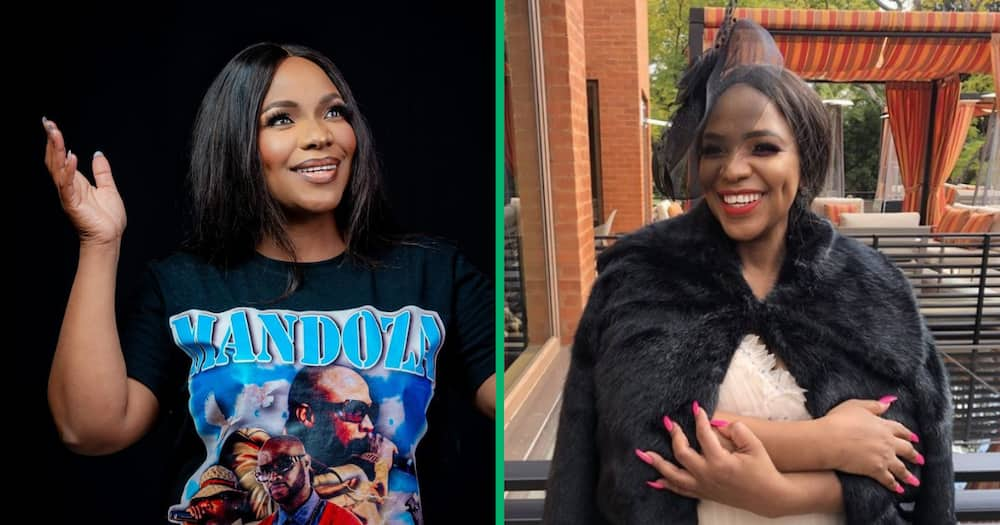 After giving her husband's fans an amazing biopic of his life, Nkalakatha: The Life of Mandoza, Mpho Tshabalala continues celebrating Mandoza's life. Recently, Mpho received an award on behalf of the late Kwaito star.
Late Mandoza awarded the SAMA29 Lifetime Achievement Award
It's been over six years since the legendary Kwaito star Mduduzi 'Mandoza' Tshabalala sadly passed away, and his legacy still lives on. Recently, the late star was awarded the SAMA29 Lifetime Achievement award during the SAMA29 awards over the weekend.
The award was received by his wife, Mpho, who, according to TshisaLive, said:
"I have mixed emotions. We are definitely happy about the award and wish he was here to receive it and feel it, but God's plans were different.
"It has been an emotional and financial rollercoaster. As a husband and father from the beginning, he provided unwavering support to the children and me. The weight has been substantial due to his emotional and financial contribution.
She also mentioned that she had joined forces with Mr Price to launch unisex merchandise in December to honour Mandoza and their accomplishments this year.
Mpho Tshabalala said life hasn't been easy without Mandoza
Mandoza's wife, Mpho Tshabalala, told Briefly News how life has been without her husband.
She said:
"Life hasn't been easy without my husband as he was a present father, so I have had to learn to raise kids by myself…But have been managing through God and my support structure.
"When the announcement was made, I just got emotional and a bit nervous, wishing that I would go up on stage with him. We are very proud of him, and these are the words we would say to him to congratulate him: Mshengu Tshabalala wena owababuza ukuthi bazoyithola kanjani behleli ekhoneni ngoba wazi ukuthi uyiNkalakatha, yeTop Sgelekeqe, Tsotsi yaseZola that respects life.Wena phunyuka bamphethe owabashiya nge Tornado. Owasho ukuthi Indoda ingawa namhlanje ksasa iphinde ivuke ngoba Ksane Hope."
Wiseman Mncube to play Mandoza
In a related story on Briefly News, Wiseman Mncube was announced for his casting as Mandoza in the biopic. He received an overwhelming thumbs-up for his new role.
He will be joined by former The Queen actress Lorraine Maropa, who will play his wife, Mpho Tshabalala.
Source: Briefly News