Lady Amar Gets Candid About Upcoming EP 'God's Delay Is Not His Denial': "The Divine Timing of Life'
Ntando Duma's twin, Thando, is flourishing away from her sister's light with her DJing career
She joined DJ Zinjle's DJing academy and is readily establishing herself as Lady Amar
She now plans to release an album with various popular vocalists in an EP titled God's Delay is not His Denial
Briefly News spoke to Paula Quinsee, a relationship expert on how twins can overcome the comparison game in the entertainment industry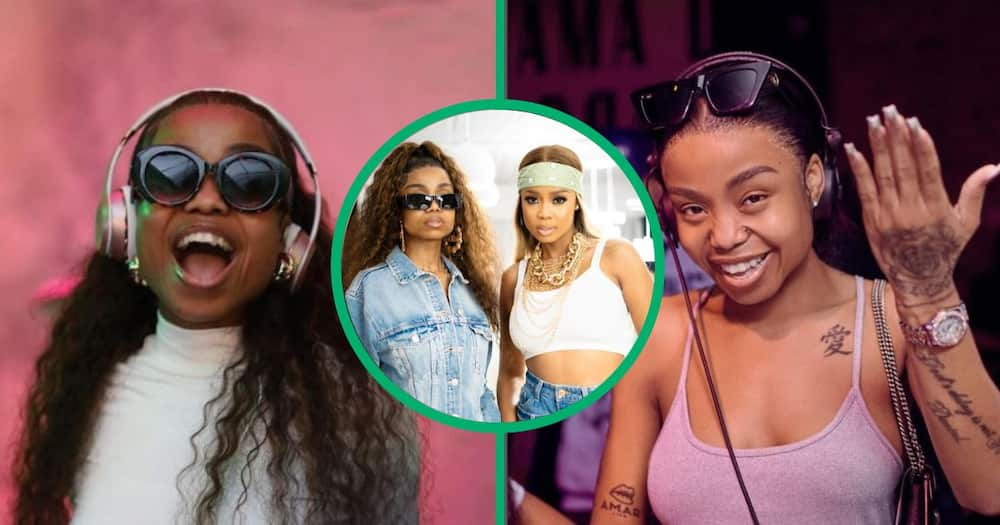 A-Lister Ntando Duma's celebrity twin sister, Thando Duma, professionally known as Lady Amar, has found her calling in the entertainment industry.
The Hamba Juba with Murumba Pitch and Cici hitmaker is dropping her EP on Friday, a spiritual music project that cements her place in the music industry.
Ntando Duma to release God's Delay is not His Denial on Friday
The DJing beauty is also an entrepreneur like her sister, who has announced her project that will feature various newcomers in the Amapiano industry, like Nkosazana Daughter. She told ZiMoja about the spiritual meaning behind the EP:
PAY ATTENTION: Watch the hottest celebrity stories on our YouTube channel 'Briefly TV'. Subscribe now!
"I chose these artists based on their unique talents and their ability to complement the theme of the EP... Exploring the intersection of faith, patience, and the divine timing of life."
Lady Amar on the challenges of being a female DJ
She shared how she broke into the industry and the road to becoming one of the most celebrated female DJs in the country and continent after joining DJ Zinhle's DJing school, FUSE Academy:
"As a female DJ, I've faced challenges such as gender stereotypes and unequal opportunities, however, I've overcome these by focusing on my craft and letting my talent speak for itself.
"I played a significant role in the creative process, from conceptualising the themes to collaborating with the featured artists."
She added that she draws inspiration from her sister, DJ Zinhle and international Amapiano star, Uncle Waffles.
Relationship expert Puala Quinsee gives tips to twins in the industry
Paula Quinsee, the Founder of Engaged Humans, and a certified Imago Relationship Therapy Educator and Facilitator spoke to Briefly News about how twins can break free from the pressures of comparison:
"Embrace and celebrate each other's individuality, unique talents, personalities, and strengths. Being twins doesn't mean being identical in every aspect. Encourage and support each other's individual style, views, and identities.
"Have open and honest conversations about how comparisons and criticisms impact each of you. Sharing feelings and concerns can strengthen the bond and help navigate these challenges together.
"Instead of seeing comparisons as a competition, view them as an opportunity to collaborate and complement each other's skills. By working together, you showcase your strengths as a duo which helps their audiences respect those differences too."
Mpho Wabadimo makes music debut with Bonga
In a related Briefly News story, Mpho Wabadimo was celebrated for successfully releasing her new single titled Bonga.
The spiritual track that features Mlindo the Vocalist received a thumb-up from Mzansi, with social media users applauding the celebrity sangoma for a job well done.
Source: Briefly News