Prince Kaybee Showers Amanda Black With Praise for Her Vocals: "Most Powerful Voices in Our Time"
House music DJ Prince Kaybee showered Amanda Black with compliments fit for a music queen
He took to his Twitter to express how gifted she is and appreciated her talent
in the highest honour
Despite the former Idols SA contestant trending for her fashion faux pas, netizens agreed with Kaybee about her powerful vocals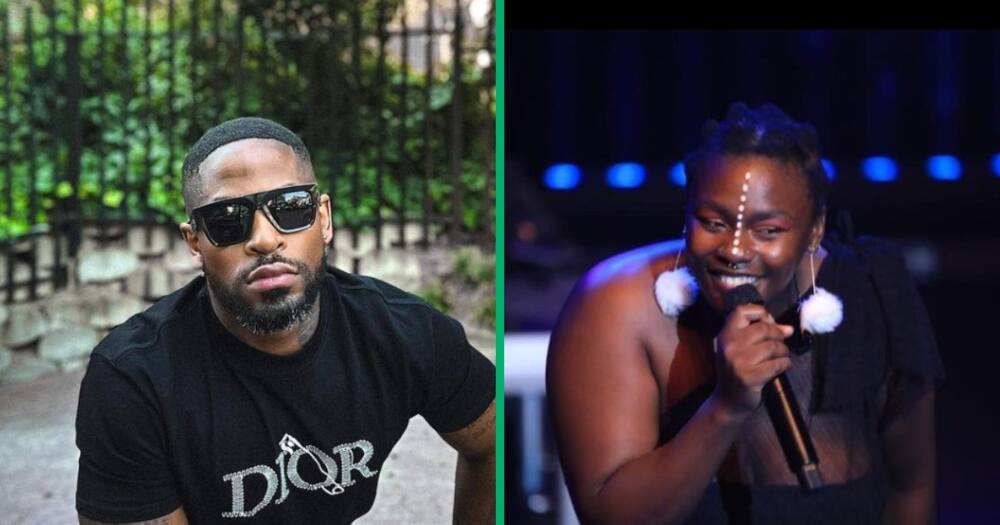 Prince Kaybee honoured former Idols SA contestant Amanda Black for her amazing vocals, saying her voice was a rare talent that came once in a while.
It wasn't the first time in recent history that the Charlotte hitmaker bet on a musician and seems to be on the right path. He predicted that Dlala Thukzin's hit iPlan would be the song for December, and so far, the song has put Mzansi on fire.
Prince Kaybee showers Amanda Black's voice with praise
Kaybee made another musical observation and said:
"Amanda Black remains to me one of the most powerful voices in our time, rare talent that comes once every decade."
Check out his post below:
Netizens agree with Prince Kaybee
Despite the former Idols SA contestant trending for her famous unkempt performance, netizens agreed with Kaybee about her powerful vocals. Here are some of the comments:
@ChrisExcel102 said:
"You wanna b@ng her Groatman… We know your compliments come with a price."
@Thabo_Tshisi was hopeful:
"I really hope she's okay."
@uMpetha_WC agreed:
"For once you saying something that's true."
@SbuIsReal added:
"Completely agree."
@TMCrazzzy could relate:
"I know what you're saying.. Toni Braxton, Jenifer Hudson... Like a V8 pure breed engine.. no gimmicks..."
@TheoMosaqa_ suggested:
"Cook something with her."
@Xavier_Zulu corrected"
"More like once in a Century."
@bandile_kuhle asked:
"Serve us with a hit with her, what do you think?"
@FitFeza said:
"True...yacula la ntombi and she does it effortlessly."
Mpho Wabadimo releases first song titled Bonga
In more Briefly News entertainment stories, celebrity sangoma Mpho Wabadimo dropped Bonga, her first single.
The Big Brother Mzansi season 3 contestant proved to be a woman of many talents when netizens gave her a thumbs-up for the banging song, which features Mlindo, the Vocalist.
Source: Briefly News