Meet Taylor Fritz's son Jordan Fritz: all we know about the tennis star's child
Children of celebrity parents usually become celebrities the moment they are born. That is the case for Jordan Fritz, popularly known as Taylor Fritz's son. Taylor, officially known as Taylor Harry Fritz, is an American professional tennis player and winner of the Masters 1000 title at the 2022 Indian Wells Masters.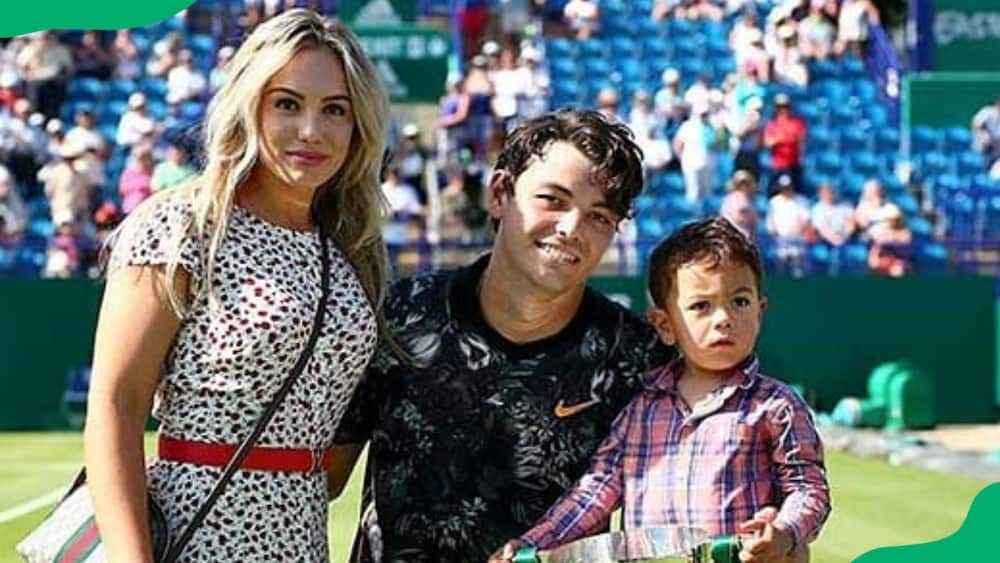 Jordan Fritz is a 6-year-old American celebrity kid. Both his parents are professional sportspeople who play tennis and have achieved greatly in their respective areas.
Profiles summary
| | |
| --- | --- |
| Full name | Jordan Fritz |
| Gender | Male |
| Date of birth | January 2017 |
| Age | 6 years old (as of 2023) |
| Nationality | American |
| Ethnicity | White |
| Religion | Christianity |
| Mother | Raquel Pedraza |
| Father | Taylor Fritz |
| Grandparents | Kathy May, Guy Fritz |
Taylor Fritz's son, Jordan Fritz's biography
Jordan was born in January 2017. His father, Taylor, was only 18 when he tied the knot with Raquel his mother. Differences emerged in their marriage, and Raquel Pedraza and Taylor Fritz called it quits. Taylor is now dating an internet star and media director named Morgan Riddle.
During an interview with Haute Living, Taylor shared what he learned from having his son. He stated:
I think [having a kid] taught me a lot of lessons about time management. It also taught me to not care so much about other people's opinions. I was always very concerned about how my career would be affected, the things people were saying, and things of that nature.
He added,
I learned one, not to care, and two, just to handle my business and be as productive as possible. I mean, I do have more things to manage now, and I definitely had to grow up fast, but it was always going to be like that anyway. I was traveling the world when I was 17 to play tennis, so regardless of my own personal things, you have to grow up pretty fast in this sport anyway.
How old was Taylor Fritz when he had a child?
Taylor was born on 28 October 1997 in San Diego, California, United States. He was 20 years old when his son was born. As of 2023, Taylor Fritz's age is 26 years.
What does Jordan Fritz's father do for a living?
His father, Taylor Harry Fritz, is an American professional tennis player. He developed an interest in tennis at a young age but started playing professionally at 15 when he competed in a low-level Grade-4 tournament.
His father, Guy Henry Fritz, was the US Olympic development coach in 2016. His mother, Kathy May Fritz, was world number 10 in tennis in 1977. Thus, tennis runs in his blood.
He secured a junior major singles title at the 2015 US Open and was the runner-up in junior singles at the 2015 French Open.
His top achievements in major tennis tournaments include making it to the quarterfinals of the 2022 Wimbledon Championships and the 2023 US Open. Currently, he holds the position of the No. 1 American in men's singles.
Who is Jordan Fritz's mother?
His mother is Raquel Pedraza. She is a tennis player who was born on 28 January 1998 in Fountain Valley, California, and is based in California to date.
Raquel started her tennis career at age five after being motivated by his younger brother, who also plays tennis. Throughout her career, she has secured numerous titles in both singles and mixed doubles.
Is Raquel Pedraza still playing tennis?
She still plays tennis regularly, but not as much as before. She took a break in 2017 to focus on motherhood.
Who is the most famous woman in men's tennis?
Morgan Riddle, who is a fashion influencer, is regarded as the most famous woman in men's tennis. She became famous at tennis matches for cheering her boyfriend, the American player Taylor Fritz.
Fast facts
Jordan's mother started her tennis career at age five.
Raquel speaks both Spanish and English.
Fritz and Raquel had been married for three years and a half years before splitting.
Fritz met his current girlfriend, Riddle, on Raya, a referral dating app.
Taylor Fritz's son Jordan Fritz is a young celebrity kid who is currently six years old. Although divorced, Jordan's parents agreed on joint custody. They co-parent their son.
Briefly.co.za recently published an article about Hilary Quinlan. She was a researcher at Goldman Sachs, a global investment bank. She had a previous career as a fashion model, and she joined UNICEF USA's board of directors in 2012.
Hilary Quinlan rose to fame after marrying an American sportscaster and television journalist, Bryant Gumbel. They have no children, and they live in New York.
Source: Briefly News