Meyiwa Trial: Zandi Reveals Kelly Khumalo Spoke to Senzo's Corpse Before Taking Earrings and Watch
Zandi Khumalo told the Pretoria High Court how Kelly Khumalo behaved after Senzo Meyiwa died
Zandi said that Kelly spent time talking to Meyiwa's lifeless body and then took the earrings and watch off his body
Khumalo's sister also detailed a fight that allegedly broke out between Meyiwa's wife and Kelly
PRETORIA - Zandi Khumalo is in the Pretoria High Court giving her second day of testimony in the Senzo Meyiwa murder trial.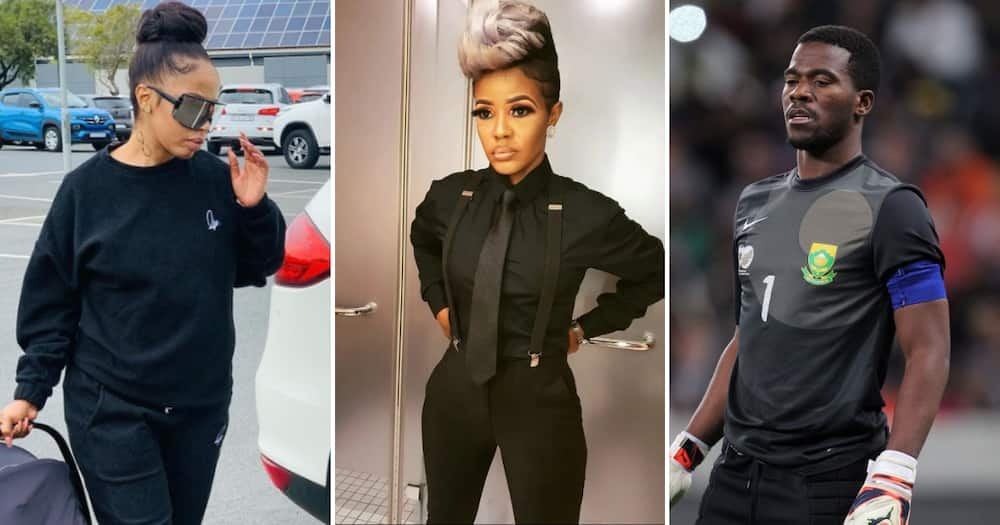 Zandi told the court how her sister, singer Kelly Khumalo, behaved after the beloved soccer star was declared dead.
Zandi Khumalo detailed what Kelly Khumalo did after Senzo Meyiwa died
Zandi said she accompanied Kelly into the room where Meyiwa passed and spent a long time talking to the Bafana Bafana goalkeeper's corpse. The singer then kissed Meyiwa on the forehead and proceeded to take off the earrings and watch he was wearing, SABC News reported.
This part of Zandi's testimony aligns with Meyiwa's childhood friend Tumelo Madlala's, who also told the court that he saw Kelly kiss the soccer player on the forehead and remove his watch.
Zandi Khumalo tells the court about hospital fight after Meyiwa died
Zandi also testified that after her sister had her moment with Meyiwa, a fight broke out in the hospital, Daily Maverick reported.
Meyiwa's wife, Mandisa, arrived with her friends and allegedly started beating Kelly. However, this differs from Mthokozisi Thwala's recollection of events, who claimed Mandisa was standing with him when the fight broke out.
South Africans are not buying Zandi Khumalo's testimony
Below are some comments:
Cupzela Tebza Mokalake said:
"This lady is so brave to lie entire to the South Africa."
Pule Makgale added:
"Buckle up. Cross-examination ahead!"
IamNico Kiszz King claimed:
"Even the blind can see and the deaf can hear."
Thapelo Listener asked:
"Where did that happen? At her house, in hospital, at the morgue... where did that happen?"
Andrew Shakespeare Mosotho demanded:
"She knows very well what happened! Meyiwa's family and we need the answers!"
Senzo Meyiwa trial: Zandi Khumalo has emotional outburst after pointing out accused during testimony
Earlier, Briefly News reported that Zandi Khumalo could not contain her emotions while giving her testimony about Senzo Meyiwa's murder in the Pretoria High Court.
Khumalo was telling the court about the night the beloved Bafana Bafana goalkeeper was gunned down at her mother's Vosloorus home when she had an emotional outburst.
The outburst was triggered after she pointed out accused number two, Bongani Sandiso Ntanzi, as one of the intruders who broke into the Vosloorus house, SowetanLIVE reported.
Source: Briefly News