Mamelodi Sundowns' Women's Side Wins CAF Champions League, SA Addicted to Masandawana's Winnings
The Mamelodi Sundowns' women's team joined their male counterparts as champions of Africa
They were crowned the winners of the Confederation of African Football Women's Champions League after defeating SC Casablanca in the Ivory Coast
Fans from across the country waxed lyrically about the Brazilians and hailed them as the best team in Mzansi
With eight years at Daily Sun and Vutivi Business News, Tebogo Mokwena, a Briefly News journalist, provided coverage of current affairs, shedding light on sports-related news, events and developments in the sports sector.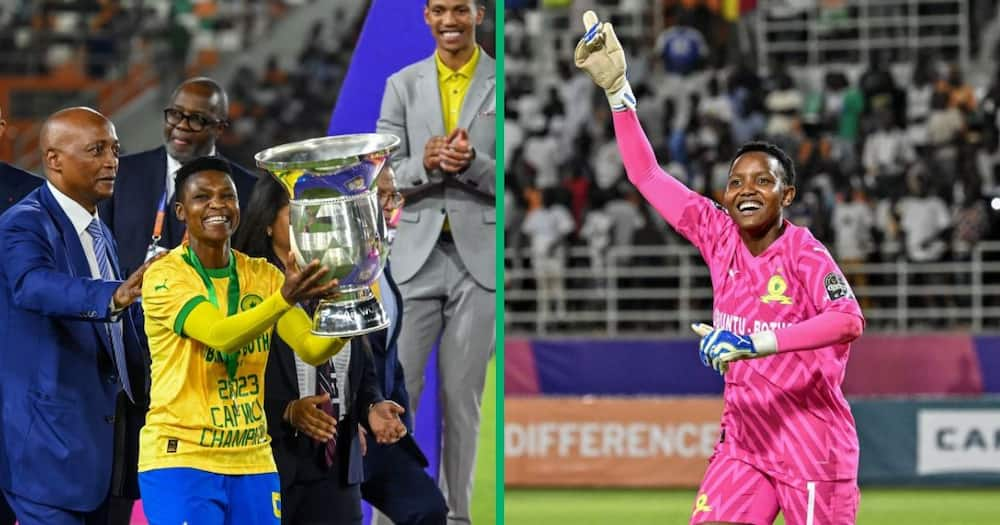 Mamelodi Sundowns won left and right after the women's team clinched victory at the Confederation of African Football Women's Champions League.
The ladies thrashed SC Casablanca in the finals to walk away the champions of female football in Africa. Fans praised the women and rival fans admitted Masandawana has found the success formula.
Sundowns' women's team wins CAF
Mamelodi Sundowns were able to redeem themselves this year after crashing out of the competition in last year's final. According to eNCA, Sundowns defeated Casablanca 3-0. The match was played in the Ivory Coast, and Refilwe Tholakele scored a brace. Mamelodi Sundowns ladies' team represented the Brazilians well after the male team recently won the African Champions League tournament.
Football fans appreciate Sundowns
Netizens on Facebook sang the team's praises.
Moscow Wa Lesandawana said:
"I wish all PSL teams could do what Masandawana are doing now for the sake of South African football."
Codnell Makaringe added:
"Now, these are the champions of Africa and the best team in Africa."
Lawrence Motau wrote:
"I am a Chiefs fan, but I must admit that Sundowns is all over these days. They have found a winning formula and it's working for them."
Stanford Vhiyashi took shots at Kaizer Chiefs.
"We are dominating everywhere, boys and girls. Sundowns is sending pain straight to Chips."
Kervin Sibiya remarked:
"We are a football institution with a championship mentality. We aim high."
Tomas Mthoba was proud.
"I salute these girls. Their third goal was just not from this continent. World Class at its best and the ever-smiling goalkeeper pulled two unbelievable saves."
Elvis Ace pointed out:
"Chiefs must learn from Sundowns ladies' team how to play football."
Phuti Ngoepe:
"Pain went straight to Sibanigi FC and Mama-Joy-is-a-sell-out FC."
Mamelodi Sundowns bag R125 million for AFL participation
In a similar article, Briefly News reported that Mamelodi Sundowns bagged R125 million for participating in the African Football League competition.
Masandawana received R18.7 million for the semi-finals, R32 million for the finals and R73 million for winning the AFL Cup. Sundowns fans clapped hands for their team and gave them their flowers.
Source: Briefly News