Factory Footage Showing the Production of Converse All Stars Sparks Heated Talks, Video Gets 26 Million Views
A video of the production process of Converse All Stars has gone viral on TikTok, attracting over 26 million views
The video sparked heated discussions and controversy regarding working conditions and practices in the fashion industry
Some appreciated the sneak peek into the makings of their favourite sneaker brand, and made it known in the comments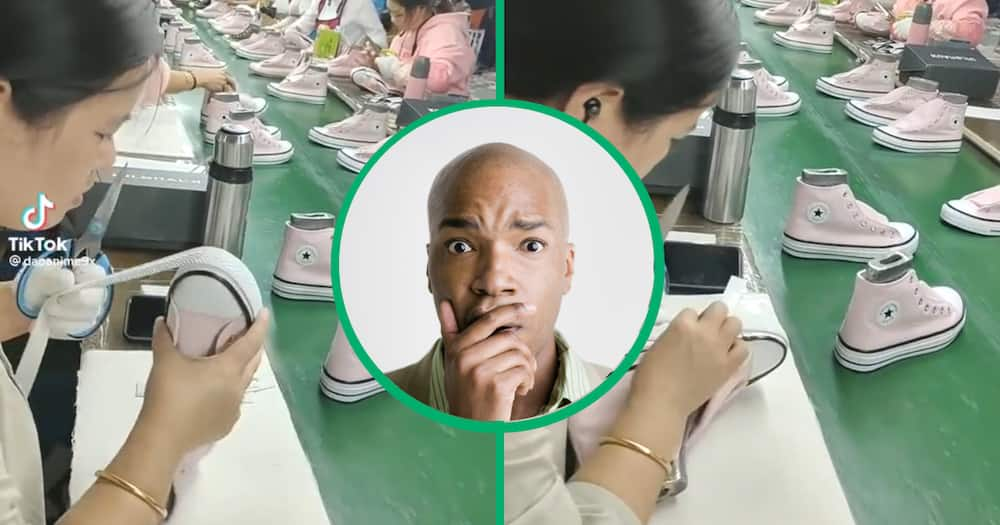 TikTok video reveals the art of sneaker production
Factory footage of the production process behind Converse All Stars has recently caused a stir on social media.
The TikTok video, which shows several Asian women efficiently assembling the iconic shoes, generated heated discussions among viewers worldwide.
Clip of Converse All Stars goes viral
The clip posted by @daoanime9x was viewed by over 26 million people on the popular platform. They expressed their shock and admiration in the comments section.
Many viewers were fascinated by the intricate process and marvelled at the speed and precision with which the workers assembled the shoes.
Some questioned whether the workers were being treated fairly and paid adequately for their hard labour.
Watch the video below:
Sneaker-making footage fascinates TikTok users
@mirriammoatemathebula said:
"The same crew will be making fake ones."
@davidmayne09 posted:
"And Nike is probably made on the second floor."
@ilswifeyy2015 mentioned:
"It's crazy how they make like a couple of bucks a day."
@noelvillot01 wrote:
We could do that here in the USA. I approve."
@mlukas59 commented:
"I want to order I'm in Africa."
@beathadamiano asked:
"Can you come to Zimbabwe to do business?"
@sonyango363 shared:
"I am really passionate about the shoe-making industry. I would love to join the team."
@sweetcheeks590 added:
"Cheap as chips to make then sell for more."
Mlungu woman nails pantsula dance moves with Converse All Stars in township, TikTok video gets Mzansi hyped
In another article, Briefly News reported that a white woman slayed a pantsula dance and got flooded with praise on social media. She was recorded flaunting her fancy footwork in the township and Mzansi was awed.
The TikTok video of the pantsula dancer did not miss a single beat. Her movements were seamless and like true pantsula dancers wore Converse All Stars shoes.
Source: Briefly News