Emotions Run High as Man Reunites with Biological Mother After 42 Years
- Trevor Thomas has been searching for his biological mother for 42 years after being raised by adopted parents
- It is this year, 2021, that he finally managed to find her details and contact his mother by e-mail
- The reunion not only helped answer the many questions he grew up with but also filled a void in his heart
PAY ATTENTION: Click "See First" under the "Following" tab to see Briefly.co.za News on your News Feed!
For a whopping 42 years, Trevor Thomas went through life with question marks on who his biological mother was and whether or not she was still alive.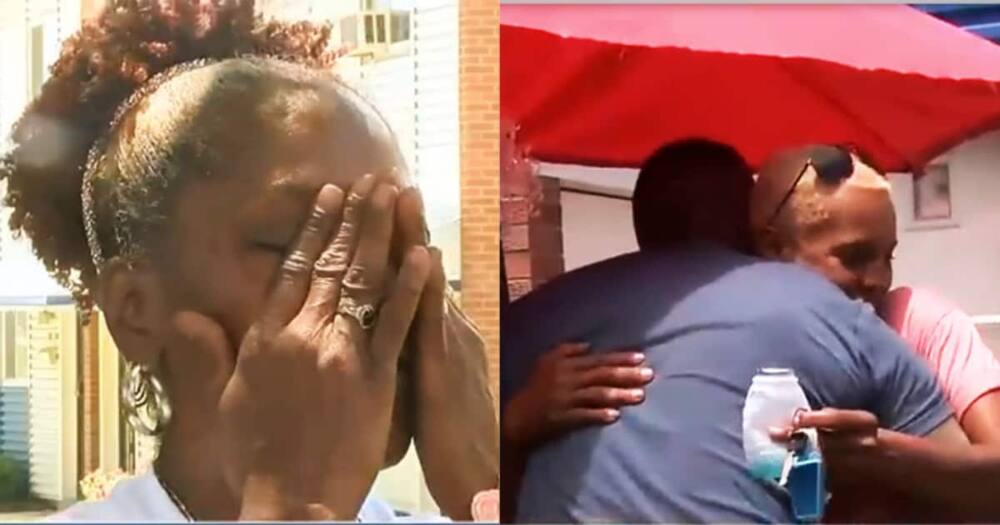 Did she ever miss him? Did she have other children? What made her not look for him for over four decades? Those were some of the unanswered questions that time and again rung through the mind of the Air Force service member.
The end of a 42-year search
Fox19 reports that his search came to an end this year when he got hold of his adoption records and started a frantic search for the woman who gave birth to him.
"I attached a baby picture, put on the title of the email my birthday, then sent her the email. I just figured, if this is her real e-mail and she sees the picture and birthday, she'll know it's me," revealed Trevor.
The e-mail was able to reach April Landrum, the woman Trevor had searched for all those years. Landrum expressed that she jumped out of her seat when she received the e-mail.
"Like, oh my God, this is him! My stomach dropped. I texted all my sisters," remembered Landrum.
PAY ATTENTION: Never miss breaking news – join Briefly News' Telegram channel
That began a conversation between mother and son as they planned on a physical meeting, the first in over four decades.
Emotional reunion
According to the elated mother, laying eyes on her son was an emotional moment that will remain etched in her mind for ages.
"I said I wasn't gonna cry, because I'm past this. But to see him, touch him and hold him, and just be able to love on him in the present day, is everything," she admitted.
It was time for Landrum to answer Trevor's nagging questions, the first being why she gave him up for adoption.
The mom explained that she found herself pregnant at the age of 15 and had no other option but to let him be raised by a family that had the ability, something she couldn't.
"I was mad at God for a long time for letting this happen. But I asked what kind of life he had, and he said he loves his mother and father and they treated him well, so I was good," said Landrum.
Trevor acknowledged that as much as he has been raised by a wonderful family, there was always a void that made him want to know where he came from.
Connie Ferguson meets up with her dad amid lockdown
In a similar post, Briefly News reported that Connie Ferguson was beaming after she got to spend time with her family recently to celebrate her dad's 85th birthday. Seeing her father and siblings filled Connie's heart.
Taking to social media to share the moment, Connie explained how they had all been keeping away from one another as to protect their father from the dreaded Covid-19 virus.
"The last time I saw Pops was just before Covid hit! In trying to protect him we stayed away and FaceTimed a lot."
Connie and her six other siblings were able to come together and make their father's 85th birthday one to remember!
"Today, heaven and earth had to move for all his seven children and karate children to gather and celebrate their HERO! I have never seen him so happy! He looks younger than he did last year! With the most youthful spirit! And he's always the first to boast about how good he looks! That his skin is still fresh! That God loves him so much he is a rock! He stands firm and isn't going anywhere!"
Enjoyed reading our story? Download BRIEFLY's news app on Google Play now and stay up-to-date with major South African news!
Source: Briefly.co.za