List of the best South African movies ever
South Africa remains one of the financially viable countries in Africa to produce high-quality movies that are analytically celebrated both at home and abroad. South Africa boasts of a wide array of high-rated films that go back to as early as 1911 and 1916. Some of the best South African movies range from romance, thrillers, histories, social realism, comedy, wildlife to lyrical wildlife documentaries.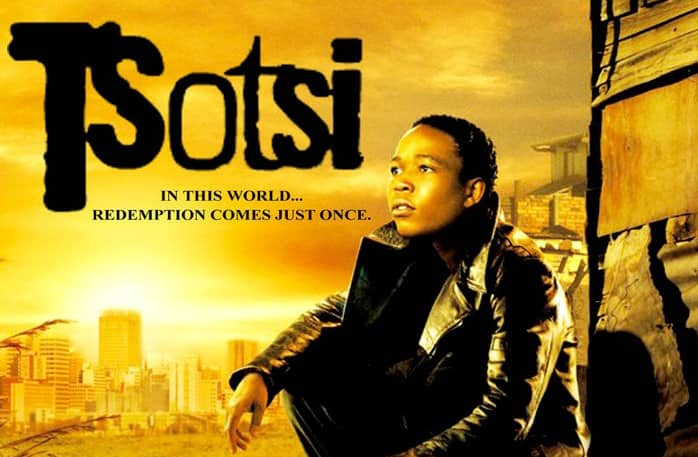 From this long list of movie genres, it is evident that South Africa has no shortage of awesome, thrilling and talent-filled films. In this article, we shall explore some of the 10 best and latest South African movies to ever grace our screen, and it is our hope that you shall find them intriguing as well.
READ ALSO: Top 10 books that eerily correctly predicted the future
South African movies list
These movies feature some of the best South African actors and actresses who have made a name for themselves in the global film industry.
1. Black Panther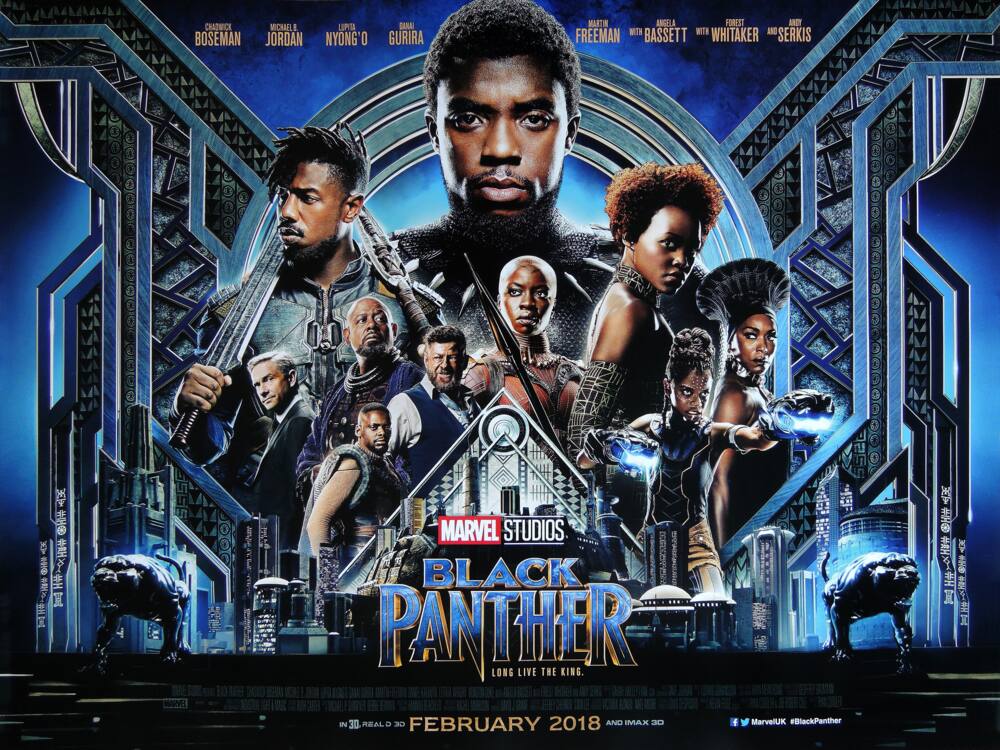 Black Panther is among the South African movies 2018 that became the highest grossing cinema of all times in South Africa, earning over R77,6 million. The movie is an American superhero movie based on Marvel Comics that was produced by Marvel Studios and distributed by Walt Disney Studios Motion Pictures. T'challa, role played Chadwick Boseman, is named king of Wakanda following the demise of his father. However, his rule is challenged by an enemy who does not believe in the kingdom's isolationist policies and starts a global revolution. Black Panther stars 3 local actors, John Kani, Atandwa Kani, and Connie Chiume, and the official language of Wakanda is IsiXhosa. This fact automatically qualifies this Marvel film to be on our list of South African movies.
The film did so well breaking the box office records in East and West Africa not forgetting the US. On average, it grossed more than $1.3 billion worldwide. Black Panther was praised for its directing, acting, production, screenplay, soundtrack as well as costume design box office records. It became the highest paid film to be directed by a black individual (African American , Ryan Coogler) as well as the top grossed movie in Canada and U.S and overall second grossed film worldwide in 2018. Black Panther film has several African movie stars as its top celebrities including Lupita Nyong'o (Kenyan Oscar winner), Forest Whitaker, Martin Freeman, Michael B Jordan, Daniel Kaluuya(Uganda), Connie Chiume (South Africa), Joni Kani (South Africa), Angela Basset, Danao Durira (Zimbabwe) and Andy Serkis among many others
2. District 9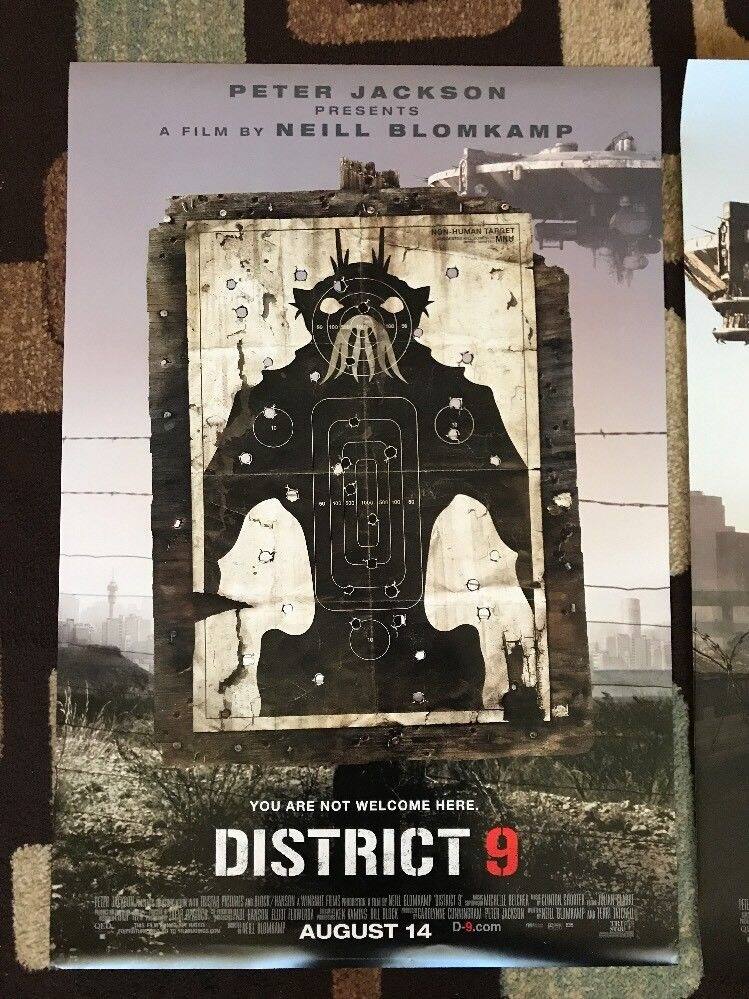 This is a South African film that was made in 2009. Even though the movie is a co-production of different countries including New Zealand, South Africa and the United States, its entire cast, crew as well as directors are South Africans with the exception of Peter Jackson. The story in the film explores various themes like social segregation, humanity, and xenophobia and it begin in 1982, when an alien water vessel appears in Johannesburg, South Africa. The South African government then discovers a number of sick and malnourished insect-like creatures on the ship and decides to confine them to an internment camp dubbed District 9. District 9 is the title of the movie and was inspired by the occurrences in District Six, Cape Town during the apartheid periods.
This film proved to be one of the best to be produced in the country owing to the gross revenue earned from the movie. Moreover, it received numerous accolades including 52 nominations, 4 Oscar Nominations and 14 wins overall.
3. Blood Diamond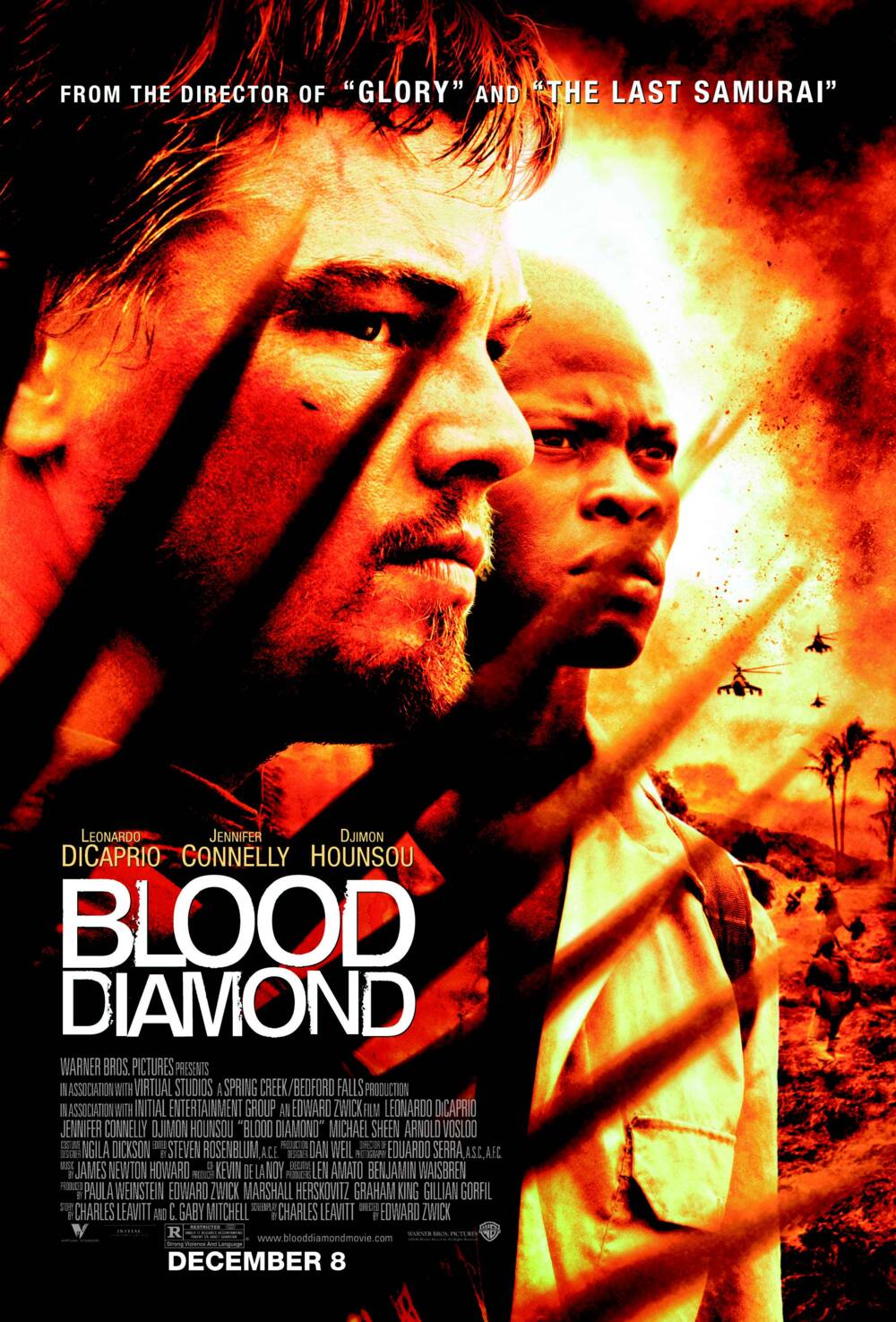 Third on our list is Blood Diamond (2006), a movie made about South Africa's historic meeting that took place in Kimberley, South Africa. The film revolves around the fate of a smuggler, fisherman, and a syndicate entrepreneur whose wits match over the possession of a priceless diamond. The best part about this film is that it is based on a true story of the diamonds mined war zones in Sierra Leone, Congo, and Angola and the finance conflicts between the profit capitalists and the diamond firms across the globe. The movie made a gross revenue of $171,407,179 and received 17 nominations and 5 Oscar Nominations.
4. Keeping up with the Kandasamys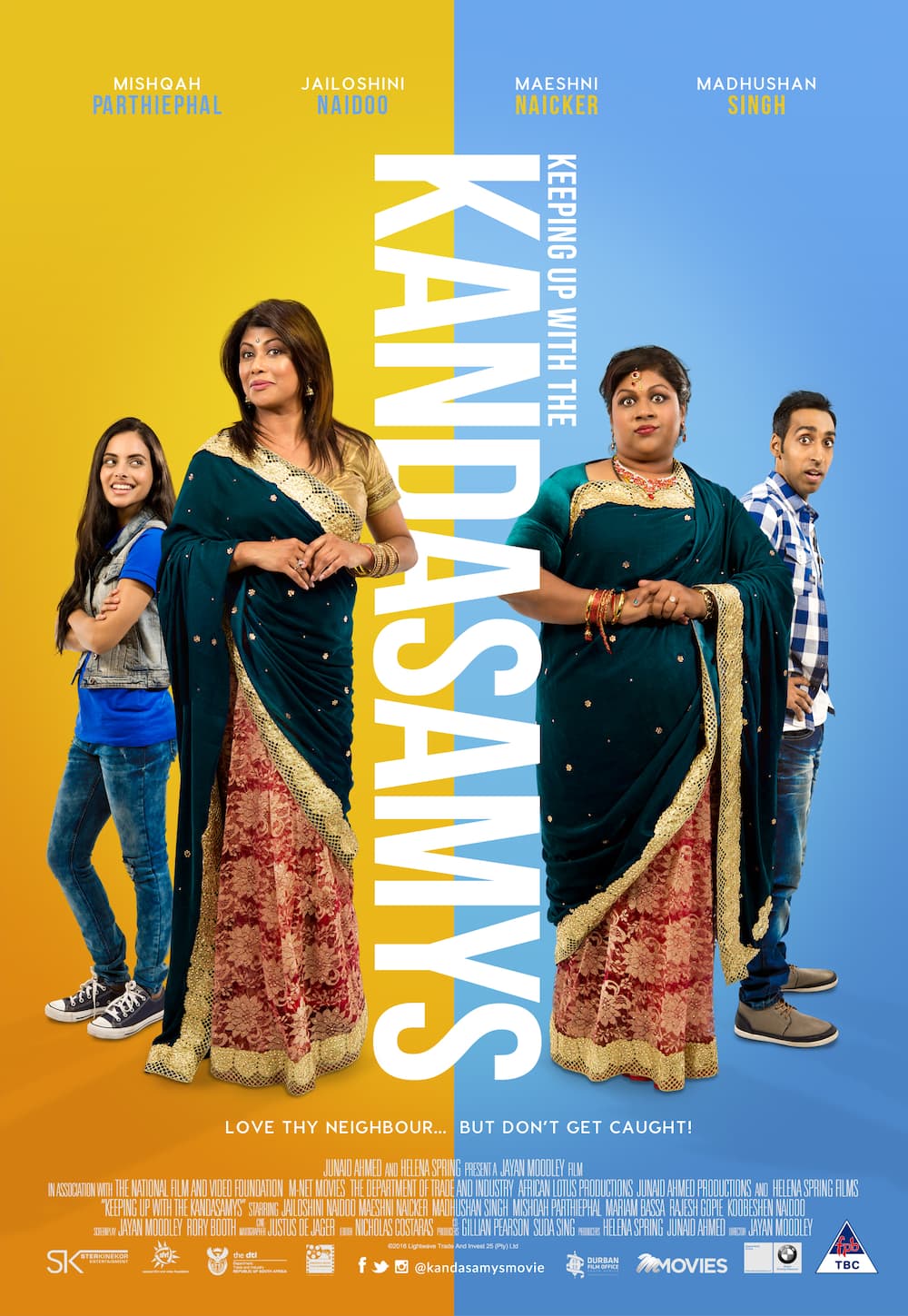 If you are looking to get a good laugh, we recommend you to watch Keeping up with the Kandasamys as it is one of the best South African comedy movies that were released on the 3rd of March, 2017. The South Africa film was directed by Jayan Moodly making it the first South African Indian film that received much screen play in the cinemas.
Due to its great performance, the movie was featured in the film festivals held in North America and subsequently received a lot of recognition from international critics. On IMDb the South Africa film has a great rating of 7.5/10 which means that it is really a great movie to watch.
5. Sarafina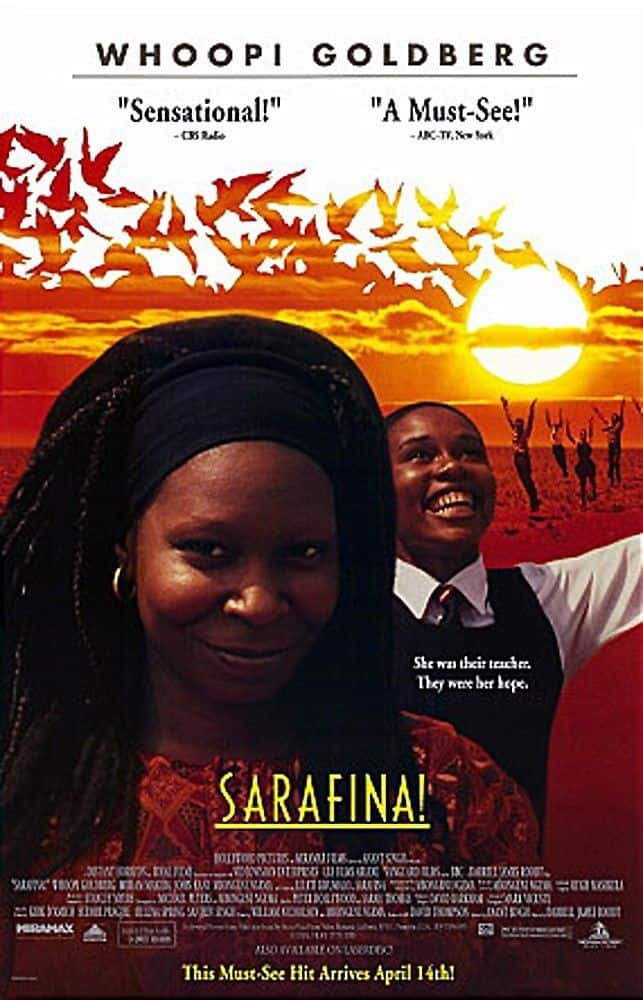 This list of best South African movies could not be complete if we left Sarafina out. It is a South African film that dates back to 1992 and features top actors like Leleti Khumalo, Whoopi Goldberg, Miriam Makeba, Tertius Meintjies and Miriam Makeba.
The plot of the movie revolves around students opposing the implementation of the Afrikaans language as the official language of teaching at the school. Sarafina, the lead actress, inspires her schoolmates to rise up against the implementation after her teacher, Whoopi Goldberg as Mary Masombuka, is detained. Sarafina did exceptionally well and was screened to compete at the 1992 Cannes Film Festival
6. Invictus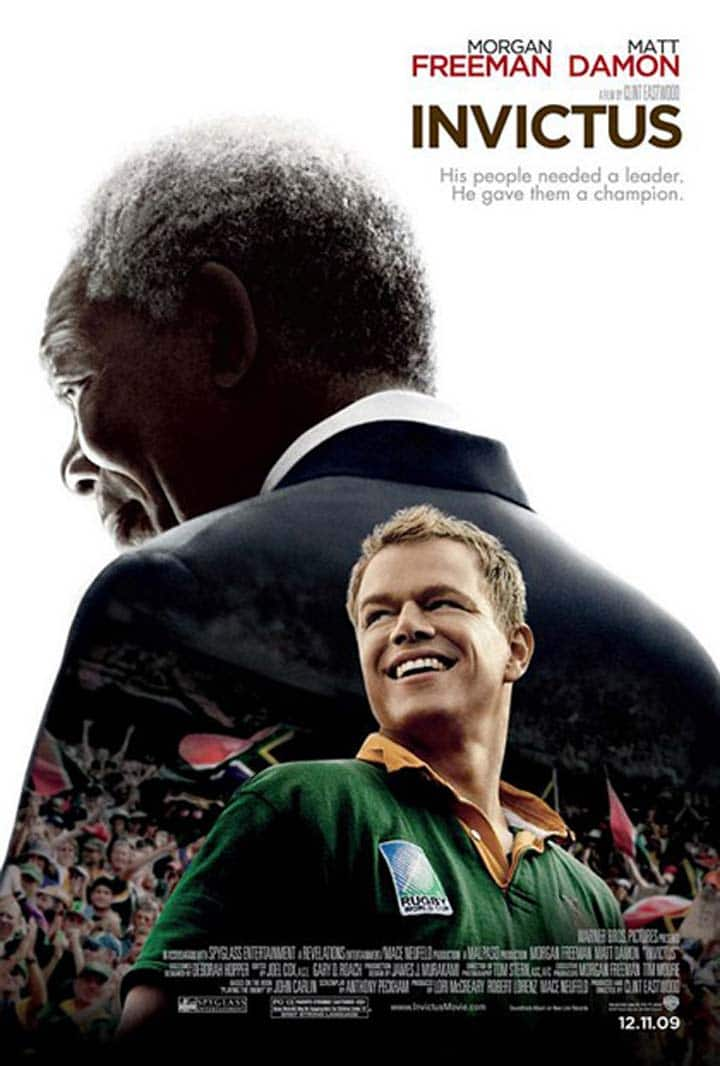 Inspired by true events, Invictus film tells the story of Nelson Mandela, father of South Africa, who intends to unite his countrymen through sports. In the film, Mandela partners with the captain of a South Africa rugby team to fight against the racial and economic prejudice during the apartheid era. Mandela rallies the sports teams during its unlikely run at the 1995 Rugby World Cup Championship match. The end of the film is to die for, so make sure to watch it.
7. Happiness is a Four Letter Word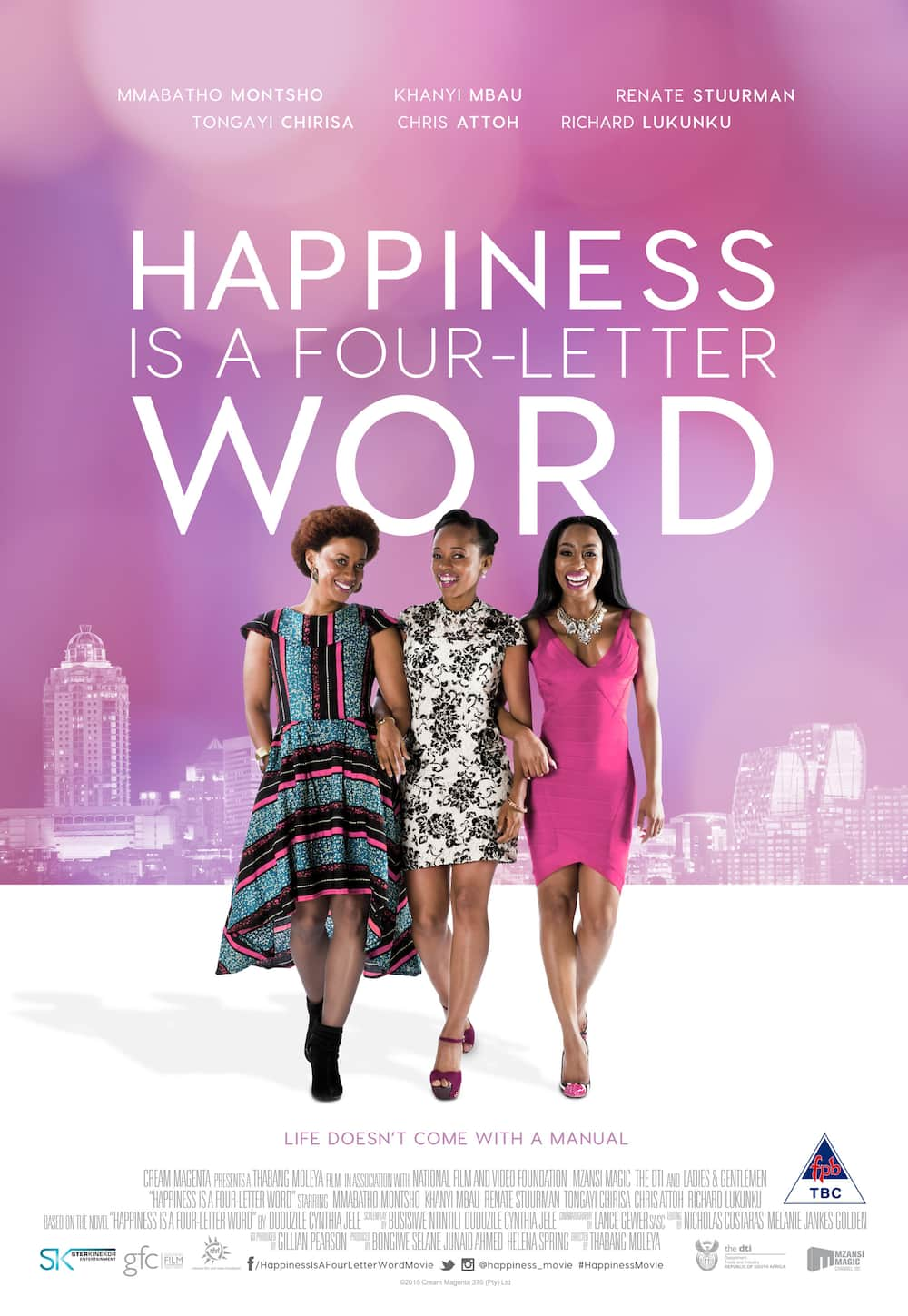 Earlier, we mentioned that there are South African films from all genres, and Happiness is a Four-Letter Word is one of the romantic drama films written and directed by Busisiwe Ntintili and Thabang Moleya respectively. The movie is based on a novel of the same title by Nozizwe Cynthia Jele and it follows the life of three friends looking to find happiness as they maintain their career independence and healthy love lives.
During its release in the box offices, Happiness is a Four Letter Word managed to attract an audience of 45,000, which made it the best performing film of all new releases in the country beating international releases like 13 Hours, Hail Caesar, Secrets Soldiers of Benghazi, and 50 Shades of Black and Trumbo. Most importantly, it was listed number 3 on the Top 10 after Deadpool and Vir Altyd. The film received a 97% approval rating Metacritic.
8. Siembamba (The Lullaby)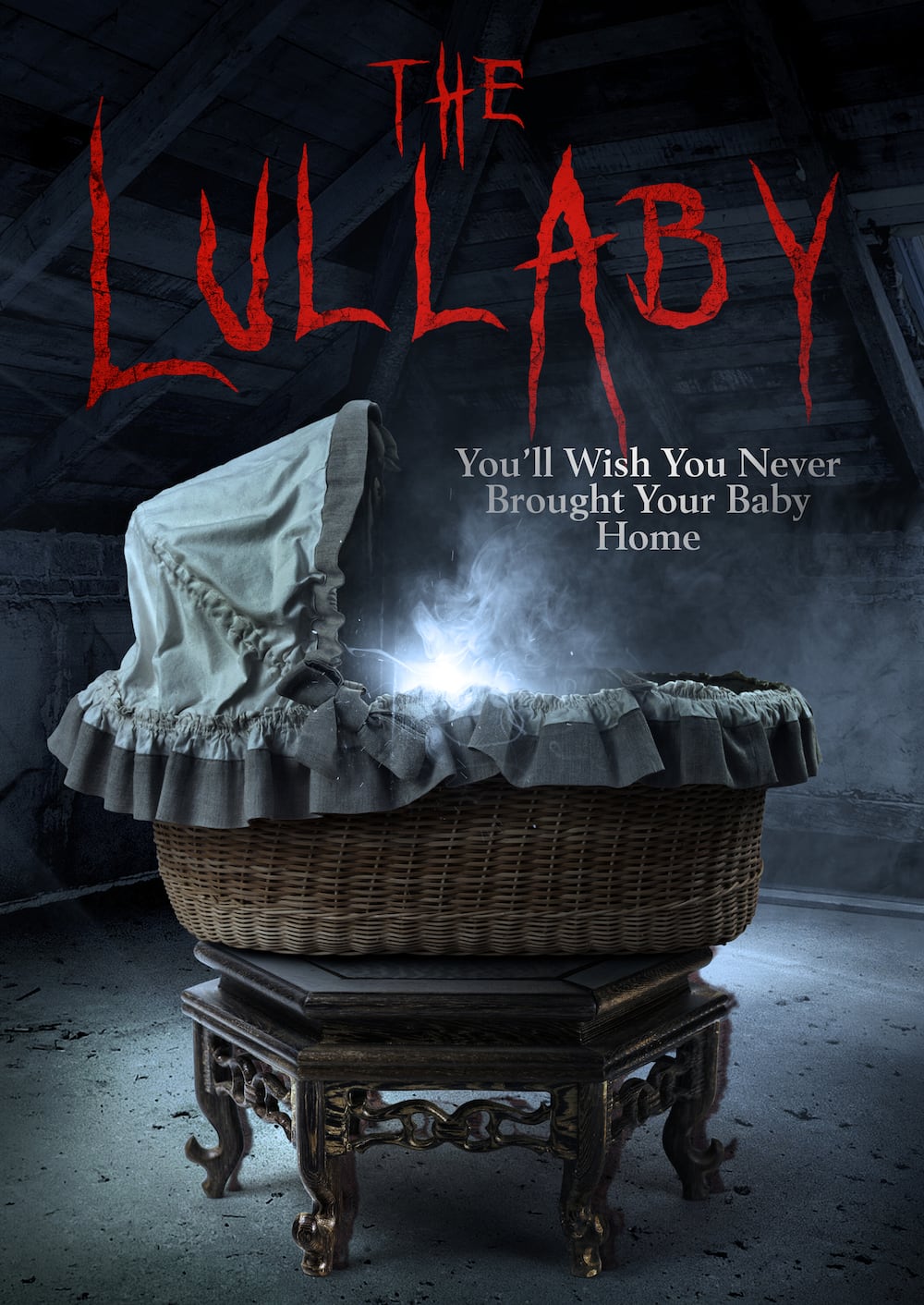 Siembamba (The Lullaby) is a recent South African Horror film that follows the story of Chloe who is suffering from postpartum depression. At first, she suspects that a demonic spirit is tormenting them but no one believes her. Siembamba is an Afrikaans lullaby that was voted as the best Afrikaans songs of all time in 2013. This made several nursery schools, children TV shows, Children books to be named after it and now the movie. There are many reasons why you need to watch Siembamba. Firstly, postpartum depression is a terrifying issue in our society that needs to be handled with a lot of care. Secondly, the horror film debut in almost 150 cinemas in the United States (a rare phenomenon for a South Africa movie). Thirdly, it boosts of 87% audience score in Rotten Tomatoes where it is listed as one of the top 26 best horrors movies of 2018.
Siembamba has received top nominations in eight Africa Movie Academy Awards in October 2018 that include best director (Dareell Roodt), best actress (Reine Swart), and best film.
9. Khumba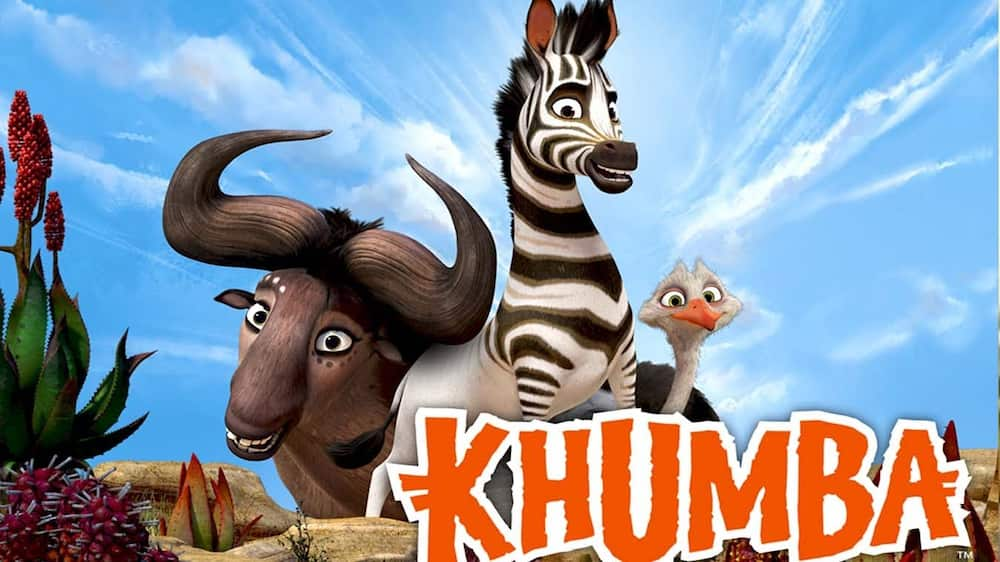 Are you looking for a movie to watch with the whole family? One that your kids will enjoy? Well look no further than Khumba, one of the best South African animation films to be produced by Triggerfish Animation Studios in 2013. The title of the movie is coined from a Zulu term that means skin and according to the director of the movie, Anthony Silverstone, the film is meant to inspire people and especially the young ones to accept themselves and be comfortable in their skin.
Khumba follows the life of a half-striped Zebra by the name Austin who is blamed by his superstitious herd except for his dad and mom for the chronic drought experienced in their land. As such, Kevin embarks on a mission to earn his stripes. Khumba is available in English, Afrikaans, and Zulu, giving you more reasons to watch the film.
10. Ellen, Die Stiorie Van Ellen Pakkies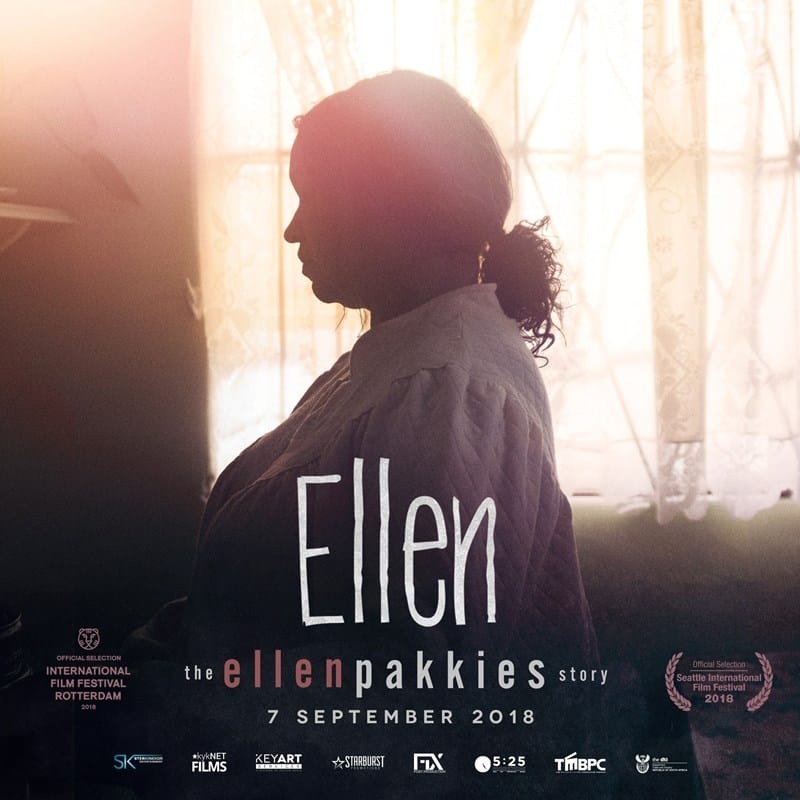 There is nothing quite interesting like a good Afrikaans cinema. This is because they have a unique set of talents, style, and quirks. The South African Afrikaans films have grown tremendously over the last few years. Among the top Afrikaans movies 2018 to watch is none other than Ellen Die Stiorie Van Ellen Pakkies. This film was produced by Daryne Joshua of Gambia Films, the person behind the local blockbuster Noem My Skollie.
The movie is based in the story Ellen (Jill Levenberg) who has a troubled relationship with her 20 year old drug addict son Abie (Jarrid Geduld). Following the death of Abie, his mom is blamed for the murder. As such, the film revolves around how Ellen is put through the penal system, her trial for murder and her unwavering love for her son.
READ ALSO: Cape Town's movie business is booming!
Where to download South African movies
You must be wondering form where to download South Africa movies. Well, you can get several South African movie torrents from rottentomatoes.com, kickasstorrents.to, Kat.cr, eztv.it, and The Pirates Bay among many others. You can also stream live on Netflix and other sites. Happy watching!
READ ALSO:
The top 10 lies men tell woman
Woman shares her true love story: We waited until our wedding day
Mduduzi Mabaso encourages actors to chase education and not fame
Top 10 most pirated movies of the week in SA
Trevor Noah black panther cameo - all you need to know
Source: Briefly News