How to transfer data on MTN
At this digital age, many people are looking for information on how to transfer data on MTN. The use of the internet has increased as people rely on it to earn money, communicate, get the latest news from all around the world and also for purposes of entertainment. Unfortunately, there are times when people do not have enough data to access the internet. It is during such times that they seek information on how to transfer MTN data. MTN is one of the best mobile networks in South Africa and various countries in Africa. With the MTN data service, you can comfortably and conveniently browse, chat and even stream videos. Amazingly, a person can share MTN data with another MTN user. In this article, we look at how to transfer data on MTN.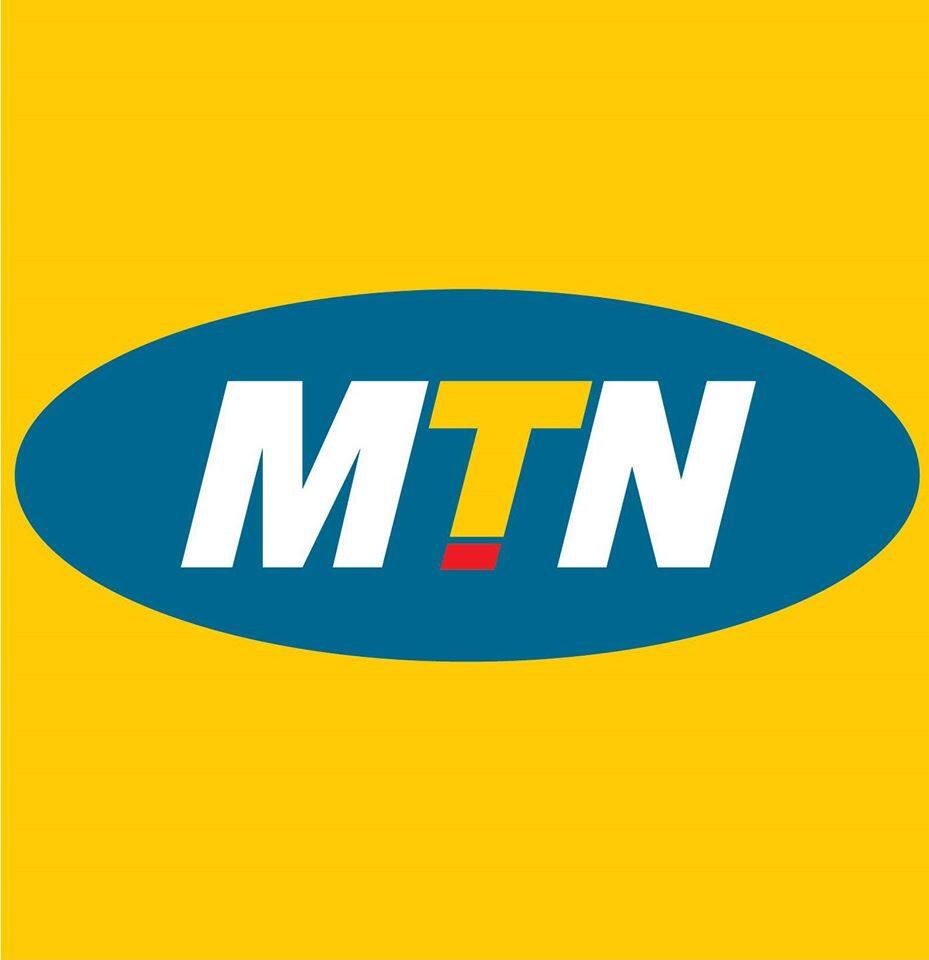 How to share data on MTN
Just like with other mobile networks today, MTN allows users to buy data online from their store. If you run out of data and want to browse the internet, you can buy MTN data online or ask your friend or colleague to share their MTN data. However, the person sharing the data must know how to send it. You can follow the steps below to know how the data transfer of MTN works.
MTN data transfer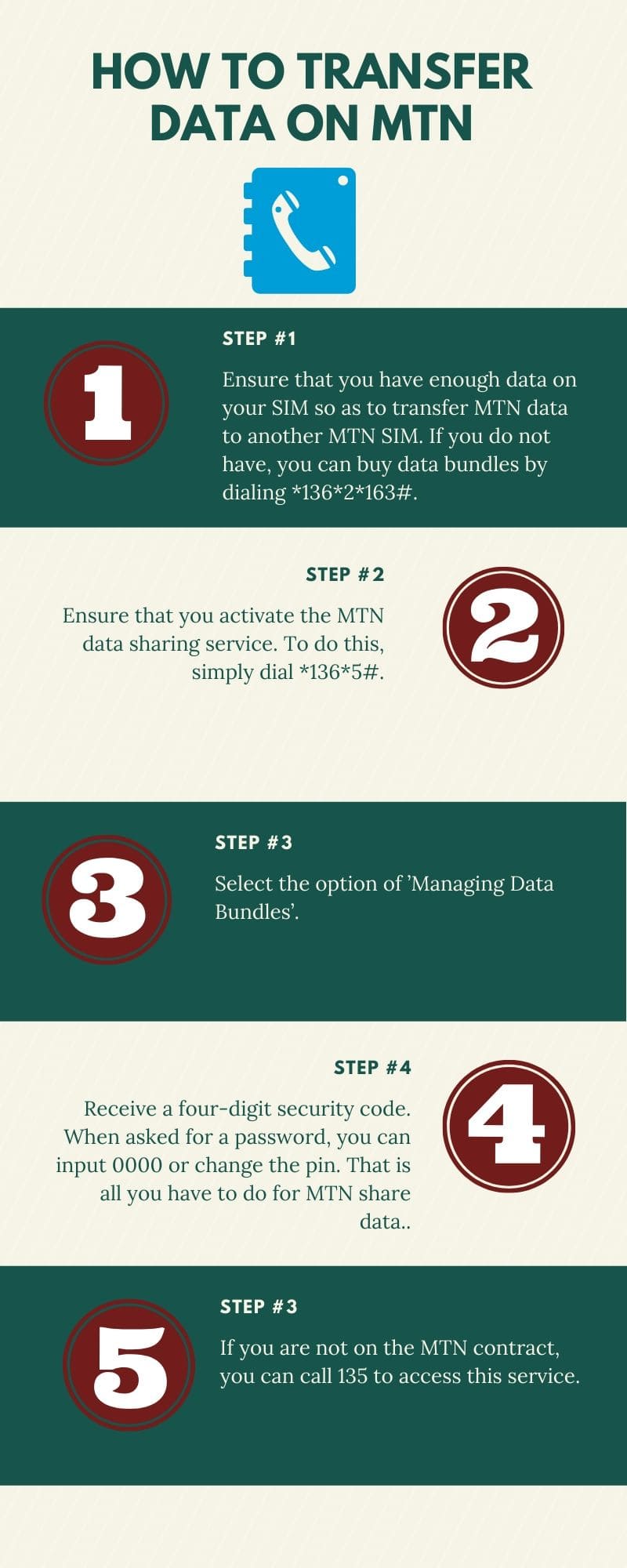 Here is what you do to successfully share and transfer data MTN.
First, you must ensure that you have enough data on your SIM so as to transfer MTN data to another MTN SIM. If you do not have, you can buy data bundles by dialing *136*2*163#.
Next, ensure that you activate the MTN data sharing service. To do this, simply dial *136*5#.
Then, select the option of 'Managing Data Bundles'
You will receive a four-digit security code. When asked for a password, you can input 0000 or change the pin. That is all you have to do for MTN share data.
If you are not on the MTN contract, you can call 135 to access this service.
This service is accessible to MTN PayAsYouGo, MTN Flexi, MTN Classic and My MTNChoice customers.
Note that if you are an MTN Sky bundle customer, you are allowed to share the data. However, you can only share it with only one other number.
Data share MTN is a very easy and fast process. It is only necessary to ensure that the SIM you are transferring to is registered on MTN and that you have enough bundle to conduct an MTN transfer data. Now that you have learned how to send data on MTN, enjoy sharing your data and connect with your friends and loved ones around the globe.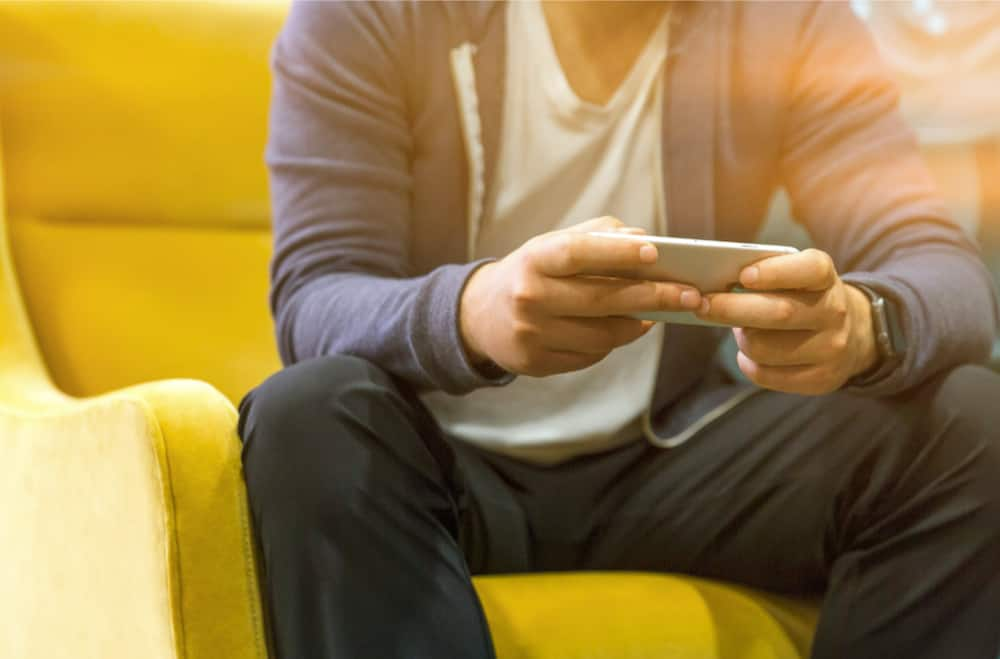 READ ALSO: Steps to claim a lost or a stolen phone
Important information on data share MTN
Using MTN to access the internet is definitely a great choice for you. Not only can you share data with another person, but also with several people. MTN allows you to share one data bundles with 20 MTN users.
You can link the numbers you want to share the data with by activating MTN DataShare in store. You can also delink these numbers. All this can be done by dialing *136*5#. However, if you delink yourself, then you have to be relinked by the account holder if they want to access their shared data.
Additionally, as an MTN user, you are not charged for sharing your data with other numbers. It is absolutely free and you can share the data anytime and from anywhere you want.
The main account holder of the data or the person sharing the data can share the inclusive data, the monthly data, and the once-off data bundles.
What happens when the data of the main account holder depletes the bundles? If the person sharing the data bundles runs out of them, the linked users will no longer access the data. They will only do so once the main account holder buys other bundles. Also, the linked users will not be charged out-of-bundle rates.
People who do not use MTN cannot use shared MTN data.
You will not be charged for linking users to your data bucket.
When you have your own data that are linked to the main account holder, you should know that the MTN DataShare bucket depletes first before your own data.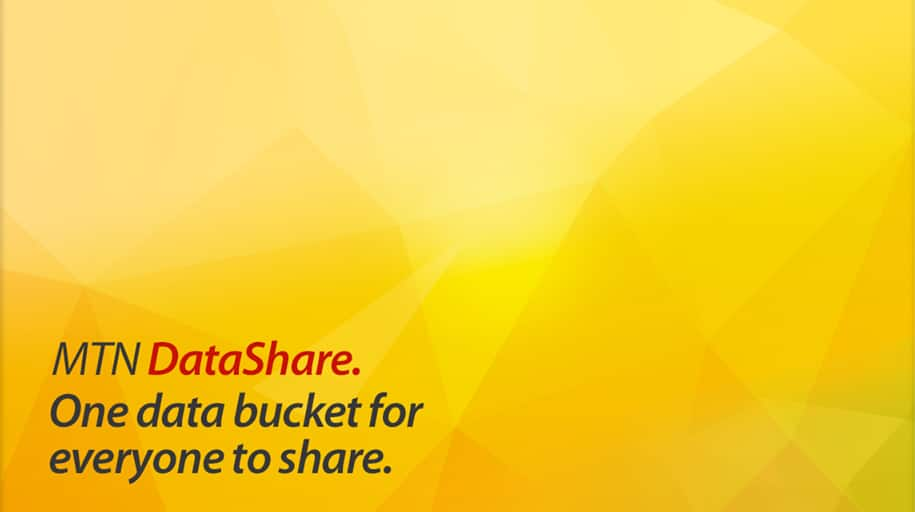 How to save on data when using MTN
Without any doubt, access to the internet through MTN is great. However, it can be quite expensive especially if you heavily rely on the internet. To save on data, you can follow the steps below.
1. Turn off automatic updates
If you have apps on your phone, regular updates can happen without you having to initiate the action. When this happens, a lot of data bundles are used, which means you will need to use more money to buy others. Ensure to turn off the automatic updates and allow them only when connected to a Wi-Fi.
2. Browse the internet responsibly
Today, people have become social media addicts. They want to be on Facebook, Instagram, WhatsApp, Snap Chat and Telegram among others. Switching from one platform to another leads to high consumption of data bundles. Make sure to turn off the data connection when you are done.
3. When possible, use Wi-Fi instead of data bundles.
Today, several places such as parks, trains, malls and schooling institutions have Wi-Fi. When visiting such places, switch off mobile data and switch on Wi-Fi.
With the tips above, you now know how to transfer data on MTN. It is an easy and direct process. This service has enabled people to access the internet when they run out of data bundles. Remember, you can only share this data with an MTN user. Also, as the main account holder, you get to link numbers that you want to share the data with.
READ ALSO:
MTN announces price cut in response to Competition Commission findings
MTN CEO Rob Shuter to step down as company reports increased revenue
MTN loyalty points: complete guide on how to use your points
Source: Briefly News