Who is Adam Sandler's wife, Jackie Sandler? Her age, movies, roles and net worth
Most of us have heard of couples who meet on set. But, only a few make it to the tenth anniversary. Adam Sandler and his wife have walked the journey for over fifteen years. While everyone knows a thing or two about Adam, not much is known about his wife. So, here is a brief profile of Adam Sandler's wife.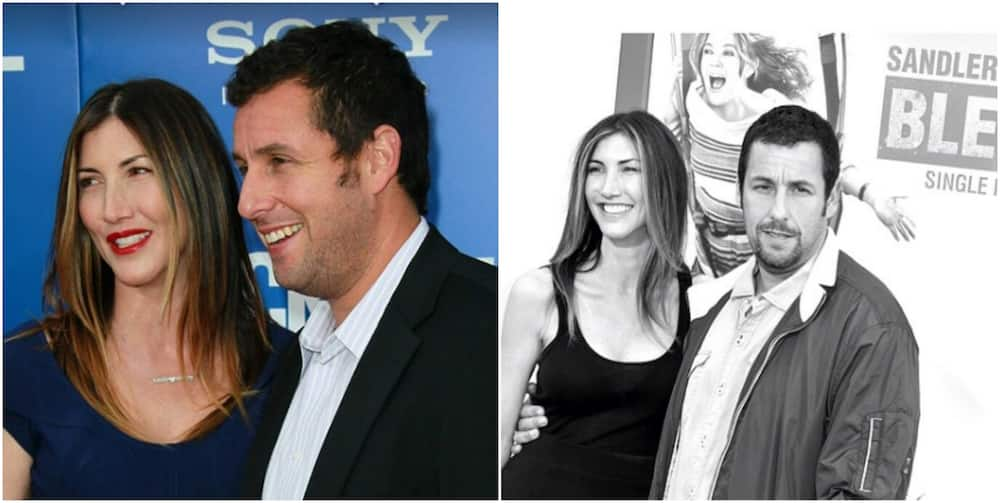 Jacqueline Samantha Titone- Sandler is an actress and model. She was born in Florida's Coral Springs to Joseph and Lila Titone. Within the Hollywood circles, most people know her as Jackie Sandler.
Adam Sandler's wife profile
Birthday: September 24th, 1974
Hometown: Coral Springs, Florida
Nationality: American
Career: Actor/Model
Spouse: Adam Sandler
Children: Sunny Madeline Sandler, Sadie Madison Sandler
While in high school, Jackie developed an interest in modeling. She gained national and international recognition after modeling for top clothing brands.
READ ALSO: Who is Dwayne Johnson's wife Lauren Hashian? Her age, height, songs, movies, net worth, and pics
Jackie Sandler's movies and roles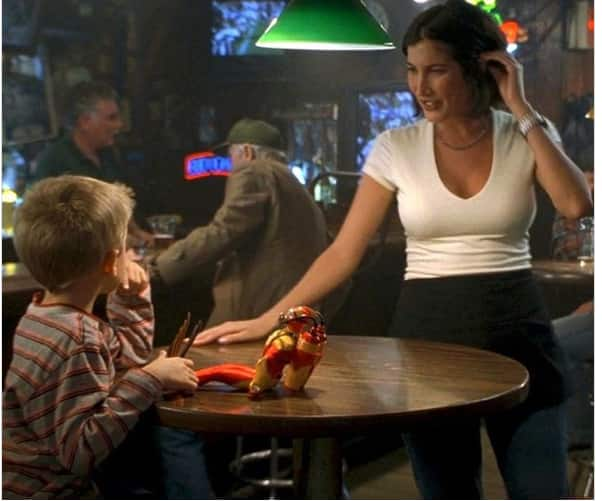 Rob Schneider gave Jackie her first acting role as "Sally" in the movie Deuce Bigalow: Male Gigolo, which was released in 1999. With a recommendation from Rob, Adam offered Jackie a role in the 1999 movie Big Daddy. Jackie starred in the film as a waitress and music assistant. Subsequently, in 2000, Jackie featured in Little Nicky alongside Adam Sandler, Quentin Tarantino, Reese Witherspoon, and Patricia Arquette.
In 2002, Jackie got her first major role as the voice of Jennifer in Eight Crazy Nights. A year later, she acted as a bartender in the movie Duplex. She featured as a dentist in the the 2004 movie 50 First Dates. To date, Jackie has been a part of over twenty movies. Below is a list of all the movies Jackie starred in including those awaiting release. They are in the order of the year, name of the movie, and role played by Sandler's wife.
1999/ Deuce Bigalow: Male Gigolo/ Sally
1999/ Big Daddy/ Waitress
2000/ Little Nicky/ Jenna
2002/ Eight Crazy Nights/ Voice of Jennifer
2003/ Duplex/ Bartender
2004/ 50 First Dates/ Dentist
2006/ The Benchwarmers/ Female customer
2007/ I Now Pronounce You Chuck& Larry / Teacher
2008/ Bedtime Stories/ Lady Jacqueline
2009/ Paul Blart: Mall Cop/ Victoria Secrets sales associate
2010/ Grown Ups/ Tardio's wife
2011/ Just Go with It/ Veruca
2011/ Bucky Larson: Born to Be a Star/ Casting director
2011/ Zookeeper/ TGIF waitress
2012/ That's My Boy/ Masseuse
2012/ Hotel Transylvania/ Voice of Martha
2013/ Grown Ups 2/ Jackie Tardio
2014/ Blended/ Hollywood stepmom
2014/ Paul Bart: Mall Cop 2/ Attractive lady
2015/ Pixels/ President's assistant Jennifer
2015/ The Ridiculous 6/ Never Wears Bra
2016/ The Do-Over/ Joan
2017/ Sandler Wexler/ Amy Baskin
2018/ The Week of/ Lisa
2018/ Father of the Year/ Krystal
2019/ Deported/ Reporter
2019/ Last Summer/ Tracey
Jackie Sandler TV series roles
Jackie has also appeared in several TV series. In 2004, she appeared on VH1: All Access Celebrity Wedding as herself. Here are the different series she has played roles in, in the order of year, name of the series, and role played.
2007/ The King of Queens/ Mrs. Kaufman (1 episode)
2013/ Rules of Engagement/ Nurse Linda (1 episode)
2015/ Marry Me/ Fake Pam (1 episode)
2016/ The Goldbergs/ Elaine (1 episode)
2016-2018/ Kevin Can Wait/ Cindy(5 episodes)
2017/ Real Rob/ Mrs. Julie (1 episode)
Adam and Jackie Sandler family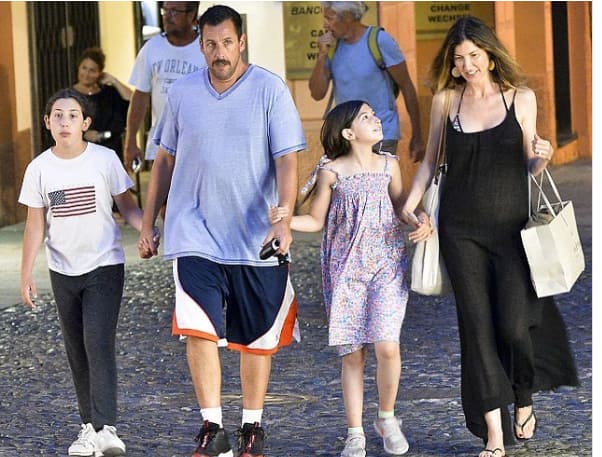 Jackie and Adam first met on the set of the Movie Big Daddy. The two bonded and officially began dating in 2001. On June 22nd, 2003, Adam and Jackie solemnized their union before family and friends in Malibu, California. Jackie later converted to Judaism. The Sandlers are parents to Sunny (10 years) and Sadie (12 years).
Jackie Sandler net worth
According to celebritynetworth.com, Mrs. Sandler's net worth is 5 million dollars.
READ ALSO: Who is Vin Diesel's wife Paloma Jiménez? Her age, movies and photos
Given the roles above, Adam Sandler's wife seems to be the queen of cameos. Remember to follow her 2019 projects Deported and The Last Summer.
READ ALSO:
Kwesta wife age, pics, name and biography
Who was Hugh Masekela wife?
Who is Black Coffee's wife?
Nasty C girlfriend 2018
Who is Trevor Noah girlfriend?
Source: Briefly News