NMU online application 2021: process, fee, application status
The Nelson Mandela University commonly called NMU is one of the leading academic centres of excellence in the Eastern and Southern Cape. The institution has consistently grown to become one of the most progressive centres of learning across the country and beyond. Is NMU online application for 2021 open? Yes! Interested learners can now take advantage of the ongoing application period to complete their online applications for a timely placement.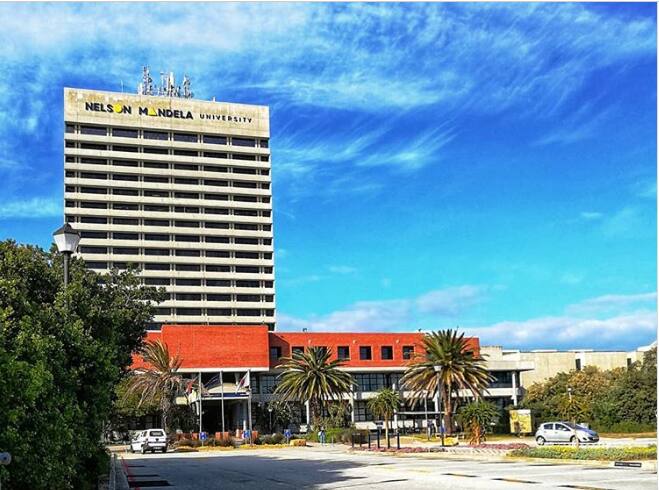 The university was named Nelson Mandela Metropolitan University (NMMU) till 2017, but now the name is different. Nelson Mandela University is now a competitive higher learning institution that is offering a broad selection of courses, teaching facilities, and experiences. It offers prospective learners a chance to explore different NMU courses in line with their career preferences. Interestingly, Nelson Mandela University courses embrace a holistic educational approach that borrows broadly from a wealth of professional, academic, and technological programs.
Nelson Mandela University online application
The University of Nelson Mandela has opened the ongoing online application for the 2021 intake. Now prospective students have a chance to apply to one of the best universities. Make sure you apply earlier as some qualifications have limited places. It is better to submit applications for early admission in 2021 by 3 August 2020. Make sure that you are not locked out. Prospective learners can now access the application form through the NMU portal regardless of time and location.
Learners can flexibly make online applications or choose to download the form for hard copy submissions. The Nelson Mandela University online application is open for all learners under different levels including certificate, diploma, and undergraduate degrees. Learners accessing the NMU student portal must be sure to provide all the required application documents for the validity of their submissions. Here is a detailed guide on how to go about the online process.
Nelson Mandela University online application procedure

If you ask yourself "How do I apply to Nelson Mandela online?" It is easy and possible to make your applications at NMU without physically visiting the institution. The university online application system is now available as part of process digitization at the institution. Remote applicants can now access the application portal. The system is highly dynamic and user-friendly for users with minimal computing skills. Both South African and non-South African learners can now complete their applications through the system without leaving their homes.
It is important to first view the list of programmes that are already full prior to making your application so that you do not apply for a course that is no longer open.
READ ALSO: UCT online application 2021: process, fee, requirements, courses
Step 1
Select whether you are South African or a foreigner by clicking the correct box. Click Next.

Step 2
Choose whether you want to pursue postgraduate or undergraduate studies by clicking the relevant box. Click Next.
Step 3
If a postgraduate, you will be required to confirm whether you have finished or you are presently finishing an advanced diploma or degree at a university or other tertiary college. Click the correct box and then Next.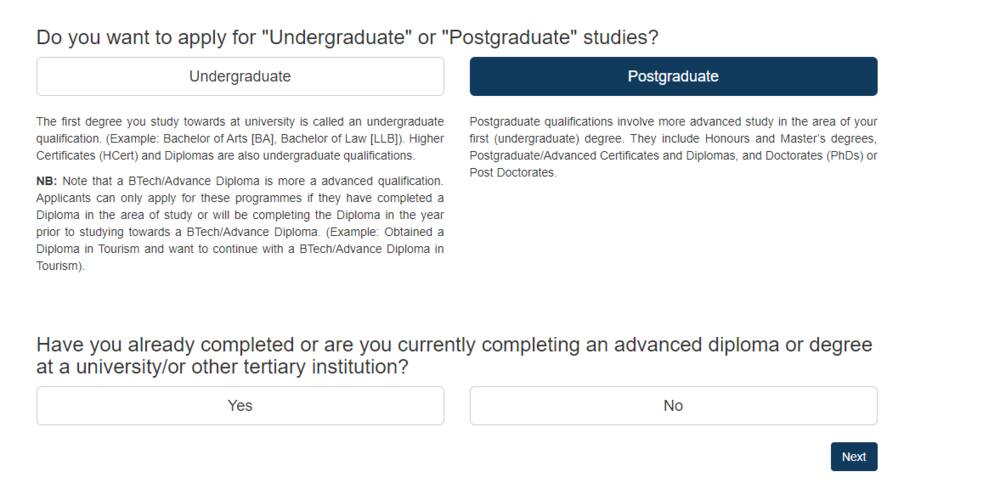 If an undergraduate, you will be taken to the General information page.
Step 4
After step 3 above for postgraduates, you will be taken to the general information page, like undergraduates. Here, you will be told of the things that you need to have. These include:
Your most recent school results
A valid South African ID number or passport number
Functioning cellphone number
Your postal code
Email address
You also need to have access to a scanner, fax machine, or printer.
Step 5
Next, you will be allowed to select the programme you want to take either by faculty or qualification. Make sure you meet the requirements for the specific course by referring to the faculty guide for minimum course qualifications.

Step 6
After choosing the course, the next page will take you to course details where you will fill in things like the academic period and the year of study that are you applying for.
Step 7
When you click next after step 6 above, you will be taken to the personal information page. You will begin by indicating the information of your personal details, followed by your postal address and then contact details like email and phone number.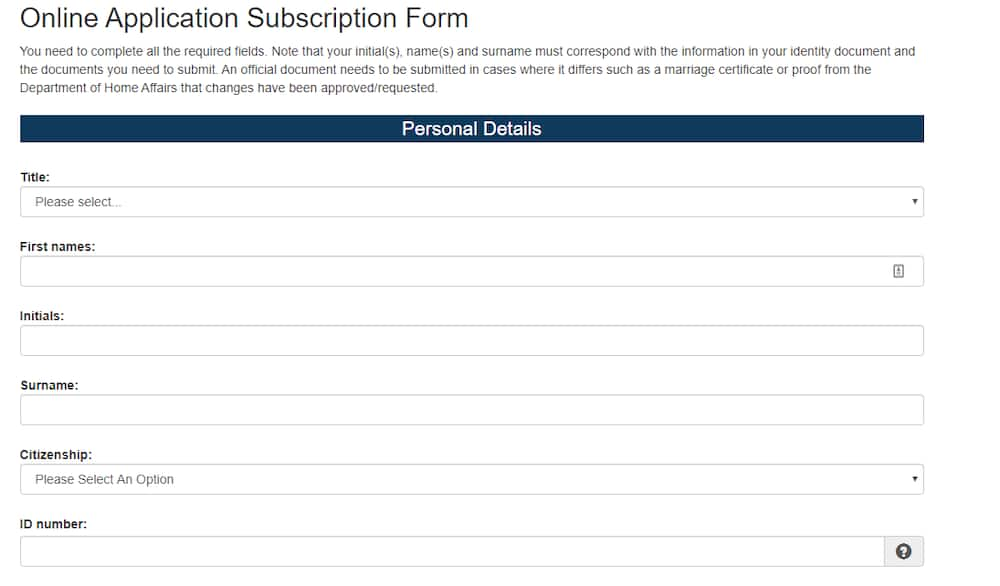 Step 7
Read the terms and conditions and then click Yes to agree before submitting your application.

READ ALSO: Wits online application, courses, closing dates 2021
NMU application deadlines
So what are NMU application dates for 2021? The institution opened their online application system on the 6th of April 2020 and expects all early applicants to have cleared with their submissions by the 3 of August 2020. The deadline for Nelson Mandela University late application 2021 is the 30th of September. NMU online application 2021 closing date for international students is also the 30th of September. NMU purposely provided applicants with sufficient time to help them plan adequately. It is, however, the primary responsibility of learners to determine available course entries and the satisfaction of all admission requirements.
Learners should take note that late applications come with limited career choices. For this reason, they should submit all the required documents promptly without omission to avoid losing out in the selection criteria.
Nelson Mandela University students now completing their 3-year diploma program can as well apply for their Advanced Diploma studies in the upcoming year within the deadline. These learners must fill an application form exclusive available at the admission office. The good news is that no supporting documents will be required in this case.
NMU admission status
How do I check my NMU status? Students that have successfully submitted their applications to the university can now view the NMU application status of their admission through the NMMU student portal upon providing the student number and secret PIN as NMU login credentials. Once logged in, the student can review not only their admission status but also outstanding documents and any previous communications in their student account.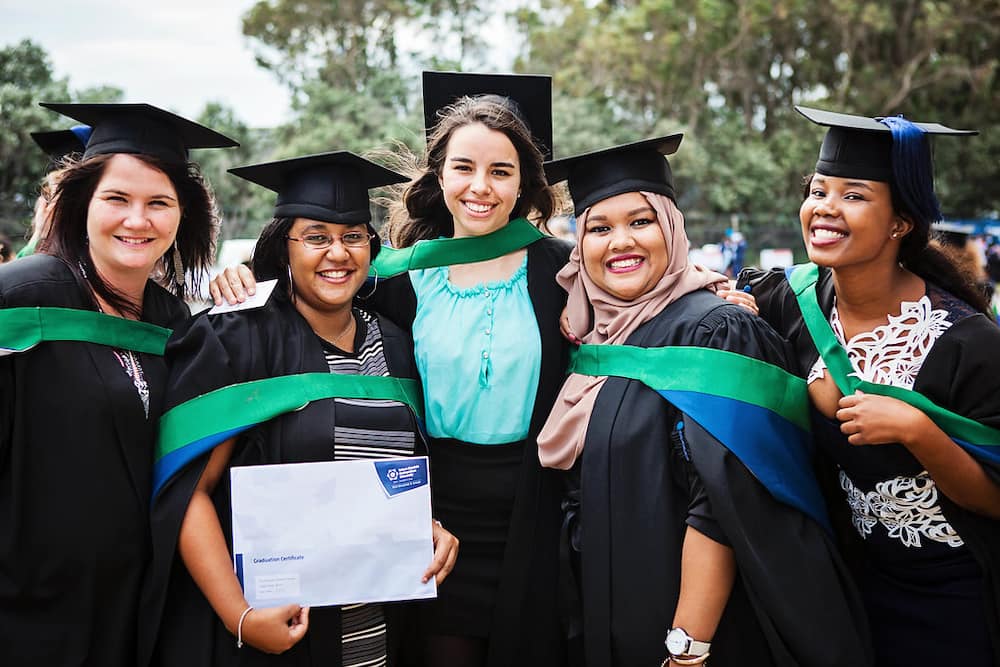 READ ALSO: UP online application 2021: status, closing date, fee, form
NMU online application fee
How much is the application fee at NMU? Local applicants have no financial obligation when submitting their applications to Nelson Mandela University. The university, however, expects international learners to pay R500 for application fees.
NMU banking account details 2021
These banking details are reserved for use by international student considering local students make free applications.
Bank: Standard Bank
Account name: Nelson Mandela University - Main
Account number: 080263011
Bank address: Rink Street, Port Elizabeth, South Africa
Bank Swift Code: SBZA ZAJJ
Internet Banking Code: 051001
Reference: 5350 4605 & Student Name
NMU email: intfees@mandela.ac.za (for sending a copy of deposit slip)
Before submitting the application form, learners should be sure to attach their payment slip as proof of the cash deposit.
NMU credit card payments
This mode of payment is available for those that have already applied to Nelson Mandela University. Those unable to complete their applications online can as well forward their application forms through NMU student email intfees@mandela.ac.za. While composing the email, indicate the subject field to read 'Process application for online payment.'
It is after receiving the student number that one can proceed to make online payments. Note that such an amount will take up to three days to process. You must always retain a copy of your credit payment. NMU no longer accepts manual credit card payments for security concerns.
Note: The application fee paid by international applicants are non-refundable and are not a guarantee of entry into the institution. Also, note that posting cash to the institution is prohibited.
Other important information
NMU is increasingly becoming a preferred centre of learning given its robust capabilities and elaborate student application criteria. The advancement of NMU Moodle or learning site for mobile compatibility is one of the recent impressive developments at the university. The NMU prospectus is also available for the academic year 2021 detailing educational, financial, and other essential aspects of the institution.
NMU downloads are other NMU student information now available online including study courses, application guidelines, and change of qualifications among other relevant documents.
Take advantage of the ongoing NMU online application 2021 to secure yourself a learning opportunity at the institution before the expiry of the deadline. Make payments if abroad and check your admission status for the 2021 intake from anywhere in the world through the online application and admission status systems. We wish you all the best!
READ ALSO:
UKZN online application 2021: registration, fee, form
Stellenbosch University online application 2021: dates and requirements
UJ online application, registration, form and status 2021
UNISA Application 2020: everything you need to know
Source: Briefly.co.za