2019 is a good year for Gerda Steyn whose Olympic dreams are speedily turning into conceivable realities. Her impressive record during a recent Comrades Marathon is just but an example of her ever-rising speed powered career. Gerda is now a big title, a mention of which sparks smiles and excitement among her local and international fans. It is interesting how Gerda has managed to smash her limits, registering records one after another.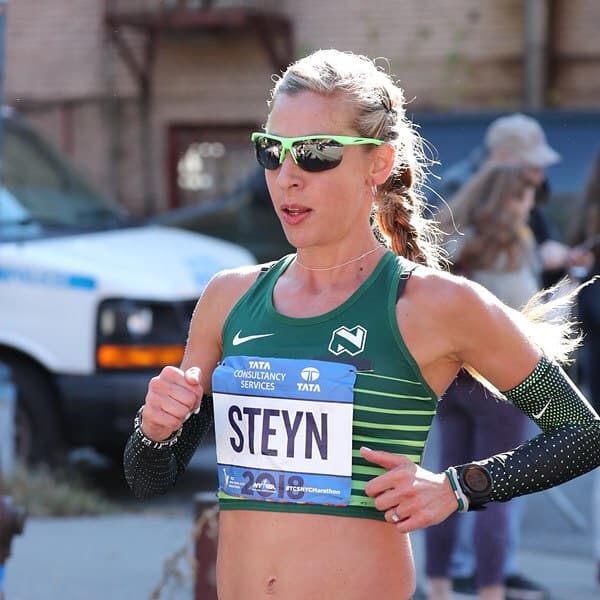 The famous Gerda is a South African athlete who has kept the world tuned to every one of her record-breaking races. The champion is recognized broadly as an accomplished marathoner of all time. Not much was known about the athlete until recently when her name grew bolder, amassing even greater followership. The fact that she has not been in the industry for long keeps many wondering where she has been hiding her talent.
READ ALSO: Mpho Makola age, measurements, wife, current team, stats, salary, house and Instagram
Gerda Steyn profile
Full names: Gerda Steyn
Year of birth: 1990
Place of birth: Bothaville, Free State province, South Africa
Nationality: South African
Profession: Athlete and quantity surveyor
Years active: 2014 to present
Famous for: 2019 Comrades Marathon Champion
Instagram: @gerdarun
Twitter: @gerdarun
Facebook: @gerdarun
Gerda Steyn biography
Gerda Steyn Wikipedia page describes her as a South African marathon and ultramarathon athlete. Indeed, she is nothing less of a qualified long distance racer judging by her seemingly effortless winnings. It is unbelievable to many that Gerda joined long-distance running early into her stay in Dubai as a way to meet people only to discover her talent later on. We have so much lined up for you about the athlete.
Gerda Steyn family and early life
Gerda is the daughter to Trudie and Pieter Steyn; she also has a brother and a sister called Stefan and Estie. How old is Gerda Steyn? Born on the 3rd of March in 1990, Gerda Steyn age is now 29 years, and she is having a bliss with her long-distance running career. Her young age gives her a career advantage packed with a blast of spirit and energy for all upcoming races. She is an advocate of big dreams, humble life, and hard work for young people.
Growing up on a farm, Gerda Steyn proved herself a hard-working and focused young girl in her engagements. She grew and spent a better part of her childhood years in the Bothaville area and would later clear her high school studies in 2008. She proceeded to enroll at the University of the Free State from where she graduated as a Quantity Surveyor.
Gerda Steyn career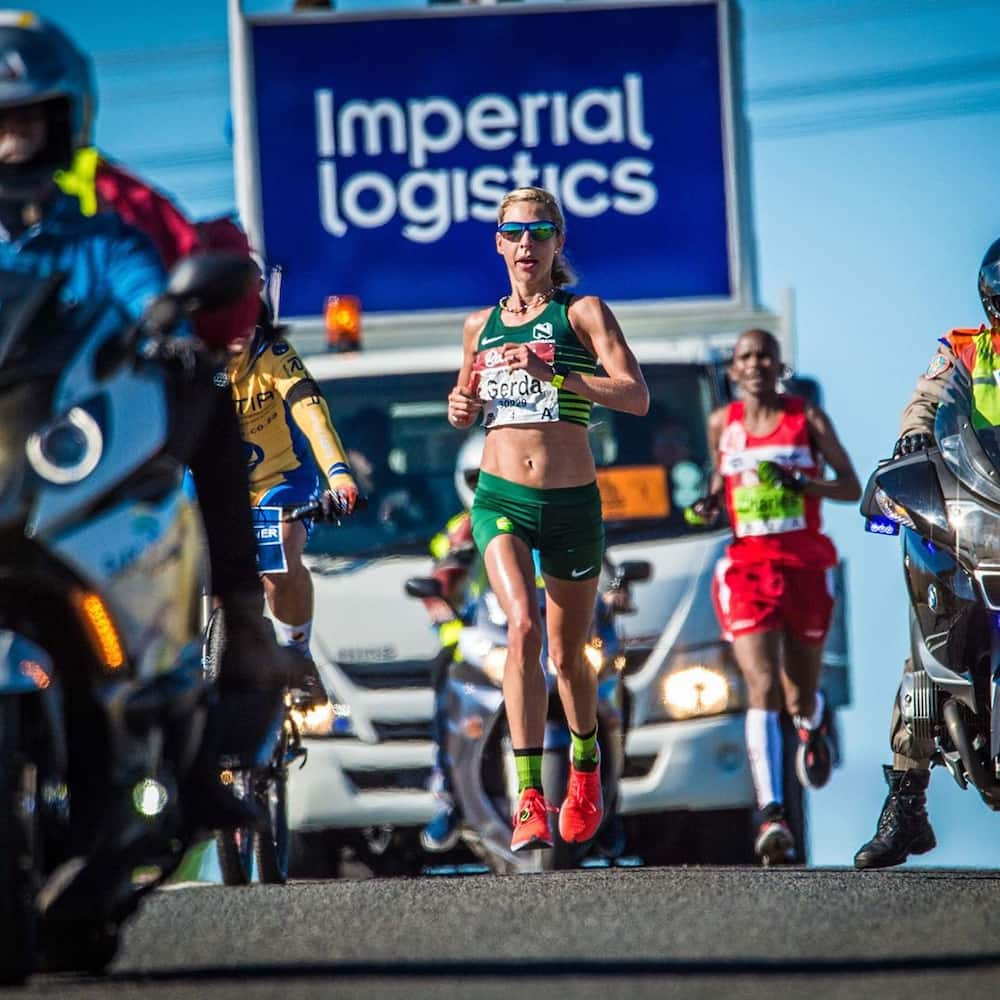 Who won the Comrades Marathon in 2019? Joining a Dubai based running club in 2014 has turned out to become the best decision that Gerda has ever made in her life. It is through this club that she has grown her reputation as a tough long-distance runner. The club saw her contesting for 2015 Comrades after which she met Nick Bester, a 1991 winner, for her coach. Nick has since seen her receive the best Comrades marathon training, enabling her to excel in several other competitions. Here is a look at the races that Gerda has taken part in, and how she performed
1. Comrades 2019
Place: Durban
Position: 1st
Time: 5:58:53
2. Two Oceans 2019
Place: Cape Town
Position: 1st
Time: 3:31:28
3. New York Marathon 2018
Place: New York
Position: 13th
Time: 2:31:04
4. Gerda Steyn Comrades 2018
Place: Pietermaritzburg
Position: 2nd
Time: 6:15:34
5. Two Oceans 2018
Place: Cape Town
Position: 1st
Time: 3:39:32
6. Comrades 2018
Place: Durban
Position: 4th
Time: 6:45:45
7. Comrades 2016
Place: Pietermaritzburg
Position: 14th
Time: 7:08:23
8. Two Oceans 2016
Place: Cape Town,
Position: 14th
Time: 4:15:44
9. Comrades 2015
Place: Durban,
Position: 56th
Time: 8:19:08
Gerda Steyn Comrades races have particularly built her name at the same time propelling her to greater heights. Her anticipations for the just concluded 2019 race were unmistaken;
"My preparation has gone really well, and after coming off a big high in Cape Town, I was able to really focus and recover…It's going to be very fast, and I have no doubt the racing will start early on."
This year's win in the first place has left Gerda fans celebrating even as she prepares herself for the Comrades 2020 contest due on the 14th of June.
Comrades qualifying races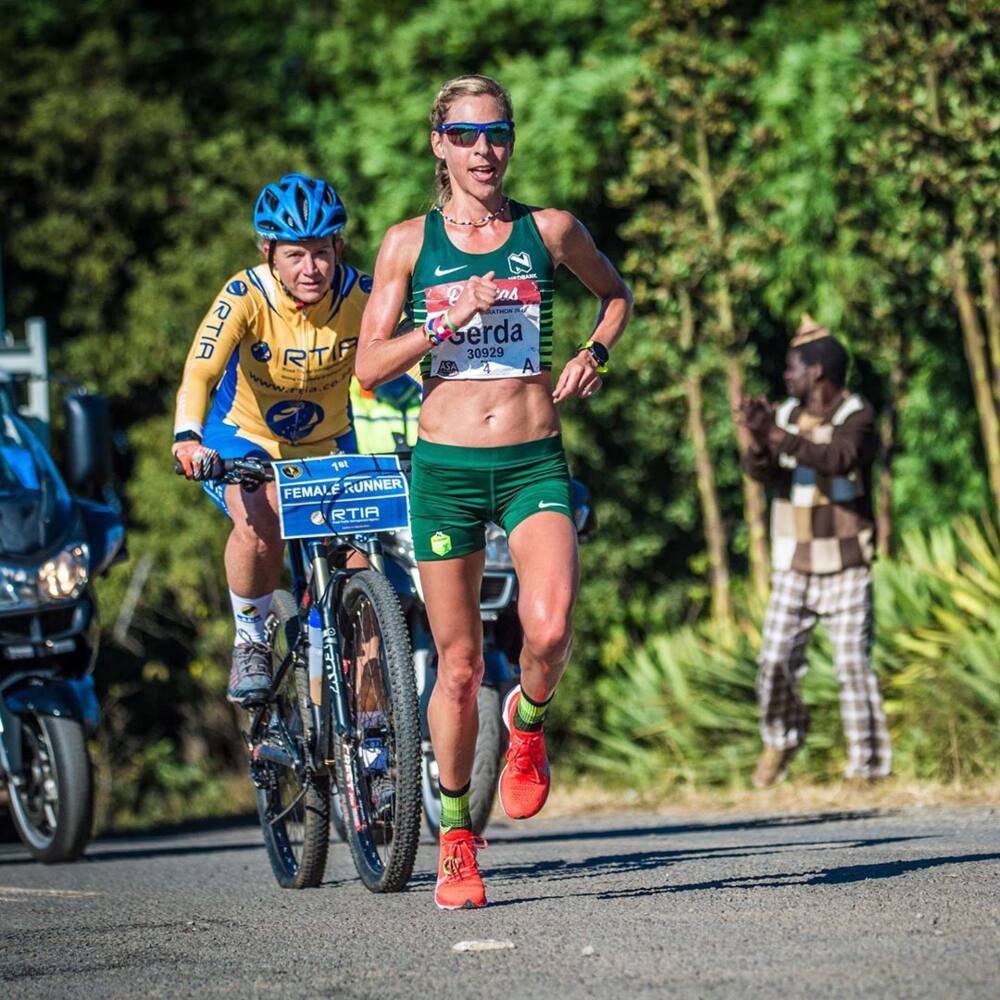 How long do you have to run the Comrades Marathon? The upcoming marathon will see all interested runners complete a 42.2 kilometres race in less than 4 hours 50 minutes. Alternatively, qualifying candidates should complete the ultra-marathon race of 56 kilometres within 6 hours 45 minutes.
How old is the Comrades Marathon? Cheryl Winn who chairs The Comrades Marathon Association has affirmed that the upcoming 95th edition is underway and highly promising
"We understand that our passionate Comrades athletes are anticipating being part of the 95th running of The Ultimate Human Race. It will be a very special edition of the race; and one which we are all looking forward to."
Fans have every reason to celebrate Gerda Steyn given that Comrades marathon live always keeps them informed.
Gerda Steyn awards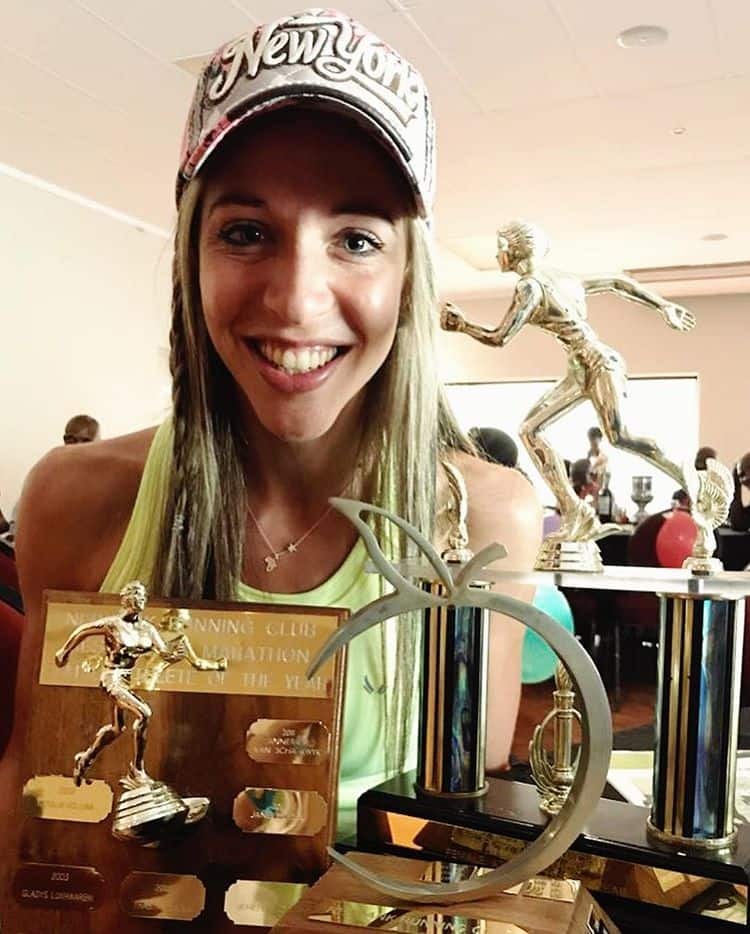 Following her stunning wins, Gerda was nominated for the Athlete of the Year Award in celebration of sporty women during the G-Sports Awards. She felt honoured with the nomination that has finally seen her efforts as a woman recognized.
Her recent win has left mouths wobbling about her hefty pay comprising R500,000 as a first prize and R500,000 incentive for breaking up the record. The 29-year-old also took home an additional R200,000, totalling her pay to R1.2m from the day.
READ ALSO: Marks Maponyane age, sons, wife, current job, house and contact details
Gerda Steyn remains an inspirational South African woman and a role model for several fans out there. Her zeal for success in different races wraps up her unbroken record in ultra-marathon running. Better still is her young age and fame that shines a glimmer on her long-distance career path.
READ ALSO: