Walter Mokoena age, children, wife, pictures, job, Instagram and net worth
Walter Mokoena is one of the most successful sports personality in South Africa. He is a favorite news anchor and a former host of a Soccer talk show. The star is proud of his excellent grasp of football dynamics and is never shy when called to cover live matches and even share his mind on the subject. Surprisingly, not many of Mokoena's fans know much about his private life away from the public eye.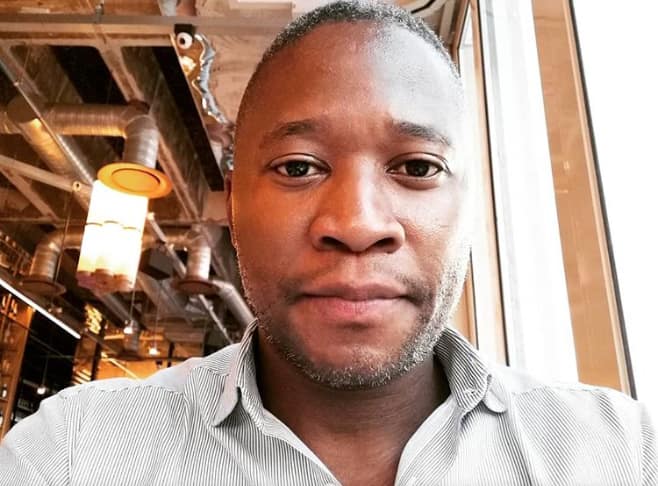 There is no denying that Walter Mokoena is an interesting character when it is time for small and big sports talks alike. What started off as passion drive in his early years has now become his mainstream lifelong career with a guarantee of good returns. The life of Walter has now become an authoritative source of inspiration for his life struggles and breakthroughs. It is exciting how his undying spirit blends perfectly with his hard work. How old is Walter Mokoena?
READ ALSO: Kabelo Mabalane age, children, wife, gym, bootcamp, becoming pastor, songs, album, music group and Instagram
Walter Mokoena profile
Real names: Walter Mokoena
Year of birth: 1978
Place of birth: Carolina, Mpumalanga, South Africa
Nationality: South African
Walter Mokoena age: 41 years
Profession: Sports and television personality
Years active: 1998 to present
Marital status: Married
Partner: Nosizwe Vuso
Famous for: SABC sports anchor and a former host of a Soccer talk show
Walter Mokoena Instagram: @waltermokoena
Twitter: @walter_mokoena1
Facebook: @Walter Mokoena
Walter Mokoena biography
Several of Walter's big-time fans never miss a thing or two worth emulating from his life successes and struggles alike. His ability to balance between career and family tells it all that he is a true talent in the industry.
Early life
Where was Walter Mokoena born? The renowned media personality was born in Middelburg, Mpumalanga, where he grew and started his education. He is now a permanent resident in Johannesburg, Gauteng, South Africa.
Walter Mokoena parents
Walter is son to Aaron German Mokoena and Betty Velephi Nene. He is the firstborn in the family of four, among them his two younger brothers and a sister.
Walter Mokoena education
Young Walter attended Mphanama Comprehensive High School from where he graduated in 1996. It is at this institution that his passion for student politics poured out. Becoming president of the SRC at the age of 16 saw his name enter into the school record as the youngest contestant to have won such an influential rank.
Mokoena proceeded to study at Catholic University of Paris, Fall (2011-2012) and would later enrol at the University of Johannesburg (UJ) for his Transitional Justice studies. He then graduated from the school of Leadership in UJ with an honours degree in Policy & African Studies. He is now an ongoing Master's student at UJ where he is specialized in Water governance and Diplomacy.
Walter Mokoena wedding
Who is Walter Mokoena married to? The sports presenter walked down the aisle with his long term girlfriend, Nosizwe Vuso, in 2016. The two lovebirds made their union official in a privately held ceremony within Pretoria. In attendance were the former president Jacob Zuma among other distinguished guests. Walter Mokoena wife considers Zuma, her father. She is ever grateful for the care Zuma offered not only to her but also for her twin sister.
Walter Mokoena baby mamas
Several controversies surround Walter's life, given that he has been involved with more than one woman in his life. He has a daughter with his wife, Nosizwe Vuso.
Additionally, the sports personality is Pearl Thusi baby daddy. The fact that Pearl Thusi and Walter Mokoena are no longer together has never made him less of a responsible father. Check out how Pearl Thusi baby father celebrated his daughter's 10th birthday back in 2017.
"Thando today you are 10 years old!!!! Happy birthday my girl...You came into this world 10 years ago and changed my life and you made me a father. Your father. Your first Love. You also taught me how to treat a woman, to be soft, gentle and caring..."
Walter Mokoena and his daughter Thando Mokoena seem to have a good chemistry. Thandolwethu Mokoena Instagram page is a blast with more than 79.1k followers.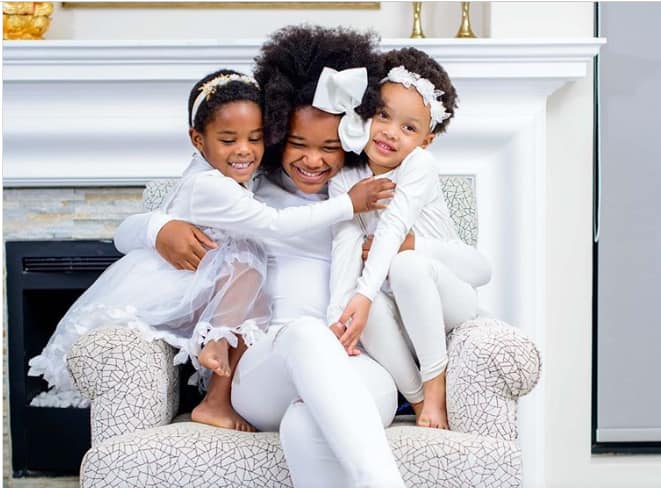 Walter Mokoena career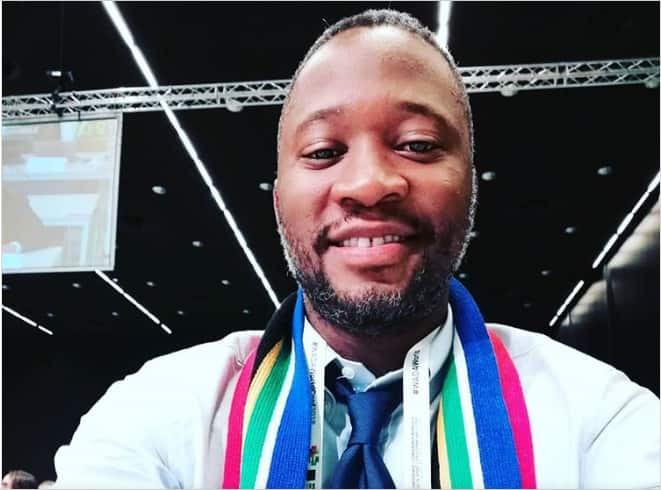 Where and how did it begin? Here is a breakdown of Walter's career journey
Early career
Walter became a broadcaster in 1998 after his role at Heart FM (formerly P4 Radio Cape Town). It is about the same time that he became a City Press newspaper soccer correspondent freelancer for Cape Town. Mokoena later joined Kaya FM in August 1998, where he became a sports anchor in a breakfast show in addition to other roles a Soccer Talk Show host. In the wake of 2000, Mokoema took over "Mabaleng" at SABC as an anchor. This prime-time sports show on Saturday afternoons propelled his career even further.
Mokoena went on to embrace other promising roles at SABC 1. It is at this channel that he served for four years hosting Blow by Blow and the Monday night Coca Coca Soccer Zone. Besides, he worked for other programs, among them Laduma and Live Football show. His career took on a steady ride when he was chosen to present the FIFA World Cup in 2010; live from Zurich. He was also involved in live coverage of Athens Olympics.
Personal establishments
Walter founded SoccerLife 442 but later sold it to Avusa Media, who then rebranded it to Times Media Group. He then founded and published his second weekly Football Arena, which also became a success.
Global recognition
2010 was another year of success for the celebrity who presented the South African held FIFA World Cup. It is through his frequent engagement that he developed an interest in the water business. The Suez Environment accepted him as their consultant and South African representative.
SABC accepted him back as a football anchor upon his return to the country in 2015. In 2016, Walter presented the European championship live from France. So, where is Walter Mokoena working now? The star serves at the South African Ministry of Sport, Arts, and Culture as a Special Advisor.
Walter Mokoena photos
From the numerous Walter Mokoena photos online, it is without doubt that he is not only talented but also good-looking.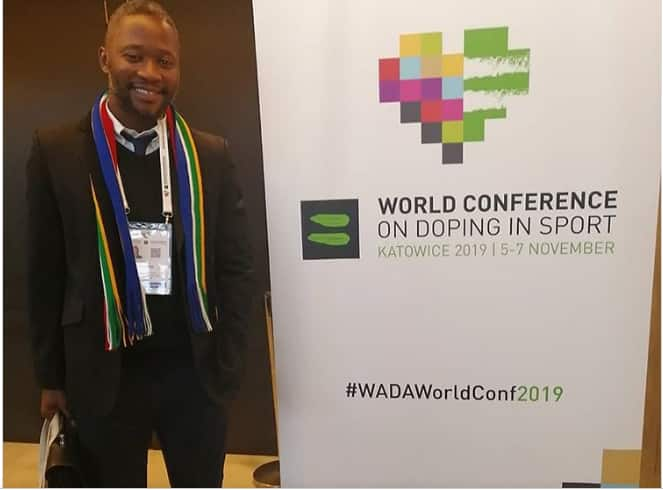 READ ALSO: Blade Nzimande age, children, wife, education, party, office, SACP, memes and contact details
The sports star leads a quiet life within the constraints of family, sports, and business. There is, however, not much information available concerning his salary and net worth. Walter Mokoena continues to nurture his deep founded passion in sports, enabling him to visit places and acquire a wealth of newer experiences for his career advancement.
READ ALSO:
Tharina Human age, parents, case, voice note and latest news
Lee Thompson age, spouse, parents, rugby career, The Bachelor SA, hot photos, modelling and Instagram
All the Cyril Ramaphosa children: Here is everything you need to know about the first family
King Mswati age, children, wives, siblings, education, buys rolls royce, house and wealth
Ruda Landman age, children, husband, book, Caret Blanche and Instagram
Source: Briefly News