Who is Kaizer Chiefs coach? Ernst Middendorp is a German football manager best known for his coaching roles at Kaizer Chiefs F. C, the Premier Soccer League club. His extended career as a coach has seen him rise to senior positions in different teams. Ernst is a respectable head coach with a wealth of experience in team management.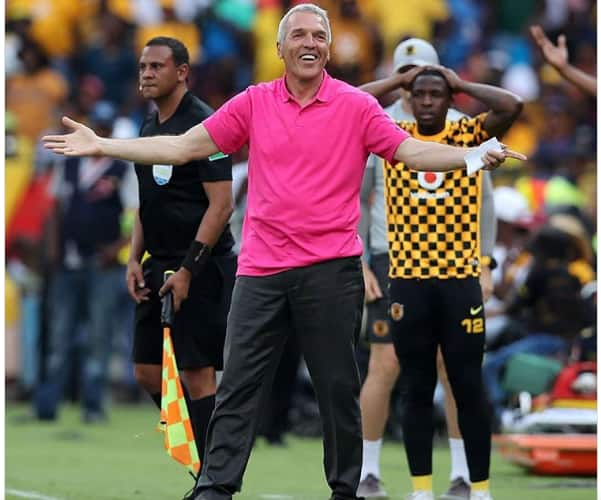 Mr. Middendorp is a talented team manager and coach who has built a promising career in sports. His involvement has earned him a good reputation among several fans who openly commend his work. Ernst's record of accomplishments as a coach are admirable and have made him stand out from others at similar levels.
Ernst Middendorp profile summary
Real name: Ernst Johannes Middendorp
Date of birth: October 28, 1958
Place of birth: Freren, Germany
Ernst Middendorp age: 61 years
Nationality: German
Ernst Middendorp Twitter: @ErnstMiddendorp
Website: www.ernstmiddendorp.com
Relationship status: Married
Occupation: Football coach and manager
Famous for: Football coach at Kaizer Chiefs F. C.
READ ALSO: Junior Khanye age, measurements, family, education, foundation, current team, position, stats, salary, story and Instagram
Ernst Middendorp biography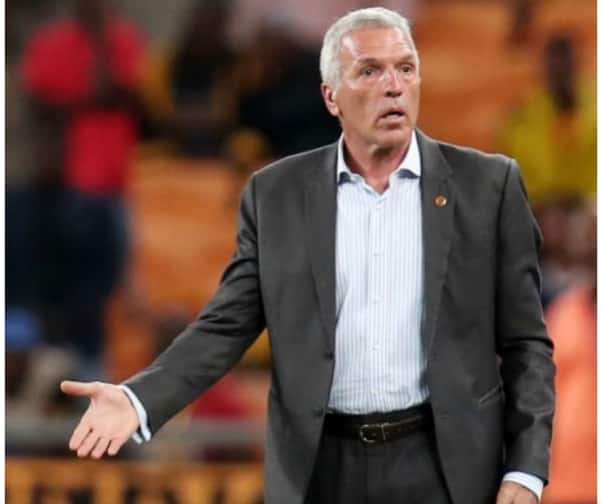 Where is Ernst Middendorp from? The football manager has his birthplace at Freren, Emsland district, German. He is the middle child among five, and he grew up in a working-class family in a diverse farm in Niedersachsen (Lower Saxony), northern Germany. He had to cycle 10 kilometres to school and 5 kilometres to play soccer in a club.
He started playing football at the age of 5–6, and by the time he was a teenager, he was frequently among the 50 or 60 players that qualified for national camps. By the time he was 21 years old, Ernst had broken his leg two times in a year, the second time while playing for the third division VfB Rheine. At 24, when he could not play anymore, he started coaching at a senior level.
Although his early years were in Germany, his talent has seen him travel across the world to become an award-winning football coach.
Education
Ernst studied at the University of Bielefeld, German, from where he graduated in 1986 with Economics, Politics, and History Degree. He proceeded to enroll for a special economics and computer studies degree at Gesamthochschule Paderborn Institute in Germany, in 1987. He also qualified as a system analyst from the Computer College Rheine, Germany.
In 1996, Ernst acquired UEFA Pro Licensing (No. FL001808 ) from the Deutsche Sporthochschule in Koln, German. He also enrolled at PR Kolleg Berlin, Germany, in 2000 and graduated in 2002 with qualifications in communication and management.
Ernst Middendorp career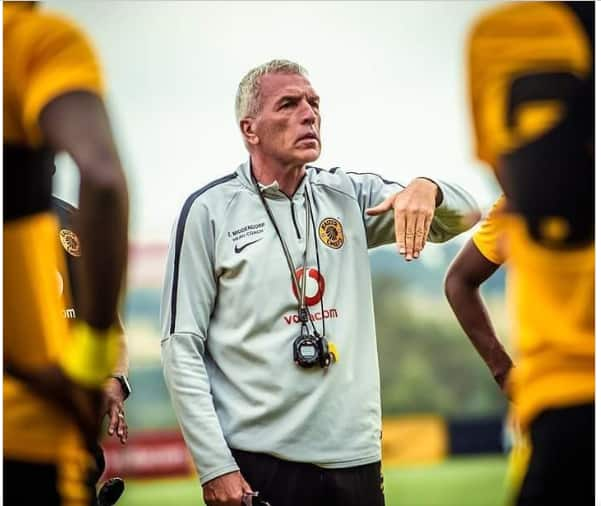 Ernst is a professional trainer with a good record of European, African, and Asian football experience. Besides his pro licensing, Ernst enjoys recognition by the German Football Association for his unmatched coaching record. His longstanding presence in mainstream football spans to more than two decades, making him an influential figure to watch. He has held several positions in different teams, making him a resourceful person in football.
Ernst Middendorp teams coached and managed
Coach Ernst Middendorp has managed several teams since 1977 when his career in football started blossoming. He first became a professional head coach for DSC Arminia Bielefeld in 1994. It is during his tenure that the club qualified for a promotion to the Bundesliga. Ernst's leadership saw him elected as the "Coach of the Century" in 2005 when Arminia Bielefeld was celebrating its 100th anniversary.
2018 – now: Kaizer Chiefs
2015 – 2016: Chippa United
2013 – 2014: Bloemfontein Celtic
2012 – 2013: Maritzburg United
2011: Golden Arrows
2009 – 2011: Maritzburg United
2009: Rot-Weiss Essen
2009: Anorthosis Famagusta
2008 – 2009: Changchun Yatai
2007: Arminia Bielefeld
2005 – 2007: Kaizer Chiefs
2004 – 2005: Tractor Sazi
2004: Hearts of Oak SC
2002 – 2003: FC Augsburg
1999 – 2002: Asante Kotoko
1999: VfL Bochum
1999: KFC Uerdingen 05
1994 – 1998: Arminia Bielefeld
1992 – 1994: FC Gütersloh
1990 – 1992: VfB Rheine
1988 – 1990: Arminia Bielefeld
1987 – 1988: Eintracht Nordhorn
1985–1987: VfB Alstätte
1982–1985: VfB Rheine
1981–1982: TuS Lingen
1977–1981: SG Freren
READ ALSO: Quinton Fortune age, height, wife, Manchester United Coach, football career, trophies, stats, Instagram, and net worth
Besides team management and coaching, Ernst has experience in tournament analysis. He analyzed the FIFA world cup tournaments between 2006 and 2010, and later EURO tournaments in 2012. Many upcoming coaches look up to his record for inspiration. For instance, he is a mentor to Fadlu Davids, who served under him as an assistant trainer in different clubs such as Maritzburg, Chippa United, and Bloemfontein Celtic.
Ernst Middendorp trophies at Chiefs
Ernst is an award-winning coach who earned his team, Kaizer Chiefs, a SAA Supa 8 title trophy at the start of the 2006/2007 season. The team also won the Absa Cup trophy, now called the Telkom Knockout, during his tenure in 2006.
Ernst holds yet another record at Chiefs for winning against Manchester United during the Vodacom Challenge held in 2006. Ernst Middendorp cups at Chiefs have played a significant role in his later career advancements.
Ernst Middendorp awards and honours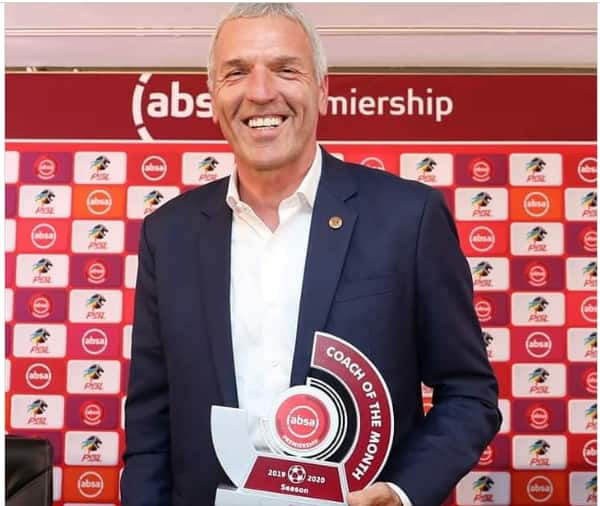 It goes without saying that Ernst Middendorp record against Orlando Pirates is particularly remarkable. He also holds the record as a skillful manager at Kaizer Chiefs F. C for his unbeaten and favourite 4-2-3-1 formation. His other achievements include:
2019: Absa Premiership Coach of the Month November -first coach to win in three successive occasions
2019: Semi-Finalist Telkom-CUP South Africa November
2019: Absa Premiership Coach of the Month September / October
2019: Absa Premiership Coach of the Month August
2019: Finalist Nedbank-Cup South Africa May
2014: Quarter-Finalist Nedbank-Cup South Africa April
2012: Quarter-Finalist Nedbank-Cup South Africa April
2010: Semi-Finalist Telkom-CUP South Africa November
2005: ABSA Cup winner in South Africa
2004: Qualification to African Confederation Cup/group stage (8 teams)
2001: Cup winner in Ghana
1997: Promoting club to 1. Bundesliga Germany
1996: Promoting club to 2. Bundesliga Germany
Ernst Middendorp wife
Beyond the colourful coaching career is a family man. Ernst is married to Bronwyn Middendorp, a South African kinesiologist. The two met back in 2005 and tied the knot in 2010. Ernst and his ex-wife separated in 2000, but it was until 2009 that they officially got divorced.
Ernst Middendorp news
Two rival tacticians Ernst Middendorp and Josef Zinnbauer recently made the news after they came together at Bidvest Stadium. The dual shocked Kaizer Chiefs and Orlando Pirates fans considering their teams are long time football fighters.
According to Zinnbauer, the two did not share much because those around them occupied much of their time.
"I know we have a game [Soweto Derby] in two weeks, so we just said, 'Hello… How are you?' But we didn't speak about football."
Zinnbauer, however, thinks Ernst is doing good work at Kaizer Chiefs.
"He's had success too, and for me he's doing a great job at the moment. He has all clubs hungry about playing against Kaizer Chiefs because they want to beat them."
The two head coaches met to watch Bidvest Wits face Black Leopards before the bad weather called the game off.
Who is the owner of Kaizer Chiefs? The Chiefs, also called Amakhosi in local Zulu language or the Glamour Boys, is a prominent club owned by its founder Kaizer Motaung, a former South African football player. He is currently the chair and managing director of the club.
READ ALSO: Top 10 highest paid PSL coaches in South Africa 2020
Ernst Middendorp has defied odds to become an award-winning football manager and now a coach at Kaizer Chiefs. He is an inspiration to all those intending to build a stable career in African football.
READ ALSO:
Mandla Masango bio, family, current team, salary, car, house, profile
Top 10 richest football clubs in South Africa 2020
List of football academy in South Africa
How to become a professional soccer player in South Africa
Top 10 highest paid soccer players in South Africa ABSA PSL 2020