All you need to know about Lebani Sirenje (aka Rasta The Artist)
Lebani Sirejenje, popularly known as Rasta The Artist is a Zimbabwean-born painter currently residing in South Africa. He is famous for his controversial paintings, especially those of dead celebrities. Also, he has painted the country's most prominent people such as President Cyril Ramaphosa, Siya Kolisi (Springbok captain), Vuyo Mbuli, and Zozibini Tunzi (Miss Universe) among many others.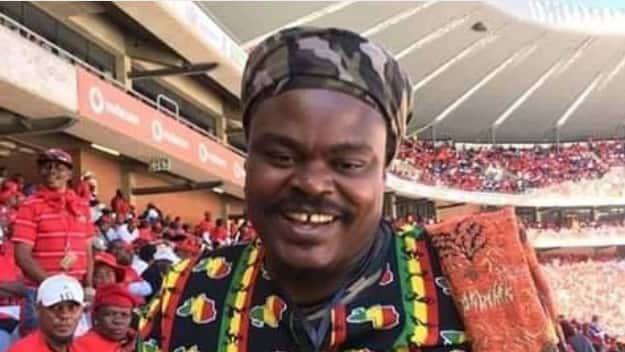 Over time, Rasta The Artist has been criticized by South Africans, who believe his paintings are of low quality. Also, most of them usually allege that his painting does not depict the celebrities he draws. Even so, he has never been bowed by the backlash over his portraits. Instead, he continues to do what he knows best. Well, what else do you need to know about the Rasta, the sketch artist?
Lebani Sirenje profile summary
Birth name: Lebani Sirenje
Nickname: Rasta The Artist, Thaka
Year of birth: 1977
Place of birth: Bulawayo, Zimbabwe
Age: 43 years old
Occupation: Painter
Residence: South Africa
Nationality: Zimbabwean
Lebani Sirenje bio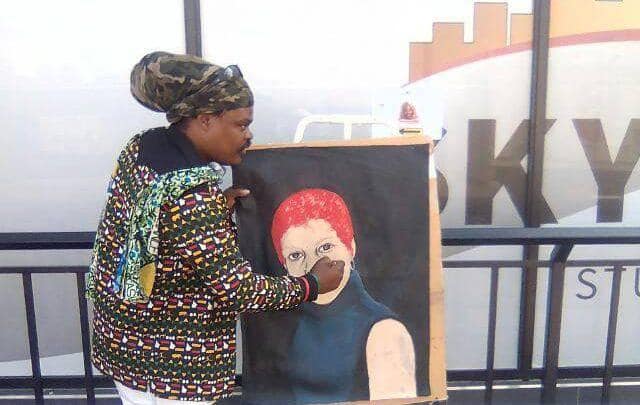 Lebani Sirenje, aka Rasta, was born in 1977 in Bulawayo, Zimbabwe. He grew in his home Pumula East, Matabeleland North, before moving to South Africa. At the moment, he stays in the North East of Johannesburg.
His passion for painting set in at a tender age. The artist, particularly, started drawing at the age of nine years old. He has since made a name out of his famous artworks, which are displayed in different places such as Ekhaya Park and Hillbrow Theatre.
READ ALSO: Anthony Laffor bio: age, measurements, team, stats, salary, contract, profile
Why the name Rasta The Artist?
The name is believed to have originated from his long dreads. The name seems to be a perfect choice for him. Also, often, he likes wearing Rasta colour outfits. Besides, he has never complained about it.
Education background
First, Lebani attended Ingwengwe Primary School. He completed his primary education in 1990. Then, he proceeded to Magwegwe Secondary School, where he completed his secondary education in 1994. Although he started painting at primary school, he perfected the skill while in high school. Little is known about his higher education.
How old is Lebani Sirenje?
At the moment, Lebani Sirenje age is estimated to be 43. However, he might be one year older or younger, considering his birth date and month are yet to be known.
Rasta is a family man
Lebani is a husband and father of two kids. At times, he keeps his personal life out of the public eye. Thus, it is not easy to tell the name of his wife and the two kids. However, there are a few pictures of his last-born daughter and wife on his Facebook account.
The six-year-old daughter takes after him. For instance, she has done a painting of the late Madiba. In 2015, he posted a picture of him and her holding the portrait of the South African freedom fighter.
Life as an artist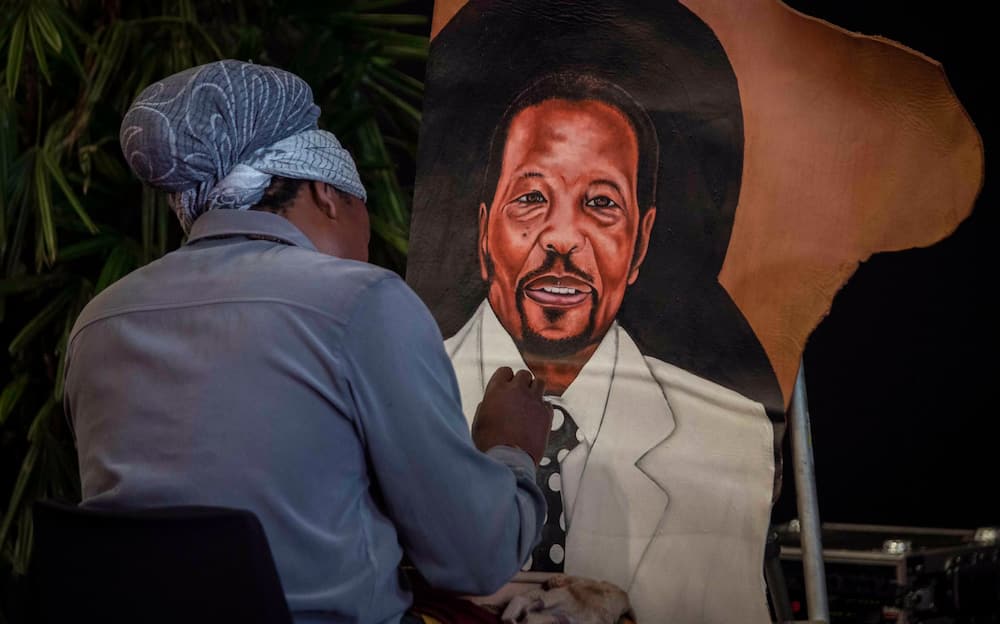 Although Lebani Sirenje aka Rasta started painting in primary school, he formally turned his passion a career in 2003. He majorly makes portraits of dead celebrities. Perhaps, this explains why he is popularly known as the funeral artist.
His first celebrity painting was that of the late Walter Sisulu, who passed on in 2013. Unfortunately, he did not present the portrait to the family. So, he decided to keep it in his home. Besides, he does not attend all funerals, especially when the place is too far. Well, speaking to Saturday Star, he said:
I do not attend every single memorial or funeral, sometimes they are too far away. But I still do the portraits and then later ask the family if they want to keep it.
READ ALSO: Moss Makwati bio: age, wife, Uyajola 9/9, Twitter, Instagram, profile
Lebani Sirenje famous paintings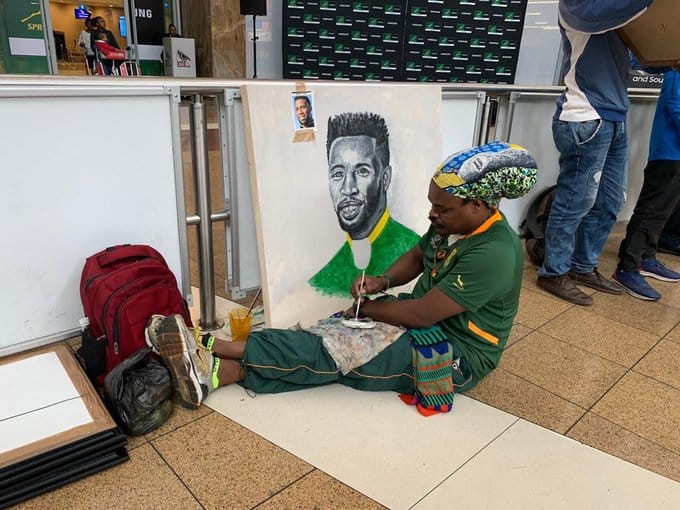 He has done several portraits since he began his painting journey. Some of Lebani Sirenje drawings have been featured on different platforms. Particularly, he has done the portraits of the following people:
Mama Winnie Mandela
ProKid
Robert Mugabe
Nelson Mandela
Akhumzi Jezile
HHP
Albertina Sisulu
Professor Keorapetse Kgositsile
Joe Mafela
Dumi Masilela
Jay-Z and Beyoncé
Zozibini Tunzi
Siya Kolisi
Oliver Mtukudzi
Julius Malema
Mr Maponya
Kaizer Motung
Dr Joseph Shabalala
Eminem
South Africans on Lebani Sirenje drawings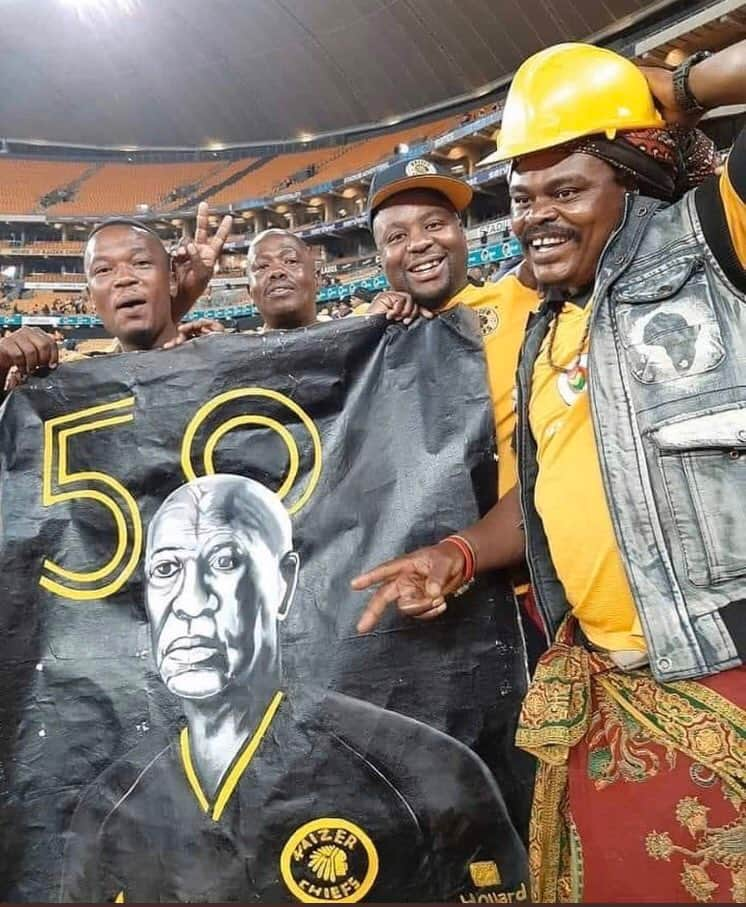 Over time, South Africans have been having a love-hate relationship with the artist. They usually make fun of his portraits. Most of them claim that his paintings do not reflect the actual people he intends typically to draw.
Netizens have, in several instances, mocked him and criticized his work, especially on Twitter. For example, sometimes back, they generated a trend titled #DrawRastaChallenge. They made funny sketches of him as a revenge to what he does to other celebrities.
Beauty is in the eyes of the beholder. Despite the backlash, he remains strong and motivated to do what he believes he does best. For instance, he had the following to say concerning his critics while speaking with Move magazine in an interview:
People do not understand the pressure that comes with painting in public, it's not easy. Also, many people take pictures of my artwork when they are not complete and make comments on them. Some families are shocked when I send them the final artwork and see how good it looks, considering all the comments they see on social media about the artwork.
Social media presence
The father of two enjoys a considerable following on Facebook. Often, he shares his portraits with his followers on the platform. At the moment, he has more than 45,000 followers. Unfortunately, he is not on Instagram and Twitter yet. His Facebook handle is @lebanirasta.
Lebani Sirenje has, no doubt, become a favourite painter for some people both in South Africa and Zimbabwe. Irrespective of the backlash, he has remained determined with his artwork. Instead, he believes that he can improve his skill rather than walk away from his passion.
READ ALSO:
DJ Le Soul bio: age, real name, working with Professor, lockdown party, best pics, profile
Oros Mampofu age, children, wife, wedding, twin brother, movies, TV shows, nominations and Instagram
Bonang Mohale bio: age, wife, education, career, book, Bidvest, contact details
Source: Briefly.co.za