Vusi Mahlasela bio: age, children, partner, songs, albums, profile, where is he today?
Get to know your favourite celebrity Vusi Mahlasela whose real name is Vusimuzi Sidney Mahlasela ka Zwane. He is a South African singer better known as the Voice. Sidney has been featured in the Amandla!, a South African music documentary. His vocal skills saw him produce the soundtrack for Tsotsi, which is an Academy Award-winning South African film. His songs mostly address the struggle for freedom, forgiveness, and reconciliation with enemies.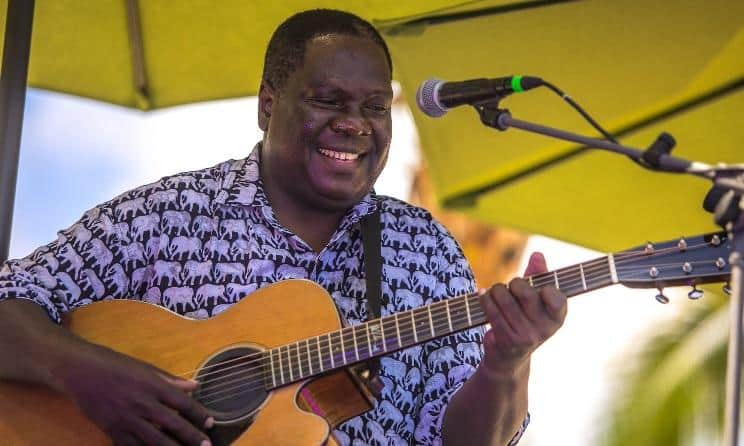 Vusi Mahlasela has become a big name in South African and beyond for fighting for freedom and equality. This made him be called The Voice for his wide range and vocal versatility in addressing the needs of his people. His music captures the pain people have gone in the past and brings hope for the future. Read more to find out about Mahlasela age, songs, children, where he is today, among other things.
Vusi Mahlasela profile
Name: Vusimuzi Sidney Mahlasela ka Zwane
Date of birth: 1965
Place of birth: Lady Selborne, Pretoria, South Africa
Age: 55 years as of 2020
Occupation: Singer and songwriter
Genres: African folk, jam band
Vusi Mahlasela biography
Below is every detail you need to know about Sidney.
Vusi Mahlasela age
He was born in 1965 in Lady Selborne, a township near the South African administrative capital city of Pretoria. The article is 55 years.
READ ALSO: K.O bio age, full name, wife, family, songs, album, cars, house, net worth, profile
Vusi Mahlasela family
He never knew his father and mother had to work far from home, leaving him under the care of his grandmother. The grandmother operated an informal community nightclub, in the nearby township of Mamelodi.
The singer has a wife and four children. Little is known about their names.
Background info
He grew up in Mamelodi under the care of his grandmother. The township has been a centre of African culture and art, and this opened more opportunities for the young Sidney as he grew up surrounded by musicians, poets, and other artists. The vibrant lyrics and rhythms from his grandmother's nightclub were his first lullabies. He once said, "I am sure I learned to sing before I could talk."
The opportunities around him ignited the desire to sing and play. However, he had no money to purchase an instrument, and that prompted him to make his first guitar himself. He made this using empty cooking oil can and fishing line. That is how he taught himself to play.
By the time he was nine years, he gathered like-minded friends, and together they had a band that used to entertain the neighbourhood with various songs ranging from traditional African folk to American rock and soul.
Career breakthrough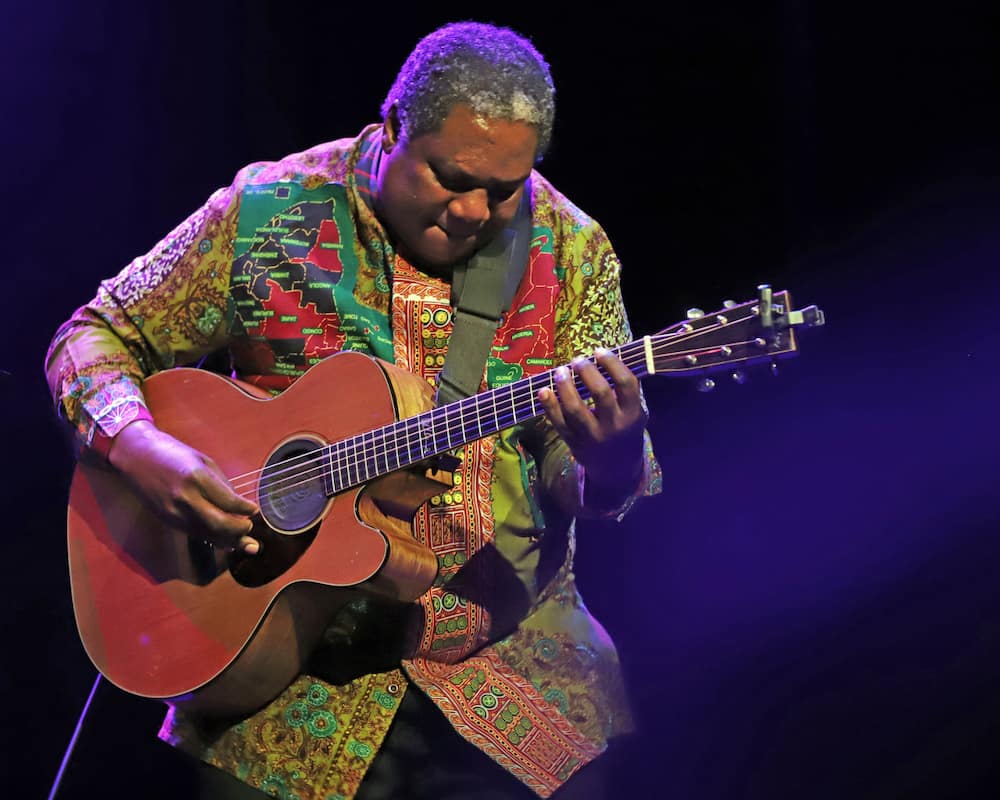 It is during the early 1990s that his music began gaining audience around the world. He toured throughout Africa doing great performances before he did several international festivals. Some of the international festivals he performed include the Zabalaza Festival in London in 1990, and the Dranouter Festival in Belgium in 1996. The same year, he was privileged to perform in North America in a concert alongside the famous reggae band the Wailers at the House of Blues in Los Angeles.
First album
In 1990, Mahlasela was signed on by Shift Records where he recorded his first album. The album was officially released in 1992 and comprised songs he had composed years before. Vusi Mahlasela When You Come Back song became an enormous hit turning him into a household name. It was a dedication to all the exiled political activists and leaders, including his friends in the music industry.
In 1994, he was privileged to perform at the inauguration of President Nelson Mandela. The same year he released Wisdom of Forgiveness, his second album. In 1997, Vusi Mahlasela Silang Mabele, which is his third album, was released.
Amandla
In 2002, he made the soundtrack for Amandla, which is a music documentary film that catapulted his international reputation to greater heights. The opportunity made him an international celebrity giving him a platform to perform across Africa, the United States, and Europe.
Music fans across the globe have continued to show support to his pure tenor voice and his African fusion of styles with elements of reggae, blues, and jazz.
Thula Mama
Despite his increasing popularity and stardom, Sidney has continued to create music that celebrates justice, peace, and simple joy in living. He mostly dedicates his songs to those people who have made a great impact on his life. One such song is the Thula Mama, which he dedicates to the many courageous women of South Africa, especially his grandmother who never gave up on him amidst hard challenges. In June 2007, Sidney spoke of apartheid, and he performed Thula Mama at the TED Conference.
In 2012, he celebrated 20 years as a recording artist by staging a show at the Lyric Theatre in Johannesburg.
READ ALSO: Blessing Xaba age, weight loss, bio, movies, profile, photos
Discography
Below are Vusi Mahlasela albums:
When You Come Back
Wisdom of Forgiveness
Silang Mabele
Miyela Afrika
Jungle of Questions
Naledi Ya Tsela (Guiding Star)
Say Africa
Live albums
Live at the Bassline
Sing to the People
Soundtracks
Amandla!: A Revolution in Four-Part Harmony
Tsotsi
Compilation albums
Live at KEXP Volume 6
The Voice
Vusi Mahlasela songs
Some of his notable songs include:
Vusi Mahlasela Say Africa
Vusi Mahlasela Tonkana
When You Come Back
Basimanyana
Vusi Mahlasela Weeping
Hello Mams
Weeping
River Jordan
Smomothela
Mamelodi
Ntate Mahlasela
Vusi Mahlasela Thula Mama
Where is he today?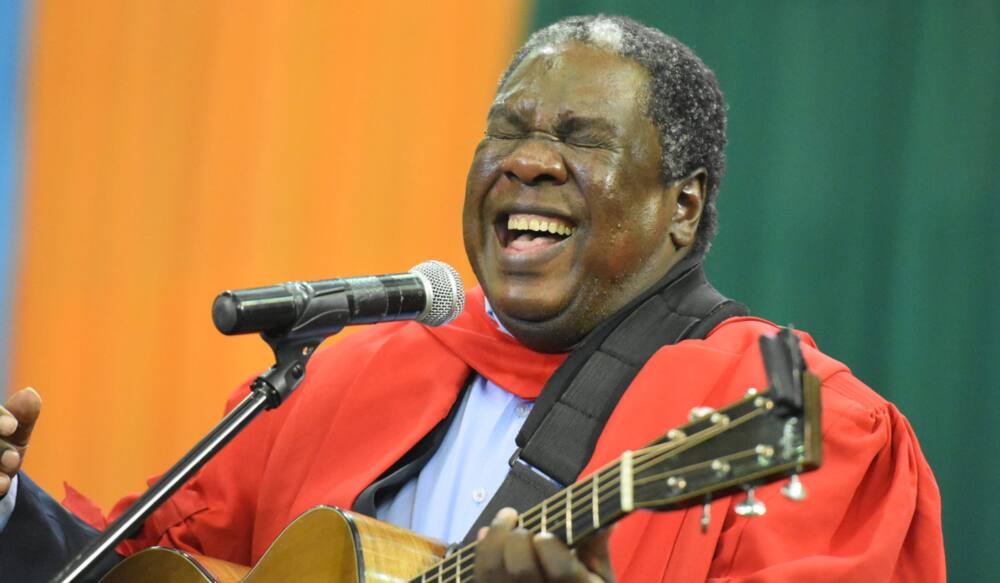 The rumours about Vusi Mahlasela death are inaccurate. He is still doing his performances and taking his music to greater heights. The latest news about the artist can be found on his official website.
FAQs
Below are the frequently asked questions and answers.
What instruments does Vusi Mahlasela play?
The artist usually plays the guitar.
What kind of music does Vusi Mahlasela do?
He is known for a variety of different music styles. He is best known for African folk.
READ ALSO: Nicholas Nkuna bio: age, wedding, 7 de Laan, songs, facts, profile
During his 20 years as a recording artist, Vusi Mahlasela has collected many accolades, including a South African Music Awards (SAMA) Lifetime Achievement Award in 2012 and The National Order of Ikhamanga which was awarded to him by President Jacob Zuma. He has shared the stage with artists such as Angelique Kidjo, Sting, Josh Groban, Paul Simon, Ladysmith Black Mambazo, and many others.
READ ALSO:
Linda Sebezo age, children, partner, awards, imprisoned, denied relief fund, profile
Evodia Mogase bio, baby, husband, plastic surgery, cars, house, profile
Dan Malesela bio: age, son, wife, celebration, record, resignation, salary, profile
Source: Briefly.co.za