Ralph Mupita bio: age, nationality, wife, MTN, salary, qualifications, profile
Ralph Mupita, the new MTN Group CEO, is a seasoned business executive professional with close to two decades of experience. He has held top positions in two leading companies in Africa, MTN and Old Mutual. He worked as Old Mutual CEO from 2012 to 2017 then joined MTN Group as CFO. His tenure as MTN CFO ended in August 2020 as he took over the company's CEO position.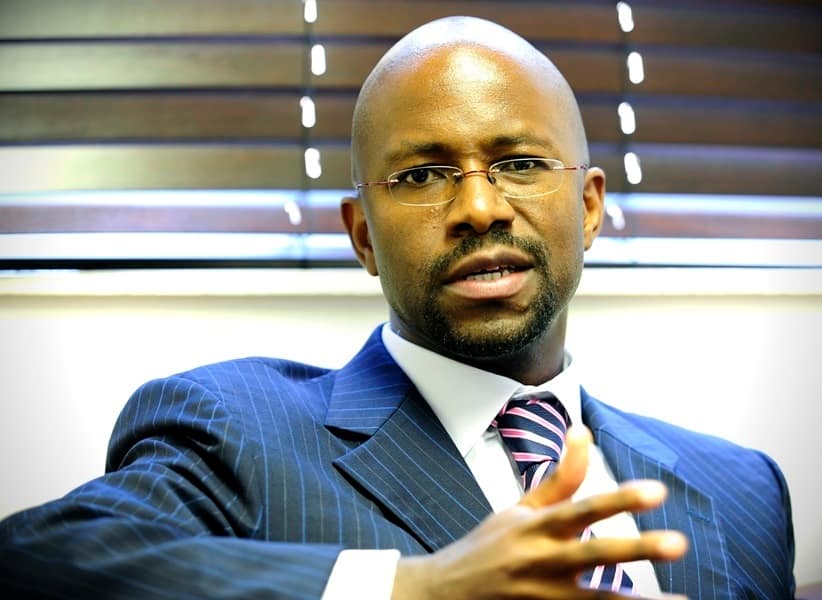 Ralph did a civil engineering course and worked as an engineer for only three years. He had a career change in 2000, and the journey has been met with incredible performance and success. Below is Ralph Mupita biography.
Ralph Mupita profile summary
Full name: Ralph Tendai Mupita
Age: 47
Gender: Male
Marital status: Married
Ralph Mupita nationality: Zimbabwean
Residence: South Africa
Occupation: Corporate executive, businessman
Ralph Mupita personal life
The new MTN Group CEO and president was born in Zimbabwe in 1972. Ralph Mupita age in 2020 is between 47 and 48 years. He is a family man. Ralph Mupita married Makole Maponya, a chartered accountant, and they have several children. Ralph Mupita wife was working at Old Mutual's asset management department when they met.
His family lives in South Africa, but he has not forgotten Ralph Mupita Zimbabwe roots as he occasionally visits to see his mother. Zimbabweans are proud of his achievements. He also revealed in a 2019 CFO Awards interview that he loves spending time with family, solving complex problems, and watching Formula 1.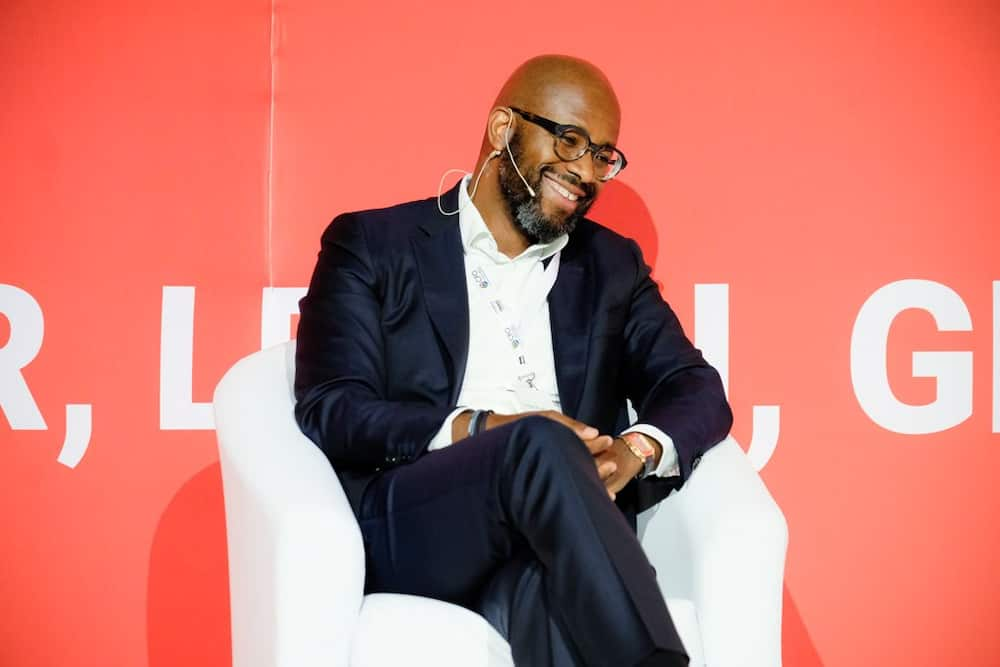 Ralph Mupita qualifications
Ralph holds a Bachelor of Science in Civil Engineering and a Master of Business Administration (MBA) from the University of Cape Town. He is also an alumnus of Harvard Business School's Graduate Management Program.
READ ALSO: Ronald Lamola bio: age, wife, education, career, house, profile, contact details
Ralph Mupita career
After graduating from the University of Cape Town with BSc in Civil Engineering, Mupita worked at Haw & Inglis Civil Engineering in Cape Town from 1996 to 1999. He had a career switch after completing Ralph Mupita MBA at UCT in 2000. Ralph later joined Old Mutual Emerging Markets in 2001, where he worked in varying roles then became the company's Chief Executive Officer from February 2012 to January 2017. He also served as the Managing Director at Old Mutual Unit Trusts Fund from January 2001 to April 2017.
He took up the position of Chief Financial Officer at MTN Group Ltd in April 2017. In his position as MTN CFO, he received four CFO awards for his outstanding work. In 2019, he won the award for South Africa's CFO of the Year at the 2019 CFO Awards.
He took over as MTN Chief Executive Officer and President on 1st September 2020. He was appointed to the CEO position on 19th August 2020 due to his knowledge of the company and exceptional experience. Rob Shuter resigned on 31st August 2020 but will stay to help Ralph until March 2021, when his contract with the company is expected to come to an end.
Ralph Mupita also serves as a board member of more than 15 companies, including Rand Merchant Investment Holdings Ltd, MTN Group Ltd, MT Group Management Services Pty Ltd, and Scancom Plc.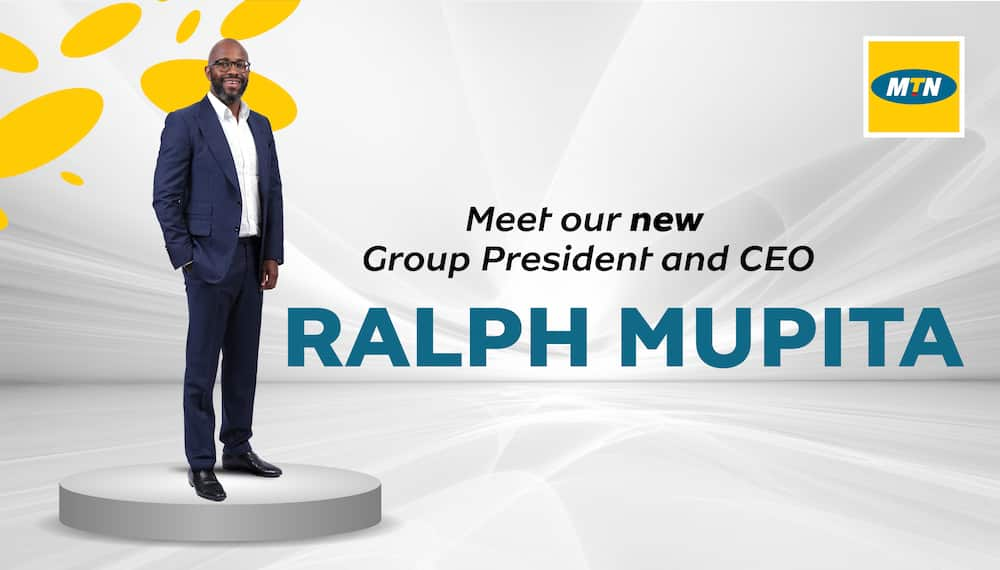 READ ALSO: Amazon's new vice president: 1st Black woman to occupy position
How much does Ralph Mupita earn?
As an MTN executive member, Ralph Mupita salary and other benefits are high. In 2019, he was the highest-earning MTN Group executive member, taking home R66.3 million. This was more than Rob Shutter, MTN CEO, who earned the second-highest at R58.23 million. Ralph received a basic salary of R9.15 million and benefits amounting to R43.8 million. Ralph Mupita MTN earnings as CFO amount to R181,650 daily. As MTN's President and CEO, he is expected to get a basic salary of R17.3 million.
READ ALSO: Osei Nyame: Meet the mechanic turning old cars into luxurious rides
Ralph Mupita problem-solving capability is what has kept him at the top. South Africa and Africa, as a continent, are confident that he will bring positive change in the Telecom giant in his capacity as the CEO and president.
READ ALSO: MTN announces plans to exit Middle East and focus solely on Africa
Briefly.co.za reported in August that the MTN Group plans to suspend all activities in the Middle East and concentrate on Africa. Falling regional currencies, challenges with Western sanctions, and volatile geopolitics were some of the reasons cited for the decision.
MTN Group, the largest telecoms company in Africa, is headquartered in Johannesburg, South Africa. Its operations extend to several countries in Africa and the Middle East. Focusing on African operations is set to simplify the company's portfolio and help it pull its assets from the Middle East in an orderly manner.
READ ALSO:
Best LTE packages in South Africa 2020
How to transfer data on MTN
Cheapest WiFi packages in South Africa 2020
Source: Briefly.co.za