Sthandiwe Msomi (Sthandiwe Kgoroge): age, husband, father, education, covid, career, profile
Who is Sthandiwe Msomi Kgoroge? Sthandiwe Is a renowned actress and fashion designer from South Africa. She has appeared in several Mzansi-beloved films, including Generations and Yizo Yizo. Like most celebrities, seasoned actress Sthandiwe Kgoroge has not had a bed of roses in her journey to stardom.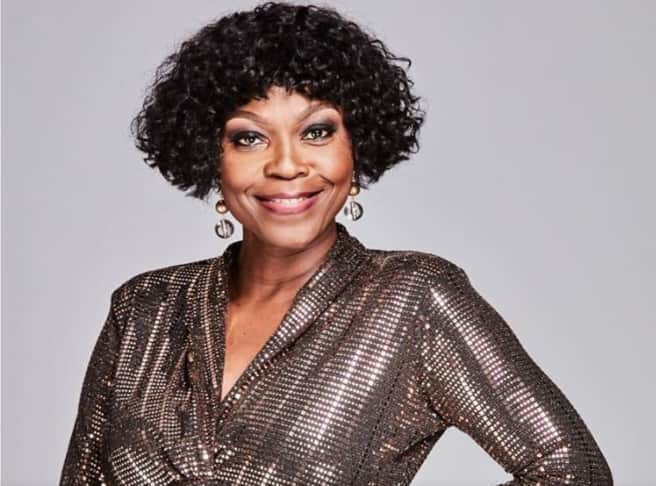 There is no doubt that Sithandiwe is a very talented and passionate actress. Overcoming battles with self-image, Sithandiwe Msomi has managed to create a household name for herself. Her success story is truly inspiring, and there is so much to learn from her.
Sthandiwe Kgoroge profile summary
Full name: Sthandiwe Msomi Kgoroge
Date of birth: 4th February 1972
Place of birth: Columbus, Ohio, USA
Home city: Pietermaritzburg, KwaZulu-Natal, South Africa
Nationality: South African and American by birth
Sthandiwe Msomi age: 48 years old as of 2020
Sthandiwe Msomi Instagram: @sthakgoroge
Twitter: @sthandik1
Relationship status: Married
Occupation: Actress, creative artist, creative director, and fashion designer
Other titles: Africa Advocate for Global Citizen and Dove DSEP Partner
Famous for: Acting in Generations and Yizo Yizo
READ ALSO: Ed Sheeran songs, age, wife, children, wedding pictures, albums, profile, net worth
Sthandiwe Kgoroge biography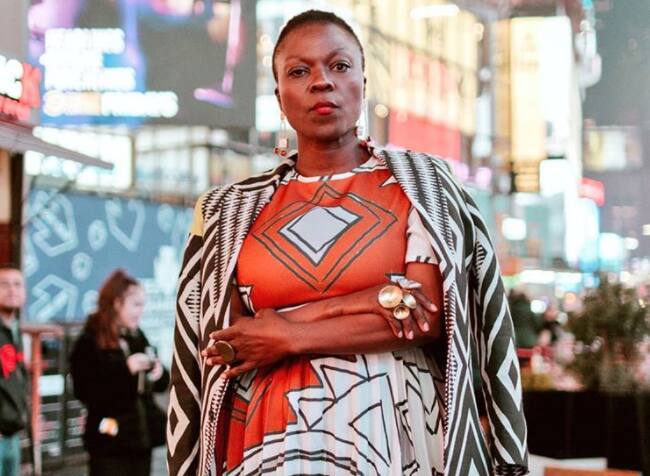 Sthandiwe Msomi parents were studying at the Lutheran college in Ohio at the time of her birth. Being her heroes, her parents taught her that to be successful, God-fearing, respectful, kind, and happy. Sthandiwe has 3 brothers, but sadly, the eldest one was killed during political unrest in Maphumulo, KwaZulu-Natal.
The actress grew up in Edmonton, Alberta, Canada from six years until ten years. She was a very naughty teenager, and as the only girl, she was a tomboy. She struggled with her self image before realizing that the dark complexion was perfect.
Unfortunately, Sthandiwe Msomi father passed away in 2016. This loss hit her very hard because he significantly contributed to who she is.
Sthandiwe Msomi education
The actress attended the Albini Girls High School. After that, she went to the University of Natal to pursue a course in drama and sociology. Sthandiwe is currently studying but does not want to reveal details to avoid pressure. She loves researching, so if not an actress, she would have become a researcher.
Sthandiwe Msomi career
Before going into the film industry, the actress did several theatre productions such as Macbeth at the Playhouse while still in school. In the film industry, Sthandiwe kick-started her career back in 1999 with an appearance in the series Yizo Yizo.
Her first appearance was received well to the point where she received an Avanti award for the best-supporting actress in a drama series. She made appearances in other productions, including the Sthandiwe Msomi Generations role, Fallen, and The Road.
More recently, in 2020, she came back for the mini-series MTV Shuga Alone Together. The show, which is set in Nigeria, Kenya, South Africa, and Cote D'Ivoire, seeks to show the challenges societies are facing because of the COVID-19 pandemic. Other actors involved in this series include Mamarumo Marokane, Lerato Walaza, and Mohau Cele.
TV appearances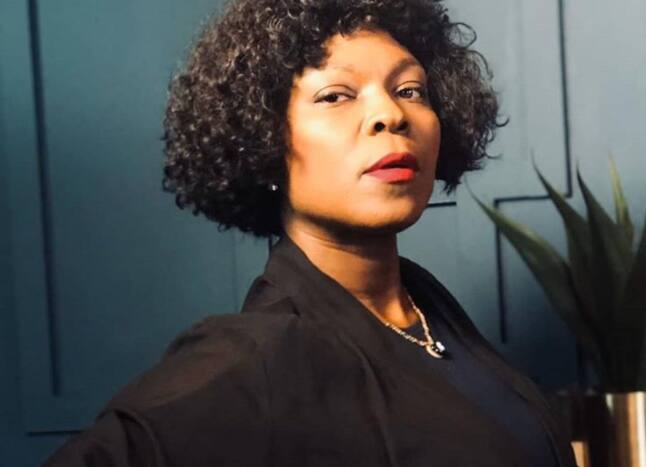 The actress has appeared in the following films:
1998: Isidingo - Season 1 as Siyanda Mazibuko
1998: Yizo Yizo - Season 1 as Zoe Cele
1999-2005: Generations - Season 1 as Zinzi and Zoleka Mudau
2006: Heartlines - Season 1 as Thando (Film: "Grace")
2006: Snitch - Season 2 as a Guest Star
2011: Fallen - Season 1 as Grace Ndlovu
2011: 90 Plein Street - Season 3 as Lali Ncabashe
2013: End Game - Season 1 as Nozipho Kunene
2013: Intersexions - Season 2 as Sylvia
2015: The Road - Season 1 as Xolile Masondo
2017 to 2019: MTV Shuga - Season 5 (Down South) and Season 5 (Down South 2) as Nomalanga
2019: Judge Thenjiwe Khambule - Season 2 as Case #1
2019: Impilo: The Scam - Season 1 as Nokulunga
2020: Lithapo - Season 1 as Thandeka
Her awards and recognition include:
1999: Avanti Award for Best Supporting Actress in a Drama Series for Yizo Yizo
2018: Directed and curated True Love's Black Love shoot that bagged Best Visuals in the Media24 Excellence Award.
Acting aside, she creates content for Creative Cool Afrika, a digital platform that is unapologetically African and showcases all forms of African creativity. Being an old soul, she appreciates the artistry of vintage clothes, accessories, and furniture. She is multi-lingual, fluent in English, Tswana, and Afrikaans.
READ ALSO: 5 interesting details about Rakgadi Semali Moeti, the late Lebohang Khitsane's sister
Sthandiwe Msomi husband
Sthandiwe Msomi married Tony Kgoroge, who is also an actor, on 21st December 2002. Tony is a proud husband, going by the numerous Sthandiwe Kgoroge photos on his Instagram page. Sthandiwe Msomi and husband have three children.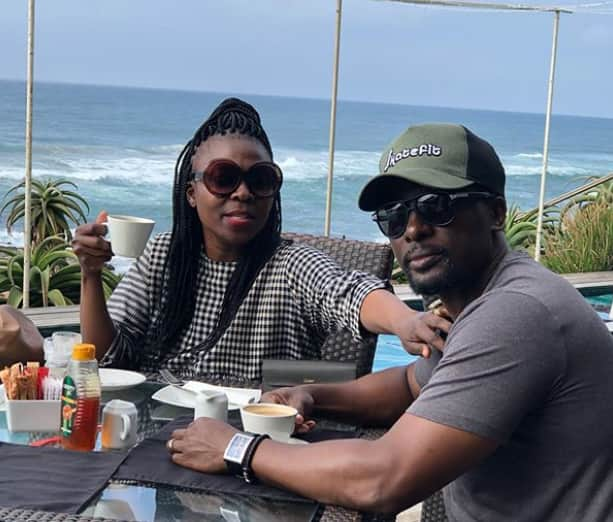 Latest news
The Sthandiwe Msomi COVID recovery journey hit the headlines recently. Just last month, the actress shared the news that she caught the virus as the number of cases grew worldwide. To battle it, she has resorted to methods like prayer, zinc, vitamins D & C, checking temperature using a thermometer, Pulse-Oximeter, Mhlonyane/wormwood, steam, and panado.
Sthandiwe Msomi is an acting legend who has been through the older phase and has been blessed enough to live in the current one. We wish her a quick recovery and all the best in her endeavours.
READ ALSO: What to know about Chadwick Boseman wife, Taylor Simone Ledward
Did you know that the late Black Panther star, Chadwick Boseman, was married? The celebrity managed to keep his private life away from the public, including his love life and sickness. However, last week, briefly.co.za published details of Taylor Simone Ledward, the bereaved widow of Chadwick.
Taylor is a singer who attended California State Polytechnic University Pomona. Chadwick and Taylor dated from 2015, and he proposed last year. According to close family members, the two were very happy together.
READ ALSO:
Ed Sheeran wife bio: age, parents, pregnancy, images, story, job, Deloitte
Mr Handsome facts, Boity Thulo, Simphiwe Ngema, Twitter, pictures
Yonda Thomas bio: Age, daughter, parents, education, seriously single, pics, profile
Lihle Dhlomo bio: Age, family, education, career, films, pictures, profile
Source: Briefly.co.za