Jackie Phamotse bio: age, husband, book, profile, on celebs using dark magic
Jackie Phamotse is a South African award-winning author, social activist, entrepreneur, and philanthropist. The beauty is popularly known for publications such as Bare: The Blesser's Game and Shattered Innocence. She is currently among the most-talked-about female personalities in the country. What else would you love to know about Phamotse?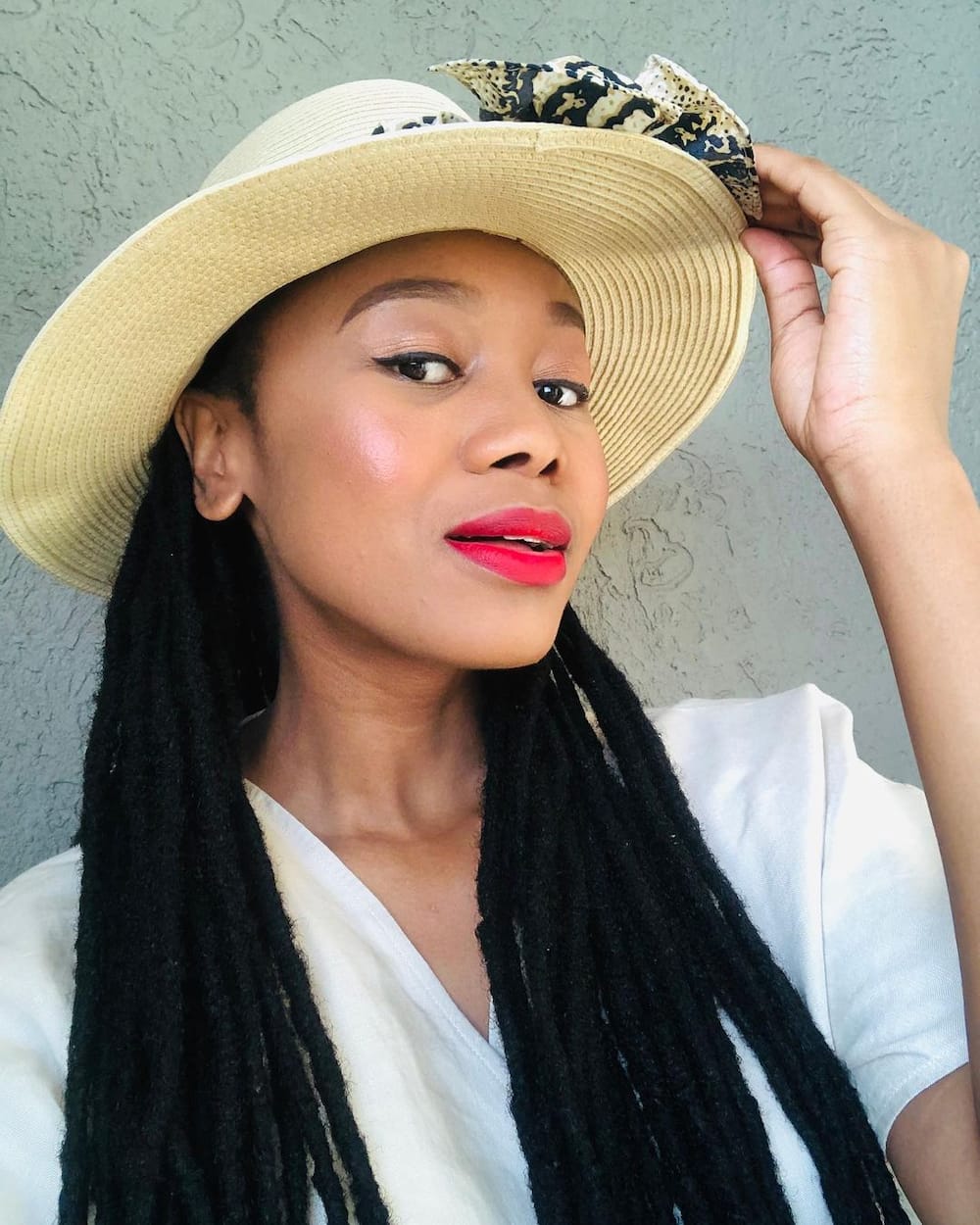 Jackie, unlike many other South African celebrities, is known for her strong stand when it comes to various issues affecting women and kids – such as mental health, rape, and human trafficking. Some people find her controversial, but others think she is a voice for the voiceless.
Is Jackie Phamotse married? Does she have siblings? How many books has she written? Well, Jackie Phamotse bio has all the answers you are looking for about her.
Jackie Phamotse profile summary
Birth name: Jackie Phamotse
Date of birth: 3rd March 1989
Place of birth: South Africa
Zodiac sign: Pisces
Age: 31 years old (as of 2020)
Occupation: Author, social activist, businesswoman, philanthropist
Nationality: South African
Jackie Phamotse biography
Jackie Phamotse was born on 3rd March 1989 in South Africa. She was born into a family of six kids. The names of Jackie Phamotse parents and siblings, however, have remained a mystery. Often, she avoids sharing much of her personal life with the public.
She had a troubled childhood experience while growing up. Jackie Phamotse father was a military commander, who at times reportedly mistreated them, especially her mother. Later, her mother separated from her father.
She left home for Johannesburg when her mother died. In the city, she encountered numerous challenges that helped to shape her into the person she is today. Apart from being beautiful, Jackie is an intellectual. She is a BA communication graduate.
How old is Jackie Phamotse?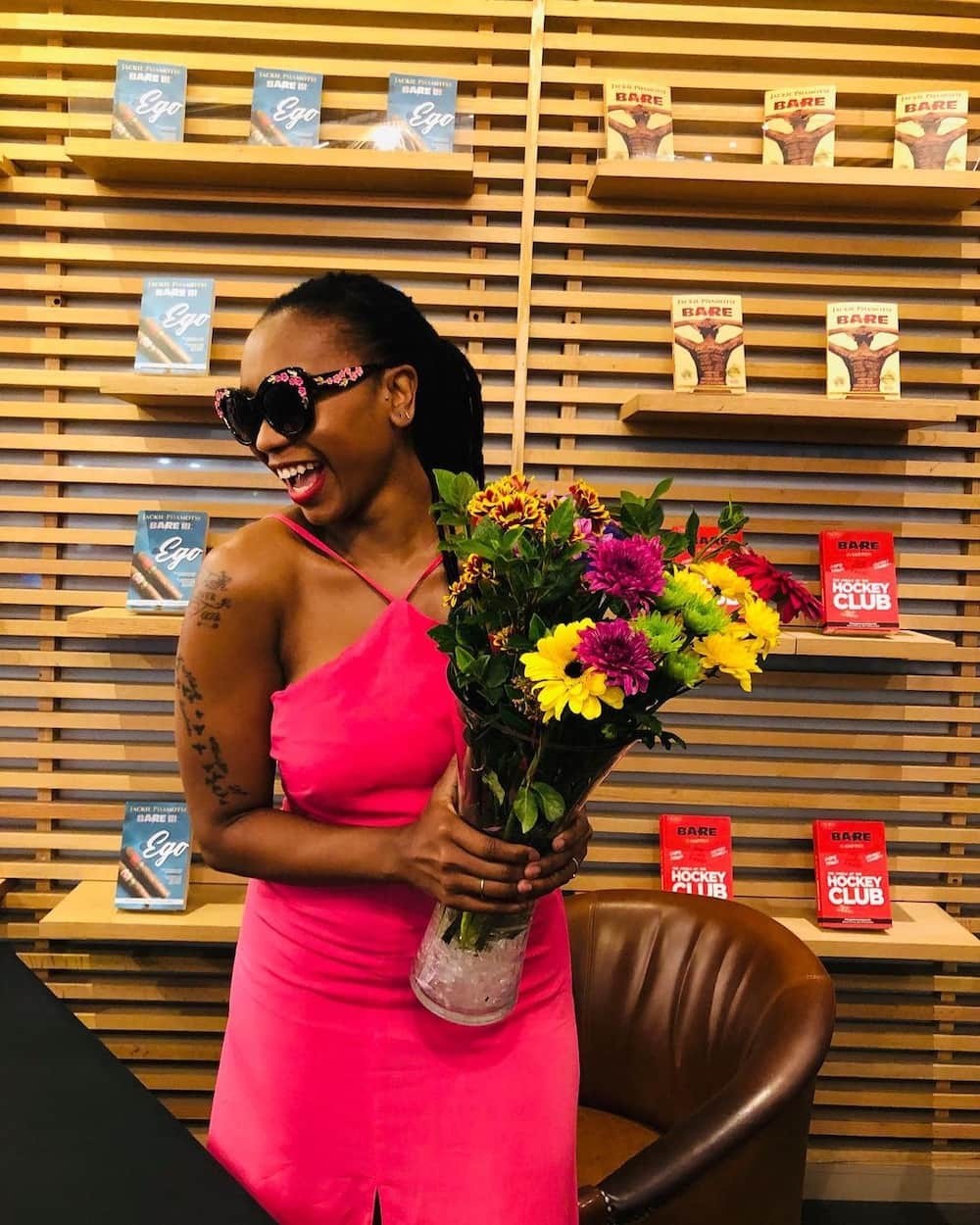 As of 2020, Jackie Phamotse is 31 years old. She celebrated her 31st birthday on 3rd March. She took to Twitter with a lengthy tweet, thanking her followers and friends who helped her celebrate her big day.
Jackie Phamotse books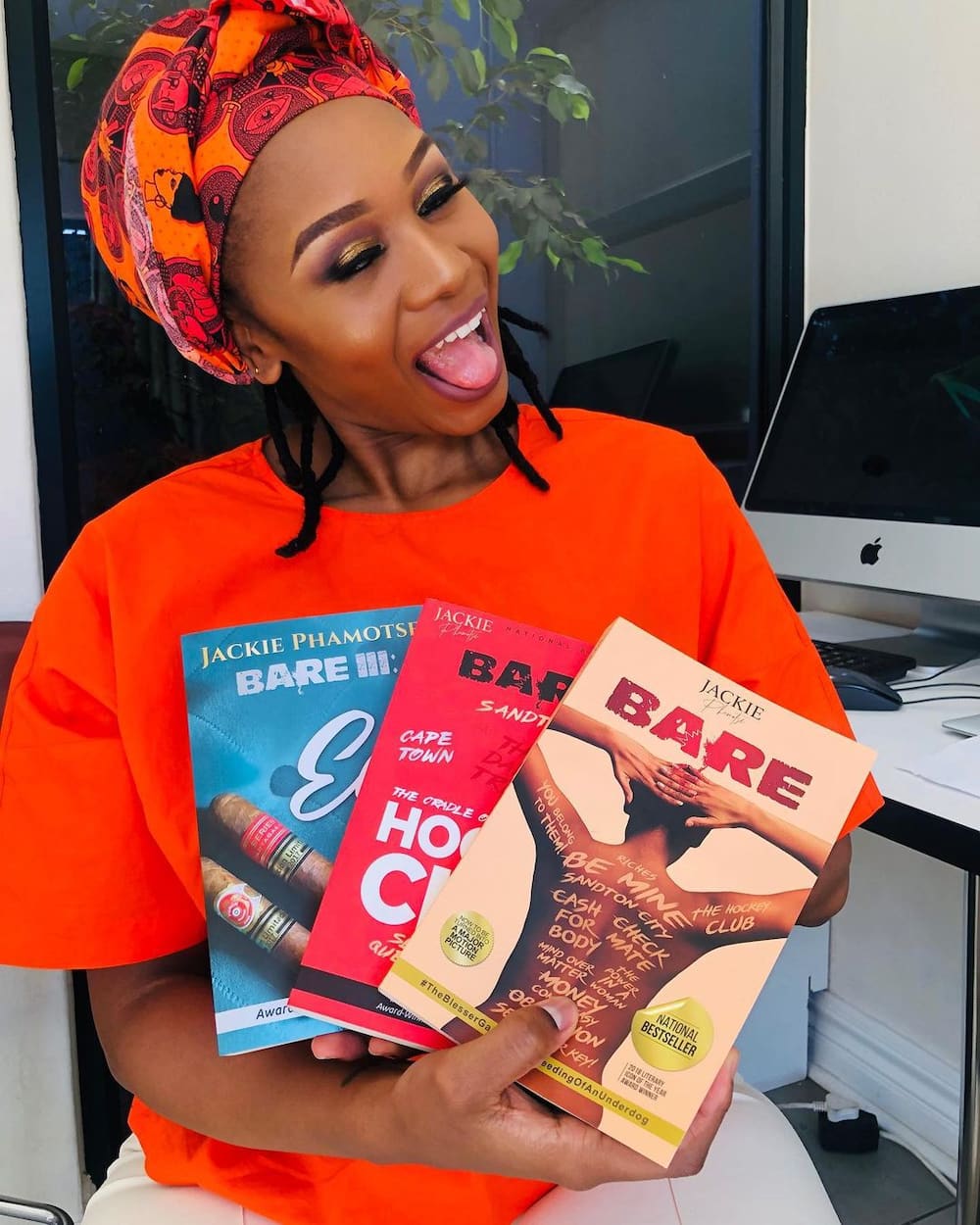 Phamotse is an accomplished and award-winning author. Most of her work is based on personal experiences. For instance, her book Bare details her experiences in Joburg and Sandston, where she worked as a waitress.
She was raped by gangs and a prominent politician, who served during the reign of retired President Jacob Zuma. Previously, she almost became homeless when her mother passed away. Bare Jackie Phamotse series of books describes some of these experiences.
So far, she has published a few books, which are available for purchase. The books are as follows:
Shattered Innocence (2014)
Bare: The Blesser's Game (2017)
Bare: The Cradle of the Hockey Club (2017)
I Tweet What I Like (2019)
Bare III: Ego (2019)
Which Jackie Phamotse book PDF is available for download? Readers can also access some of her PDF books online. For instance, Jackie Phamotse books download for Bare is available on Amazon and other official download book sites.
She is also a businesswoman. She has shares in DJ Sbu's business, MoFaya Energy Drink. The two have been working together, whereby she is the brand strategist.
Personal life
Who is Jackie Phamotse husband? At the time of writing, the social activist is presumed to be single. Besides, she has never mentioned anything to do with dating or marriage.
Celebs using dark magic
Recently, she went live on Instagram with a strong message that has left many fans with many endless unanswered questions. The controversial author aired her views on different celebrities who have been using dark forces to obtain wealth.
Jackie Phamotse celebs sacrifices live video attracted over 44k views. She revealed shocking information about celebrities. The author alleged that some celebs use snakes and witchcraft to obtain wealth.
For example, in the Instagram live she said,
I'm not saying all rich people live like this, no. I'm saying there's a small portion of people who live like this consistently. They will make you believe that they've got gigs, they've got endorsements. They will make you believe they are selling these products that are giving them millions.
She added,
But behind that facade, there are four or five men who are funding this. They are consistently going to sangomas; they are consistently changing friends because the more the friends know, the trickier it becomes.
She also alleged that Ginimbi had bought his coffin a few days earlier before his death. The issue attracted mixed reactions from her followers.
Social media presence
She is one of the most followed South African celebrities right now. Her page has over 162k followers with more than 2,000 posts. Similarly, she has a massive following on Twitter. Below are the handles to her accounts:
Sometimes back, she found herself on the wrong side of the law when she made sensitive remarks about Basetsana Kumalo relationship. The celebrity couple sued her for tweeting about them. The case between Basetsana Kumalo and Jackie Phamotse is still in court. When asked about the issue, the Kumalos responded,
We are unable to comment further as the matter is still to be heard in court.
Jackie Phamotse is not only beautiful but also an intelligent woman. She continues to use her wisdom, knowledge, and past experiences to educate young girls. The beauty has also been fighting social ills affecting women and kids.
READ ALSO: Gwen Ngwenya bio: age, partner, education, qualifications, pictures, profile
Recently, Briefly.co.za highlighted critical facts about Gwen Ngwenya, who is a competent politician and academician. The 31-year-old is a graduate of the University of Cape Town. She has a commendable work profile.
Ngwenya has a solid background in financial markets, economics, and technology. Her qualifications have seen her work in countries such as France and India. In 2018, she was sworn in as an MP under the Democratic Alliance umbrella.
Source: Briefly News