Exclusive: Artful Minenhle Dubazane Seeks to Address Gender-Based Violence
- KwaZulu-Natal artist Minenhle Dubazane wants to add his voice to the fight against gender-based violence through his art
- The 21-year-old Dubazane has urged the government to support artists as they also have a role to play in the society
- Although he has not formally been trained as an artist, Minenhle Dubazane has shared a word or two with men against women abuse and can still use his craft to do so
PAY ATTENTION: Join Briefly News' Telegram channel! Never miss important updates!
21-Year-old Minenhle Dubazane is one of those fine artists who are sending messages through their craft and his primary focus is on gender-based violence.
The Ladysmith-based fine artist has taken a different route as far as his focal point and recently had a chat with Briefly.co.za on his future plans.
He is set to turn 22 this year in August and explains why he is a firm believer in the 'use what you have' phrase.
With the country experiencing gruesome murders of women, possibly because of intimate relationships that went wrong, the budding professional artist working from home says he wants to add his voice in avoiding silence to speak out about the burning issue.
He told Briefly.co.za in an exclusive interview:
"I'm a firm believer in the "use what you have" phrase, however, I'm not a very loud or talkative person, I use images to reach out to be in contact with other souls. Art is all that I know and what I'm about. So, it was easier for me to start but it was very emotional also.
"This is what I'm saying to anyone (especially men) who have realised that what they're doing is wrong - just apologise. It might not mean much to the one you have wronged but showing remorse tells us that you realise what you've done and you're on human and willing to change.
"When you feel like a female is provoking you just have to walk away. It's better to be called a coward for walking away than to have blood on your hands for life."
Based in the Uthukela District in KwaZulu-Natal, Dubazane says he is looking after his grandmother as he is the only child in the family. He added.
"I'm based in KZN Ladysmith, I was born on 7 August 1999 and I'm turning 22 this year... I was born here in Ladysmith.
"I'm not at school, I'm working at home as an artist (basically doing portrait commissions, drawing and painting). I also look after my sick grandmother as the only child here at home. So, it helps to be here.
"I've never attended any art school or training institution to fine-tune my skills, I learn everything by using what I have near me. I learn new art skills on YouTube. You could say I taught myself by watching others do it.
"I'm still new, upcoming, and hoping to be recognised and influence young talent in my neighbourhood."
To the Department of Arts and Culture, Dubazane has also echoed the sentiments of those in the industry that a helping hand might go a long way.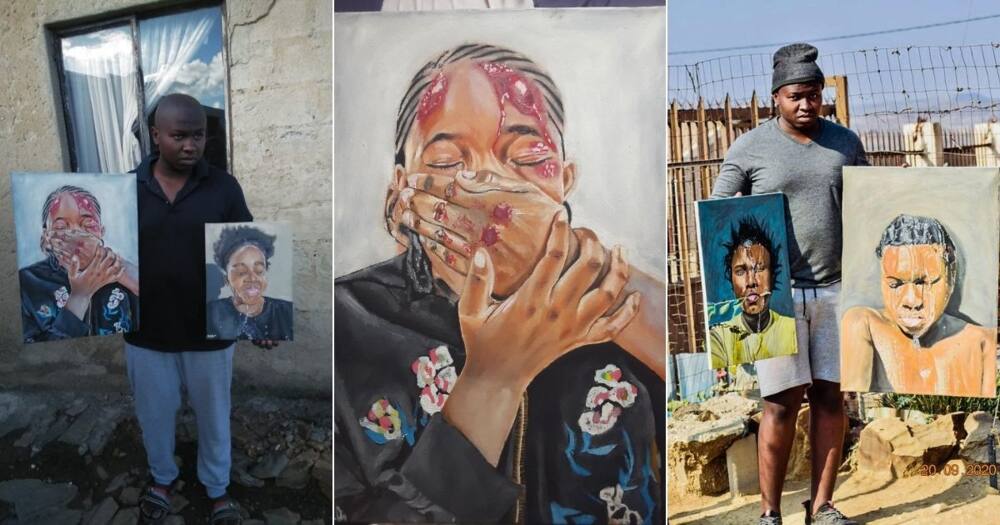 He continued:
"I'd like to see the government giving us more sponsorships and competitions to help more artists with exposure and funding. I'd also like to see the government prioritising cases related to matters such as abuse as they are as much important as murder cases.
"Things like tightening the laws and more visible policing as well as rebuilding trust with the communities - that will make things easier to report these cases."
Meanwhile, Briefly.co.za recently ran an article on an infamous artist known as Rasta who is notorious for sketching portraits of prominent personalities when they die. He recently received a financial donation to purchase paint.
He spoke to Briefly.co.za in an exclusive interview that he was happy to announce that he is back on track; some good Samaritans donated money after the public appeal we put out, said Rasta, whose real name is Lebani Sirenje.
Rasta also took time to laugh off suggestions that his works are controversial. His works are followed by many and if anything, his sketches show personalities how "important" they are as Rasta only draws known people.
Enjoyed reading our story? Download BRIEFLY's news app on Google Play now and stay up-to-date with major South African news!
Source: Briefly.co.za