Bill Gates wife bio: Melinda Gates divorce, children, religion, worth
The world has received news of the end of an era, the marriage between Bill and Melinda Gates. The duo announced their decision to amicably end their union after being together for more than three decades. While most people wrap their heads around the news, others have likened the situation to Jeff Bezos and MacKenzie Scott and how the split impacted their finances. Is that the case for Bill Gates wife?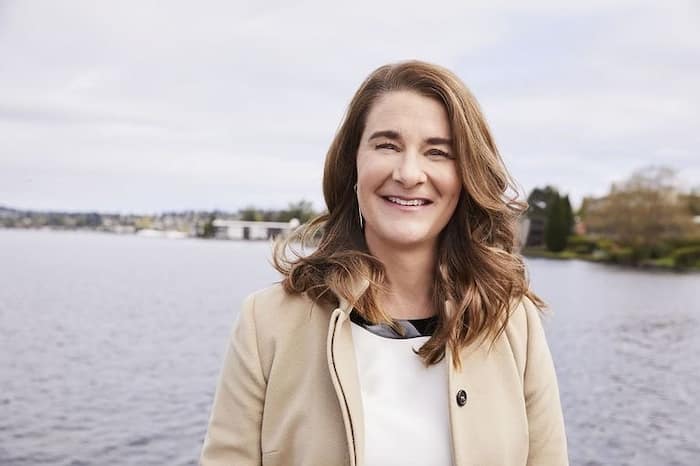 Bill Gates wife, Melinda Ann French, met Bill in 1987 in Microsoft, where she worked as a manager. Their interaction blossomed into a marriage that has seen them grow and diversify their careers and financial status. Even though their divorce came when no one had foreseen, they promised to uphold their roles in the foundation.
Profile summary
Full name: Melinda Ann French
Date of birth: 15th August 1964 (age 56)
Place of birth: Dallas, Texas, USA
Nationality: American
Alma mater: Duke University (BA, MBA)
Melinda Gates Twitter: @melindagates
Bill Gates wife biography
Melinda Ann French was born on 15th August 1964, and she is the second child of Raymond Joseph French, an aerospace engineer. Melinda has an older sister and two younger brothers.
Bill Gates wife religion
Melinda is Catholic. She attended St Monica Catholic School and always topped her class.
Bill Gates wife and children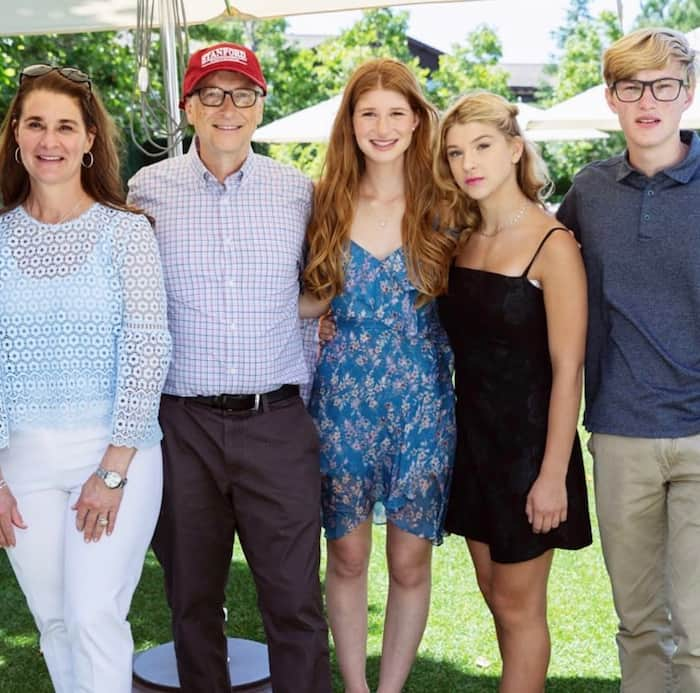 Melinda Ann French started dating Bill Gates in 1987 after she joined Microsoft as a product manager. The couple solemnised their union in 1994 during a private ceremony that they held in Lanai, Hawaii. The twenty-seven years of Bill and Melinda Gates marriage gave rise to three children: Rory, Phoebe, and Jennifer Gates.
Does Bill Gates have a grandson? The eldest of Melinda Gates children, Jennifer, turned twenty-five in April 2021. Roy, the eldest and only son, will be turning twenty-two in 2021, while Phoebe, the youngest daughter, will be turning nineteen this year. None of them has a kid. Therefore, Melinda Ann French does not have a grandson.
The family lives in Xanadu 2.0 in Washington, and they have a second home in California.
Bill and Melinda Gates divorce
Bill and Melinda Ann French are two of the wealthiest people in the world. They have played a key role in public health and philanthropy. They spent the wealth that they accumulated on founding The Bill and Melinda Gates Foundation, which changed the dynamics of global public health. The foundation has spent more than $50 billion in the past decade in bringing a business approach to help combat poverty and diseases.
On 3rd May 2021, Bill and Melinda caught the world by surprise when they announced their divorce. The pair announced the end of their marriage through their Twitter accounts. The statements acknowledged how their foundation had impacted people around the world. They also affirmed that they shared a common belief and would continue to work together to oversee the mission and vision of the foundation. The statement also revealed that they no longer believed they can grow together as a couple
Melinda filed a petition for divorce in Washington, asking a judge to dissolve her marriage to Bill Gates according to the couple's separation contract. The documents available to the public did not include any details of their finances and how their split would influence their net worth.
Bill Gates wife net worth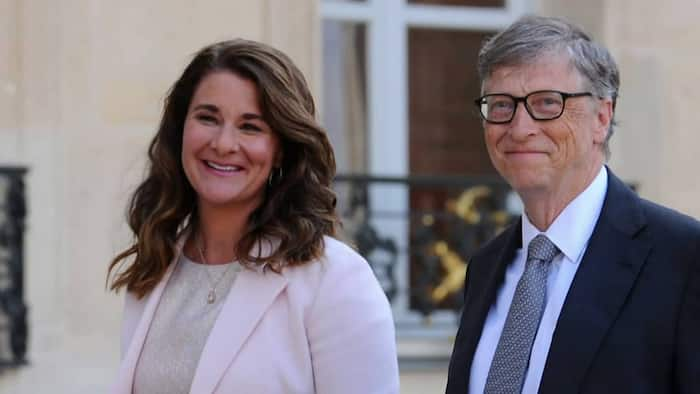 Is Melinda Gates the richest woman in the world? Her association with Bill Gates must have stirred this question. Melinda is one of the richest women in the United States of America. So, what does Bill Gates wife do? She wears many hats as an author and co-founder of the Bill and Melinda Gates Foundation.
Melinda Gates books
Melinda made her debut as an author when she launched her book, The Moment of Lift: How Empowering Women Changes the World. The book highlights the failure to appreciate women's unpaid work. It also documents her childhood and private struggles as the wife of one of the richest men in the world.
Bill and Melinda Gates Foundation
In 2000, the couple founded the Bill and Melinda Gates Foundation in Seattle, and the move reshaped the world of philanthropy. The main focus of the foundation is education, health, and climate change. The Bill and Melinda Gates Foundation grants include $1.75 billion geared towards research during the Covid-19 pandemic and the development of vaccines. In 2019, the foundation had assets valued at more than $43 billion.
So, how much is Melinda Gates worth? According to a report by the Daily Mail, Bill and Melinda Gates did not sign a pre-marital prenup to determine how their wealth would be shared. The documents also indicated the marriage was irretrievably broken. The documents also revealed that Melinda had requested a trial in April 2022.
Melinda Gates net worth 2021
It is unclear how the couple will split their matrimonial wealth since it would significantly influence Melinda Gates net worth 2021. It is also unclear whether the matter will be solved in court or whether the separation contract will be considered. However, there are speculations that splitting the marital property will not be as easy since Bill's wealth is tied to the foundation.
Bill Gates owns a holding company called Cascade Investments, which has interests in energy, real estate, and hospitality. He also has stakes in public companies such as Deere & Co and Canadian National Railway. According to a report by Forbes, he owns slightly more than 1% of the shares at Microsoft, and their worth is estimated at $26 billion.
While the news of Bill Gates wife filing for divorce has caught the world by surprise, the world is keen on knowing how the division of wealth will come to play. Amidst that, their daughter affirmed how difficult the past couple of days have been for her. This is proof that the divorce will impact her. Be on the lookout for more updates on how the situation will unfold.
READ ALSO: Elizabeth Shatner age, ethnicity, spouse, divorce, affair, worth
Briefly.co.za recently published exciting details about Elizabeth Shatner. Interestingly, Elizabeth has been married twice, and one of her marriages ended in divorce.
Between 1983 and 1997, she was married to Michael Glenn Martin. The marriage ended after Michael Glen passed on. In February 2001, she got married to William Shatner, who was 26 younger than her. Their marriage lasted close to two decades, though they parted ways in 2020.
Source: Briefly.co.za