Springboks' Cheslin Kolbe's Car Collection: A Look at the RWC Star's Nissan GT-R, BMW M3 and More
Cheslin Kolbe has an impressive car collection worth a millions, including a Nissan Skyline GT-R R34
A TikTok video went viral this week showing Kolbe driving his Nissan GT-R on the N1 with his beautiful wife, Layla, as his passenger
The Springboks winger can afford luxury cars, like the Nissan GT-R, because of the R19 million that he allegedly earns yearly
Kolbe is part of the starting line-up to take on New Zealand in the Rugby World Cup (RWC) 2023 finals on the same day he turns 30
PAY ATTENTION: Briefly News WhatsApp Channel - Breaking News on the Go - FOLLOW NOW
Cheslin Kolbe is one of the fastest South African rugby players currently. With his speed and agility, he had jaws dropping across the globe when he successfully charged down a conversion attempt by France in the RWC2023 quarter-finals.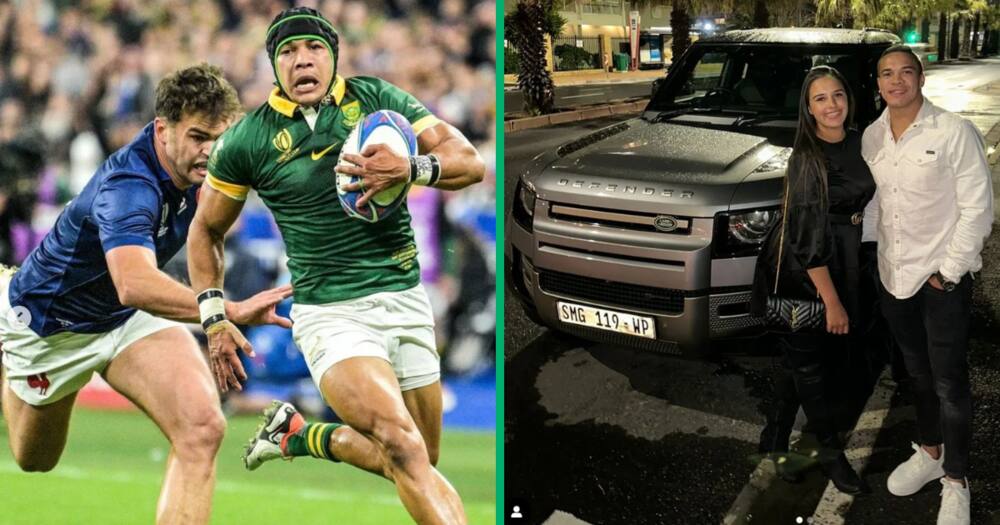 It makes sense that a man with so much speed enjoys cars that can go from 0-100 in seconds.
Briefly News looks at the car collection of the no. 11 Springboks winger and the net worth that enables him to enjoy the finer things in life.
TikTok video shows Cheslin Kolbe driving his Nissan Skyline GT-R R34
A video has gone viral on TikTok showing Cheslin Kolbe and his wife, Layla, driving in his Nissan Skyline R34 on the N1. Since Kolbe is currently in France for the Rugby World Cup, it is safe to say the video wasn't taken recently. However, the Nissan R34 is part of Kolbe's car collection.
PAY ATTENTION: Have you recorded a funny video or filmed the moment of fame, cool dance, or something bizarre? Inbox your personal video on our Facebook page!
The price tag of the Nissan R34 depends on the year model. Kolbe's Nissan appears to be a 1999 R34, which can reach up to R3 million on AutoTrader.
Paul Walker famously drove the Nissan R34 Skyline GT-R in Fast and the Furious 4.
Take a look at Kolbe's R34 here:
South Africans react to Kolbe's Nissan Skyline GT-R R34 on TikTok
While people were impressed by the whip, they used the video to make funny puns about Kolbe's speed.
@Micheal Meyers commented:
"Cheslin on his way to block another penalty."
@BraBeytell added:
"I was expecting to see him in a scrum cap "
@Damien Carl Samuels wrote:
"Everyone thinks that car has an engine, but kantie he is doing a Flintstones."
@Peachy said:
"When he wants to get to places even quicker, he just gets out and runs."
@:) commented:
"We saw that same Nissan Skyline on our way back to the beach, and my bf literally freaked out."
@☆G°liath wrote:
"The fact that no one saw his feet on the ground, swiftly running underneath the car."
@ALEXANDER added:
"It's scary that he's even faster without the car"
@ commented:
"A fast car for a fast man "
Cheslin Kolbe owns a BMW E92 M3
Kolbe owns another performance beast, a BMW E92 M3. A TikTok video by Zayd Marais shows the sleek silver Beemer that forms part of Kolbe's collection.
Marais revealed he did some detailing work on the BMW, which retails anywhere from several hundred thousand rand to over R2 million depending on the year model.
Check out Kolbe's BMW below:
Kolbe gives a young fan a ride in his sponsorship Land Rover Defender
Cheslin Kolbe also drives a Land Rover Defender. The rugby star was caught on video giving a ride to a young fan in his sleek black Defender.
A video was posted to TikTok earlier this year showing the heartwarming moment. The clip was shared by @fitkid_liam and captioned:
"Just a young rugby fanatic driving with his hero."
Take a look at the sweet video:
Kolbe also posted a snap of himself with his stunning wife in front of the Land Rover.
He captioned the date night snap:
"It's been a while. Quality time with wifey."
Cheslin Kolbe's massive net worth
The 29-year-old earns enough to afford whips with several zeros added to their price tags. Briefly News previously reported Kolbe is allegedly earning R19 million annually.
In 2023, Cheslin Kolbe joined Suntory Sungoliath in the Japan Rugby League One. The move reportedly secured him a whopping R22 million yearly salary, according to Ruck.co.uk.
Before leaving Toulon to play for the Japanese team, Kolbe reportedly turned down a R55 million deal from the Stormers in 2022. The Cape Town-based team offered Kolbe a five-year contract and employment for his wife, but it wasn't enough to secure the winger.
Like Siya Kolisi, Kolbe also joined Jay Z's Roc Nation following the 2019 World Cup - a tournament for which the 29-year-old's performance received much praise.
Cheslin Kolbe spent his first big paycheck on his parents
Kolbe might be making serious bank, but he's generous with his money. According to a video by Top Billing, the winger used the money he earned from his first big pro rugby salary to spoil his mom and dad.
Take a look at the full interview below:
The Athlete reported Kolbe flew his parents to France earlier this month to watch him play in his final RWC.
The star Boks winger said:
"It's obviously massive for me for them to come over here to support me. If I do get some time to spend with them this week, I will obviously do so, but the focus, however, is just to prepare as well as I can for this week."
Cheslin Kolbe to face off against the All Blacks on his birthday
Chelsin Kolbe turns 30 on the 28th of October - coincidentally the same day the Springboks clash against New Zealand in an attempt to raise the Webb Ellis Cup for the second time in a row.
We're excited to see the winger celebrate his birthday on the field. Kolbe has thus far shown why he is known as one of the best rugby players in the world.
Another angle of Cheslin Kolbe's charge down goes viral on TikTok
Cheslin Kolbe had rugby fans worldwide speechless when he successfully contested a conversion attempt by the French fly-half. Earlier, Briefly News reported unseen footage of a different angle showing how quickly Kolbe shot up to charge down the ball went viral on TikTok.
The RWC's TikTok account shared the clip and captioned it:
"A match winning moment from Cheslin Kolbe."
PAY ATTENTION: Сheck out news that is picked exactly for YOU ➡️ click on "Recommended for you" and enjoy!
Source: Briefly News