Focalistic Responds to Shebeshxt 'Podcast and Chill' Drama, Mzansi Weighs in: "He's Scared of Him"
Focalistic finally broke his silence following Shebeshxt's revelations on Podcast and Chill
Upon finding out about how Shebe felt about him, Foca revealed that he and the Limpopo rapper "are cool" and apologized for how things went down
Foca's response had netizens wondering if he's afraid of being on Shebeleza's bad side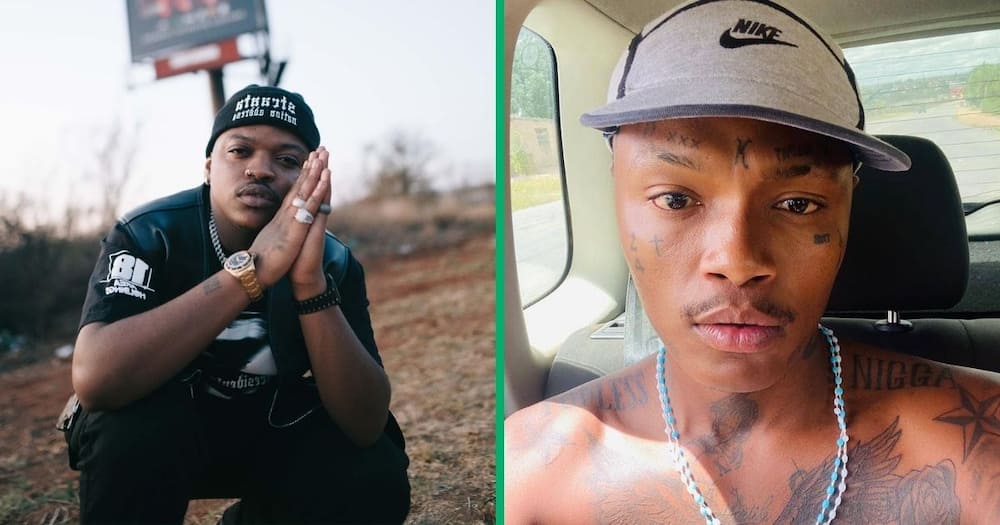 Following the drama surrounding Focalistic and Shebeshxt, President ya Straata finally put the speculations to bed. A video of the Amapiano star's Instagram live made it to Twitter (X), where he said he has no beef with Shebe.
Foca also weighed in on the payment issue from Straata Nation Address, saying Shebeshxt didn't want to be paid.
Focalistic addresses Shebeshxt drama
Looks like Focalistic doesn't want any smoke from Shebeshxt. The Amapiano artist addressed the drama between himself and Shebe that arose from the Limpopo rapper's infamous Podcast and Chill interview.
X user Maluda012 shared Foca's Instagram live, revealing no hate between himself and Shebe. Foca also apologized that Shebe didn't feel appreciated after performing at the Straata Nation Address:
"I probably didn't post him how he wanted but that's my dawg. I've posted him before, Shebeshxt is my dawg, we'd never fight no matter what podcasts do. I love him and I'm sorry if you feel like you were disrespected, I'd never disrespect the streets."
"About the payment issue, I called him for the show [Straata Nation Address] and asked how much he charges. Everyone knows that I pay people for my shows but he wanted to do it out of love and I also respect that. I love him, the problem is that people love beef, no matter what he wants, I got him."
"If he feels like I didn't give him a proper shout-out, I'm willing to fix that. The streets don't fight.
Foca revealed that he was meant to feature Shebeshxt on an Amapiano song, but the collaboration never happened.
Mzansi weighs in on Focalistic's video
Netizens gave their thoughts on Focalistic's apology to Shebeshxt, where some claimed that he's afraid of Shebe while others weren't convinced of his apology:
paballo_maseko said:
"But he won't address the allegations of him stealing from struggling Bacardi artists because it's true."
Mama_KGOTLI wrote:
"Focalistic is scared of Shebeshxt, it's cute!"
lufunoRonald10 claimed:
"He is scared of him!"
Shebeshxt confesses to crime
In more Shebeshxt updates, Briefly News caught online reactions to the rapper confessing to his crimes on Podcast and Chill and had his fans coming for his defence:
PotsisoMocheke said:
"He said they must come so he can give them back."
The Ambulance rapper had Sol Phenduka suspiciously quiet throughout the interview and raised many eyebrows among viewers.
Source: Briefly News