Blaq Diamond Wins Court Battle Against Ambitiouz Entertainment, SA Cheers: "Will Set Good Precedent"
Black Diamond has been embroiled in a bitter fight with Ambitiouz Entertainment for some time now
The Afro-pop duo recently got a court interdict that prevents the record label from removing their music from YouTube
The lawyer of the music artists made the announcement on Twitter and celebrated the game-changing court victory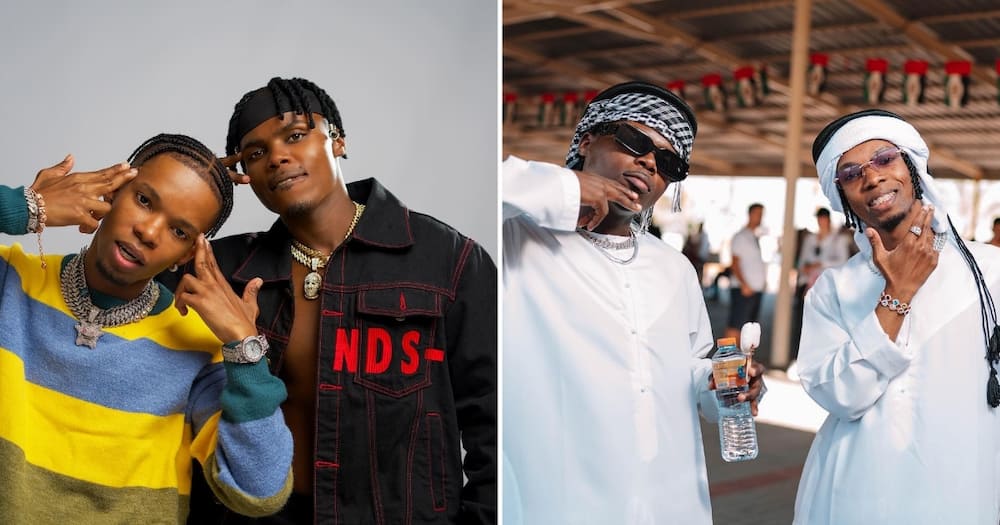 Ambitiouz Entertainment has been giving Blaq Diamond grief since their fallout, but the tide is turning for Ndumiso Mdletshe and Siphelele Dunywa.
High court grants Blaq Diamond an interdict against Ambitiouz Entertainment
The Johannesburg High Court granted the music duo an interdict that stops Ambitiouz Entertainment from removing their music from streaming sites and YouTube.
Blaq Diamond's lawyer says court victory is an industry game-changer
Blaq Diamond's lawyer Jade Louella Naidoo congratulated her clients and said the court also ordered the controversial record label to pay the legal fees.
"Congratulations to my client Blaq Diamond for successfully interdicting YouTube and Ambitiouz Entertainment from removing their music from YouTube and all DSPs. We won with costs. This is an industry game-changer! This is for all musicians being exploited by record labels!"
The Messiah hitmakers launched the court application in October 2022 after Ambitiouz Entertainment instructed YouTube to remove the song Qoma from their channel.
See the tweet below:
Twitter users express happiness over Ambitiouz Entertainment's loss
South Africans celebrated Blaq Diamondz's victory against the label known for allegedly exploiting artists.
@jubzin9 asked:
"Congratulations, where are we to buy their music?"
@yim_uthando stated:
"I hope Makhadzi is watching."
@ManyovuG wrote:
"Congratulations. Please sue the latter for their insensitivity and inconsideration."
@L_Majalumani added:
"This is huge. Big ups for taking this on, Jade. Congratulations to you and the team ."
@N_Vundlane_012 mentioned:
"This case will set a good precedent in the music industry. Well done."
@camagumayirha tweeted:
"Congratulations to the boys, with costs was a cherry on top."
@sheldon_cameron said:
"This is amazing. They are way too cocky for my liking."
Ambitiouz Entertainment continues To provoke Blaq Diamond member Danya Devs by deleting his video from YouTube
In a related article, Briefly News reported that Ambitiouz Entertainment is still at war with one of its former artists, Danya Devs. The record label, which is always trending for the wrong reasons, rubbed fans up the wrong way with their recent move.
The label is becoming popular for exploiting artists and going above and beyond to make their lives difficult after leaving the label.
Source: Briefly News