Thirst Alert: Springbok Damian Willemse Has Women Drooling in Workout Class, TikTok Video Goes Viral
Damian Willemse surprises fans with an appearance in a TikTok video showcasing his fitness routine
The rugby star finds himself surrounded by women in the workout session, sparking intrigue and excitement
The comment section explodes with thirsty Mzansi women expressing their admiration for Willemse's physique
In the world of social media, videos have the power to go viral for various reasons. Recently, a TikTok video featuring Springbok rugby star Damian Willemse turned heads and set tongues wagging.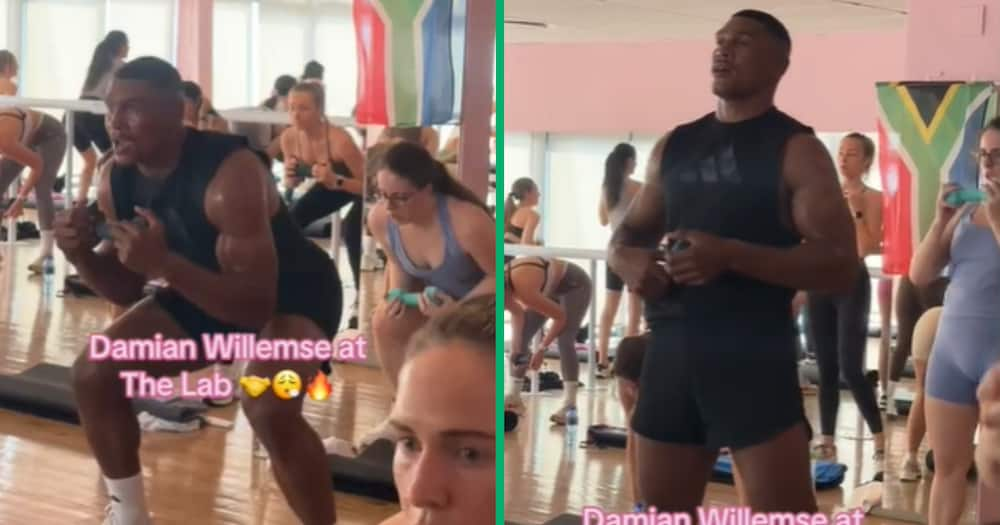 The video, posted by @themovementlab_sa, captured Willemse participating in a workout session in a female-dominated class. The ladies in the class couldn't help but steal glances at the rugby heartthrob, turning the comment section into a virtual steam room of admiration.
Springbok Damian Willemse sweats
The TikTok video, shared by @themovementlab_sa, shows a fitness class predominantly attended by women, adding a playful element to the unexpected scenario as Willemse effortlessly demonstrated his workout routine. The ladies couldn't help but steal glances, creating a lighthearted atmosphere that resonated with viewers.
Take a look:
Mzasni women drool over Willemse
The comment section beneath the video became a virtual playground for Mzansi's thirsty women, with ladies expressing their admiration for the Springbok star. The playful banter and flirty comments added an entertaining twist to the already viral video, creating a buzz within the online community.
Read some comments:
Graciella said:
"Imagine going to Pilates one morning all tired looking and shiii, and Damien Willemse walks in "
You Don't Know Me shared:
"This man knows EXACTLY what he's doing. "
Jusyjayxo joked:
"He's doing his window shopping "
Billie Jean Dudley shared:
"My husband wants to know why this song is playing over and over "
mphela_kay said:
"I would perish "
Springboks player Damian Willemse gets heartwarming homecoming in Strand
Briefly News reported that Springboks player Damian Willemse made his way back to his hometown in Strand. Upon arrival, he was warmly welcomed by a multitude of supporters from is hometown.
The back-to-back Rugby World Cup champion appeared genuinely delighted to return home and engage with the local community.
The moment was captured by community members, and shared by X user @AmandaBRinquest, who said:
"They did a welcome home for Damian Willemse in Strand."
Source: Briefly News