Ramaphosa Gets Booed by Voters in Soweto As He Arrives to Cast Vote Amid Low Turnout
President Cyril Ramaphosa cast his vote at the Hitekani Primary School, where the IEC set up a sub-voting station
However, Ramaphosa was greeted by an angry crowd in Chiawelo, Soweto, on voting day
Briefly News understands the voter turnout was low as community members opted to stay away
Despite the hostile reception, the president assured residents the ANC will triumph in all Gauteng metros
PAY ATTENTION: Click "See First" under the "Following" tab to see Briefly News on your News Feed!
JOHANNESBURG - Election proceedings came to a head at the Electoral Commission of South Africa (IEC) sub-voting station at Hitekani Primary School in Chiawelo, Soweto, as President Cyril Ramaphosa arrived at a hostile reception on 1 November.
Incidentally, Ramaphosa was raised in Chiawelo and became his destination of choice amid the local government elections on Monday.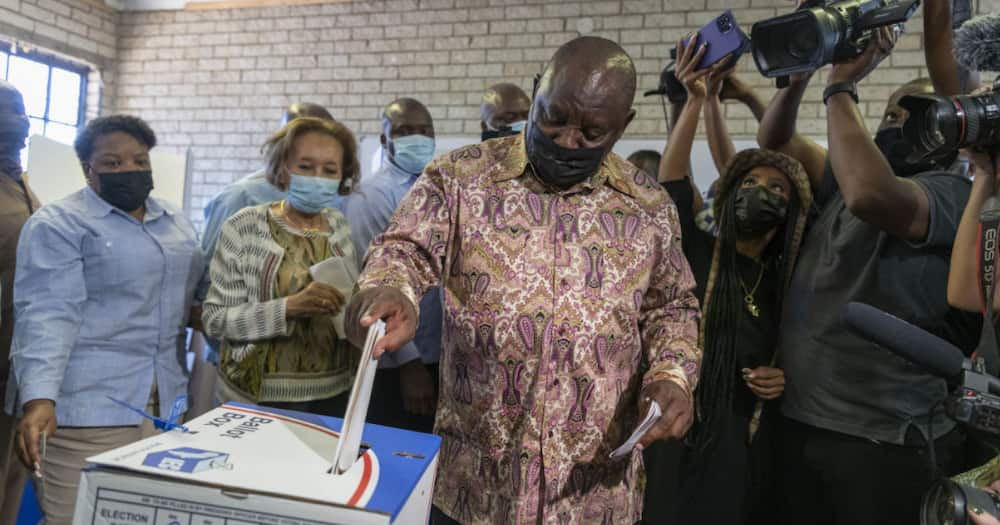 Briefly News understands voter turnout was scant compared to the 30 months before when community members turned out in their numbers during the national elections.
Ramaphosa was booed when arriving with his motorcade as residents mostly stayed away from voting stations, while others blocked the roads in protest, according to an earlier News24 report.
Enjoy reading our stories? Download the BRIEFLY NEWS app on Google Play now and stay up-to-date with major South African news!
The report further noted that the entrance to the station saw many residents sporting Economic Freedom Fighters (EFF) and ActionSA regalia.
SABC News reported that the president, in a recorded message to the nation on Sunday, noted that the results of the elections will bring about the change ordinary citizens hope to see in municipalities across the country.
Accompanied by the first lady Dr Tshepo Motsepe after casting his vote, Ramaphosa told the media that his party was aware of the plight faced by residents.
Ramaphosa says ANC will win vote
The issues span service delivery related concerns that the sparse voters who turned out to the voting station were reminded of by the band of EFF supporters at the school.
"We've made our way around these various communities during our campaign trail. I was impressed that the mayor Mpho Moerane had a notebook the whole time and was taking notes of the issues, which he will attend," said Ramaphosa.
Despite the ANC's well-documented shortcomings across many municipalities across South Africa, the president added the ruling party would triumph in all the Gauteng metros.
"We've learnt amid our campaigning that even where we cannot promise instant change, we still need to make communities aware of where we are unable to make the changes," Ramaphosa added.
Ramaphosa speaks on elections: "Through the vote they express themselves"
In an earlier news story, Briefly News reported that Ramaphosa encouraged South Africans to vote in today's local government elections.
He said municipal elections have important consequences, such as whether an area will receive good service delivery and if infrastructure will be properly maintained.
After casting his vote, Ramaphosa said that people are aware of the problems facing municipalities and that they are complex to solve. However, he encouraged them to use their votes to make their voices heard.
"Our people have reason to complain, but they also have reason to raise the issues. And through the vote they are expressing themselves, either in the form of support for what they believe will be done or in the form of protest for what they believe might not have been done," said Ramaphosa.
Source: Briefly News