SA Primary School Learners Welcome Teacher With Warm Hugs, TikTok Video Touches SA's Heart: "Innocent Souls"
A video of Primary School learners giving their teacher a warm welcome tugged at people's heartstrings online
The young children swarmed their beloved teacher and took turns giving her warm hugs with big smiles on their faces
The TikTok video went viral, and many said it was visible that she was a caring and dedicated teacher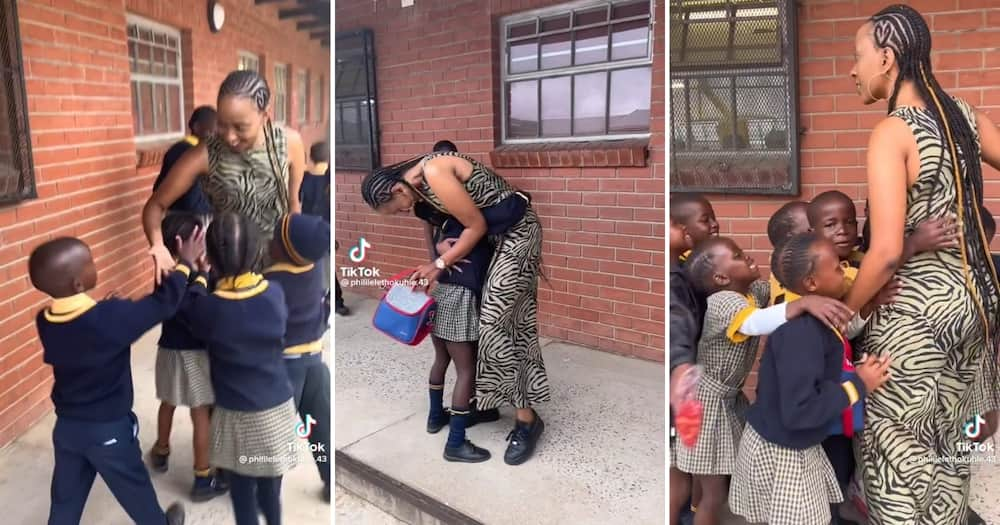 Teaching is a noble profession that involves nurturing impressionable minds. Very few educators get the praise they deserve, but one woman received the sweetest welcome from her students.
School teacher posts video of her students and it goes viral
The young schoolchildren could not contain their excitement when they saw her and ran to greet her. The teacher @phililelethokuhle.43 posted the heartwarming interaction, and it was a hit on TikTok. The video gathered over 690 000 views, and people said modern-day teachers are creating healthy school environments.
Watch the heartwarming TikTok video taken at the school below:
Netizens gush over the wholesome clip in the comments
@Manala mentioned:
"Not all kids can do that it's all about how you treat them as teachers. Treat them like yours and you won't regret your efforts."
@user6164336297329 stated:
"I also teach at a primary school; these kids have got so much love for us. Sometimes we are the only hug they ever get. Keep up the good work sisi. "
@janeNgwe shared:
"I really miss this, more especially when they say mam you are beautiful."
@Philile Lethokuhle posted:
"Innocent souls with pure intentions and love. I love kids, thank you so much everyone for your love."
@busisiwemagubane wrote:
"Good heart bear these fruits dear sisi. Please keep it up."
@louismokoena said:
"My daughter when she starts stalking about her teacher. Yoh my teacher this my teacher that. Keep it up the love you give our kids."
@lizzyvilakazi added:
"Hug them girl, abanye that's the only hug they get. Sikhulela emakhaya lakungahagwana khona."
@tebogomoranthok commented:
"It's a blessing to be loved by kids like that. You mean a lot to them."
Female teacher welcomes students to class with personalised greetings, TikTok video warms people's hearts
In a similar article, Briefly News reported that a teacher has been hailed online over her sweet manner of relating with and welcoming her children to school.
The school children were expected to choose a hug, dance, high five, or a butterfly move as they arrived.
Source: Briefly News