Kaizer Motaung Asks Kaizer Chiefs Supporters for Patience While Working on Amakhosi Revival
Kaizer Motaung urged supporters to exercise patience amid criticism as Kaizer Chiefs grapple with a trophy drought
Motaung acknowledged that the club's supporters have faced ridicule from rival soccer fans
Mixed responses flooded social media as Chiefs' supporters weighed in on Motaung's heartfelt request for understanding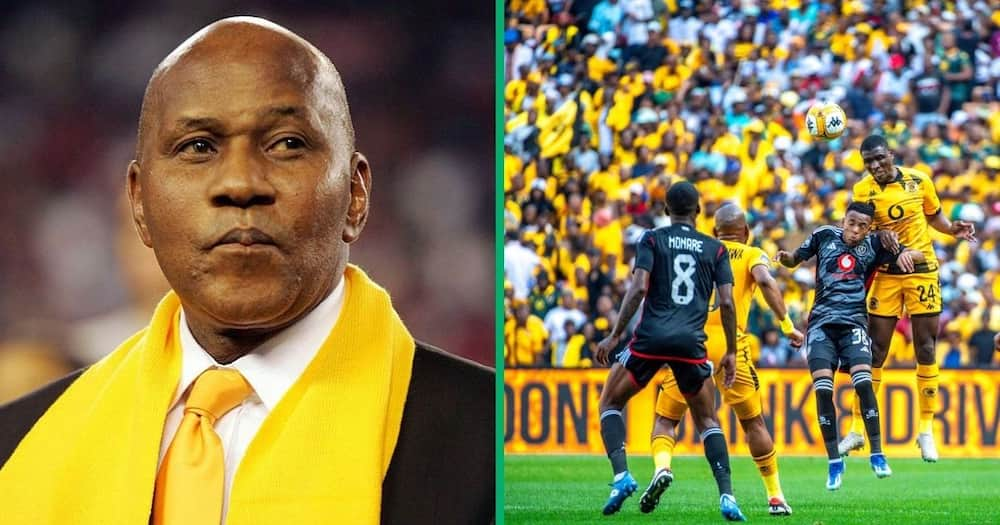 Kaizer Chiefs founder, Kaizer Motaung, has passionately appealed to the club's supporters for patience as they navigate a challenging period.
The once-mighty Amakhosi have faced sharp criticism from rival fans due to their inability to secure a major trophy since their league triumph in 2015.
Understanding fan frustration
Motaung acknowledges the emotional turmoil that fans experience when they see their beloved team's struggle for success, reported SowetanLIVE.
Addressing the concerns, he emphasised the need for patience, urging supporters to keep in mind that the journey to revival is a process that requires time and perseverance.
Social media echoes
Chiefs supporters took to social media to express their sentiments regarding Motaung's plea. The reactions were mixed, reflecting the diverse emotions within the fanbase. While some echoed Motaung's call for patience, others expressed frustration and a demand for immediate results.
See some of the comments below:
Calvin Baloyi said:
"Yes I agree with him, let the supporters be patient even for 100 years to come."
Fhatuwani Khumela mentioned:
"Chiefs supporters don't listen at all. Bobby The Boss Motaung said it loud and clear that Chiefs is his family business."
Jakkie Ebersohn stated:
"Just another speech."
Alby Matsobe added:
"9 years is far too long. Get overseas coaches and strikers. That is absolute and 100% patience for a big team like Chiefs."
Naty Xaba wrote:
"Kaizer made a mistake by giving his son the role of running the team. Unfortunately, he took it to the dawn fall #RiseKhosiRise"
Fans blame Bobby Motaung for Chiefs' failure
In a related article, Briefly News reported that Kaizer Chiefs boss Kaizer Motaung has pleaded with fans to be patient with the club.
He added that Amakhosi are fighting to restore themselves to their former glory and have implored the 12th man to bear with them. Fans were unmoved as they accused his son, Bobby Motaung, of sending the club down the drain.
Source: Briefly News