Easy chicken recipes for dinner
There are many different ways one can prepare chicken for your family to have for dinner. One can roast chicken, bake it, fry it with spices, boil it, grill it, or barbecue it. Aside from being delicious, chicken is healthy; it contains low saturated fats and cholesterol. Most people prefer to prepare chicken breast or breast fillet because it is boneless, but you can also prepare the thighs and the wings.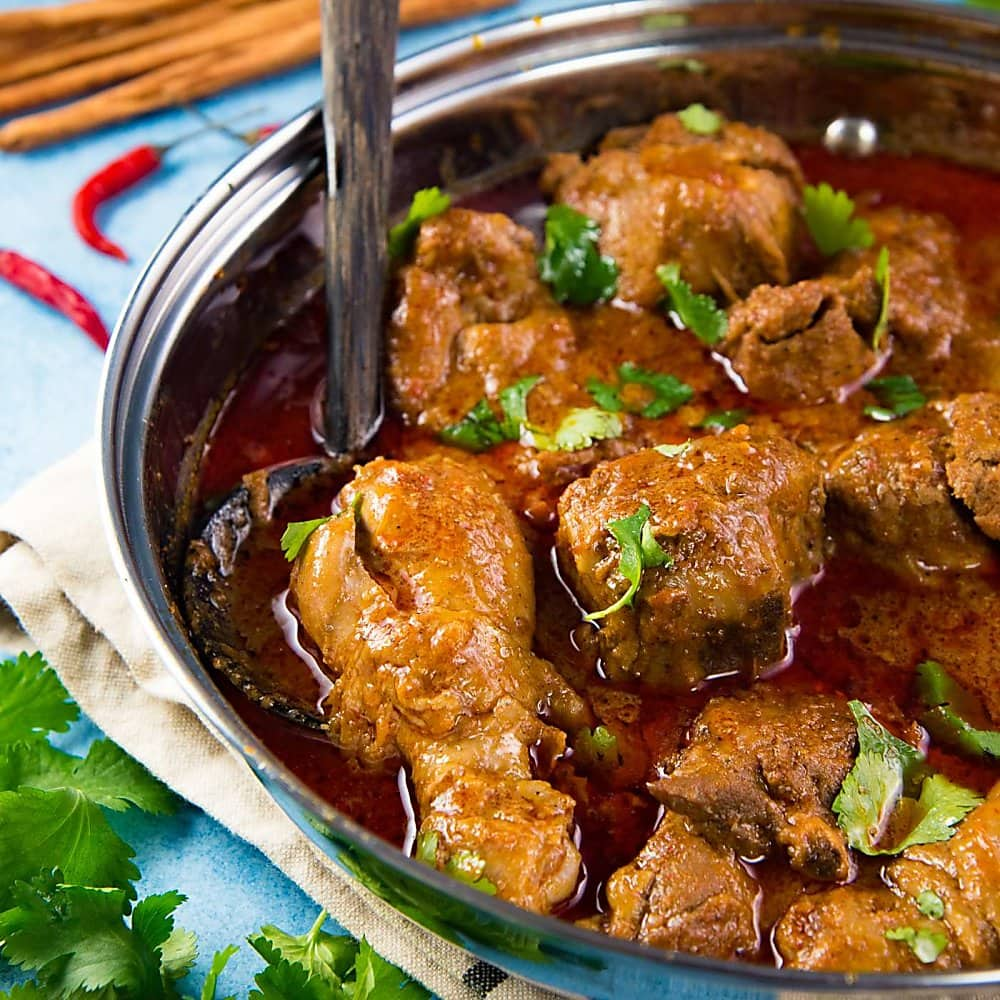 Scroll down for our simple chicken recipes for dinner that will enable you to know how chicken works with classy herbs such as rosemary, lemon balm, and sage. Here we will present to you detailed chicken recipes that you can rely on to prepare different delicacies.
Easy chicken recipes
1. Chutney chicken recipe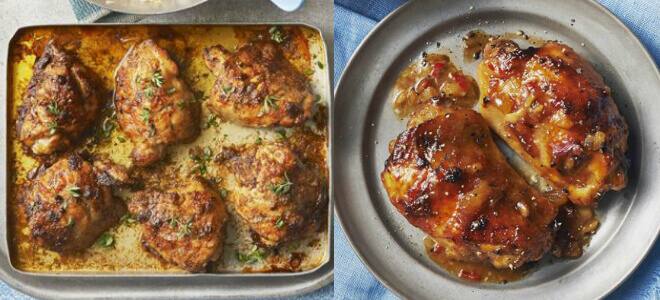 In need of a quick and an easy chicken recipe that will take you less than 10 minutes to prepare? Keep scrolling for the ingredients and the preparation steps for this garlic and mango chubby, which is roasted. The golden skin makes it yummy.
Ingredients
Mayonnaise (6 tablespoons)
Olive oil (1 tablespoon)
Mango chutney (6 tablespoons)
1 diced onion
1 diced red chilli
1 diced garlic clove
Worcestershire sauce (1 tablespoon)
7 chicken thighs (bone in & skin on)
Preparation
1. Heat your oven to gas 6 or 180°C. Place your frying pan on moderate heat; add the olive oil together with the diced onions, chilli, and garlic. Let them cook until soft.
2. For season and taste, add mayonnaise, chutney, and Worcestershire sauce.
3. Now arrange the chicken thighs on a baking tray that is foil-lined. Remove your chutney mixture from heat and spoon it over the chicken.
4. Roast your chicken for about 50 minutes in the oven until it cooks. Your delicious meal is ready and you can serve it with a green salad.
2. Chicken with tomato sauce and wine recipe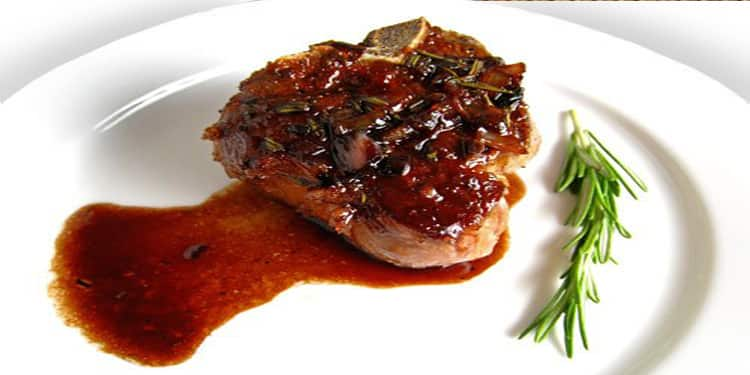 We will pan-sear the chicken breasts before we simmer it in a rich sauce that consists of tomatoes, bacon, white wine, and mushrooms. This chicken recipe is simple. Just try it and you will have a lot of fun while preparing it.
Ingredients
2 diced tomatoes
White wine (250ml)
Olive oil (4 tablespoons)
2 diced onions
Whole chicken that is cut into large or small pieces
Sliced mushroom (70g)
7 finely diced rashers streaky bacon
Finely diced dry or fresh parsley (1 tablespoon)
Salt to taste
Ground black pepper (1 tablespoon)
Finely diced dry or fresh basil (1/2 tablespoon)
Preparation
1. Place your frying pan on heat, add olive oil, and then add the chicken breast. Ensure that the chicken's skin turns golden brown and then remove it from the heat.
2. Now add the bacon on the same heating frying pan, sauté it over moderate heat for 3 minutes, and then remove it.
3. Next, add your mushrooms and diced onions. Let them cook until soft and translucent.
4. Return your brown chicken on the frying pan and sprinkle pepper, parsley, salt to taste, tomatoes, basil, and wine. Use a lid to cover the mixture to simmer for about 30 minutes. Keep in mind that you have to keep turning the brown chicken as it cooks.
5. Now, remove that delicious chicken from the pan, pour the sauce over it, and serve it with what you desire. You can serve with roasted potatoes or even pasta.
3. Chicken with pepper jack cheese and bacon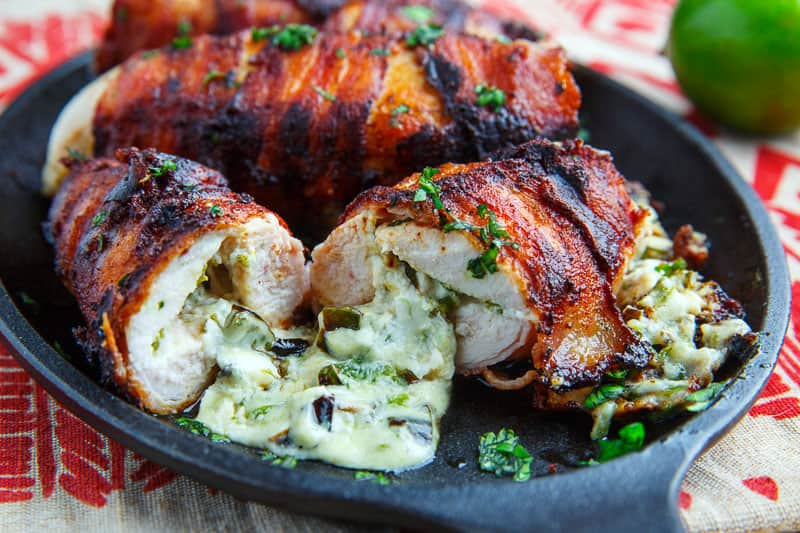 In this easy recipe, we will brown the chicken before we bake it, and then top it with pepper jack cheese, barbecue sauce, and bacon. Below are the ingredients together with the preparation steps.
Ingredients
Clove garlic (1/2)
Enough salt
Olive oil (1 tablespoon)
Finely diced and garnished fresh cilantro
Thick barbecue sauce (4 tablespoons)
All-purpose flour (4 tablespoons)
5 strips bacon
Butter (1 tablespoon)
5 chicken breasts (skinless and boneless)
Sliced pepper jack cheese (5)
Chilli powder
Black pepper
Preparation
1. Take the baking dish, grease it well, and set it aside. Now, heat your oven to around 190°C. What do you prefer, to bake/fry the bacon? Cook it in your preferred style until it becomes crispy.
2. Once the bacon is ready, refrigerate it for a day.
3. Now, clean the chicken breast and drain-off excess water. Cut the chicken into uniform thicken and wrap one by one in plastic sheets.
4. Place a skillet over moderate heat, and then melt butter with olive oil.
5. Next, add the garlic to the mixture and stir it well for about 20 seconds.
6. Once you remove the garlic, add the chicken, and let it cook for 8 minutes; ensure that you turn it while cooking until it turns golden brown.
7. Now, arrange the brown chicken breasts well in your greased baking dish, spread the barbecue sauce on the chicken, and top it with bacon slices that are topped with pepper jack cheese slices.
8. Bake it for 7 to 8 minutes keeping in mind that once the cheese melts, the meal is ready to be served.
4. Piri-piri chicken recipe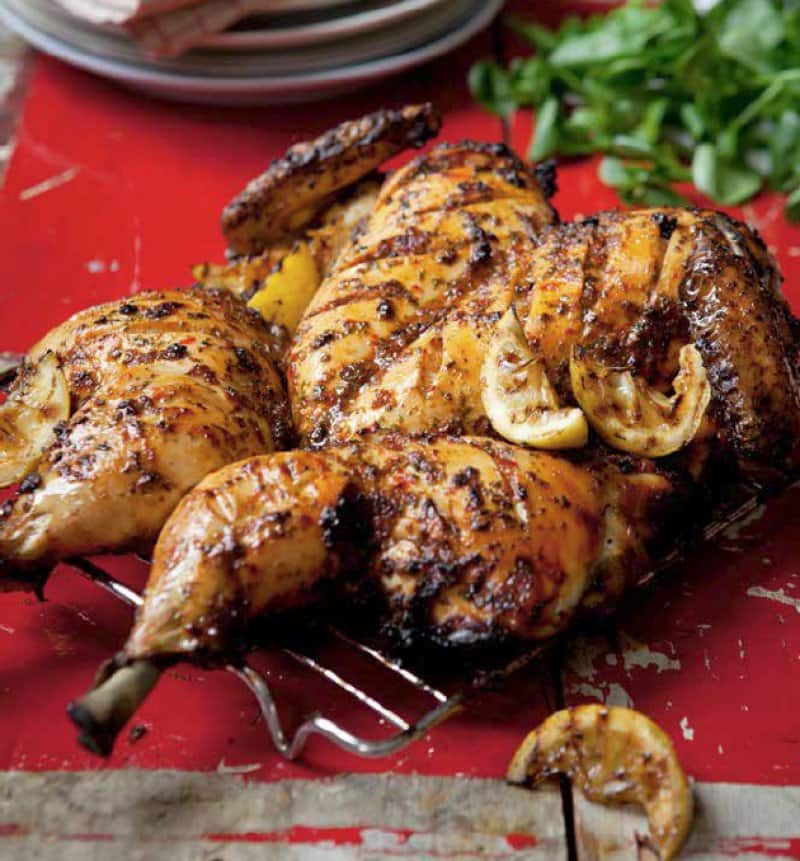 Here is one of the chicken dishes that comes out tender, spicy, and juicy for dinner. The ingredient list is normal and we believe that they are within your reach. Scroll down for the recipe.
Ingredients
1 roughly diced onion
Lemon juice (from 2 lemons)
Chicken breast (2 pounds – Skinless & boneless)
White vinegar (1 tablespoon)
Ground ginger (1/2 teaspoon)
Paprika (1 tablespoon)
Minced garlic (2 tablespoons)
Olive oil
Ground oregano (1 teaspoon)
Ground black pepper (1 teaspoon)
Salt to taste
Chilli powder to taste
Cayenne pepper to taste
Preparation
1. Take a bowl and whisk every ingredient together apart from the chicken. Ensure that your bowl is large.
2. Now, add the chicken to marinate it, cover the mixture with a plastic wrap, and then you refrigerate it for a day.
3. Preheat your oven once the 24 hours are over, and set it to 350°C. Next, heat the skillet and place the chicken to cook until golden brown.
4. Take a pan and pour the marinade on it. Spoon the chicken with it, and let it cook for about 20 minutes. Your tasty chicken meal is ready to be served. Enjoy!
5. Chicken pie recipe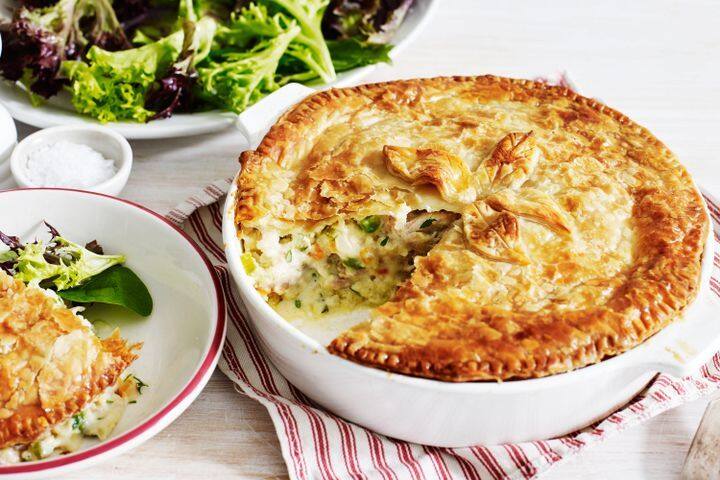 Chicken pie is one of the recipes for chicken that are easy even to a beginner. You do not have to be a proficient chef to prepare a tasty chicken pie. Below are the ingredients and the method to prepare it.
Ingredients
Water (15ml)
1 egg
Shredded chicken that is cooked (2°C)
Defrosted puff pastry roll
Drained Rhodes vegetables (mixed)
A can of creamy chicken soup
Flat and finely chopped leaf parsley
Preparation
1. Take a bowl, mix parsley, chicken, and the Rhodes vegetables.
2. To season the mixture, stir the creamy chicken soup in it.
3. Now, lightly unroll all the pastry and dice them into rectangle slices.
4. Whisk your egg together with water, and then use an egg wash to brush that surface.
5. On each pastry, spoon the chicken mixture, and then you fold the pastry in half.
6. As you can see, there are some open edges. Just press the edges together using a fork, and then you ensure that the pies are well-placed using baking paper.
7. Brush the pastry tops with egg and bake it in the oven, which must be preheated for about 30 minutes at 180°C.
8. Once the pies are golden and crispy, it is ready to be served.
6. Roasted chicken recipe - juicy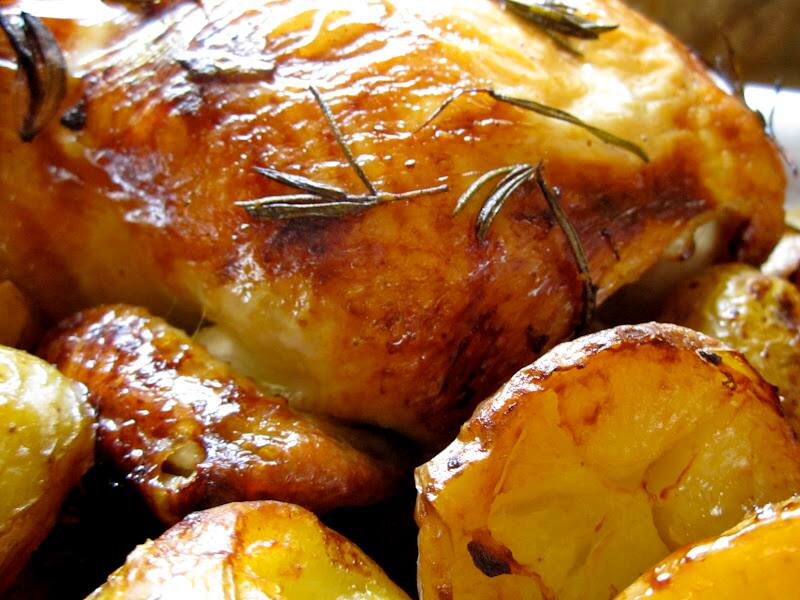 In need of a juicy chicken? Here we have one of the chicken recipes that will leave everyone eating in silence. It entails a simple trick that will work perfectly.
Ingredients
Divided margarine
Whole chicken (giblets removed)
Salt to taste
Black pepper
Onion powder (1 tablespoon)
2 stalk celery (leaves removed
Preparation
1. Preheat the oven to 175°C.
2. Take your roasting pan and place the chicken. Season it well with pepper and salt both outside and inside.
3. Take the onions and sprinkle the chicken on both sides. In the chicken cavity, place margarine.
4. Bake the chicken while uncovered for an hour. Remove it from heat; baste the drippings and melted margarine. Now cover it using an aluminum foil. After 30 minutes, the meal will be ready.
7. Butter bunny chow chicken, tomato, and yoghurt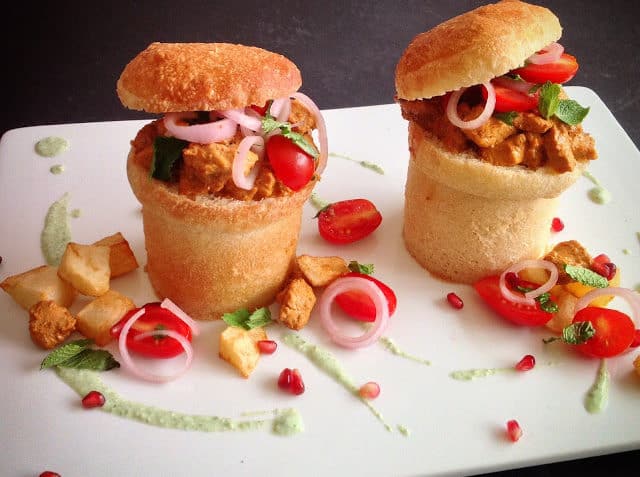 Bunny chow is street food that is favorite to many South Africans. It has one of the easiest chicken recipes and you should consider preparing it on your own. The approximate preparation time is 25 minutes while the cooking time is 30 minutes.
Ingredients
Olive oil (40ml)
800g of chicken breast that is well-diced into small pieces
2 garlic cloves that are crushed
Creamy yoghurt (120ml)
Grated ginger (50g)
10g turmeric
Powered chilli (20g)
Tomato paste (50g)
Garam masala (10g)
3 bay leaves
Ground cumin (10g)
2 well-chopped garlic cloves
Well-diced onion
Well-diced fresh coriander (20g)
Salt to taste
Well-cut tomatoes (3)
Curry leaves (2g)
Water (300ml)
Pepper to taste
250ml cream
40g honey
300ml yoghurt
1 large bread (roll per person)
Preparation
1. Take a bowl and mix chilli powder, yoghurt, chicken, coriander, and garlic cloves. All the chicken to marinate for about 2-3 hours.
2. Place a pot on heat, add onions, and sauté them until brown. Now, add ginger, and garlic until they soften.
3. Take another frying pan to dry-fry the garam masala, turmeric, and cumin. Next, add spices to your onion mixture and let them cook for about 2 minutes.
4. Add tomato paste on the cooking mixture and stir well. Now, add the curry leaves, bay leaves, water, and cream. Let them boil and simmer till they are thickened.
5. To season the tasty dish, stir in honey and add pepper & salt to taste. Now, you can allow your sauce to cool.
6. Put the marinated slices of chicken into the sauce. Let them cook and simmer until the chicken is tender.
7. Fill the bread rolls with the butter chicken. Now, top it with yoghurt, tomato, and coriander. You can serve it with napkins.
8. Chicken, smoked paprika, white beans, and bacon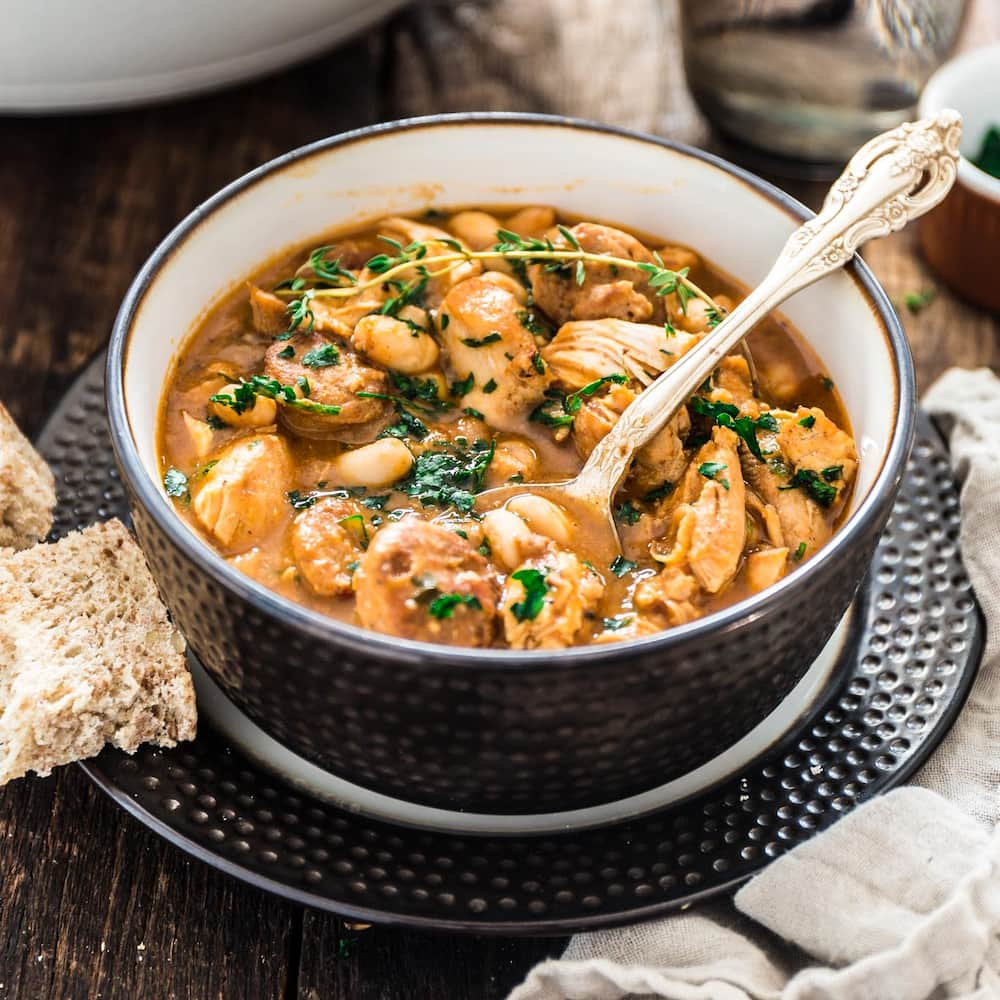 If you are reading this, it means that you want to have a lovely dinner. You can serve this tasty meal with mashed potatoes, couscous, or rice. Below is a recipe to serve 3-4 people.
Ingredients
Chicken thighs (2)
Olive oil (15ml)
Chicken breasts (2)
Drumsticks (3)
500ml of white wine
2T flour
1 well-diced onion
500ml of chicken stock
Crushed cloves (2)
1T softened butter
5 well-diced bacon rashers
3 diced tomatoes
Preparation
1. Take a large bowl and combine the marinade ingredients. Marinade the chicken slices for about 15 minutes.
2. Use a frying pan to heat oil; add garlic, onion, and bacon. Let them sauté for about 5 minutes, and then you put the frying pan aside.
3. Remove the mixture from the pan and then cook the chicken with the same frying pan until it turns golden brown on both sides. Now return the onion, bacon, and garlic mixture on the frying pan and then add the stock and white wine. Let the mixture simmer for about 60 minutes while covered partially.
4. Next, remove the chicken from the cooking mixture and keep it aside.
5. Take a mixing bowl; add butter and flour. Mix them well together until small balls form.
7. Now whisk the butter mixture into the liquid mixture, give it a boil, keep whisking the butter until the liquid mixture cooking lightens and thickens.
8. Return the chicken slices to the cooking liquid; add tomatoes and white beans. Let it simmer for about 4-5 minutes.
9. The dish is ready and you can serve it with rice, mashed potatoes, or couscous. Enjoy!
9. Lemon spring chicken skewers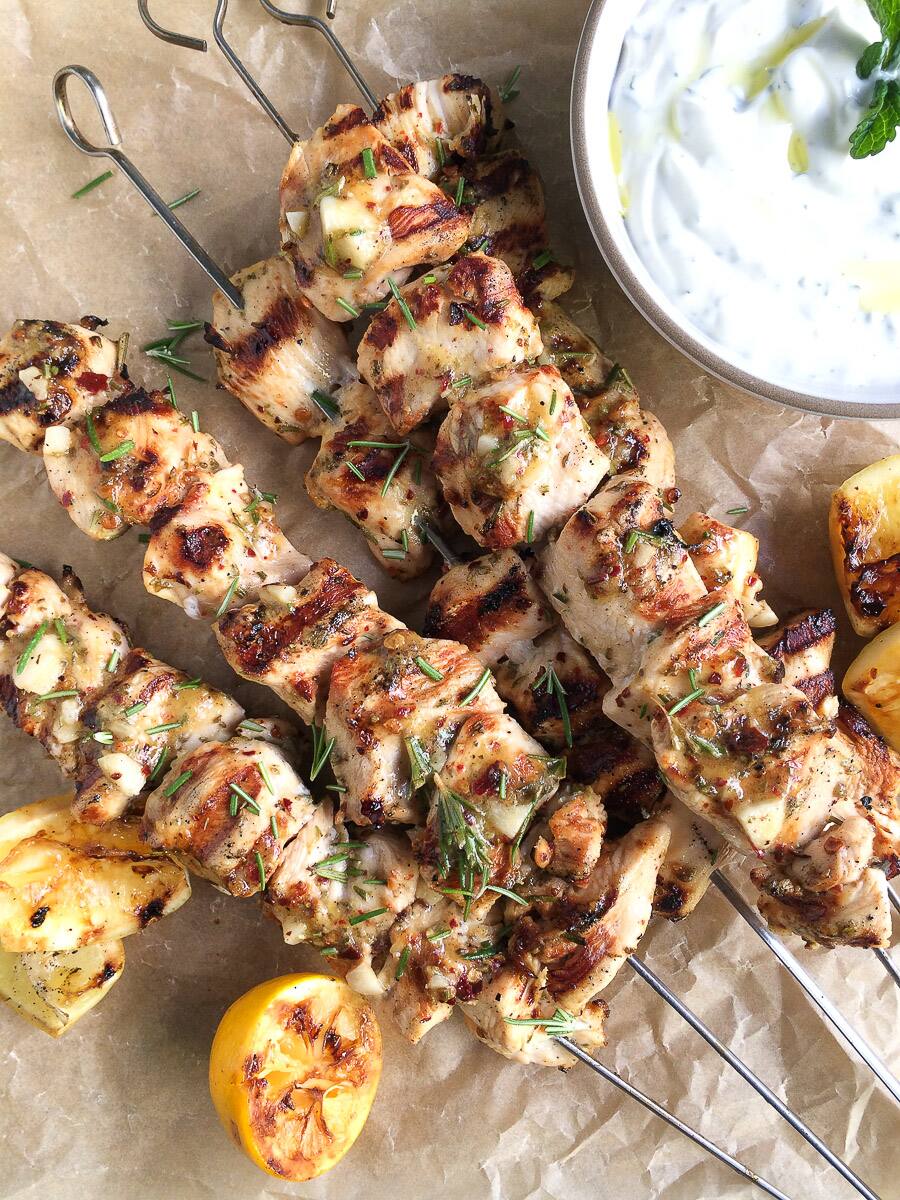 Are you in love with classy herbs? Try out chicken kebabs with tangy lemon and you will love your efforts.
Ingredients
5 chicken breasts
2 lemons
2 diced onions
Green grapes that are seedless (1 bunch)
Lemon zest (1 tablespoon)
Lemon juice (1 cup)
4 garlic cloves
Olive oil
Preparation
1. Use a blender to blend all the ingredients for marinade until they have combined properly.
2. Slice the chicken breasts well into small cubes, pour them in a bowl, and then pour the marinade mixture in it. Let the chicken slices to marinade for about 9 hours.
3. Now, thread the slices onto bamboo skewers that are soaked. Next, alternate with lemon, grapes, and red onion petals.
4. Cook the chicken on a moderate heat for about 9 minutes. Your tasty dish for dinner is ready to be served.
Which of the simple chicken recipes did you try? We believe that the article was helpful to everyone who is in love with healthy chicken meals. Trying different delicacies is fun and it saves money. Enjoy the chicken meals.
READ ALSO:
Banting chicken recipes
Banting soup recipes
Vegetable Banting recipes
Source: Briefly News