UNISA banking details: how do I pay UNISA fees?
The University of South Africa is a postmodern higher learning institution offering a variety of quality study programs. Besides fancy structural establishments and certified learning facilities, UNISA prides in its enriched academic culture both in research and technological advancement. As such, securing admission at this institution rarely happens, and when it does, it is strictly on a competitive basis. Whether you are a first-time applicant or an ongoing student, paying fees on time is fundamental for you to secure or keep your place. So, how do I pay UNISA fees? With the correct UNISA banking details, this should not be a problem.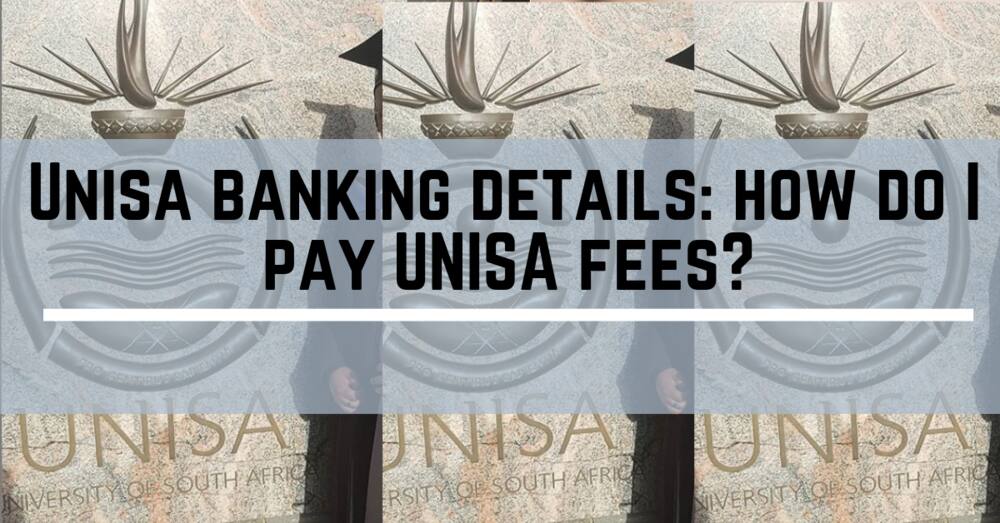 For convenience purposes, UNISA accepts a variety of payment methods. Provided also are payment channel details and refund options among other critical financial information. While we are on the modes of how to pay the fees, it is crucial to note that UNISA does not accept cheques and cash in any of its offices. For this reason, all due financial obligations including the UNISA application fee must be channeled through acceptable payment options as provided below. So, read further for a detailed guide and a list of UNISA banking details to help you pay fees easily.
UNISA payment methods explained
Ready to pay UNISA application fee 2019? This is the very first step to you joining the institution, and it is important to note that whether you are selected to study at UNISA or not, the application fee is non-refundable. Upon confirming your application status UNISA, you will proceed to make a payment for other fees. If you have not verified your admission status, proceed to the UNISA online application before initiating any payment. Here are the acceptable fee payment options as provided by UNISA management:
READ ALSO: List of UNISA courses 2019
1. Debit cards
Payments submitted through debit cards are acceptable under the condition that you register or pay at UNISA in Florida or Sunnyside or in any regional branch in person.
2. Credit cards
The University of South Africa only accepts MasterCard and Visa. Even so, one must register or pay in person at UNISA or any one of their regional offices. It is important to note that the transaction is real time.
3. UNISA credit card payments on the web
The institution has unveiled a secure online platform for processing different payments including fees and library fines in real time. Here is the web payment link.
4. Postal orders and money orders
Note that money and postal orders should all be payable at UNISA. The method is categorically accepted when sent to the university directly by post.
5. Telegraphic money order
Commonly referred to as TMO, this payment alternative is valid for fee payment as long as the student indicates his first name, surname, address, student number, if they know it, and why the payment is being made. The money order should be addressed to "Unisa" Unisarand for it to be delivered and paid by the Unisarand Post Office.
6. Bank deposits
This is the most common payment method among learners at the institution. The university collaborates with Standard Bank in South Africa to collect fees from learners. Here are important things to have in mind when using this option:
Payment guidelines
Ensure you have a student identification number. Successful candidates in UNISA application 2019 should refer to their admission letters for this unique number.
Specify the category of payment you intend to submit to the university — for instance, study fees, exam fees, library charges, or exemption fees.
Make sure to fill your deposit slip with accuracy. Provide your 8-digit student number, and if the student number has 7 digits only, you must start with 0 as the first digit of the student number. Leave one block and then provide the following codes accurately:
Study fee code number: "5400374721"
Library fee code number: "5400374225"
Matriculation exemption code: "5352X74608"
UNISA account number for application fee: "5370810030"
Access cards code number: "5400315164"
The deposit should be made to Unisa student deposits.
Provide the bank account number as 096R.
Validate the information you have provided in the deposit slip before depositing the fees.
Other than weekends, paid fees will be allocated within 2 days as long as all the details on the deposit slip are properly fed. Note that the bank will not process your fee payment should you provide any inaccurate details. This may amount to unnecessary delays, and the university will not be held liable for your mistake. Also, strictly note that the cheques guaranteed by the bank will be accepted for deposit, and in this case, you must indicate your student number behind the cheque.
University of South Africa banking details example
Here is an image that will give you a clear idea of how UNISA payment process is done at Standard Chartered bank.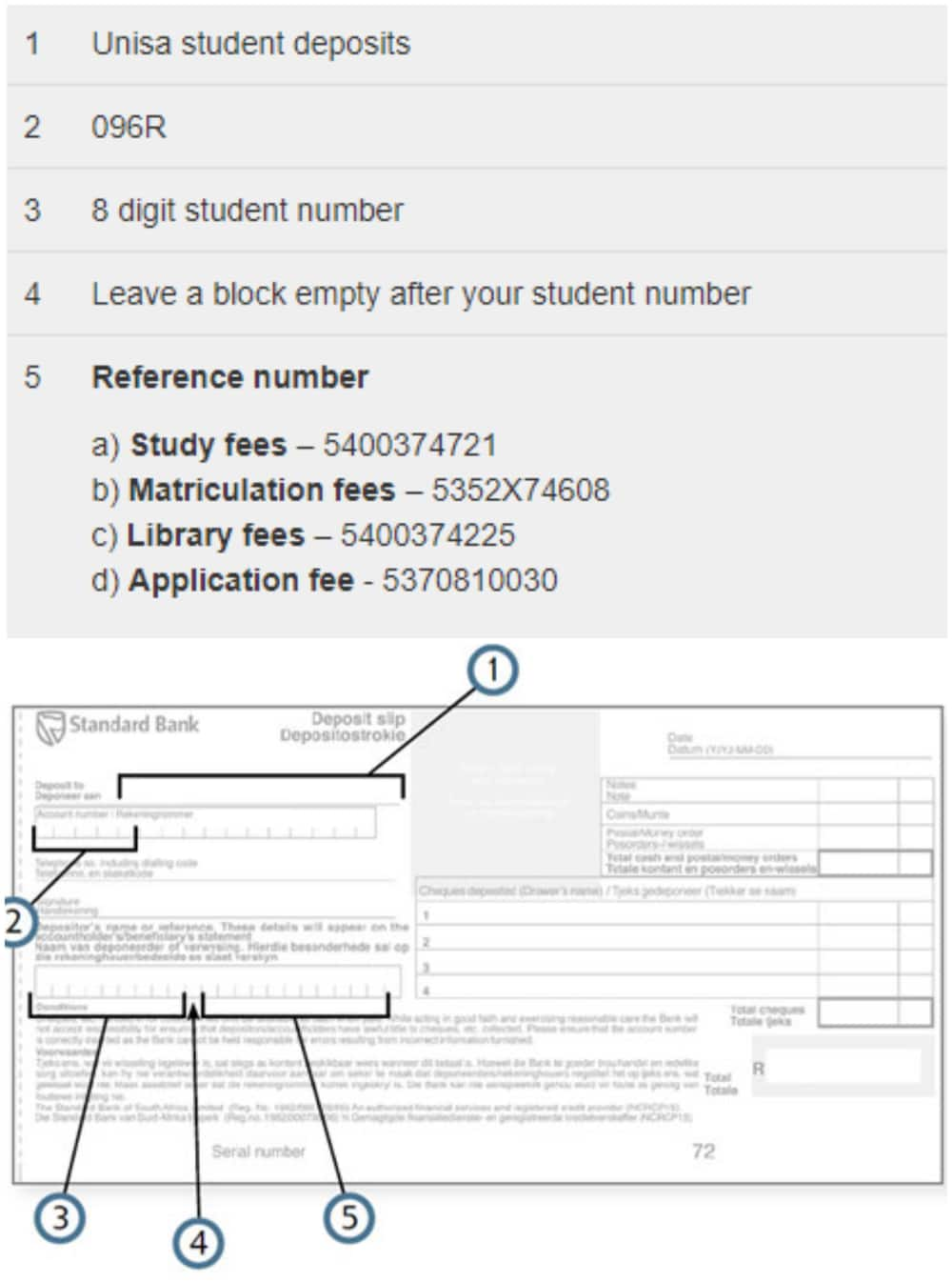 7. Electronic Funds Transfer
The University of South Africa stands out as a pre-approved beneficiary.
On the field labeled beneficiary, select UNISA. Note that EFT does not require you to provide bank branch details as with other methods.
Validate the reference field for accuracy.
Now, provide the student number as instructed above (i.e. must be 8 digits and leave a block blank before the code number) and payment codes, which are the same as listed above for different fee payments.
8. Payment by sponsors, donors, employers, and bulk payments
The University of South Africa accepts bulk payments and fees paid by the above parties; however, the student should make sure that payments are submitted using accurate details and acceptable methods by the university. The student should also ensure that a fully filled advice form of the payment is submitted during the institution's approved period of registration. Here is an image of how this form looks like.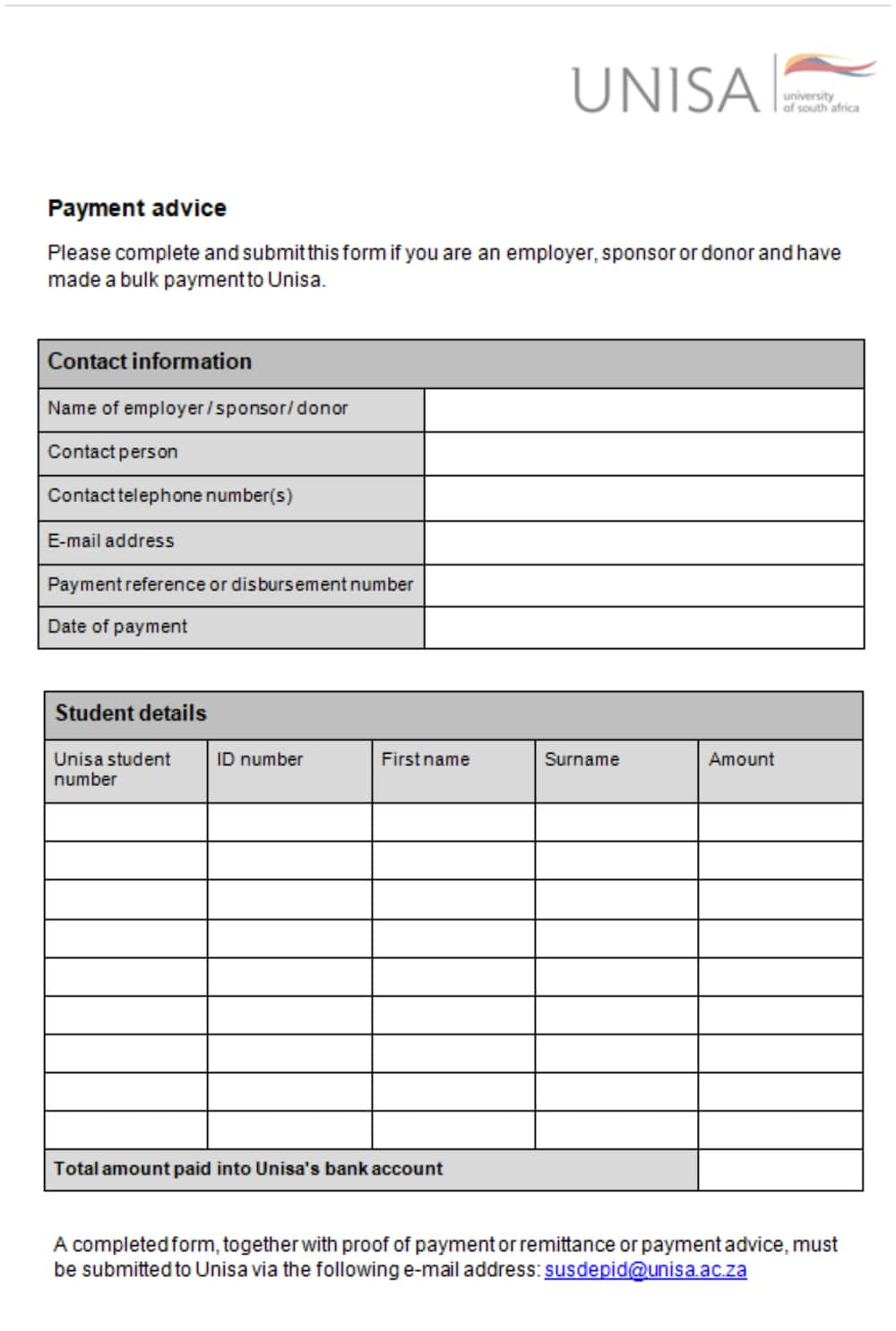 The university prints a copy of the received payments to inform learners about the received payment. Payment breakdown and remittance are equally submitted to the institution by the sender. The following details are necessary for fee payments.
Account name: University of South Africa (income)
Account number: 01 155 462 2
Branch: Sunnyside
Code: 01 0645
Business current account
9. International students
The bank account details provided under this category are strictly reserved for international learners at the institution. The university highly recommends credit payment through the university portal that is accessible through this link. UNISA regularly updates its portal, thereby assuring security to its learners who pay their fees through the system. Students from outside the country can as well clear their payments through SWIFT/EFT transfers using the account details provided below.
Payment procedure
Ensure you have a student number
Specify the type of fee you want to pay including study fees and examination fees among other charges.
Use the following baking details to complete your payment:
Bank: Standard Bank
Beneficiary: UNISA student deposits
Account number: 011554622
Swift code: SBZAZAJJ
Branch code: 010645
Provide the following codes;
Study fee code number: "5400374721"
Library fee code number: "5400374225"
Matriculation exemption code: "5352X74608"
Application fee code number: "5370810030"
It is important to note that credit card payments take place in real-time. So, where do I send proof of payment to UNISA? Always submit proof of the just-completed transaction to the varsity link: SUSDEPID@unisa.ac.za.
Refunds
The University of South Africa expects learners to request refunds through writings. International students, as well as local students, must access and download the refund form through the respective links provided. After filling the form, submit it to the email: finan@unisa.ac.za. According to UNISA policy, all refunds will be processed within 15 working days from the day of submission. On a light note, The University of South Africa does not refund credits below R100. While miscellaneous payments are not refundable, learners must attach payment proof(s) for all defaulted amounts.
The University of South Africa holds the right of forfeiting its services from learners who have failed to clear their due fees. All the receipts and account statements are distinctly accessible by the registered students. Such remains a sole responsibility of a learner to submit such documents to their employers and sponsors alongside critical account information necessary in the sending and processing of fees.
READ ALSO: UNISA application 2018
A validation of UNISA banking details is important before authorizing any transactions. By confirming that the details are accurate, you will save yourself from inconveniences relating to delayed and canceled transactions. With this detailed guide on how to pay UNISA fees, you will never have any issues with the finance department at the institution. All the best in your studies at this great institution of higher learning.
DISCLAIMER: This article is intended for general informational purposes only and does not address individual circumstances. If a reader clicks on our advertising partner links within our platform, we may receive a referral fee. Our team will never mention an item as the best overall product unless they believe it is the best option. Compensation does not direct our research or editorial content and in most cases does not impact how our listing articles are written. It is not a substitute for professional advice or help and should not be relied on to make decisions of any kind.
READ ALSO:
Inspiring Nelson Mandela quotes on education, leadership and life
Duduzane Zuma qualifications and education background
7 powerful Steve Biko quotes on oppression, apartheid, education and freedom
School holidays 2018 South Africa
Bonang Matheba book review - is it worth reading?
Source: Briefly News