Gugu Gumede biography: age, mother, MaMlambo Uzalo real name, Instagram, pictures
Gugu Gumede may be well-known because of her mother, a freedom fighter and prominent politician in South Africa, but there is more to the beautiful young lady. She is passionate about acting and her love for God, family and the church, something that many people may not be aware of.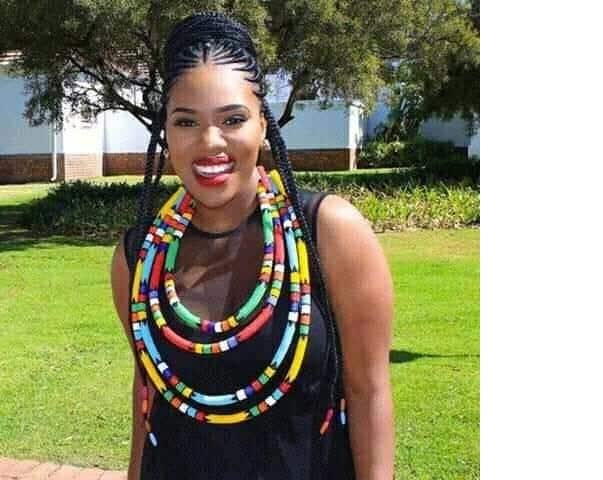 Get to know who the young woman truly is by understanding her acting career. The character she plays is the total opposite of who she truly is. She may have some similarities with the character in the sense that she loves God too in real life and may sometimes get loud in circles and environments she is comfortable in, but that is far as the similarities go.
Gugu Gumede biography
The biggest question would be when was Gugu Gumede born? This gives out her current age, which is something that most fans love to keep up with especially when it comes to their favourite celebrity. Gugu was born in 1992 which means that she is currently 27 years old. Her birthplace is Kwazulu Natal, and she was born to prominent parents, her dad being the late Simon Hulumeni Gumede and her mama is the celebrated freedom fighter, Zanele kaMagwaza-Msibi.
Gugu's family
As earlier mentioned, Gugu was born to prominent parents. She was, however, raised in a single parent home, with her mother, but her parents had a respectable relationship with each other. Gugu Gumede father passed on in 2017 in a car accident. At the time of his life, he served as a member of the KZN legislature and was a member of IFP. Gugu acknowledges that she is her mother's daughter. She can be very stubborn and could not take nonsense from anyone, just like her mother. Her family, she says is an overly loving one but also extremely sensitive.
READ ALSO: Treat yo self: Gugu Gumede just bought herself a brand new BMW
What about her career in acting?
It was not easy to convince her mother of her acting, just as many parents struggle with such a decision. She however had and always has the support of her mother, the deputy minister Zanele Magwaza-Msibihow, who always wanted her to get into law.
Gugu started by studying acting and drama in American Academy of Dramatic Arts in Los Angeles, where she had planned to live all her life. Upon coming back to South Africa in 2013, she landed a role in Generations where she starred as Mandisa. However, she is best known for her role in the popular show Uzalo, which is the most watched telenovela in South Africa currently.
What is her role in Uzalo?
Gugu acts as Mamlambo in the show. One may wonder, what is Mamlambo in English? This refers to a South African deity according to the Zulu mythology, who is the goddess of rivers and is often described to look like a snake-like creature. In the play, Gugu acts as the opinionated, loud-mouthed, bold, gossip and the man stealing type while Gugu is extremely private and only gets comfortable in familiar territories.
The only thing that her character and real self seem to share in common is the love for church and God. What surprises most people though is the fact that Gugu is totally different from the middle-aged woman she plays in the popular SABC 1 show. Most of the viewers thought she was in her mid ages only to find out that she was actually young and in her 20s.
For those that have been asking who is Mamlambo from Uzalo real name? Then you can rest easy knowing that Gugu plays her role very well. The difference between their two personalities makes it easy for her to move around in public without attracting unnecessary attention to herself, something she actually enjoys.
Her advice to upcoming actors
Even with Gugu Gumede mother being one of the most prominent and notable personalities in the country, Gugu has been one to maintain humility. She advises upcoming actors to keep on being humble as this goes a long way in preparing them for the fame that is to come. She admits that the industry changes people, and if one is not careful, they will be changed completely. Humility will help keep you in check.
What does the future hold for her in terms of acting?
The laid back actress says that there is more under wraps and that her fans should be eager to see her in different characters soon. While she was reluctant to divulge more information, the passionate actress is sure going to make you fall in love with her even more. You can be sure that she will be flaring up the South African acting industry with her charming self in different roles. All we can do is wait and see.
Gugu's pictures
We can all agree that she is a beauty to behold. Her Instagram pictures are a great representation of the uninformative beauty she truly is. You will be surprised too that she is not the middle-aged, non-makeup wearing actress from your popular show on TV. Here are a few pics that show how stunning the actress is.
Authentically African.
Simple and cute.
Gugu Gumede is a sweet, private and passionate actress that loves God and church. Her spiritual father is pastor Alph Lukaku. Apart from her dedication to church and acting, her heart also beats for family. This humble actress has more to offer and will definitely keep you looking out for her new works.
READ ALSO:
List of South African actors in Hollywood
List of famous South African actors and actresses
Uzalo teasers March 2019
Source: Briefly News