Khanyi Mbau biography: age, siblings, daughter, brother, dresses, cars, house and net worth
She is sassy and gorgeous and with natural looks to match the sass! Khanyi Mbau has been gracing the local television scene for a while, and she has never disappointed. The gifted actress and show host is always honest on-screen as she is away from the media. In addition to being a career woman, she is also a mother who is raising a young and equally beautiful daughter. Here is all you need to know about her.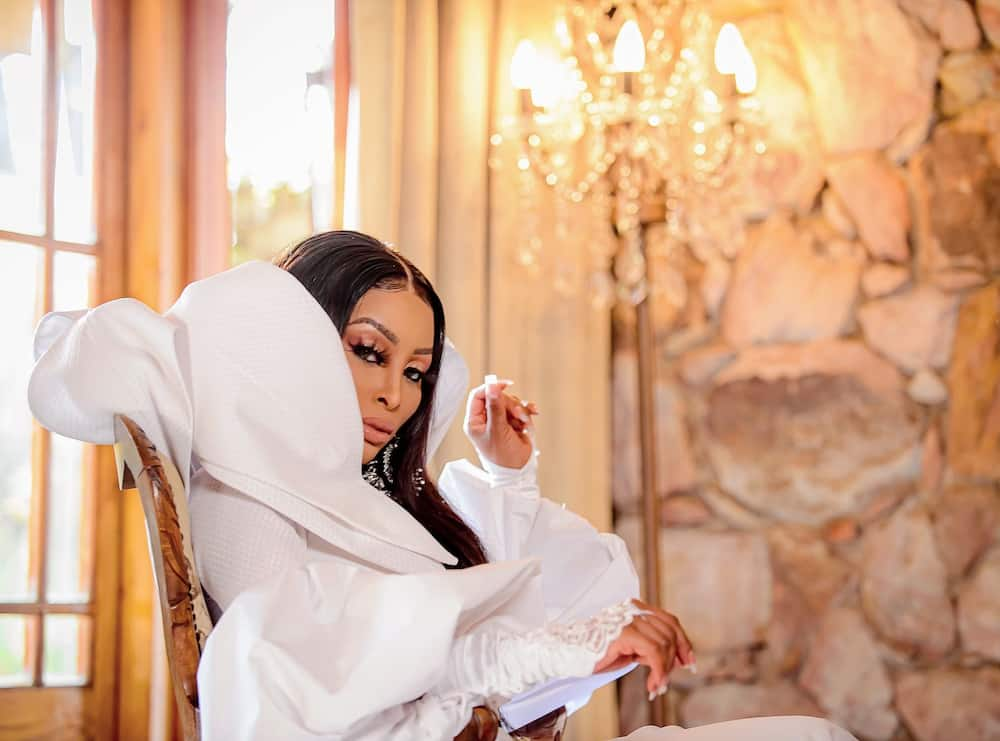 She is an actress, artist and television host who was raised in Mofolo village, Soweto by her mother and grandmother who she credits her success in the entertainment industry. She has a younger half-sibling, Lasizwe Dambuza, who is also an entertainer in the capacity of an actor, radio and T.V. personality.
Khanyi Mbau profile
Full name: Khanyisile Mbau
Date of birth: October 15, 1985
Place of birth: Johannesburg, South Africa
Khanyi Mbau age: 35 years old in 2020
Nationality: South African
Profession: Actress, television host, and artist
Khanyi Mbau Instagram: @mbaureloaded
Early childhood and education
Khanyi Mbau was born on the 15th of October, 1985 in the Florence Nightingale Hospital in Johannesburg and given the official name Khanyisile Mbau. Currently, Khanyi Mbau age is 34 years old and will be 35 in a few days.
READ ALSO: Angela Sithole bio: age, partner, parents, TV shows, best pictures, profile
Khanyi's mother Lynette Sisi Mbau, a finance officer responsible for the pension fund at the Barclays bank, birthed the actress while she was unmarried. While Menzi Mcunu, her dad, had no claim over his child, he was given a chance to provide her with the first name. Khanyisile means the bringer of light. As a young career woman, circumstances forced Lynette to leave her baby Khanyi under the care of the grandmother who raised her. According to Khanyi, her grandparents were modern and open-minded compared to other adults in Soweto. Her grandfather, Mr Babes Mbau, played the saxophone and taught her to appreciate art.
Khanyi fondly calls her grandmother The Queen of England because she was ardent to detail and ran her house with dignity. She often flogged Khanyi whenever she broke the rules. Under her grandmother's care, she acquired a good education from an all-white school. She wore a blazer to school and had her hair relaxed. Back in the village, the other children would bully her because she was different from them.
Khanyi Mbau career
Khanyi grew up loving arts, so she joined the South African entertainment industry. She gained fame in 2004 after she was cast as the replacement of Lindiwe Chibi for the character Doobsie in Muvhango from 2004. The former actress left the show after she was shot by her boyfriend. Khanyi played the role until the following year when she was fired because her partying was interfering with work. She did not give up because she was later, in 2006, cast in the second season of Mzansi as Mbali on SABC 1. She also featured in the mini-series After Nine on SABC 1 as well. She played the character Zee on the mini-series After 9 on the same channel in 2007.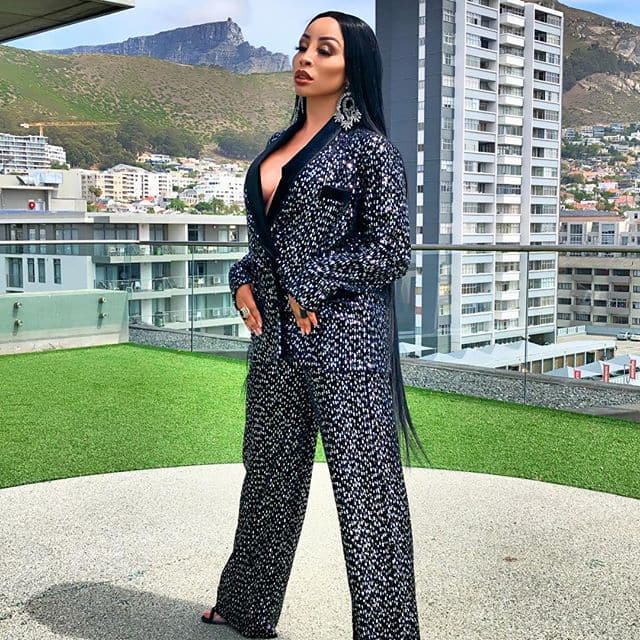 In 2012, she was a guest judge in the second season of Turn it Out on SABC 1. In 2013, she featured in one episode of Ekasi: Our Stories, a drama series on E.tv. She was later featured in the documentary I Am by DStv Vuzu and acted as Sindisiwe Sibeko in the mini-series Like Father Like Son on Mzansi Magic. August 2012 was monumental for her as she released her biography, Bitch, Please! I'm Khanyi Mbau, which was authored by media personality Lesley Mofokeng.
2013 was also a big year for her because she was part of E.tv's docu-reality series Reality Check. She also debuted her talk show. Katch It With Khanyi, on eKasi+. Her talk show earned renewal for its second season in late 2014 after gunning an extensive viewership of over 785,000 in the first term. By November 2014, the show had over 1.6 million viewers and was nominated for the South African Film and Television Awards in 2015.
READ ALSO: TNS bio: age, partner, begging for his life, songs, albums, car, house, profile, net worth
The extroverted Khanyi was a contestant in the 7th edition of Strictly Come Dancing, but she and partner Quintus Jasen were eliminated after seven weeks due to inadequate votes from the public. In mid-2015, Khanyi won MTV Africa's lip sync battle. The same year, she played pinky, a supporting role, on E.tv's Ashes to Ashes. In 2018, she began hosting BET Africa's show The Big Secret and played Tshindi in Abomama on Mzansi Magic. The actress has also played Palesa Simelane in Umlilo, hosted The Weekend Show and The Scoop alongside Phat Joe on SABC 3 and features as Dinekile on SABC 1's Uzalo.
Besides being on TV, Khanyi has also appeared in movies. The first was Happiness is a Four-letter Word that premiered in February 2016. In the feature film, she played Bheki's wife, Zaza, who owns a shoe store. Due to her excellent performance in the movie, she was listed among the top 10 actresses in the Johannesburg Film Festival. Her second film was 2018's The Red Room. She also featured in Frank and Fearless that was produced by Leon Schuster.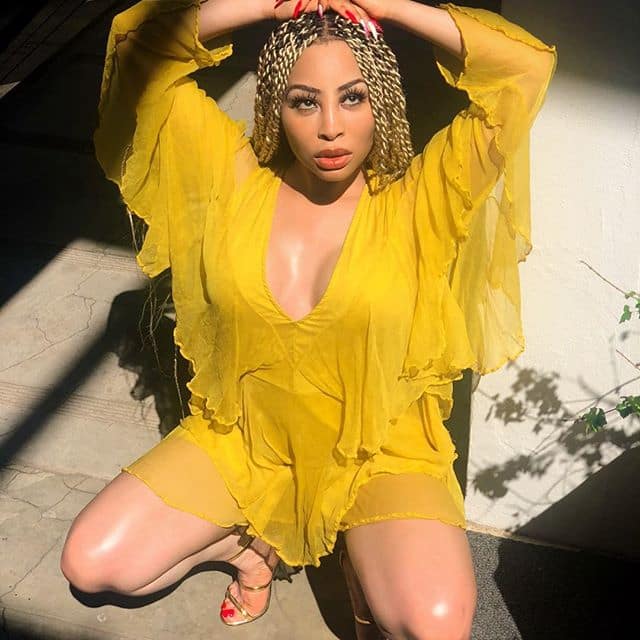 Khanyi was also a radio show host on Metro FM for one year. She landed the show alongside Ntombi Ngcobo and Somixi Mhlongo in July 2016. The enterprising Khanyi is also a business person. In late 2018, she launched I am Khanyi, a brand of Gin. This Millenial Shimmer Gin is packaged in a pink bottle that has some writing in gold. The liquor began selling countrywide in December 2018.
READ ALSO: Fulu Mugovhani bio: Age, husband, education, profile, awards, net worth
Love life
In 2005, Khanyi met and got in a relationship with the millionaire Mandla Mthembu who was formerly a journalist. The pair married in 2006 but got divorced only nine months later. Mthembu, who is much older, claimed that she was merely after his money. This union made Khanyi a mother. Khanyi Mbau's daughter, Khanukani Mbau, is being groomed by her mother to be a queen. Khanyi Mbau and Tebogo Lerole were dating for 10 years but went their separate ways in July 2020.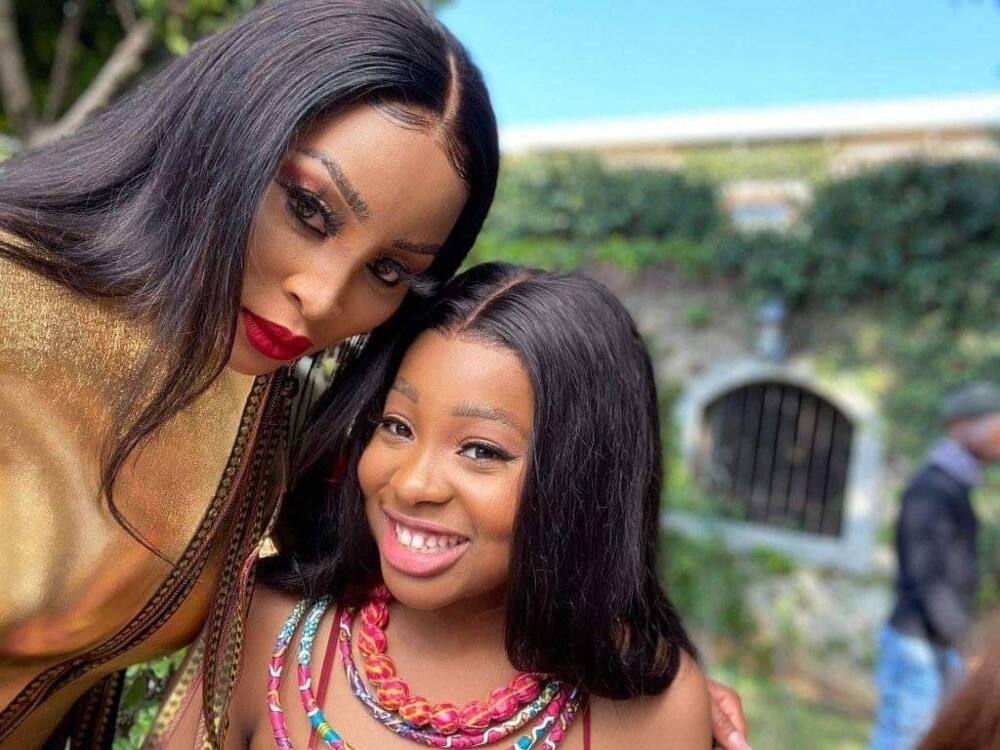 Khanyi Mbau net worth and lifestyle
Khanyi's net worth is estimated to be $10 million. Her fortune is the result of hard work and dedication as an actress, businesswoman, and show host. One of her most prized assets is her house. Khanyi Mbau house is a big mansion that she shies from posting on social media. Although the public does not know its worth or the interior finishing, the house is fit for the queen she is. She is also a girl who loves vehicles and got her first luxury car at 18. Khanyi Mbau cars are luxury models including a navy blue Porsche whose worth is approximately R800,000.
Khanyi Mbau before and after photos are not similar in colour. A close look at Khanyi Mbau before photos shows that her complexion was much darker. She admits to skin lightening and aspires to look like a doll. After the skin lightening procedures, Khanyi Mbau new look has notable doll-like features that she loves. In 2017, there were speculations that Khanyi Mbau cancer sickness was due to skin bleaching. She is yet to confirm whether or not she suffers from this chronic condition.
Controversies
Khanyi is no stranger to controversies. She possibly enjoys the publicity that comes with it. Khanyisile Mbau Kuku rumours were in the media recently following an almost nude picture that she posted on social media. She thanked her body. It is indisputable that she has a gorgeous body, but some fans felt that she was running mad. It was later established that she was part of a campaign, alongside other influential personalities, that entailed body appreciation.
Khanyi Mbau Instagram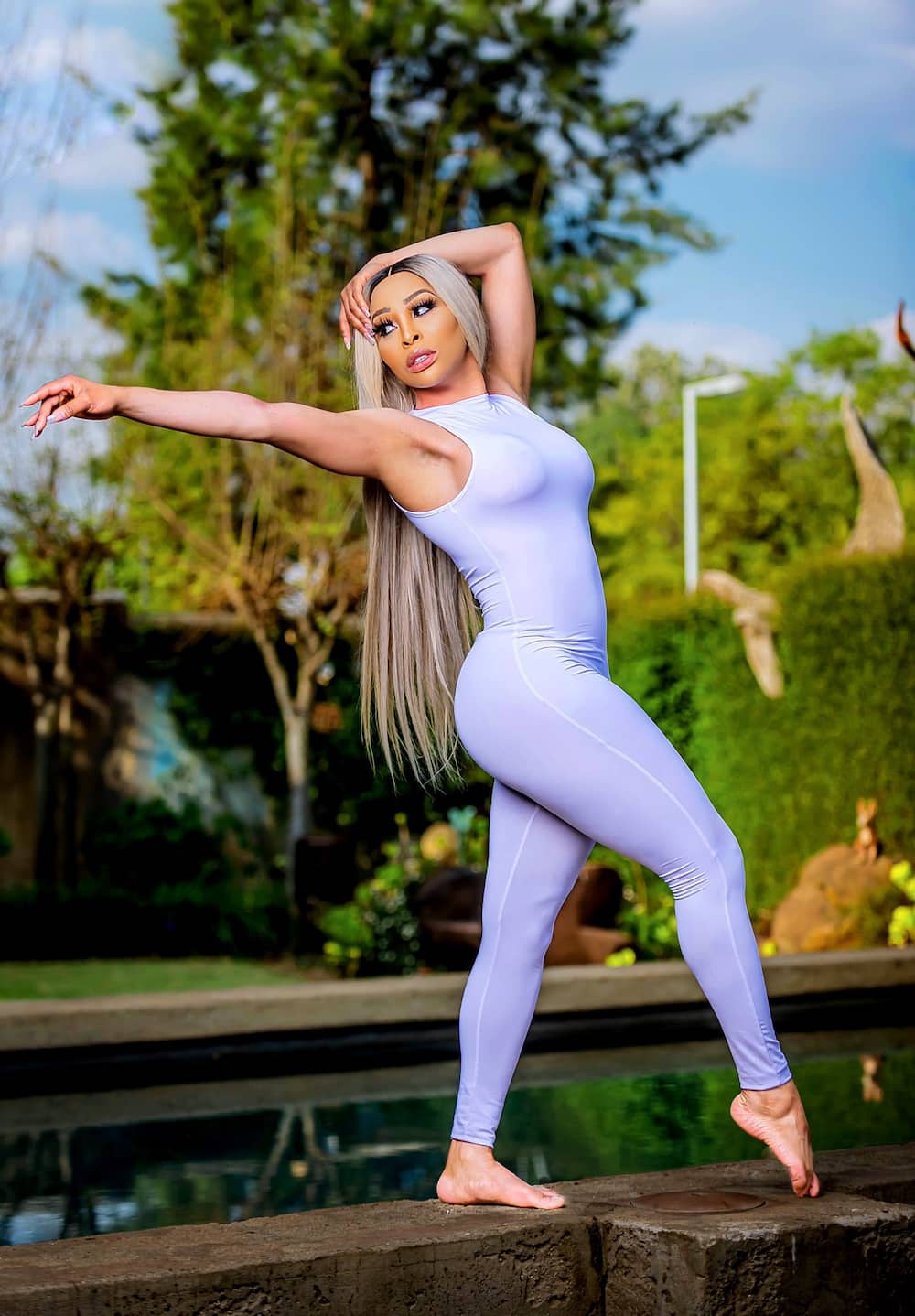 Khanyi is an avid user of Instagram. Her official page, @mbaureloaded, has about 1.4 million followers. Her influence on this platform earned her nomination for Best Instagram Account in November 2015's Channel24 Online Awards. Her dresses are always perfect.
Khanyi Mbau is a South African actress who is known globally. The mother of one is outgoing, ambitious and flashy. She is a wonderful media personality who is not afraid to showcase her inner self. Much about her has been published, but she continues to scale the heights of her career. We cannot wait for her plans for the future to unfold.
READ ALSO:
Thuso Mbedu: 10 facts you have to know
Net worth, mansion and cars: A look at Connie Ferguson's lavish lifestyle
Source: Briefly.co.za