What is an aegrotat exam? UNISA aegrotat is a special examination offered to a student who did not sit for the main exam during its original date due to illness. This is meant to give the student an opportunity to do special examination on the study unit at a later date. Note that if you did an examination and did not hit the pass mark, you should apply for the supplementary examinations and not the aegrotat.

In simple English, aegrotat refers to a certificate which states that a student at the university is extremely sick to sit for an examination. In order to apply for the aegrotat UNISA or special examinations, the University of South Africa requires a student to meet the terms or conditions of Rule 18 in the UNISA student rules. The application must be accompanied by evidence that justifies the stated reason for missing the examination.
READ ALSO: UNISA application form explained step-by-step 2019
UNISA aegrotat exam application process
It is important to note that an aegrotat exam will only be issued if a student missed an exam because of sickness on the day or during the examination period. It is mandatory for the student to provide a medical certificate issued by a certified medical practitioner who is registered with South Africa Medical and Dental Council.
This certificate should state the nature, start date, as well as how long the illness lasted. It should declare that for the specified health reasons, it was undesirable or impossible for the university student to do the exam(s). The dates on the issued medical certificate must correspond with the dates that the student was to sit for the exams, and the student's number has to appear in all documents.
Procedure to be followed
How do I apply for Aegrotat exam at Unisa? If you meet the above rules then you may proceed to apply for the aegrotat or UNISA special exam by following the steps below
First, you have to complete the required form or write a letter indicating your student number and study unit(s) you want to do.
Attach the medical certificate or any other document that can act as evidence to justify your reason for missing the examination.
The required exam fee must be attached to the applications. All applications are to be submitted within 10 days of the date which the examination occurred and sent to:
1.
The Registrar (Academic)
PO Box 392,
UNISA 0003,
2.
Alternatively, you can send the application via an electronic form.
3.
Lastly, you can submit your application for the exams via UNISA aegrotat email using the address; aegrotats@unisa.ac.za. Note that your student number must be indicated on the subject heading of the email.
Note that late and incomplete applications will be rejected. Also, the exam fees for aegrotats and special exams are not refundable or transferable.
UNISA aegrotat exam form
Here is a sample of how the aegrotat and special exam form looks like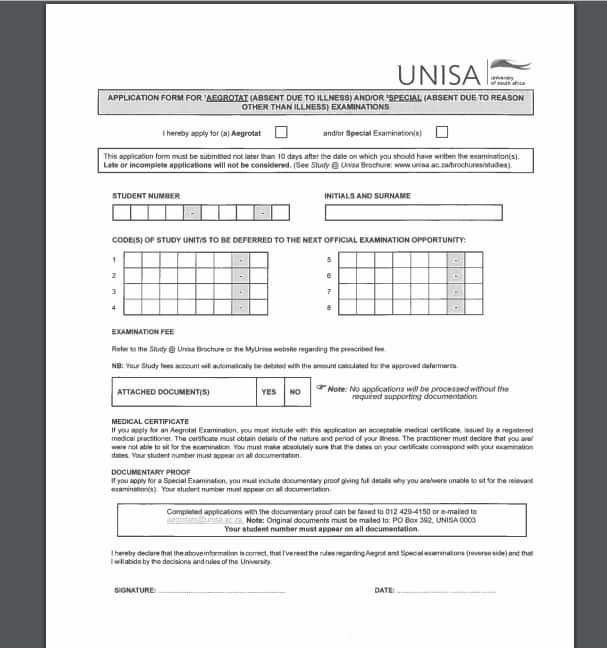 Next: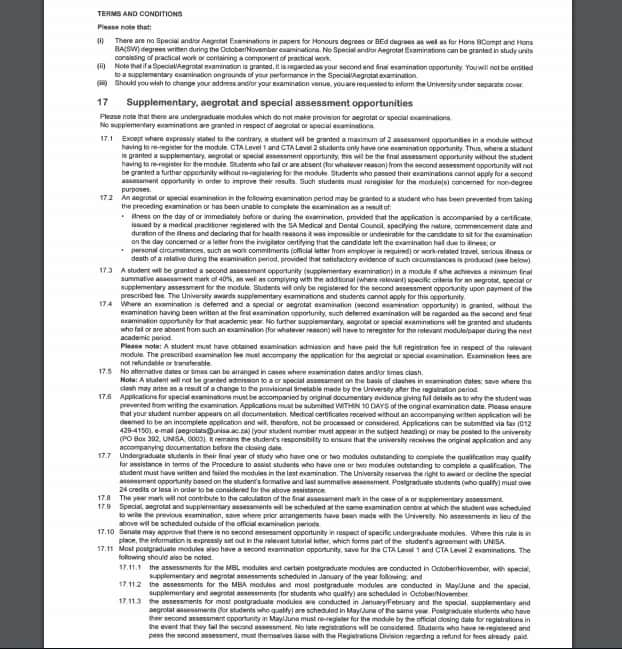 You can download the UNISA aegrotat form on the university's website.
UNISA aegrotat examination fees
Note that you will need to pay R240 as UNISA aegrotat fees. The same amount is payable for special examination, supplementary examination, and for remarking of examination script.
UNISA special exams
One qualifies for the special exams in cases where personal circumstances, including work commitments or serious illness or death of a relative, could not allow them to sit for the main exams. To sit for UNISA special exams, proper evidence will be required during application, for example letter from employer.
Examinations for the physically handicapped and UNISA supplementary exams
If a student is physically challenged, they must apply in writing annually before 28th February for the May/ June exams and before 31st July for October/ November or January/ February exams to secure a special venue. The student must also submit a medical certificate indicating the nature of his/ her handicap.
If interested in UNISA supplementary exam application, it is important to note the following:
There are no supplementary exams for practical modules.
If a student gets a minimum of 40% in an assessment, they be granted supplementary examinations. This is offered and cannot be applied. If you are to sit for a supplementary exam it is indicated on your results.
If you are granted an aegrotat or supplement examination after deferring an examination then that is counted as your final chance.
Note that in cases where a module features paper 1 and paper 2, both papers will be deferred since you cannot defer one paper at a time. Also, note that a student is given only up to two assessment opportunities per module, after which the student will have to re-register for the module.
UNISA readmission

Interested in being readmitted to UNISA in 2020? Here is what you need to know:
For the first year, the student must pass least 36 credits per year (over 2 consecutive semesters.) with the exception of students on the extended programme who must pass at least 24 credits per year.
From the 2nd year onwards, the student must pass at least 48 credits per year (Over 2 consecutive semesters).
Note that your readmission request may be declined if you do not satisfy the conditions set by the institution.
READ ALSO: List of UNISA courses 2019
If you have missed an examination due to illness or unavoidable personal circumstances, then you better prepare the necessary documents needed to apply for special or aegrotat exam UNISA. With the comprehensive details above on UNISA aegrotat exam, you should have no problem applying as long as you meet the specified terms and conditions. Be thankful that the university has offered you a second chance, so do not waste it. All the best!
READ ALSO: