Eliud Kipchoge bio; age, weight, height, family, quotes, training, INEOS, medals, and net worth
The name of Eliud Kipchoge has been the talk of every town since he shattered his own marathon world record of 2:1:39 to make it 1:59:40 at the INEOS challenge. He is the first human being to break the 2 hr barrier. Before INEOS, do you remember the record that he broke in Berlin? Well, to date, Kipchoge's Berlin world record has been considered as the fastest time ever recorded in all the major marathons.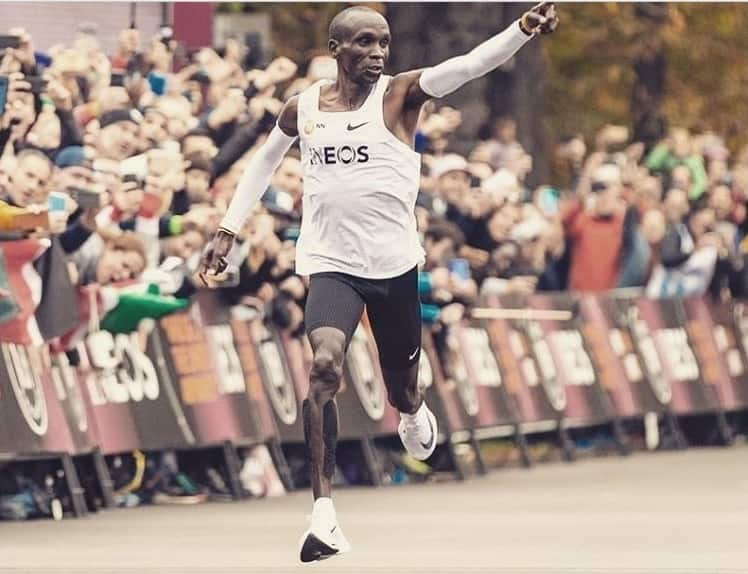 Until October 12, 2019, most athletes found it difficult to believe that anyone could run a 42 km marathon under 2hours. This includes the legendary Paul Tergat, who was widely quoted for saying that no human being could break the 2hour in our generation. Paul had tried and found it extremely difficult to accomplish this. But, hardly ten years later, Eliud has proved that indeed no man is limited, and anyone can achieve their goals no matter how impossible they seem as long as remain focused and keep trying.
Age
The great Eliud was born on November 5, 1984, in Nandi district, Nandi County, at a place called Kapsisiywa. He will turn 35 years on November 5 this year.
Height and Eliud Kipchoge weight
Height 1.67 m (5 ft 6 in)[1]
Weight 57 kg
Family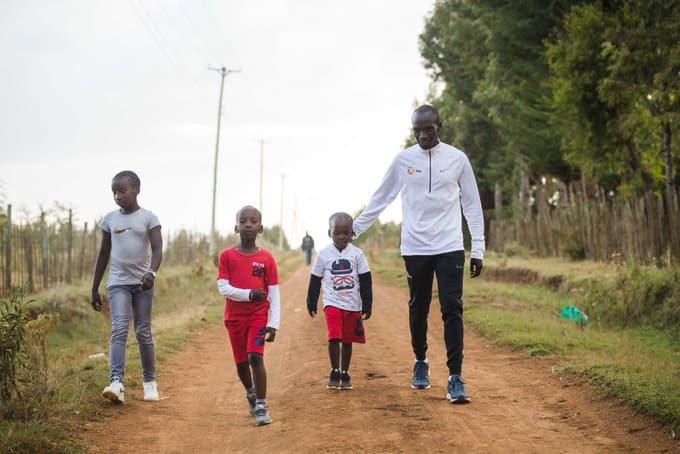 A single mother called Janet Rotich raised Eliud. This is because his father died while he was still young, and he only came to know him from the pictures. He has three siblings, of which he is the youngest. He is married to Grace Sugut, and together they have three lovely children (Lynne, 12 years, Griffin, 8 years, and Gordon, 5years)
His wife is his fan number one, and she is always very supportive. In fact, Grace attends all his major competitions to ensure that he gets all the moral support that he needs. Their family house is in Eldoret, Kenya.
Eliud Kipchoge training and Coach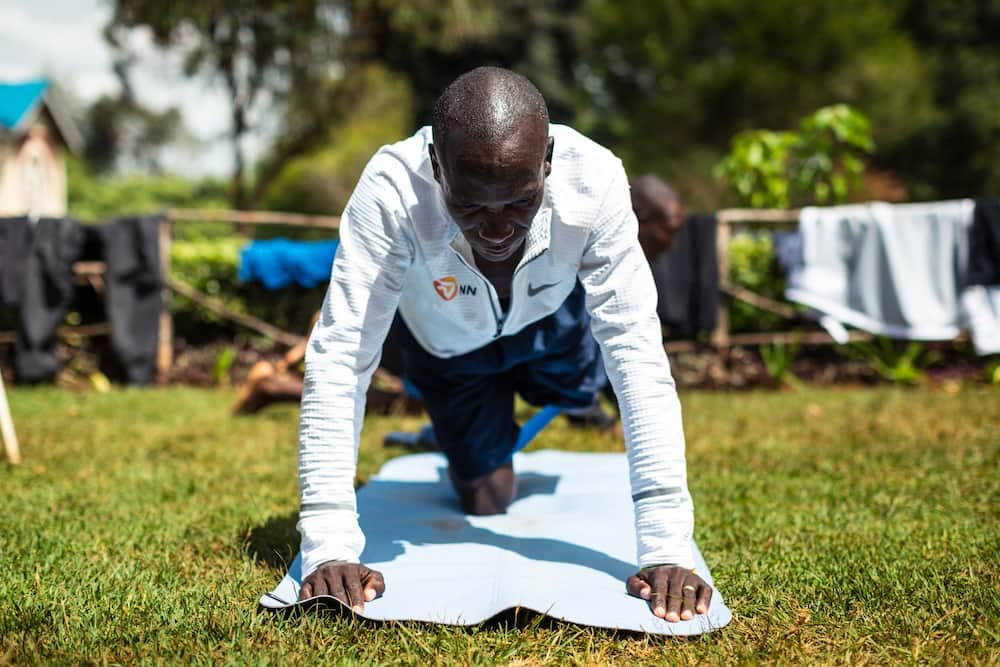 Did you realize that behind every success story, there must be an architect? That is true, and in Kipchoge's case, the man behind his success is the former World and Olympic steeplechase silver medalist Patrick Sang. Sang's success had positively impacted the young Eliud and inspired him to try his chance in athletics too. Being neighbors, Eliud approached him for mentorship sessions because he knew that he could run. Patrick saw his potential and immediately enlisted him in his training program. Some of the basic principles that Sang instilled in him were hard work, patience, and discipline.
Although his family lives in Eldoret, he is mostly about 30 km away at a place called Kaptagat; he trains there. As a student, he used to run two miles while going to school daily.
Education
He sat for his KCSE exams (High School) in 1999 from Kaptei Secondary School.
Medals and recognitions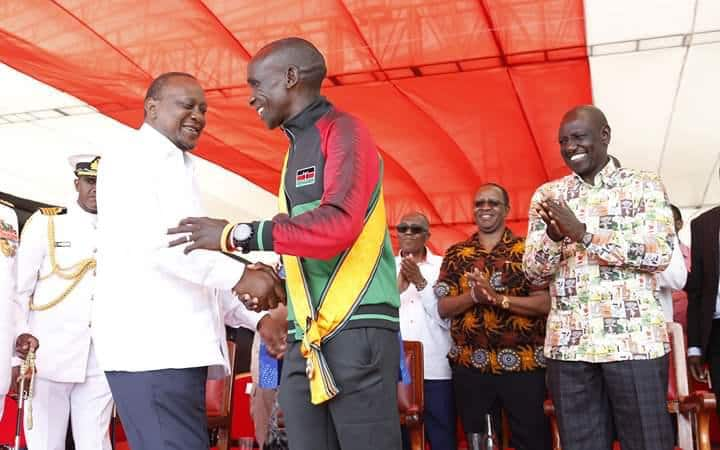 He first appeared on the international scene when, as a teenager, he beat track legends like Kenenisa Bekele and Hicham El Guerrouj to claim the 5000 m gold medal at the 2003 world championships.
Kip then moved on to win the Olympics 5000 m bronze medal in 2004, before clinching the silver medal in the 2008 Olympic Games as well. In 2007, he had won a 5000 m silver medal at a personal best time of 12:46:53
After failing to qualify for the London 2012 Olympics, his coach, Mr. Sang, advised him to switch to the Marathon, and this turned out to be the wisest decision he ever made in his career.
During his excellent Marathon career, he has won ten out of eleven marathons, nine of which were consecutive. In 2016, he was part of an elite team of three athletes who took part in the new Nikes Breaking 2 challenge. This was his first attempt at running the 42 km distance for under 2hours. As expected, Eliud gave his best only to fall short of the record by 25 seconds.
The INEOS Challenge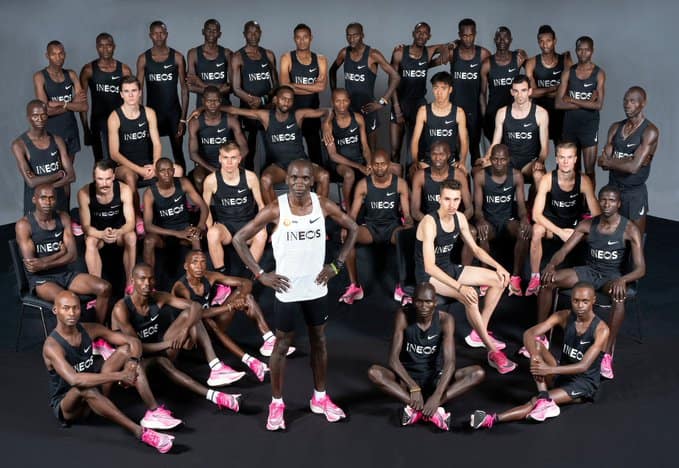 Without a doubt, Eliud is the G.O.A.T. He attributes his success to the virtues passed on to him by his friend, coach, mentor, and neighbour, Mr.Sang. These include:
Mental and physical discipline;
Personal motivation;
Consistency.
This year on 12 October 2019, in Vienna, Kipchoge became the first human to run a 26.2-mile distance for 1 hour 59 minutes and 40 seconds in a race dubbed the INEOS 159 Challenge. After crossing the finishing line, the champion was lifted high by a crowd of spectators together with his team of 41 professional runners who had volunteered to set the pace for him
READ ALSO: Caiphus Semenya biography: age, wife, songs, albums, record labels, and Instagram
Eliud Kipchoge net worth
His net worth on and off the track is estimated at 2.5 million dollars
Eliud Kipchoge quotes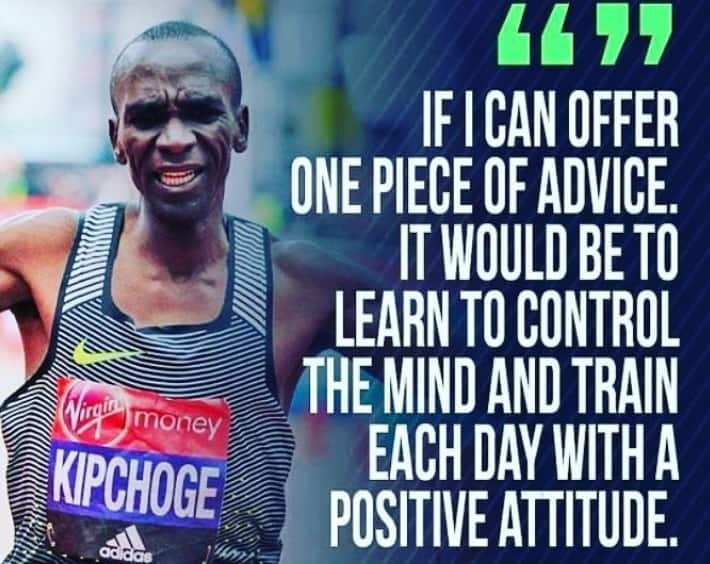 No human is limited
"Only the disciplined ones in life are free.
"I had a friend in India who told me that ( the guy is 50 years now ) and he told me that he would die before we see a human being run two hours flat. I met him one month ago in New York, and I joked 'You will never die again because you have seen me run two hours.'
If your mind is really thinking positive, then you are on the right track.
"Pleasure in what you're doing puts perfection in your work."
"If you don't rule your mind, your mind will rule you.
" If you're taking shortcuts, you can't be free."
"Become comfortable with being uncomfortable."
"Sometimes all it takes is a little adjustment to face the obstacles in life"
"I don't know where the limits are, but I would like to go there"
"If I miss one training, then I will not sleep well."
"When you plan very well and prepare very well, then success can come on the way".
No doubt, Eliud Kipchoge is the greatest marathon runner of all time, and, owing to the rigorous exercise and the level of preparation required to run 42 kilometers under two hours, it may take a while before his 1:59:40 record is broken. Nevertheless, he has set the standard and encouraged the current and upcoming crop of athletes to know that it is possible and no human is limited.
READ ALSO:
Nico Matlala age, wife, education, company, cars, and Instagram
Lebohang Mabe scandal, boyfriend, parents, business, and Instagram
Thobeka Majozi age, baby, partner, parents, education, stunning photos, Instagram and net worth
Source: Briefly.co.za