10 best Sho Madjozi hairstyles 2019-2020
If you have been observant enough, you must have noticed that South African female celebrities love unique hairstyles that can quickly draw attention and market their brand. And a closer look will clearly reveal that most of these young artists have at some point used one of Sho Madjozi hairstyles.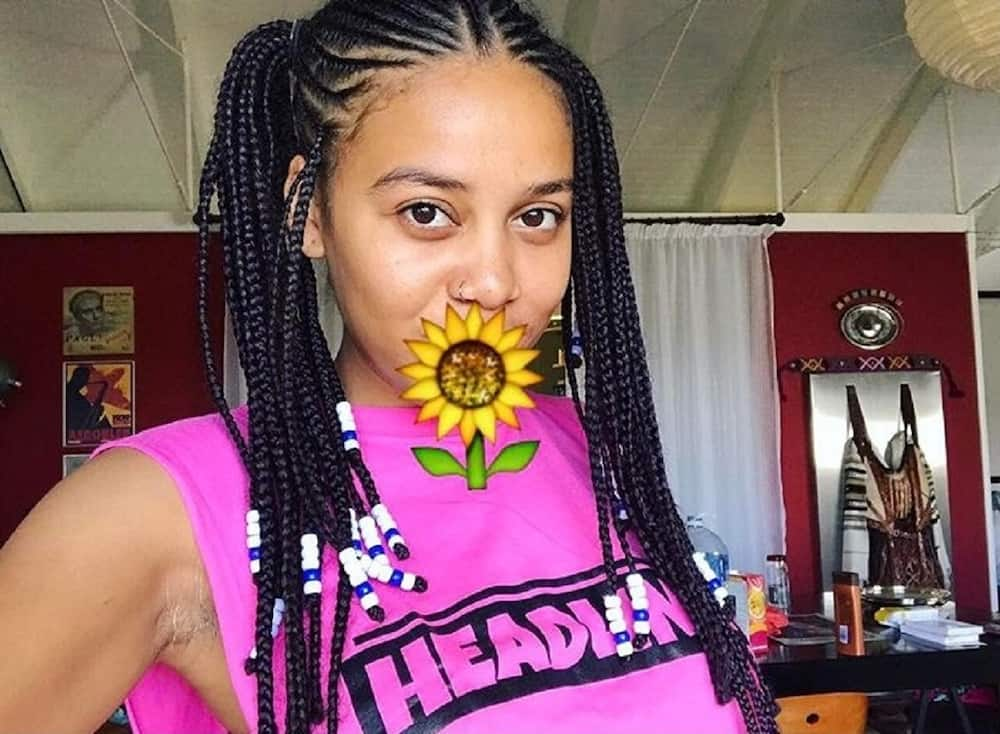 You may not like this lady for many other reasons, but learning about her genius for hairstyles will simply melt away your heart. The beautiful rapper has an amazing gift for making twisted or gelled hairstyles. There is no doubt that this talent and her lifestyle are aspects that a lot of South Africans admire.
10 best hairstyles for 2019-2020
1. Protective Braids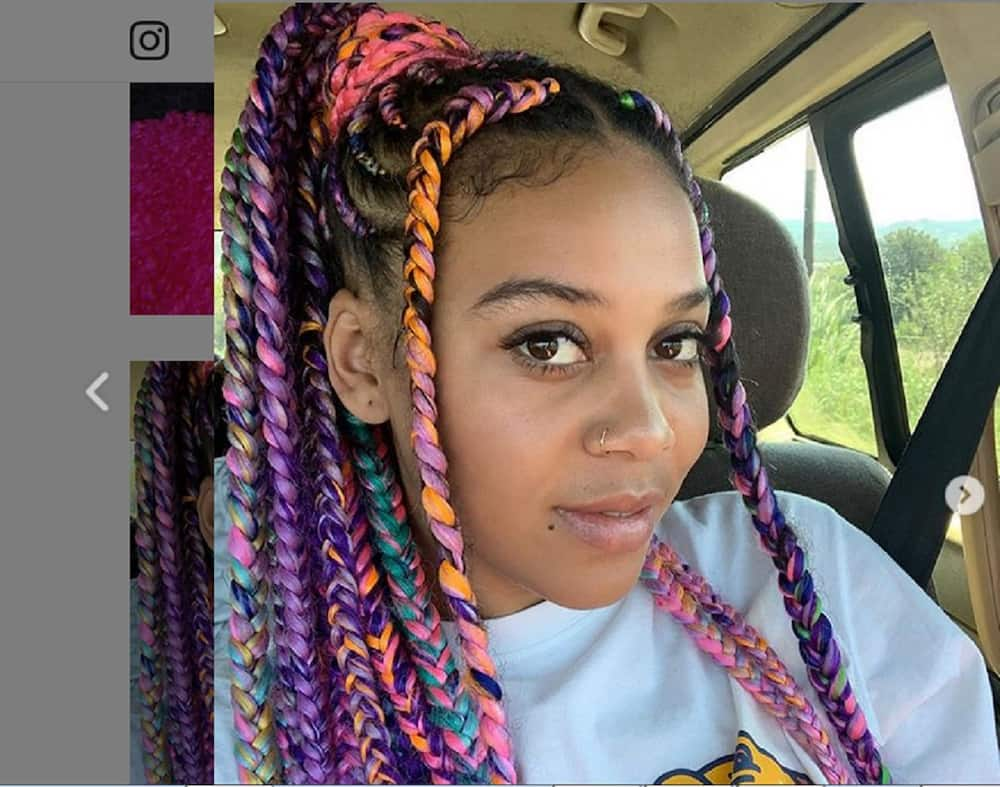 These are hair configurations that keep your ends securely tucked away.
It requires minimal daily upkeep and also helps in keeping your strands moisturized.
Promotes hair growth because the pulling that causes shedding is minimal.
Your natural hair is protected from heat damage.
READ ALSO: 30 natural short hairstyles black hair with images 2019
2. Simple Beaded Cornrows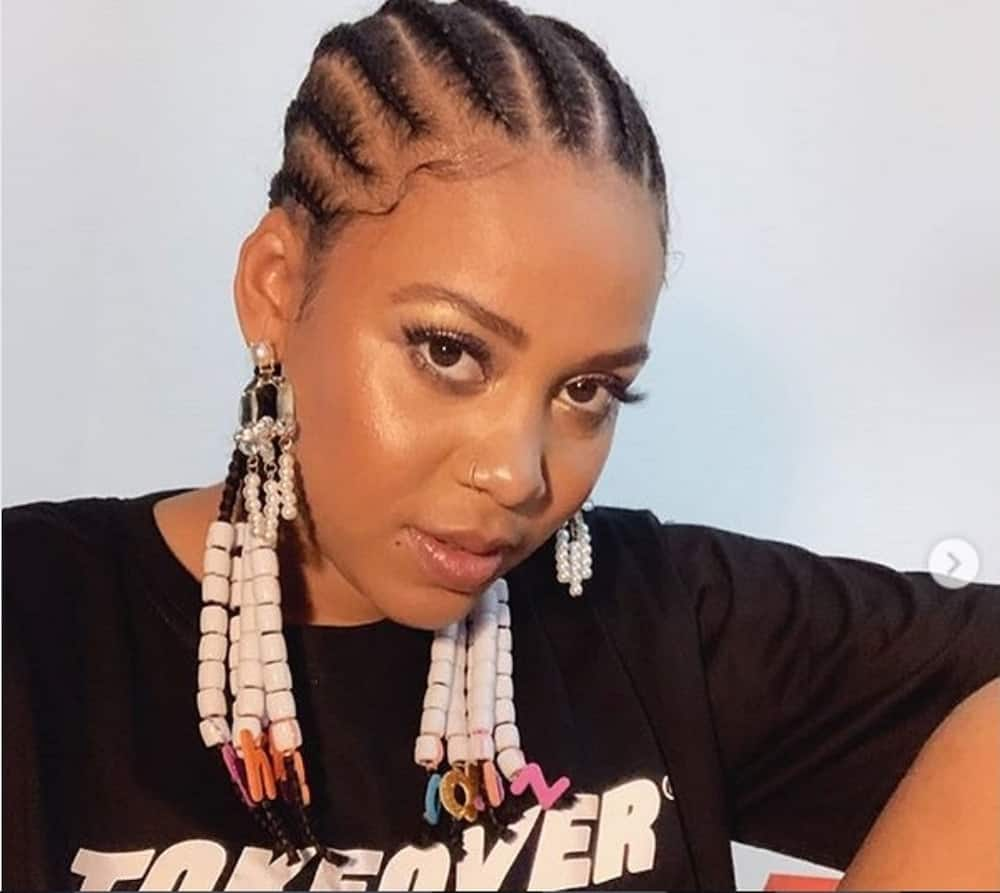 This is a simple hairstyle having its origins in Africa. Cornrows have a typical 3D look, and they are done by fixing strands under one another very close to one's scalp. Apart from Madjozi, this style has been popularized by celebrities like the actress Bo Derek and Kim Kardashian West.
READ ALSO: 35 trendy Afro hairstyles for men and women in 2019
3. Braided Ponytail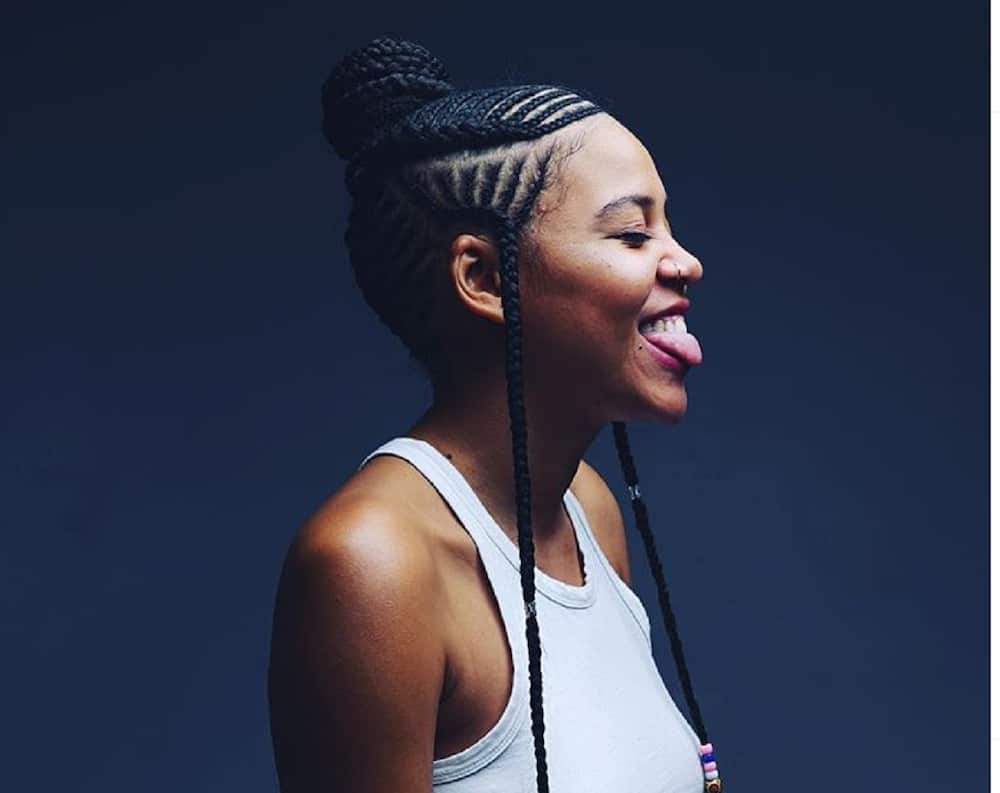 Are you bored and tired of doing the regular traditional braids? Well, maybe it is time to try out the braided ponytail. Of all the hairstyles, braids have been tried and proven to add real value to a woman's looks. Apart from these Sho Madjozi braids, there are so many other styles to try out, including the French plait and the fishtail braids. Others include the:
Mix and match braided ponytail
Classic braided ponytail
High braided ponytail
4. Thin black box braids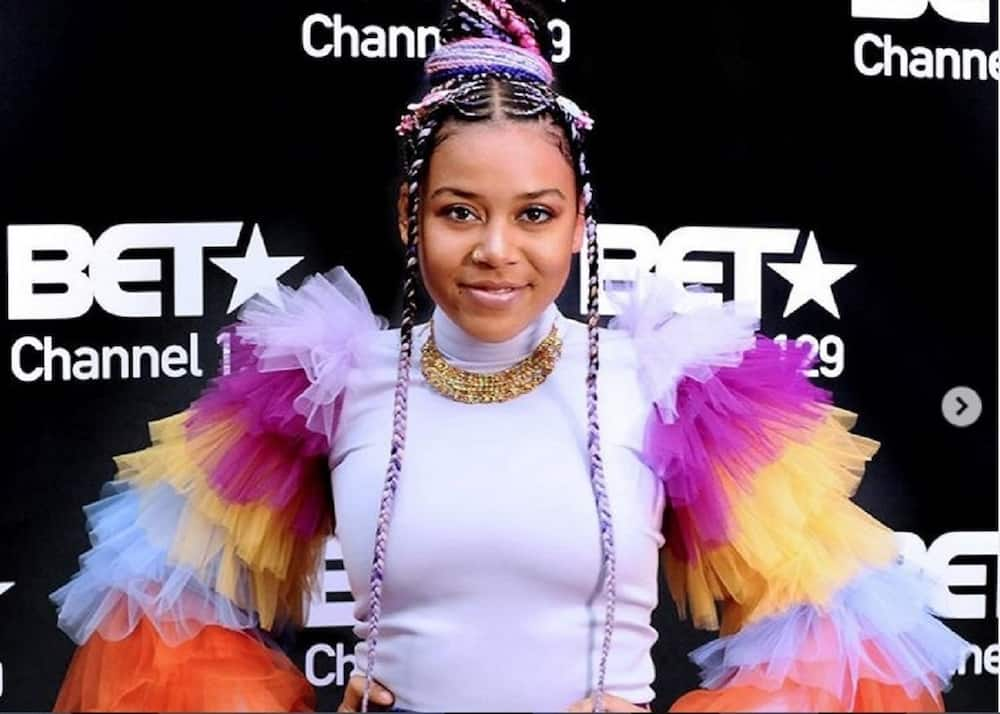 These rank among the most preferred Afro-American hairstyling ideas. You will find styles like the
Jet Black Braids Updo
Long Golden Hairstyle
Keke Palmer Rocking Box Braids
5. John Cena Hairstyle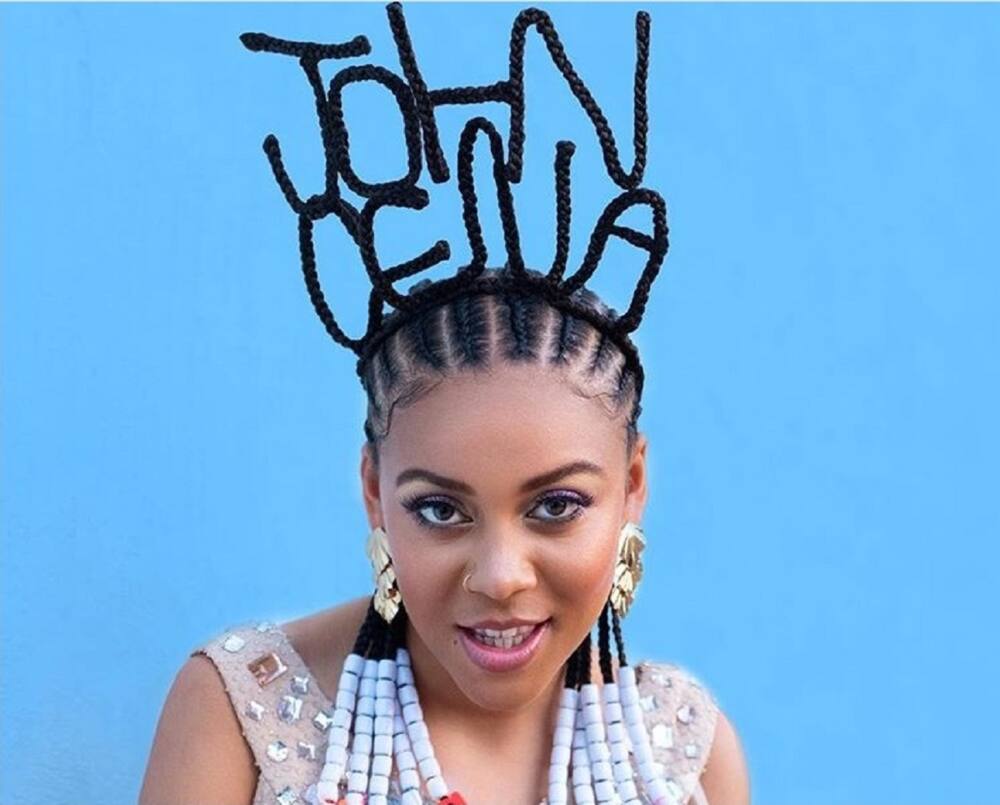 This hairstyle is probably the culmination of Madjozi's genius in her hairdo venture. Many people think that it is the most creative Sho Majodzi hairstyle. Before releasing her new song John Cena on August 15th, 2019, she walked into a salon and requested the staff to plait some cornrows and then mount the name John Cena across the middle of her head.
When she hit her Instagram account, donning the style, her fans were overly thrilled as they shared and commented.
6. Cornrows with High Twisted Bun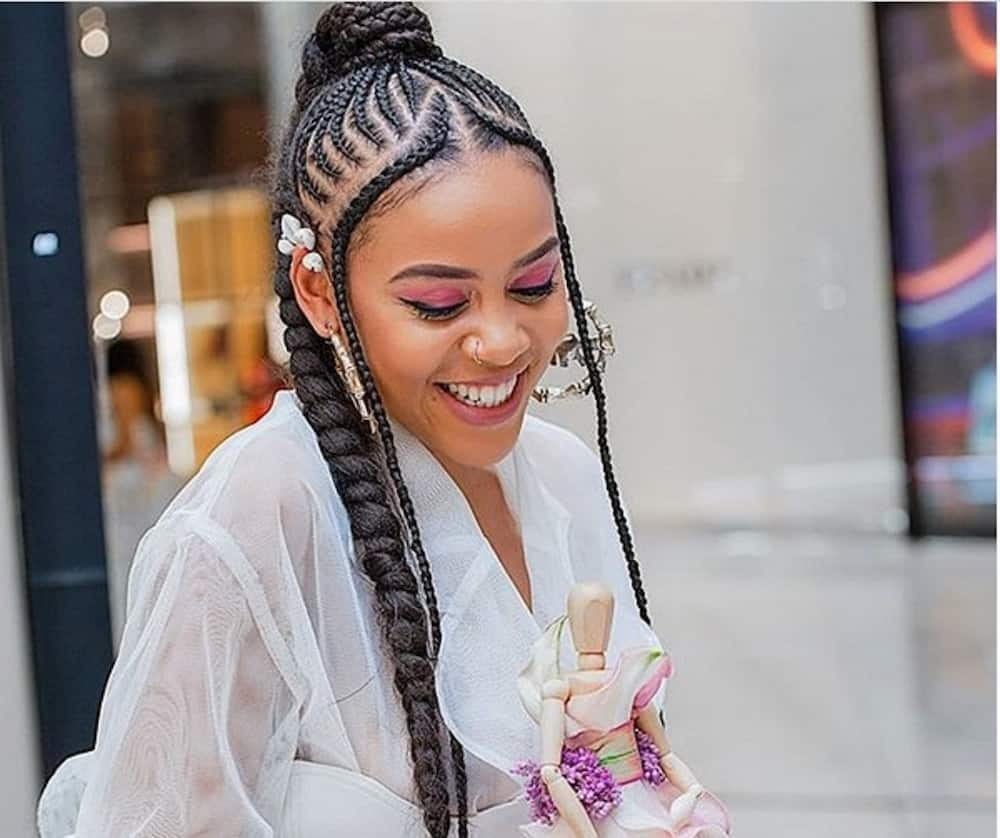 This style is cool because the wearer does not have to worry about styling it each morning. It gives you a chick look without much effort and is suitable for various occasions.
READ ALSO: Best hairstyles for black women in South Africa
7. Feed-in Braids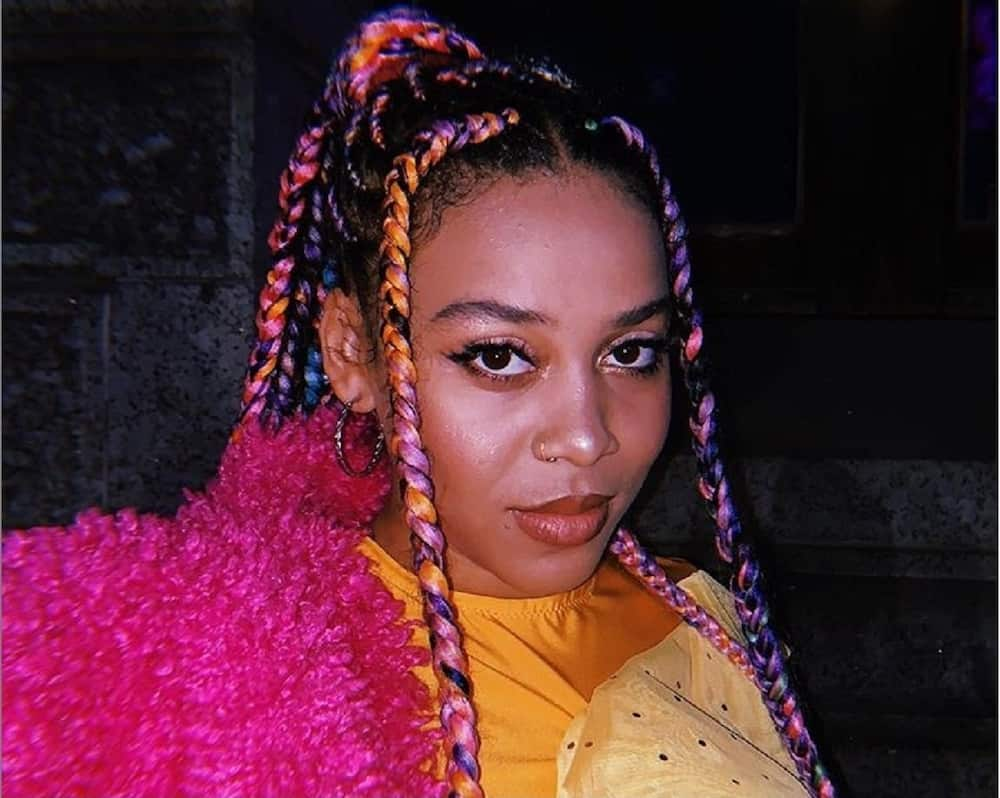 They are also called "knotless braids" and are useful for protecting the natural hair. To deliver cornrows or longer box braids, the stylist will fix the extensions to your natural hair using a knot. He or she will then feed in the extensions inter-plaiting them with your locks to execute a seamless finish.
READ ALSO: 45 Best straight up hairstyles with braids pictures 2020
8. Afro Cornrow Braid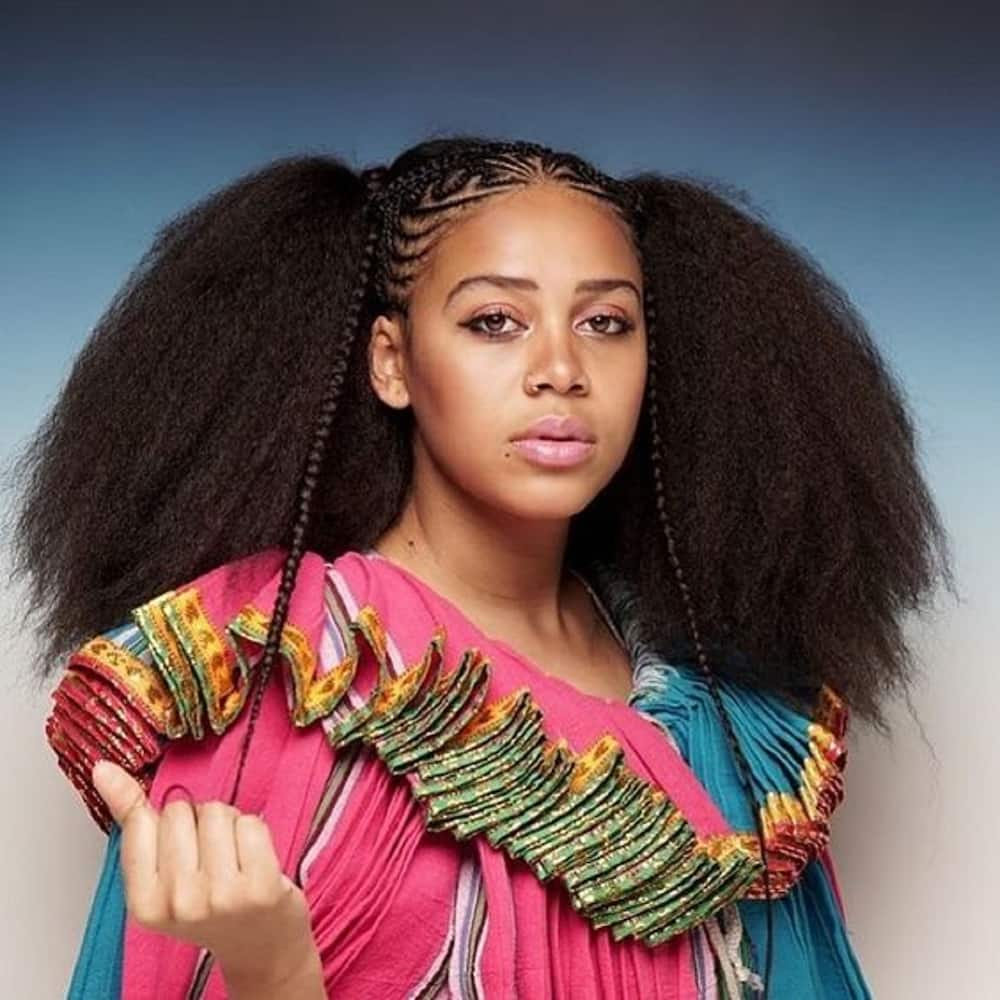 This is a masterful combination of cornrows and an Afro Mane. The lady is looking just fine!
9. Cutesy cornrow double buns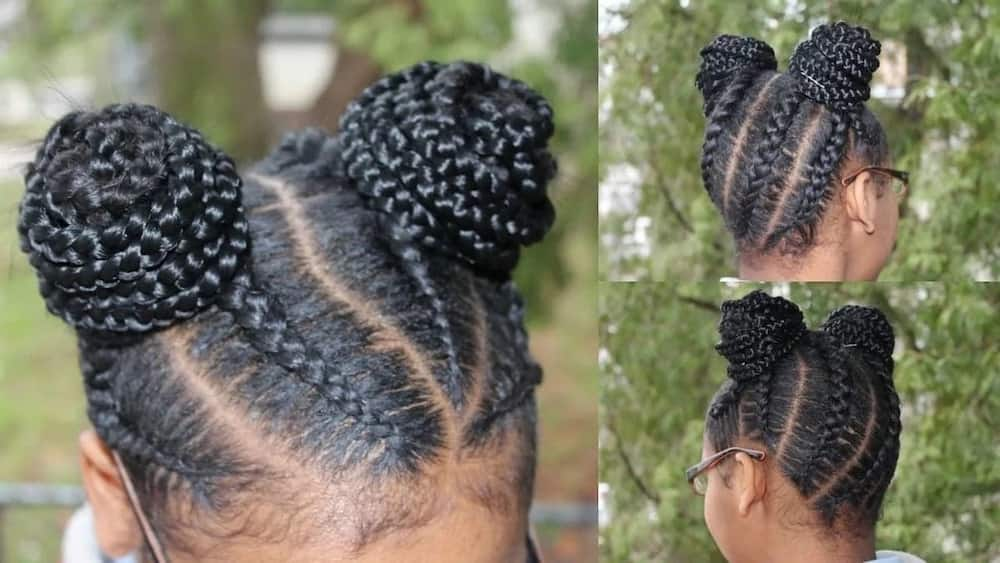 If double buns excite you, try Majodzi's idea of Cutesy cornrow double buns. It is glossy black and radiant indeed.
10. Cornrow accented bun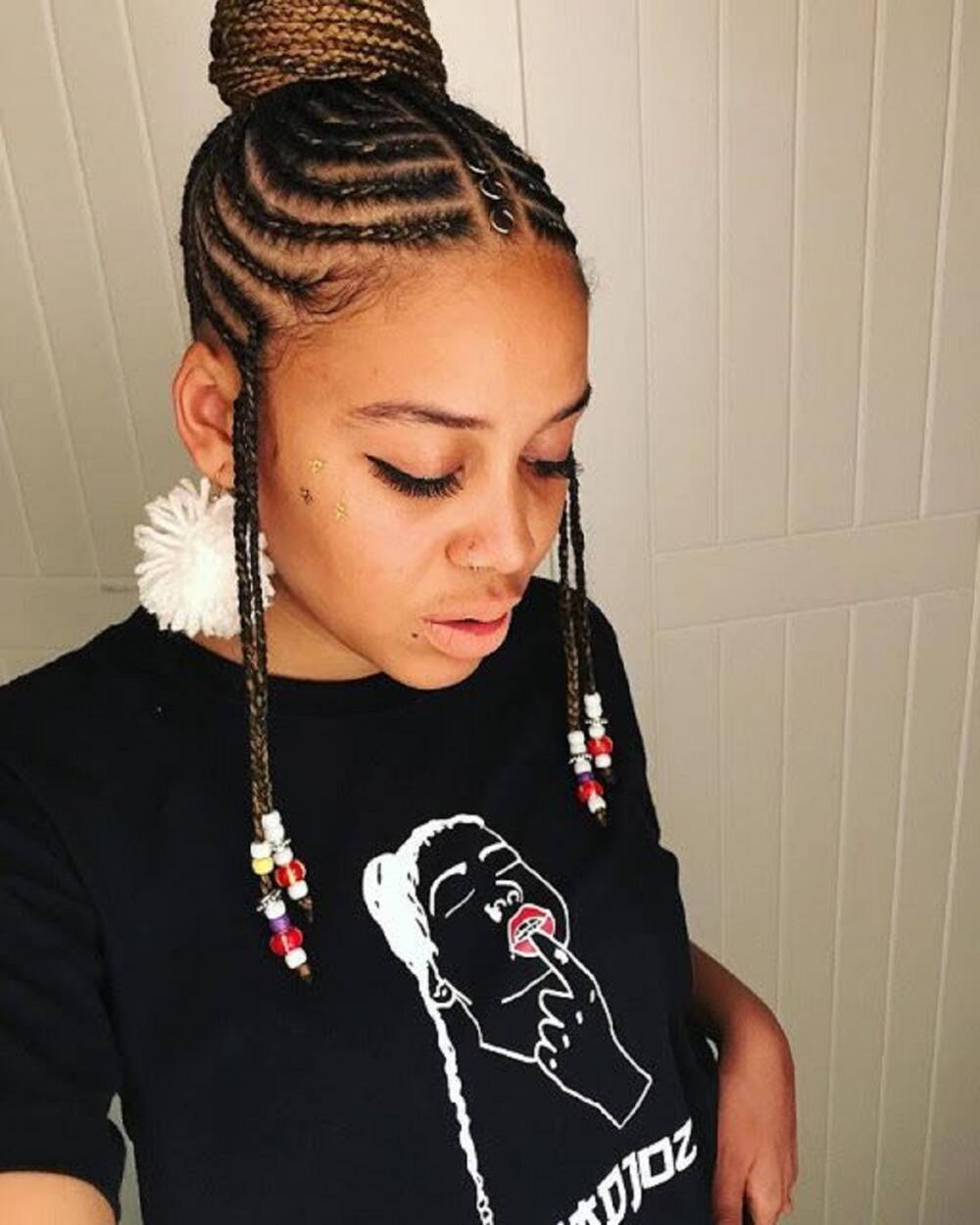 This style is quite simple and takes a short time to create. The good news is that you are likely to use it for a longer period because all the strands at the neck curl up to form a bun. It is not only radiant but elegant as well.
There is no doubt that Sho Madjozi hairstyles are going to set the pace in the hairstyling industry in 2020. And owing to her creativity, we can only wait to see what else she will bring on the table. You can for sure count on her to deliver because churning out hairstyles is both her strength and critical selling point. Sample more of her hairstyles on Sho Madjozi Instagram
READ ALSO:
'5 head gang' - Pearl Thusi is rocking the dreadlocks look like a boss
30 best African braids hairstyles 2020 (with pictures)
100+ latest haircuts and hairstyles for short hair
Source: Briefly News